We Stand with Ukraine
Ukraine – Lviv, Netherlands – Oss, USA – New York, Poland – Krakow, KeenEthics, March 29, 2022 / 'We Stand with Ukraine'.
KeenEthics supports Ukraine amid the Russian threat. Our company got involved in several projects to provide assistance to those affected by the war. #StandWithUkraine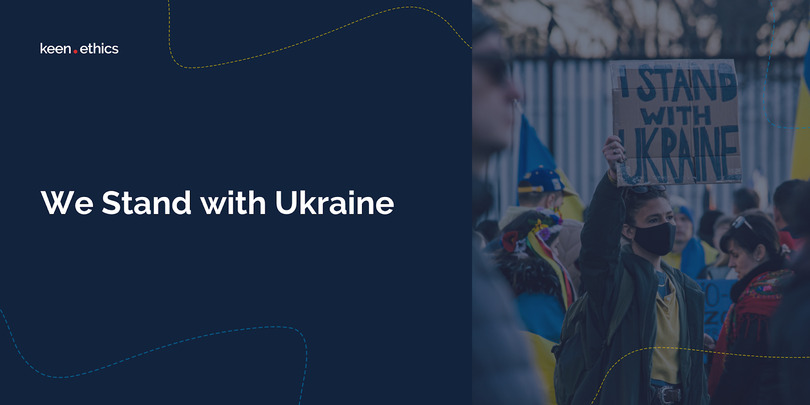 Dear partners, clients, and friends,
The story of KeenEthics starts in Ukraine. So, we take the Russian invasion of Ukraine very personally. Russia's unprovoked war in Ukraine can't be justified. Our company supports a free and sovereign Ukraine.
Our main priority is to ensure the safety of our employees and the support of our army (we'll tell you more about Lviv Defence Cluster (the project that we support) later).
Over the past weeks, we have moved many of our employees to our new Headquarters in Kraków, Poland. In addition, we have provided all our employees with all the resources to maintain work in a normal mode. We would like to ensure that we keep working and that all Ukrainian employees are in safe places. KeenEthics continues providing smooth business operations and delivering top-quality solutions.
We encourage you to support Ukraine and the software development industry in Ukraine and Poland.
Thank you to everyone who supports us and the people of Ukraine. Together we'll stand tall! #StandWithUkraine #stopthewar
Are you looking for any solutions to your business?
The KeenEthics team is always here to assist. This move can not only help you and your business but also can significantly help Ukraine and its economy.
About KeenEthics
KeenEthics is a full-cycle software development company with a thoughtful and ethical approach to technology. Since 2015, we have put many projects into action. More than 50 companies trusted us to turn their ideas into promising products.
Two of the many priorities in business are customer satisfaction and effective fast-to-market product development.
We plan, build, and provide responsive web and cross-platform mobile apps while delivering elegant and modern web design services and solutions. We proved to be a company with an excellent reputation, open communication, and high-quality service from conception to final delivery.
Lviv Defence Cluster
We also prioritize supporting Ukraine amid the Russian threat by helping the Ukrainian army. Our soldiers need a great number of body armor vests. To save the lives of Ukrainian soldiers, KeenEthics has recently gotten involved in helping manufacture these body armor vests in the Lviv region along with the Lviv Defence Cluster.

Lviv Defence Cluster (LDC) is a public association based on Kharkiv's factory, which the Ministry of Defense of Ukraine has appointed as the main coordinator of manufacturing the body armor vests during the war. The LDC logistics department transfers all the body armor to the military units of the Armed Forces of Ukraine, all free of charge.
You can donate to support the manufacturing of body armor vests for the Ukrainian army here (for EUR, US dollars, PLN, pounds) or here (for UAH).
FAQ
Is there a possibility that I can encounter a data breach or loss? How can you ensure privacy?
We guarantee there isn't even a 1% chance that something similar may occur. All the data is stored on European and US cloud servers. Furthermore, our developers regularly make backups to protect your data from corruption.
What happens if my payment is declined? Have you ever had any banking system failures?
It's unlikely. However, in case of a failure in the banking system, there is no risk to the secure functioning of payments.
We've taken care about this issue:
Payments can be sent to KeenEthics' US bank account or through the Payoneer service. We may also accept payments in Poland because KeenEthics is represented there.

We provide our staff with cash so that our employees can work as usual.
How can a client be sure that the company will develop a high-quality product given the war in Ukraine? Is there a decline in staff productivity as a result of the war?
Regardless of political or military actions in the country, there may be highs and lows in stress levels and staff performance in any company. Before the war, KeenEthics has always cared about the staff's mental health. After the war, support tripled at times. Firstly, KeenEthics conducts dozens of online training sessions with well-known experts on mental health and related topics. Secondly, our mental health officer conducts an additional one-to-one with each employee monthly to minimize anxiety and burnout. Many workers feel involved in the war. So while compatriots are fighting in the trenches, the staff is fighting on the economic front. Every employee is responsible for strengthening the economy of Ukraine, and they show high performance.
Will employees be less productive if they don't have an Internet connection or electricity?
A similar situation is unlikely since we installed a generator in the Lviv office, allowing us to work without interruptions. Furthermore, all developers work on laptops and have good mobile Internet, enabling them to work effectively. Besides, KeenEthics also installs satellite Internet in the Lviv office, so we assure you that such problems don't affect employees' work.
What if the developer is unable to work due to hostilities?
In a similar scenario, the developers who haven't yet relocated to safer regions can take several days off. Since our PMs stay in constant touch, they'll be able to handle any issues.
What if some programmers working on the project are drafted into the army? Will you be able to replace these people, or what will you offer instead?
It isn't something to be concerned about because it's unlikely. The truth is that no one on your project falls under conscription.
If there was a need to relocate to safer areas, how long would the staff be absent from the project?
Generally, it's unlikely. However, if a similar scenario happens, our employees work on laptops and have good cellular Internet, so they'll be able to resume work within 2-3 days.
Who can I contact if I have any questions?
If you have any further queries, you can contact the PMs or the key person in KeenEthics:
+1 (929) 214 1392, +49 151 46 39 5247 Max Savonin, CEO