Express.js Development Services
Using the lightweight and time-efficient web and mobile development framework.
What Is Express.js?
Express.js is the most popular and efficient Node.js framework, which is fully customizable in terms of both the development process and the final app. It offers numerous built-in features, which means the developer does not have to write them from scratch but uses ready-made templates and saves a great deal of time. Express.js considerably assists in keeping the code clean and organized.
Express.js does not contradict but rather complements the functionality of Node.js. It offers a robust list of features, which includes content negotiation, robust routing, application view options, environment-based configuration, dynamic view helpers, and session-based flash notifications.
Therefore, this server-side framework is actively used for both back-end and front-end web app development and mobile app development. Due to the advantages and opportunities it provides, the popularity of Express.js is expected to grow.
Popular websites such as Paypal, Yahoo!, Wall Street Journal Online, Groupon, Shutterstock, and MySpace, are powered by Express.js.
Why Express js?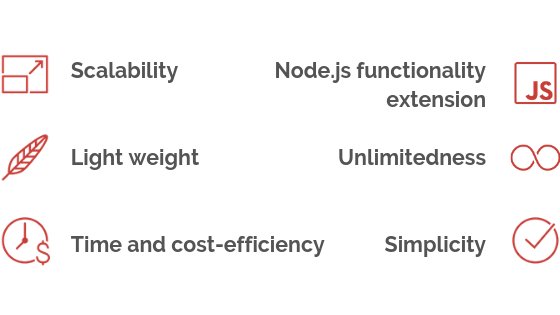 Scalable.
Applications developed with Express.js can be easily scaled, which gives us an opportunity to build Express.js projects of any size.

Lightweight.
Express makes it possible to build lightweight, interactive, and user-friendly applications.

Hybrid.
Express.js extends the functionality of Node.js, which lets us develop a high-quality hybrid app.

Unlimited.
Express.js is not limited to one platform but makes it possible to develop cross-platform applications.

Fast.
The development process becomes easier and more flexible by about two times, which lets the team deliver the final product faster and at a significantly lower cost.

Easy.
Web and mobile applications developed with Express.js are easy to support and maintain.
What Do We Offer?
Express.js web and mobile app
development
Express.js data management
Custom Express.js software
development solutions
UI/UX development for
Express.js
Express.js applications maintenance
and support
Why KeenEthics?
The answer is simple: we are a leading Node.js development company. Plus, Express.js, being one of the most efficient Node.js frameworks, lets us do an even better job.
1 Empowering growth.
Regardless of the industry you are in, we strive for you to reach the best business outcome. You will be offered to cooperate with a professional specializing in your industry, should you be developing an educational app, a healthcare management system, or an e-commerce platform.
2 Building value.
You can be sure that our cooperation will be built on the principles of honesty, transparency, and efficiency. As an ethical company, we prioritize the interests and needs of our partners and users.
3 Launching in a matter of weeks.
Due to a perfectly organized partner engagement process, we are able to promptly collect requirements, conduct an estimate, and start working on your project. Also, you can cooperate full-cycle with us so that we take your idea from the initial stages to the perfect final product.
4 Bringing tech expertise.
Our Express.js developers are result-oriented and experienced. We have proven expertise in the field, and we are ready to share it with you. The solutions that we offer you are robust, innovative, and reliable.
5 Protecting your data.
Your software development experience will be trouble-free because our pricing and data security strategies are fair and transparent. Also, we invite you to sign an NDA for both of us to have legal quarantees.
Portfolio
As an Express.js development company we have created:
I am here to help you find a software solution.
If you have a business challenge you want to be solved with a software solution, let me tell you about what we can offer. Should we start with a free estimate of your project?
Let's talk