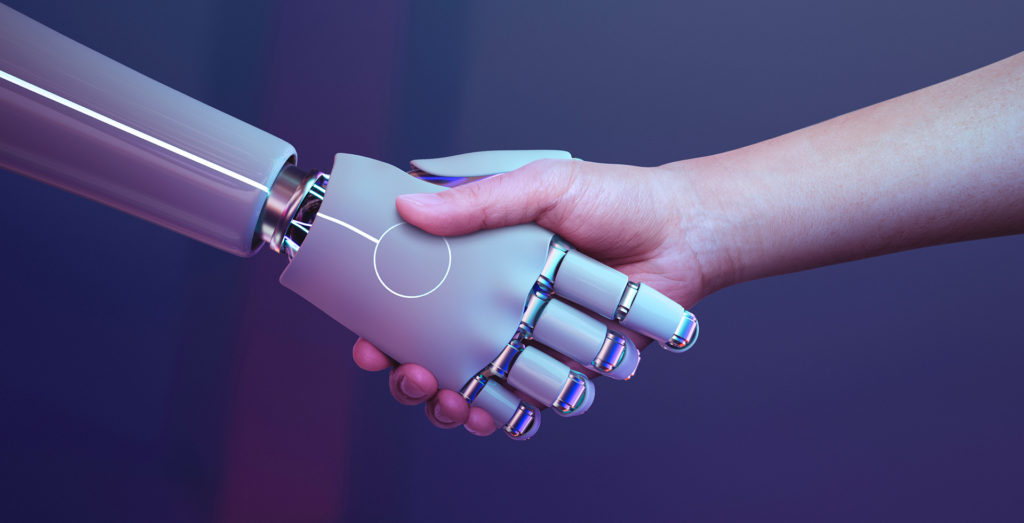 Machine Learning & AI Development Services
Your idea wants to be brought to life smartly. As a successful software partner, we know how to do it, offering human-centered, goal-oriented, and innovation-driven AI and ML services to businesses of all sizes.
Check the case studies
AI and Machine Learning Development Services We Offer
Our AI and Machine Learning development services will help you best use the data and machines. We work with customers worldwide, delivering top-notch products perfectly integrated with their business models, vision, and goals.
Managing an AI and ML project isn't the same as managing the usual web development project. By blending data science with modern development practices, our specialists deploy machine learning models and algorithms, allowing you to work faster and with fewer expenses. We develop customized solutions at any scale by applying deep technological expertise in AI / ML development services.
KeenEthics leverages a broad web and mobile development tech stack, including databases and API. Our AI development services range from computer vision deployment, natural language processing, deep learning, and data-driven IoT to chatbot development and predictive maintenance. With us, you'll learn AI and ML trends, elegant solutions, and winning business strategies. If you're interested in a consultation and new solutions, contact KeenEthics.
Ask us questions
Other Services
We brought several AI software solutions to life:
Cordian
Cordian is a reliable, intelligent AI assistant in data visualization, analyzing questions with natural language processing and producing the response with deep learning. The platform provides reliable answers throughout the whole process in any use cases, including customer services, legal spend management, citizen services, and knowledge management.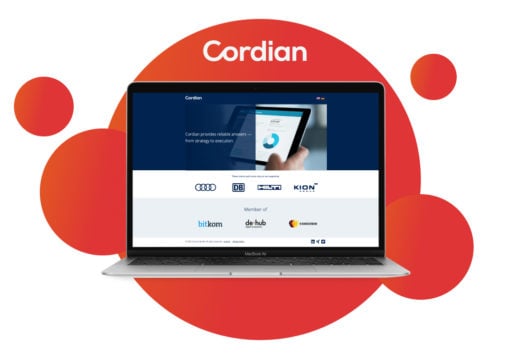 uMore
uMore is an AI-powered tool for tracking your well-being. It helps you change and improve your behaviors to reduce stress and build positive habits. Using uMore, people have the chance to share their information with family, friends, or physicians — anyone constituting a part of their safe circle. They can analyze your behavior and even take the necessary measures to prevent stressful situations in your life.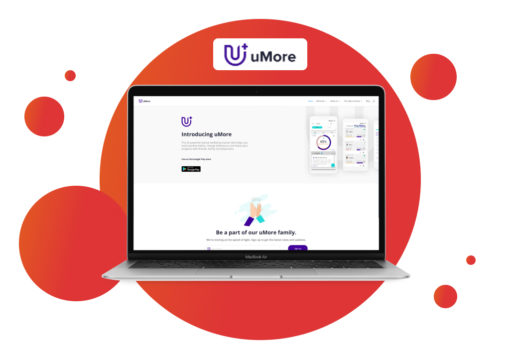 Check Out Our Case Studies
Upon launching the new platform, the company saw a significant increase in traffic and conversion rate and recorded positive responses from user tests. The company appreciated how well the KeenEthics team stuck to their timelines and were proactive in their communications.
Everything started when KeenEthics were integrating Asama, their other project, into our system. In the course of our communication, we realized that for more effective performance, we need more automation. While working on Asama, KeenEthics proved themselves to be a responsible, socially aware, dedicated, and highly experienced team. It played a huge role when we were choosing a vendor.
Why Choose KeenEthics as an AI and ML development company?
Custom-inclusive approach
Our AI / ML development services aren't simple promises. We offer a team of our best developers working to meet your project requirements. KeenEthics sets up the development environment, major development processes, and project architecture. Our developers specializing in AI and ML development services offer unique full-cycle development. We guarantee responsibility and ongoing support for your software product. You can also learn more about our unique Strike Force approach. We're always on our client's side, assisting them in selecting the best strategy possible.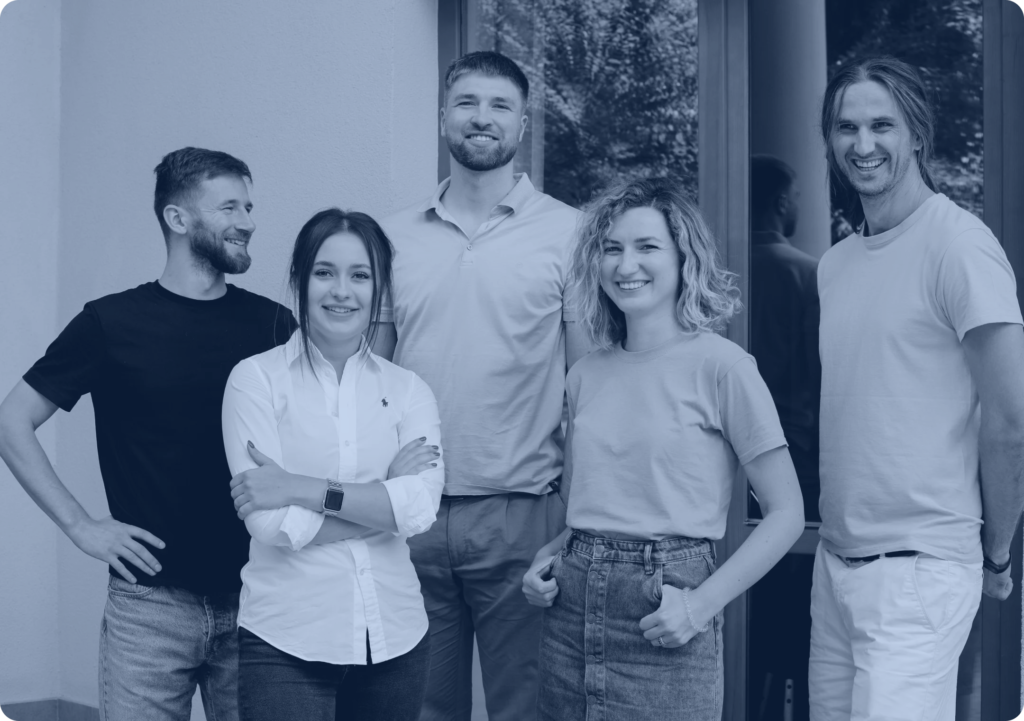 Improved information security
We employ a comprehensive web and mobile development tech stack to manage client and server data efficiently. Our stack ranges from Node.js, React, and Svelte to Flutter and React Native. Our development team also integrates convenient databases like MongoDB and MySQL to handle heavy loads, large data volumes, and location-based data. We'll help you simplify product marketing and forecast sales, modify your business strategies, make rapid data processing, prevent data inaccuracy, and minimize failures through AI solutions. Check out our client testimonials and portfolio, and if you have any questions, don't hesitate to contact us.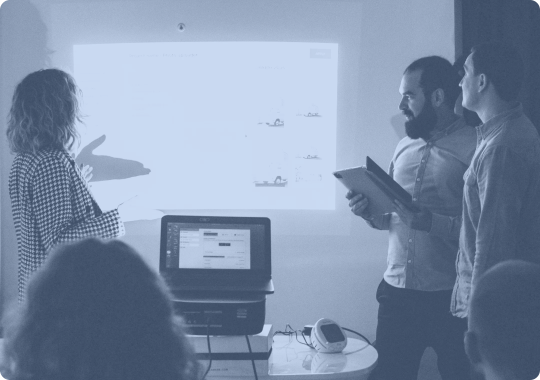 Security with an escrow account
You can employ our escrow partner as a middleman to secure your costs. Before we start development, we may agree on the terms upon which the escrow agent releases your payment to us.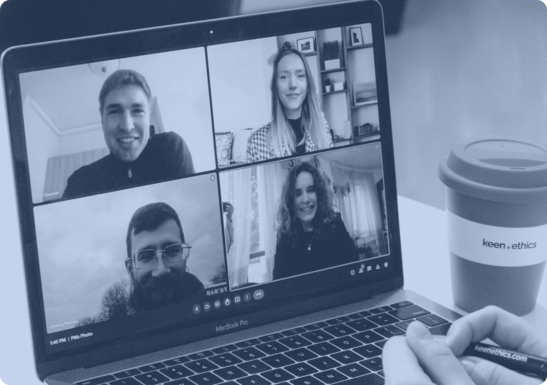 Improved ROI with a UX audit
Our UX audit shows you what upsets your users and holds back the success of your AI & ML or other technology-related solutions. This approach is the best way to cut development expenses and improve your ROI in the long run. In the UX audit, we analyze the design of your software solution to enhance user flows. At the same time, we eliminate your users' pain points and improper design practices. Learn more in this UX presentation.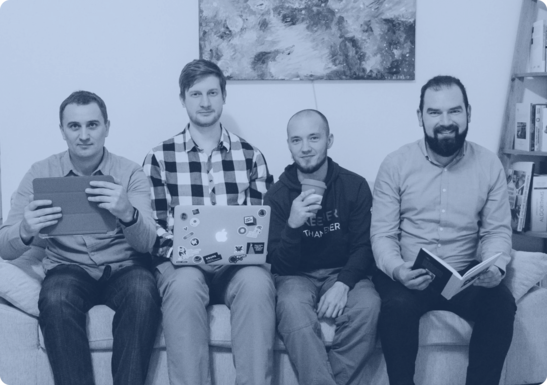 AI and Machine Learning are technologies that change a lot in the modern world. Potentially they are covering everything from speech recognition to self-driven cars. It's still unclear what the world would look like with AI in a decade, but one thing is clear: leveraging these technologies gives you a chance to change it for the best!
Technologies we use
There are many web app development agencies, but finding the one for your AI & ML development is vital. You can get familiar with KeenEthics' tech stack and opt for the best one for your business.
FAQs related to AI/ML Development Services
How challenging is it to create an AI app?
AI app development is straightforward when addressing this issue with a dedicated web development company. As for KeenEthics, we listen to your business idea, analyze business, help validate its importance for the target users, and only then offer a solution for its deployment.
Aspects influencing the learning and development of an AI project:
Extensive programming: It's critical to code efficiently to train computers to make decisions.
Data proficiency: Machines require lots of data to accomplish different levels of tasks. Usually, those who only start learning the sphere need more knowledge and practice.
Complexity: AI incorporates many fields that programmers should understand.
Although there are no limitations for those who wish to learn and develop, the best solution is to address a professional AI / ML development company.
How can my business benefit from Machine Learning (ML)?
Before answering, we'd like to share our blog article about how educational chatbots and artificial intelligence can revolutionize your business. So, if you want to find out more, welcome to our blog.
All the buzz around machine learning isn't in vain. There are numerous benefits your business gets from ML, starting with development and sales to marketing.
1. With ML, you can simplify product marketing and forecast sales more efficiently.
2. Machine learning can consume data with no limits. Then, you can review data to modify your business strategies related to variables of the behavior of the customers.
3. Machine learning always makes a rapid analysis and processing; thus, you can take needed actions on time.
4. ML automates data entry and prevents duplication and inaccuracy.
5. ML determines various nuances in data improving the precision of financial models.
6. ML solves the problem of spam, recognizing phishing actions and junk mail.
7. ML minimizes failures, thus reducing unneeded preventive maintenance activity.
To explore more benefits with KeenEthics, contact us.
How can I use AI in software development?
The scope of artificial intelligence is unrestricted. The technology is used in every sector, field, and industry. AI application development services help you boost user experience, increase development speed, and enhance security and privacy. Moreover, the technology incorporates a recommender system, predicting the user's interests and enhancing their stay-time in your app, platform, or site. AI helps to reduce human intervention in processes, eliminates errors, and lowers maintenance costs.
How to choose the right AI & ML development company for my project?
When choosing the right expert company in AI, you should consider the following things:
Analyze skills and expertise of the AI/ML software company.
A professional company should know the following: work with data, machine learning algorithms and deep learning, and programming languages (Java, Python, and others).
See how they find and offer a solution.
The best is when the company guides you through the whole process.
Look at the personalized approach of the company.
The critical aspect is the value proposition concerning the relevance of AI solutions for your project. AI, ML, big data, and other fancy things aren't always relevant. The company should provide insights into what is best for your product based on your request. A good AI company won't convince you to employ AI if it doesn't cover your vision.
Last but not least is data security.
It's critical to ask the company if they have cybersecurity measures.
AI is a vast but promising investment. You can always contact KeenEthics, a web development company offering intelligent solutions tailored to your requirements.
Can I hire developers from KeenEthics for Machine Learning & AI development services?
Yes, you can hire our developers for Machine Learning and AI services. They can join your team and collaboratively deliver customized solutions per your requirements.
What is the general cost of developing AI & ML solutions?
Well, it depends on many factors, including the scope and type of the project, the skills, expertise, and location of the team, the number of solutions required and implemented, invested team hours, and others. It's only part of all factors. The project's complexity and functionality are other critical factors influencing the final price. All we can do is provide the start pricing rate for the project, which is $10,000. Please consider it's quite an approximate cost.
If you're interested in getting more comprehensive information about price and other details, you can contact us and get a project cost estimation.
Do you have an idea for your future AI project?
Request the KeenEthics AI and ML development services to get a project consultation. By employing ML, and AI expertise, we offer quality and adaptive business solutions perfectly matched to business needs.
Contact us