Business Continuity Plan (BCP) in IT – Keenethics Experience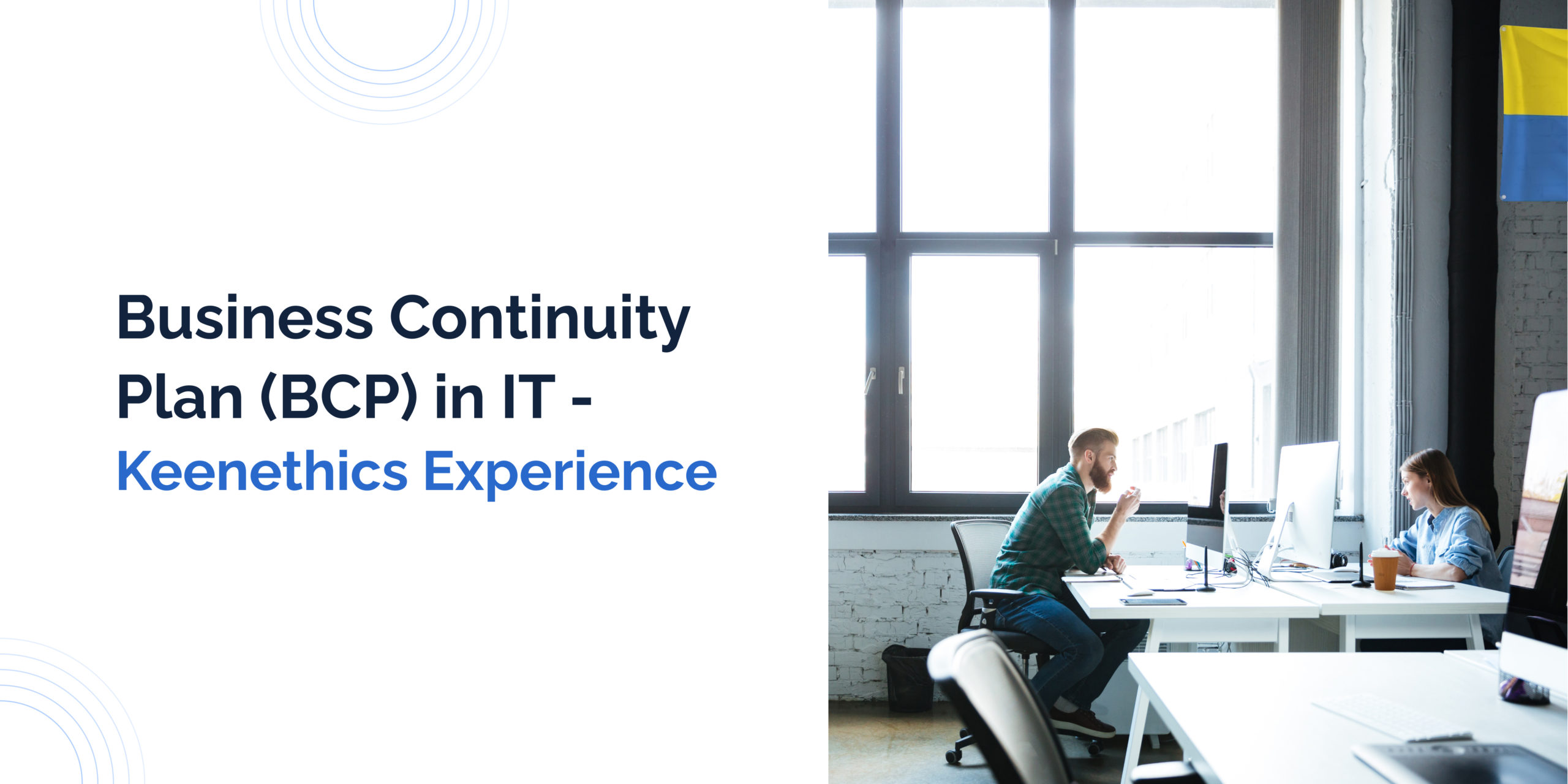 On February 24, 2022, russia illegally invaded Ukrainian territories. The war brought adjustments to normal work processes. So, today we feel an obligation to respond to all possible concerns and questions that current and new customers may face. In this article, we'll discuss how the war affected each of us. Were we 100% prepared for it? Have precise strategies been developed for possible scenarios? What is the potential in the Ukrainian IT sector, and what should our clients expect?
Before moving on, let me provide critical stats to inspire your confidence in the Ukrainian IT sector.
In 5 past years, the IT industry in Ukraine has grown rapidly, increasing by $5.1 billion in IT exports.
According to the research of the IT Ukraine Association, the computer service export rate was $480 million in February 2021. During wartime, in February 2022, the IT export rate was $839 million, the highest computer service export rate in the market.
The National Bank of Ukraine reports that the IT sector maintained international business relations despite wartime conditions and generated a record $2 billion for the first quarter of 2022.
We've been fighting the aggressor for 10 months and won't retreat. The statistics prove that we continue to operate, grow and stand with Ukraine until we win. What about customers? Should they be hesitant to work with Ukrainian IT? No, they shouldn't because they have a full guarantee and transparency in internal processes.
What Is BCP in IT?
What is BCP in IT? Here are some stats about BCP meaning in IT:
Research shows having no business continuity plan during a major disaster, 50% of companies fail in 2 years (IBM).
According to Forrester Research and the Disaster Recovery Journal, the biggest impact of the downtime in a company is followed by the top 3 things – a loss of productivity, a loss of business opportunities, and a drop in employee morale.
The UN Global Compact in Ukraine conducted a joint survey united with more than 100 Ukrainian businesses. The survey reports that 39.9% of companies partly or completely stopped their work since the russian invasion on February 24, 2022. These companies belong to different sectors, including IT. What is the reason for suspending business is for your thoughts.
Business continuity in emergent situations is the prime goal we strive for. For a business to stay afloat, the BCP in IT is indispensable. A business continuity plan (BCP) is the contingency planning process requiring a company to plan specific strategies and measures in case of external threats, like global pandemics, cyberattacks, wars, and natural disasters. BCP is meaningful, allowing companies to synchronize business processes and control the resiliency of company infrastructure. When developing it, we retain customers and employees, protect critical operations, and, not less importantly, reduce potential operating costs in the long run.
Keenethics is an ethical software development partner. We cherish our customers and control that no contracts are breached. BCP engages us to stick to our agreements, protect customers, and deliver quality software products on agreed terms. Honestly, even before the war forecasts, we weren't 100% sure it would begin. Nevertheless, we were ready.
At Keenethics, the business continuity team consisted of:
They conducted business impact analysis, discussed potential scenarios, and formulated safety procedures for the event of a russian invasion.
Besides, every two weeks, Max Savonin, CEO, issued internal news presenting the results for the last 2 weeks and the forecasts the Keenethics might expect soon. Despite challenges, our single-minded and resolute actions have shown that Ukrainian developers continue working. We've adapted to a new reality, which isn't as uncertain as it seemed at the start. We stick to protecting the customers' interests and deliver quality processes without delays and unforeseen force majeure circumstances. We're in touch with our clients, and using our BCP, we know how to maintain business growth under short-term or long-term downtimes.
Soon, we'll discuss our procedures for BCP, but first, it's worth mentioning the position of the Ukrainian IT sector during wartime.
IT Industry in Ukraine During the War
Whatever the stats say about Ukrainians' sustainability and the positive growth of the IT industry during the war, we don't hide that every company faced a new shocking reality on February 24. Now, we understand it couldn't be fully predicted. Nevertheless, most IT companies managed to adapt quickly because of a well-established BCP.
For 10 months of the war, there is a positive outcome:
During the war, the IT sector maintained 96% of contracts. Furthermore, data shows that 77% of companies have engaged new customers, compared to 23% with no new ones.
Apart from work performance, companies continue to donate to Ukrainian Armed Forces. To date, the IT specialists transferred about UAH 806 million to charitable foundations, hospitals and medications, and humanitarian and intelligence needs.
After ten months of the russian invasion of Ukraine, Ukrainian programmers have shown positive results in the growth of the Ukrainian IT sector. IT industry maintains positive dynamics in generating income for the economic sector of Ukraine. We continue to sign contracts with new customers, execute projects, pay taxes on time, and position ourselves on the global market.
The Five Phases of Developing and Maintaining a BCP in IT
How should a business react when some unforeseen threats strike the company? Some may think a business can return to normal operations easily, but can it? Stats show the opposite.
Can the business adapt to war or any pandemic without a business continuity plan? No, it can't.
Ukrainian IT companies caring about their security considered BCP development long before the forecasts. With BCP in IT, we're sure the company can survive 50% better during unexpected failures than without it.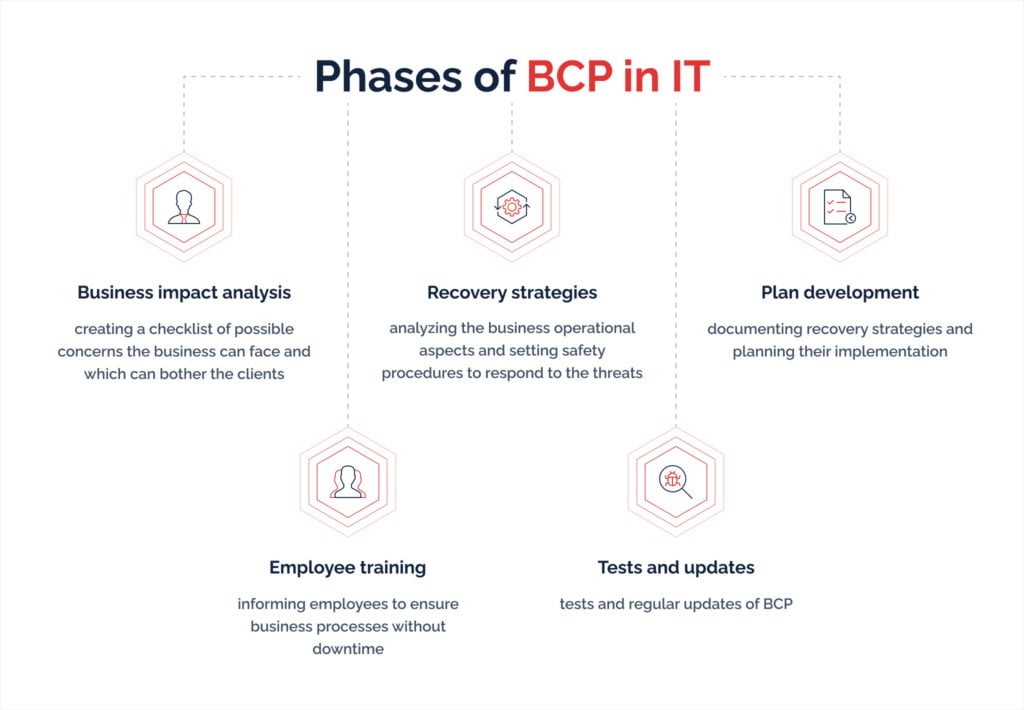 Let's view the practices IT companies should implement in their BCP development:
Business impact analysis
The reality shows the aggressor follows no rules. So, it's necessary to predict even the most unrealistic actions on their part. First, the company should analyze the events that are expected to happen. Secondly, it should create a checklist of possible concerns the business can face and which can bother the clients. The company should answer these and other related questions:
What if the team stops the work on the project?
Which scenario can impact the proper functioning of business operations?
Is a company ready to face a specific threat?

Recovery strategies
Before establishing the recovery strategies, the company should assign a BCP team responsible for specifying critical business functions and the needed resources to maintain them. The BCP team should include people who know the business's structure and operational aspects and can evaluate and respond to the greatest threats.
Plan development
When forming a BCP team, it's time to create a BCP for rough periods. The team should determine and document recovery strategies and plan how to implement them.
Employee training
The head of the BCP team should conduct training to share the recovery strategies with employees. They need to inform everyone on how to integrate the safety procedures to ensure business processes without downtime. The company should save all critical info in a single space so employees can find it when needed. Also, it's crucial to maintain functional means of communication with employees and customers.
Tests and updates
Every plan requires implementation, testing, and regular updates. So, the business continuity committee should review BCP every five-six months and make changes.
Ukrainian Programmers Continue Working on Being Bombed: Possible Concerns We're Ready to Dissolve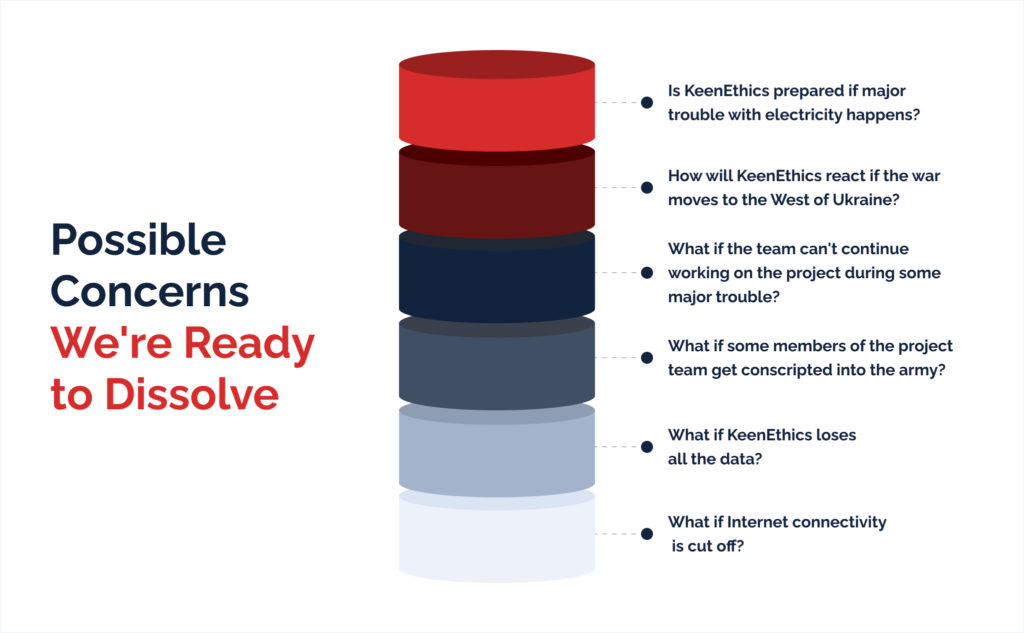 Is Keenethics prepared if major trouble with electricity happens?
If you had asked this question a few months ago, our response wouldn't be so definite. But today, we work and live during power outages. In most of our safe territories, we don't have complete blackouts. Instead, we stick to hourly power-off and emergency blackout schedules. Keenethics managed to adapt successfully. To ensure uninterrupted work during the power outage, we charge all the necessary devices like power banks, batteries, and UPS in advance. The major trouble with electricity happens when russia launches missiles at critical infrastructures in Ukraine. This way, the infrastructure is partially or completely cut off from power, and specialists take time to repair everything.
When we have similar power outages, our employees follow the following work conditions:
15% of employees work from our office equipped with a Starlink.
10% of employees move to co-working spaces provided with ongoing communication if there is a massive power outage across Ukraine.
75% of us get Internet connections from uninterrupted power supplies (UPS) and batteries connected to optical fiber.
This reality isn't a challenge for us. We've adapted to these working conditions, and our company runs smoothly even during major trouble with electricity.
How will Keenethics react if the war moves to the West of Ukraine?
We critically analyze the events and expect the war won't likely move to the West in a day. We'll have forecasts about it. So, Keenethics will first care about the staff's safety if the war moves to the West. We have a representative office in Poland, so our teams can relocate to this country and work from there. But not every employee will be able to move outside the country. To prevent customers' concerns about similar risks, we offer them to choose the location of their project team. However, we guarantee that our BCP team controls the situation and prescribes safety steps to eliminate all possible security risks.
What if the team can't continue working on the project during some major trouble?
In a time of war, we can't insure everything 100%. But one thing is certain:
We took care of our security in advance, and as we've mentioned, most of our employees relocated from the occupied and unsafe areas of Ukraine.
During air alerts, we don't remain unmoved. Each of us follows all safety rules.
We prescribed a similar threat in our BCP, which means if such a situation occurs, we take responsibility and ensure that no critical data of the project is lost.
If a project team can't continue their work, we will transfer the project to those who can take on additional responsibilities in more safe conditions.
Yet, again, although we can't insure ourselves 100%, we take care of our safety in advance as much as possible.
What if some members of the project team get conscripted into the army?
If someone from the project team gets conscripted into the army, we replace them with another specialist on your project. Not less important, we save the workplace of the employee who gets conscripted. Since the russia invasion of Ukraine, we've had only two non-coercive cases, and our developers managed to work remotely and on part-time conditions.
What if Keenethics loses all the data?
It's unlikely. We guarantee there isn't even a 1% chance that something similar may occur. All the data is stored on European and US cloud servers. Furthermore, our developers regularly make backups to protect your data from corruption.
What if Internet connectivity is cut off?
At Keenethics, we've prepared for partial and complete blackouts, and we officially state that we work efficiently even when the electricity and Internet are cut off. Alex Pletnov, CTO of Keenethics, conducted training sessions about possible alternatives during blackouts. He informed us how we could get backup power sources of light and the Internet during blackouts.
The employees had several backup power sources to choose from:
the internet cables with the right connectors to different devices;
Fiber to the home, an optical fiber with a UPS converter providing the Internet without additional amplifiers;
4G modem with an external antenna for having a reliable Internet connection;
Starlink, a source relaying Internet to another Internet provider;
an inverter generator for employees living in the house;
uninterrupted power supply (UPS) allows connecting any device;
portable charging stations and power banks for charging devices;
mini UPS battery backup uninterruptible power supply for router and modem.
Keenethics' employees ensured the autonomy of their workplace by having fiber to the home (FTTH) and DC UPS for their router 4G.
Keenethics' Experience of BCP Implementation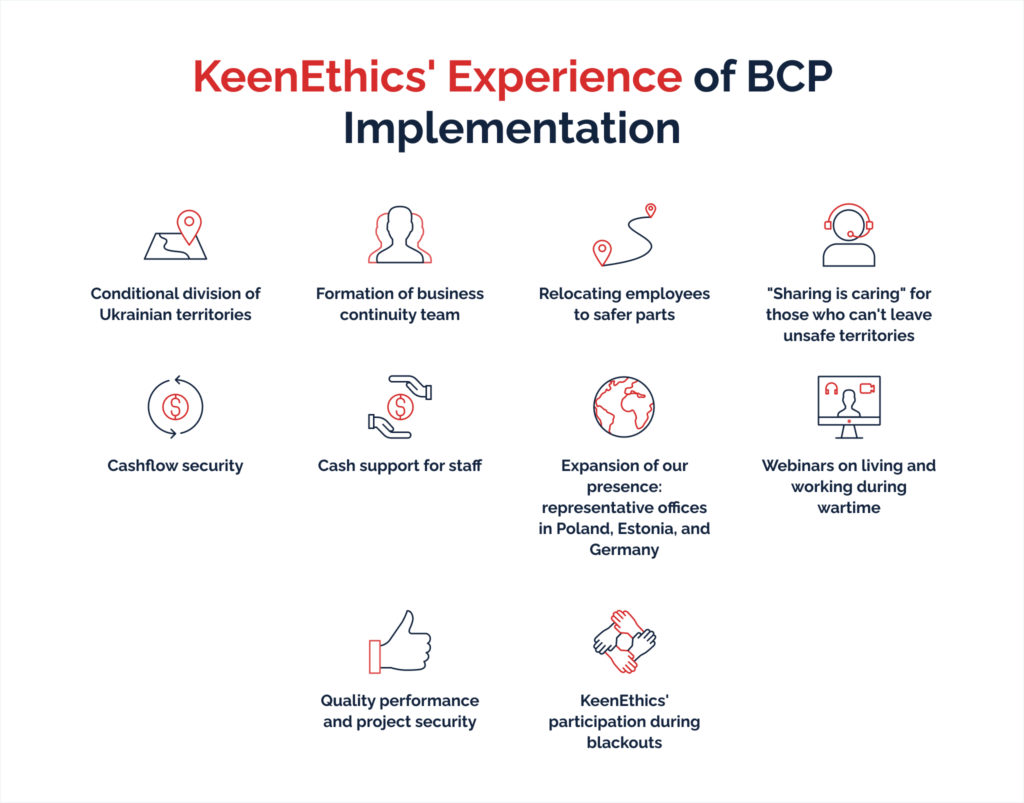 Above, we've explained enough about the BCP meaning in IT. So let's examine detailed steps that helped us keep a cool head and continue to run the business.
Сonditional division of Ukrainian territories
We conditionally divided Ukrainian territories into green, orange, and red parts where "green" parts stand for safe regions, "orange" – for places potentially becoming war areas, and "red ones"- for occupied territories.
We also made a forecast about likely outcomes, which may denote several levels of situations:
pre-emergency (when there is a need to prepare for relocation);
emergency (when there is still a chance to leave the territory and it shouldn't be neglected);
critical (when the situation is tense and without a forecast for a positive scenario in about 2 weeks).
The BCP team kept in touch with employees and advised them to act when needed.
Formation of business continuity team
We formed a BCP team with those whom employees could address when necessary. As we've mentioned above, the team involved the CTO, CEO, HRD, mental health officer, HRA, tech coordinator, delivery coordinators, and a team of coordinators. The team kept in touch with staff through the working channel. We also created a separate library for all important infographics and instructions.
Relocating employees to safer parts
Relocating staff implies documentation of safety steps the employees should follow:
caring about people who an employee plan to relocate with;
collecting the necessary things for the relocation, including documents and medicines;
thinking over an evacuation plan, including the place for relocation and the way employees get to it;
if there are any questions, the employee should address the BCP team directly.

"Sharing is caring" for those who can't leave unsafe territories
At Keenethics, we have an accumulation system of vacations. So, we formed a procedure called "sharing is caring" to support employees from the "orange" and "red" territories of Ukraine. This procedure implied that employees from safe cities could "donate" their vacations to colleagues who couldn't leave or have chosen to stay in unsafe areas. As a result, we collected 169 vacations into the staff's general stock, 143 of which the accountants shared among employees from the red parts.
It was a time when we had to be closer than ever. Since we were far from each other, these vacations served as support and a demonstration of deep understanding and unity. Through "sharing and caring," we proved to be a unified team willing to support each other.
Cashflow security
The BCP team ensured the company's financial security against possible interruptions in the banking system of Ukraine. The accountants from the finance department provided employees with a how-to-guide on working with international financial companies and getting salaries on a secure account.
Cash support for staff
A week before the pre-war forecasts, Keenethics supported the staff with a reserve amount of money in their bank accounts so that everyone was safe in case of failures in the banking system.
Expansion of our presence: representative offices in Poland, Estonia, and Germany
By opening our representative offices in Poland, Estonia, and Germany, Keenethics guarantees the full functioning of business operations and timely delivered software solutions. If any force majeure, we care about employees' relocation to a safer place so that they continue uninterrupted work on projects. Expansion to Europe means we're ready to work with more clients and talents.
Webinars on living and working during wartime
During the war, Keenethics invited many Ukrainian psychologists to hold internal lectures and webinars on war-related topics for the staff.
Here are some of them:
"Lecture on anxiety."
"The formula for satiety during the war. Maintaining peace and all about the superpower of Ukrainians."
"Self-care practices: how to keep your common sense and keep working."
"To live is to win the war."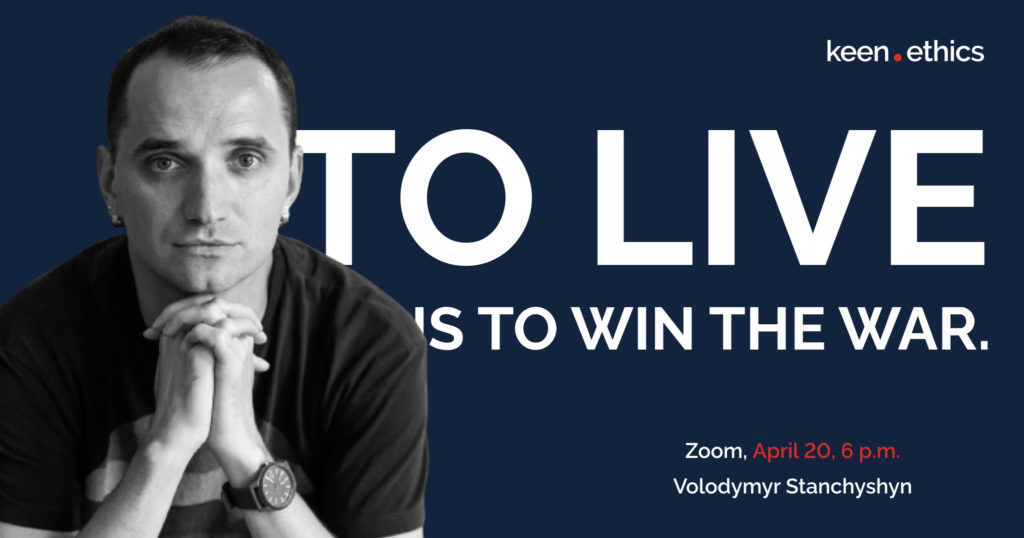 This is a meaningful practice allowing us not to forget that war doesn't mean we should stop living, working, striving, and accepting new challenges. Last but not least, once a month, our mental health officer holds individual one-to-one meetings with employees to hear about their internal state and solve problems, if any.
Quality performance and project security
During wartime, we more thoroughly care that the war doesn't affect our performance. So, we've developed a plan if someone on the project has trouble being available at work.
If, for instance, a developer is temporarily unavailable and doesn't reply to the client's message, within the project team, we agreed on the following issues:
the responsibility level and specific actions of every project member;
tracking of working hours;
time availability of each member;
ability to work offline;
safety and storage of critical documentation;
communication with the client.
We also divided the project team according to the level of responsibility and prescribed duties for each of them. If the developer isn't available for a long time, which is nearly impossible, we'll replace them with another available specialist. We assure our clients about the security of their projects, and we guarantee strict control of all processes on our part.
Keenethics' participation during blackouts
The cooperation of employees is immense. We created an internal channel where everyone can share their experiences, tips, and lifehacks about alternative power sources for effective work during blackouts.
Apart from the technical preparation we've discussed in the article, Keenethics supports employees through its involvement:
Firstly, the company provides the staff with electricity and internet connection webinars.
Secondly, the company runs financial compensation for purchasing all needed devices to ensure continuous work during electricity and Internet outage for 8-10 hours.
If you've ensured the reliability of the Ukrainian IT sector, you can address us. We're here to help with any queries in industries from education and healthcare to finance and banking.

And That Was Just the Beginning. We Go Ahead
We faced challenges at the beginning of the war, but we successfully adapted to most of the new processes. As a web development company, we continue to work and stand with Ukraine. Thanks to our current customers who continue to work with us. We also thank new customers who sign contracts with us and entrust us with their projects despite possible fears and concerns. We thank everyone for your support, as our victory is impossible without you.
Keenethics, as a web development company, continues to grow. We regularly review our BCP for the safety of our customers' projects and all business processes. Stats prove that the IT sphere brings positive results to the Ukrainian market. So, it'll only get better.
FAQs about BCP in IT
What is a Business Continuity Plan (BCP)?
A business continuity plan (BCP) is a critical plan including prescribed risks for potential threats that may strike a business. BCP is established by a business continuity team evaluating the level of threats and setting the right safety procedures. Cyberattacks, pandemics, wars, and weather-related events are some of the possible threats requiring a BCP.
Why Is Business Continuity Plan (BCP) Important for a Business?
What is the meaning of BCP in business, especially in IT? Here are several reasons why BCP is essential:
Business recovery.

The important point for consideration is the unexpected nature of any threats. Imagine a pandemic and you, as a business owner, aren't sure what to expect and what to focus on first. Being prepared 100% is difficult, but mitigating the impact on your business is real.

Data security. Data backup is good, but it's not enough. What if you can't access critical documentation because of a power outage? Sure, you can view this as not a problem for now. But in case of a disaster, it's best to predict all possible options on how you will access data.
Competitive advantage. While others try to figure out the problem, you can maintain normal operations. Isn't this competitive among dozens of other businesses? You should consider all possible ways to restore network backup, maintain a connection for employees, and keep in touch with customers. By doing this, your customers will trust you.
Suspension of business or business functioning?

The option to choose is up to you. However, by suspending a business, you can't know how long this period will last. Any downtime may turn into a lack of ability to retain customers and employees and remain competitive.
What Should an Effective Business Continuity Plan (BCP) Include?
An effective BCP implies the implementation of 5 phases:
Business impact analysis.
The BCP team should measure the event and potential risks that may impact the business. Also, the company should list as many clients' concerns as possible. A list of questions and a checklist of definite steps is important.
The question is, who is responsible for developing a BCP? It's required to form a team who can specify diverse operations and consider all needed resources for BCP implementation. The proper response to the threat equals effective business restoring and functioning.
All recovery steps should be properly determined, agreed upon, and documented.
How informed employees are is highly critical. The BCP team should be sure that the employees know the plan and how to act during a threat. It's best to save BCP and related information in a single place so employees can access it when needed.
Plan development and employee informativeness aren't the final stages. No plan is practical without implementation, testing, and regular updates. So, the BCP team should review and make changes when necessary.
Is there a possibility that I can encounter a data breach or a loss? How can you ensure privacy?
We guarantee there isn't even a 1% chance that something similar may occur. All the data is stored on European and US cloud servers. Furthermore, our developers regularly make backups to protect your data from corruption.
What happens if my payment is declined? Have you ever had any banking system failures?
It's unlikely. In case of a failure in the banking system, there is no risk to the secure functioning of payments.
We've taken care of this issue:
Payments can be sent to Keenethics' US bank account or through the Payoneer service. We may also accept payments in Poland or Estonia because Keenethics is represented there.

We provide our staff with cash so our employees can work as usual.
How can a client be sure that the company will develop a high-quality product given the war in Ukraine? Is there a decline in staff productivity as a result of the war?
Regardless of political or military actions in the country, there may be highs and lows in stress levels and staff performance in any company. Before the war, Keenethics has always cared about the staff's mental health.
During the war, this support tripled at times:
Keenethics conducts dozens of online training sessions with well-known experts on mental health and related topics.

Our mental health officer conducts an additional one-to-one with each employee monthly to minimize anxiety and burnout.

Many employees feel involved in the war. So while compatriots are fighting in the trenches, the staff is fighting on the economic front. Every employee is responsible for strengthening the economy of Ukraine, and they show high performance.
Will employees be less productive if they don't have an internet connection or electricity?
A similar situation is unlikely since we installed a generator in the Lviv office, allowing us to work without interruptions. Furthermore, all employees have purchased all needed devices for an Internet connection during blackouts. Besides, Keenethics also has Starlink in the Lviv office, so we assure you that such problems don't affect the employees' work.
What if the developer is unable to work due to hostilities?
In a similar scenario, the developers who haven't yet relocated to safer regions can take several days off. Since our PMs stay in constant touch, they'll be able to handle any issues.
What if some programmers working on the project are drafted into the army? Will you be able to replace these people, or what will you offer instead?
It isn't something to be concerned about. If someone from the project is drafted into the army, we replace them with another specialist on your project. Not less important, we save the workplace of the employee who is drafted. Since the russia invasion of Ukraine, we've had only two non-coercive cases, and our developers managed to work remotely and on part-time conditions.
If there was a need to relocate to safer areas, how long would the staff be absent from the project?
Generally, it's unlikely. However, if a similar scenario happens, our employees work on laptops and have good cellular Internet, so they'll be able to resume work within 2-3 days.
Who can I contact if I have any questions?
If you have any further queries, you can contact the PMs or the key person in Keenethics:
+1 (929) 214 1392, +49 151 46 39 5247 Max Savonin, CEO
Thank you for your trust and support!
Keenethics works and stands with Ukraine. Entrust your project to us. Let us prove our expertise in software development.