Cordian
AI data analytics platform revolutionizing the corporate and the banking markets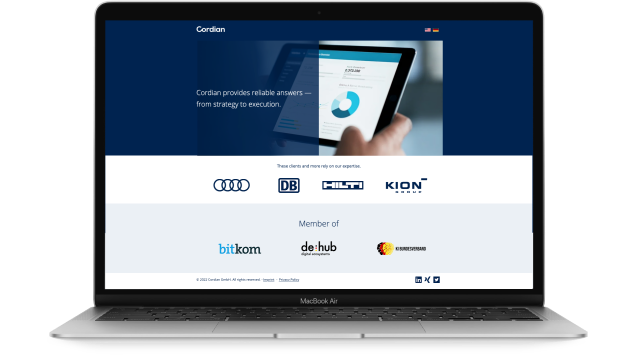 What Is Cordian?
Team

3 employees

Time

2.5 years

Product

AI analytics for banking
Industry

Business development

Services

Web development, AI

Location

Berlin, Germany
Providing reliable answers throughout the whole process in any use cases, including customer services, legal spend management, citizen services, and knowledge management
Do you catch yourself responding to the same question again and again? Cordian is a reliable, intelligent AI assistant in data visualization, analyzing questions with natural language processing and producing the response with deep learning. You get higher productivity through instant answers, security through verified content, and effectiveness through flawless workflow.
Challenges & Solutions
Challenge
There are many questions and answers on legal issues and banking services. Relevance is always critical when addressing them. This way, we had to find a technological solution to solve different scenarios, from processing them and responding to all customers' inquiries correctly.
Solution
Our team decided to integrate and use artificial intelligence for the intelligent selection of answers. AI in data analytics can effectively create a database of responses, resolve issues and respond to simple inquiries, enhance customer service, and provide continuous support. Another solution was self-learning and developing the platform with the possibility of text input and voice requests. The solution guaranteed raised customer experience with high customer satisfaction and operational cost reduction.
About customer
Growing sales conversion with better sales experience? Informed negotiations and objective create-or-buy decisions? Extension of a hotline with automated services responding to diverse cases? Consolidation of existing knowledge? These questions are of Cordian expertise, AI data visualization, one of the solutions you can opt for.
Download our full portfolio
Our Project Team



What Makes Cordian as AI Data Visualization Special?
➣ High code quality
Poor programming practices usually result in security vulnerabilities, opening up the entry for attacks from outside sources. On the project, we had high requirements for code quality. The team conducted code reviews helping us minimize requests for fixes in the long run. We improved our communication, shared knowledge efficiently, and sent fewer bugs to QA through code reviews.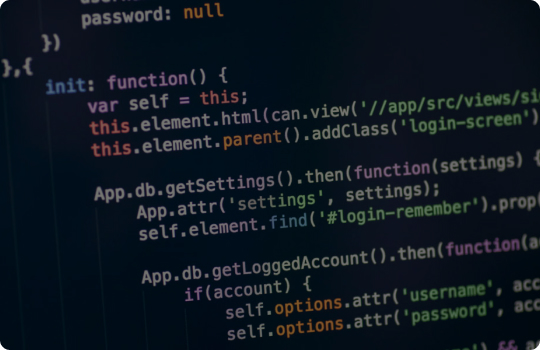 ➣ Reliable client communication
Client communication is an evident part, but sometimes it may be neglected. We always conducted meetings with SEO from this AI data analytics project concerning the development plan. From our side, the marketing lead, CTO, and PM gave updates on progress, and the client raised questions or potential issues. Client communication ensured the project went as planned, on time, and within budget. Through a reliable project communication plan, all stakeholders were informed about the course and success of the project.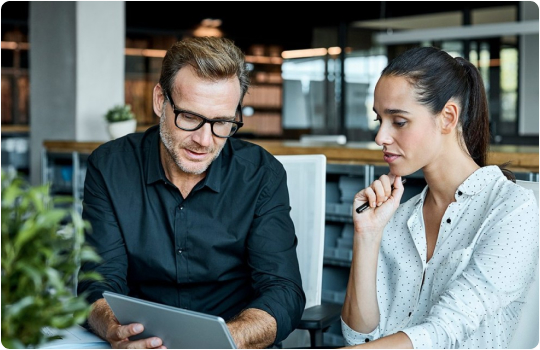 ➣ A well-configured Jira
A well-configured Jira simplified our work at times. It's simple to set up, adapt, and integrate, considering the needs when the business scales. Jira is riched with contextual information and provides a complete audit trail. It was convenient for us to create and download all the data. This management tool assisted in delivering exceptional IT service management and customer experience. As a result, we managed customer requests and solved problems quickly and efficiently.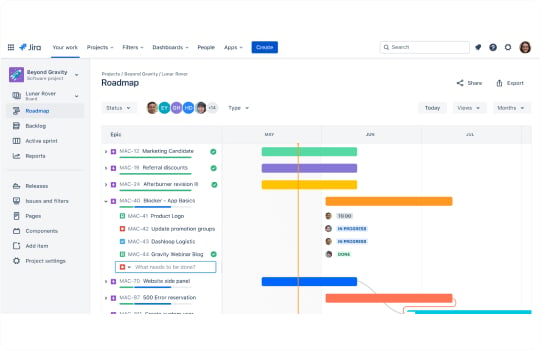 ➣ Easy collaboration via Scrum
Cordian implemented Scrum during the last year of the project development. Earlier, the project involved the employees inside the company. But when they started to hire new ones, the necessity was to train everyone and enable every employee to keep up with the pace of the project. Since Scrum incorporates many events, it helped new members quickly get into the process and adapt. Scrum streamlined the workflow both from KeenEthics' and Cordian's side. Scrum is simple. Thanks to it, the complex tasks were manageable, rules, events, and roles were straightforward to understand, and transparency was kept throughout the
web development
full-cycle method.
Other Projects
Service ×
Web development

15 cases

Machine Learning & AI Development Services

2 cases

Mobile Development

9 cases

IOT Software Development Services

2 cases

Development Team

1 case
Technology ×
Express.js

5 cases

GraphQL

2 cases

Node.js

8 cases

React

11 cases

MongoDB

7 cases

Next.js

1 case

MySQL

1 case

Meteor

6 cases

Angular

1 case

REST API

1 case

Vue.js

1 case

Fastify

1 case

Nest.js

1 case

React Native

1 case
Industry ×
Business

7 cases

Media & Publishing

4 cases

Real Estate

1 case

Education

2 cases

E-Learning Software Development Services

6 cases

Learning Management System

2 cases

DIgitalization

5 cases

Healthcare

3 cases

Banking & Finance

2 cases

Business Administration

5 cases

Agriculture

1 case

Employee Training Software

3 cases

Logistics

1 case
Hire Our Specialists
If you have a business challenge you want to be solved with a software solution, let me tell you about what we can offer. Should we start with a free estimate of your project?
Let's talk