MVP Marketing Strategy Complete Guide
Are you willing to try out something innovative in business? Then, a good idea is to consider an MVP!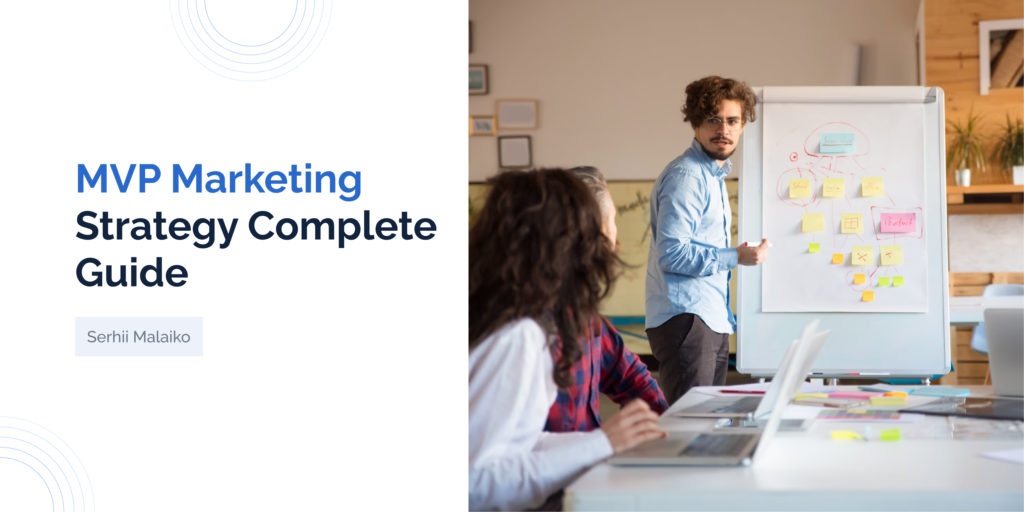 Understanding one's products is the most important goal for any manager. Among the largest problems for many companies is the tendency to plan profits from ideas that are still on paper rather than via MVP marketing. Developers create a software idea and immediately think they can monetize it without knowing the market demand. The world doesn't work this way. Many products that seem great in the planning stage turn out very bad in reality. In this article, we'll look at the concept of MVP to resolve this challenge. As you'll see, MVP marketing is the best approach to consider for modern business.
What is MVP in Marketing?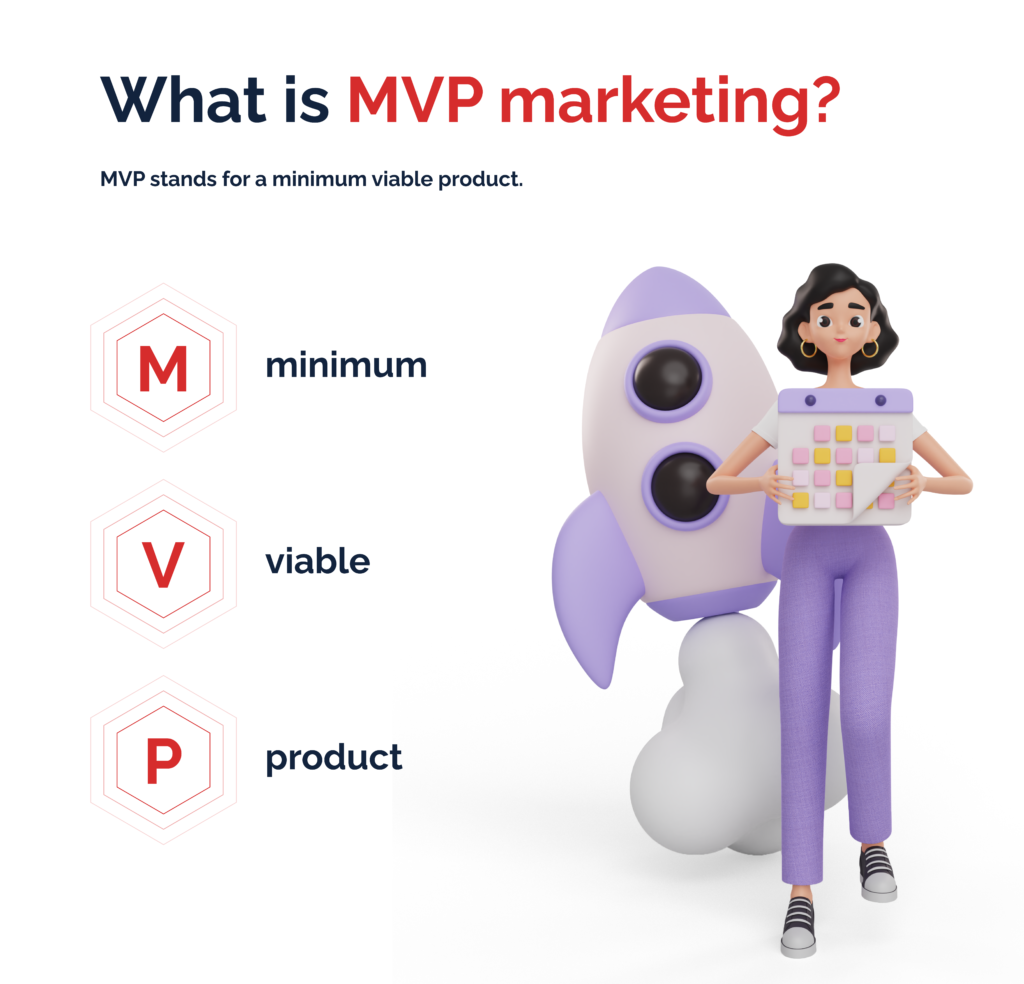 MVP stands for a minimum viable product. Ultimately, MVP in marketing has a strong role. Marketing needs to focus on a working product. It's impossible to promote something that a user cannot realistically apply to their everyday life. An MVP solves this problem by giving the marketing departments an opportunity to see their planned products in action. The goal of MVP is validated learning. These are the words of Eric Ries — the person thanks to whom we are today familiar with the term "MVP". Although the concept of a minimum viable product was coined by Frank Robinson back in 2001, it was popularized by Eric Ries along with Steve Blanc in 2009. It gives a chance to start a marketing campaign long before the full solution is complete. Minimum viable products highlight the strengths of the options you offer, offering a perfect platform for a marketing board. You should definitely learn how to build an MVP if a successful marketing campaign is the goal.
"Related services

MVP Development Services"
MVP Meaning in Business
MVP meaning in business is quite potent too. For business, MVP is capable of answering if a certain monetization approach works at all. Many companies concentrate on one or two products at best. MVP marketing solves this problem once and for all. By offering a chance to see the feasibility of some solutions, a minimum viable product can save you a lot of funds. Some business ideas are great only on paper. Instead of finding this out post-factum (when your marketing activities fail), MVP offers a chance to discover the problems with some business ideas long before you spend all your investment funds. The lack of MVP often destroys the lives of some people. We, regrettably, know of cases when business professionals were investing all they had into some projects. After they failed to work, those individuals had no funds and tremendous amounts of debt. Use an MVP and avoid this problem once and for all.
Why Does Your MVP Need a Marketing Strategy?
We all know that an MVP is crucial for marketing. However, many people don't know that marketing is crucial for an MVP too. Why is that so? Your MVP is already a product that you want to present to potential customers. Yes, its functions are minimal. Yes, it may have no interface or very basic controls. Still, this product already presents a key feature not evident in other competitors.
MVP marketing is, thus, crucial to tell people about your solution. Users can't magically learn about your product unless you show it to them. Marketing assistance for an MVP is, thus, crucial. Do you have a minimalistic website for your platform? Show it to people and spread it through some channels. Do you have some video game ideas? Showcase your main innovations before presenting them in a full-scale format. We know that some products (for instance, the Pebble smartwatch) became popular after a good Kickstarter demo. To understand that your ideas work, it's crucial to not only deliver a product but also find people who'll be able to test it.
MVP Marketing Strategy
Let's look at the key steps to consider for a marketing MVP. As you'll see, they're not complex and repeat the overall approaches to product promotion. Follow these steps, and you'll meet success in promoting your MVP.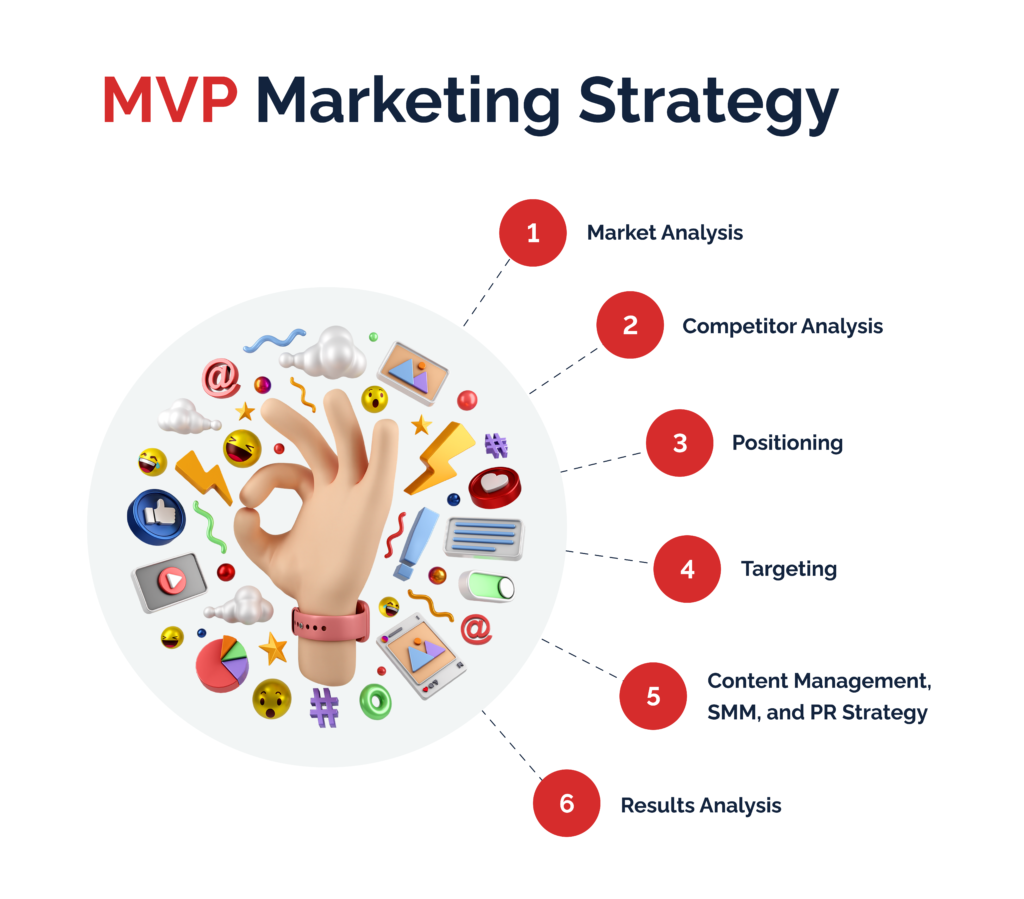 1. Market Analysis
This step works best if you don't have a full-scale MVP yet. Before doing anything with your product, find out as much as possible about your potential audience and the overall market. Who are the people ready to use your product? What solutions are already present out there? Don't hesitate: analyze as much as possible. It's always better to over-analyze than under-analyze. With more data, your chances of doing something correctly (good marketing communication, for instance) rise.
2. Competitor Analysis
Every type of analysis requires a focus on the existing market solutions. What is MVP in marketing? It's a product capable of helping you see your strongest offerings. To realize what is lacking in the market, you must always look at the competitors first. See what they give to the customers. Find out more about their market coverage. Understand their key customer groups and the motivation for purchasing products from those companies. In short, realize how your competitors function and what they do to be successful. Once you have this data, plan how you'll give something that competitors can't. Let your marketing team create your distinguishing feature. It can be some unique service. Or, you can dominate through a more streamlined interface. Target the weaknesses of your competitors and win by disrupting their markets.
3. Positioning
A very big aspect of success is the ability to generally create a positive image for your product, which should act as a starting step of the marketing funnel. Let's look at the WorldLabs. It has positioned itself as a startup incubator with all-inclusive access. This aspect brought about major success to the company in question. These approaches offer you two very different potential audiences. People who like unique gameplay may target the first option. Individuals who are after a good story can target the second one. The way you position your product matters. You can genuinely choose the potential customers in this way. Apple, for instance, wins by showing its products as elite status items even though the solutions are also great at computing in general. A well-positioned MVP can quickly help you gain a gigantic audience for all your projects.
4. Targeting
We've already mentioned that positioning plays a tremendous role in MVP marketing design. Through it, you can choose the key populations to target. We recommend creating a very definite profile of the people with whom you want to work at this marketing stage. For example, Apple's products target individuals between 20 and 45 years with middle to high income and an interest in it-just-works computing. In short, these people are searching for solutions that don't require much configuration. If you're a copywriter or a literature studies scholar, this choice is understandable. Why spend time configuring something if advanced computer skills don't have a major impact on your career? Describe the age, gender, preferences, and motivations of the people with whom you're going to work. If you're motivated enough, even go as far as to describe where they live to understand the market potential. The more data you have on the customers, the better.
5. Content Management, SMM, and PR Strategy
Once you've defined some of the key targeting features for your product, create an overall strategy for promotion. Define how and where you are going to promote some product-related texts. Choose the frameworks that allow the customers to gain some bonuses in exchange for bringing in other users (referral links). Also, think about the ways in which you'll contact the audience. Is it going to be through YouTube streams? What about TikTok? And what communication style should you use for the app marketing methods? Formal or informal? Ask as many questions as you can in this regard. In the end, you should have a very clear framework of action. It doesn't have to be ideal. But it's crucial to have one nonetheless. A good idea is to also employ pro-marketing companies or professionals.
6. Results Analysis
The final step in marketing is the ability to review the things you do correctly and those that you don't. Today, the success of MVP depends on a complete marketing strategy in many cases. So, you should also invest in the analysis of your methods. Review if your strategy works and think about why it does so. Results analysis can show you whether the MVP is, in general, a good idea or if you need to simply change some aspects of marketing. MVPs are definitely one of the best methods for expansion. Western Union is well-known today for money transfers. In the past, this company was a telegraph business. An MVP of money transfers helped to gradually change the project scope for the business.
MVP Application Marketing Strategy
Creating an MVP marketing strategy is a complex process. We recommend three main steps for launching a full-scale product.
Choose items to implement in your MVP
The first step to consider is choosing what features you want to have in your MVP. You must have clear business goals. The market analysis we've mentioned above is perfect for this aim. You can't implement everything. After all, it's a minimum viable product. You can, however, find features that distinguish your solutions and make them unique. Select several main factors and put them into a framework that is viable from the user's standpoint.
Choose a proper release approach
Once you have your product, think about the ways to put it out on the key markets. You have two options here. Firstly, it's possible to launch a project via the Scrum framework. It involves short development sessions that allow changing the development framework every month. Secondly, you can consider the Waterfall framework, where the whole project is pre-planned. Both options have their advantages and downsides: the first one is flexible but requires more work. The latter one is rigid; however, it offers a better experience for developers.
Engage in the paid promotion to raise the number of users
When starting an MVP, it's also crucial to understand that advertisement needs to at least partially be prepaid. What do we mean by that? It's vital to feature a word-of-mouth approach. Some products, like the famous Souls (as in Dark Souls) video game series, started in this way. However, many advertisement platforms offer a way to target the user groups you genuinely want to attract. All you have to do is pay for some adverts. Why not do so? Prepare a budget and start investing in MVP marketing and design promotion. Your success will be much more likely if you invest in some paid promotions via Google Ads or YouTube/TikTok bloggers, targeting groups discovered via business analysis.
5 Tips For Marketing in MVP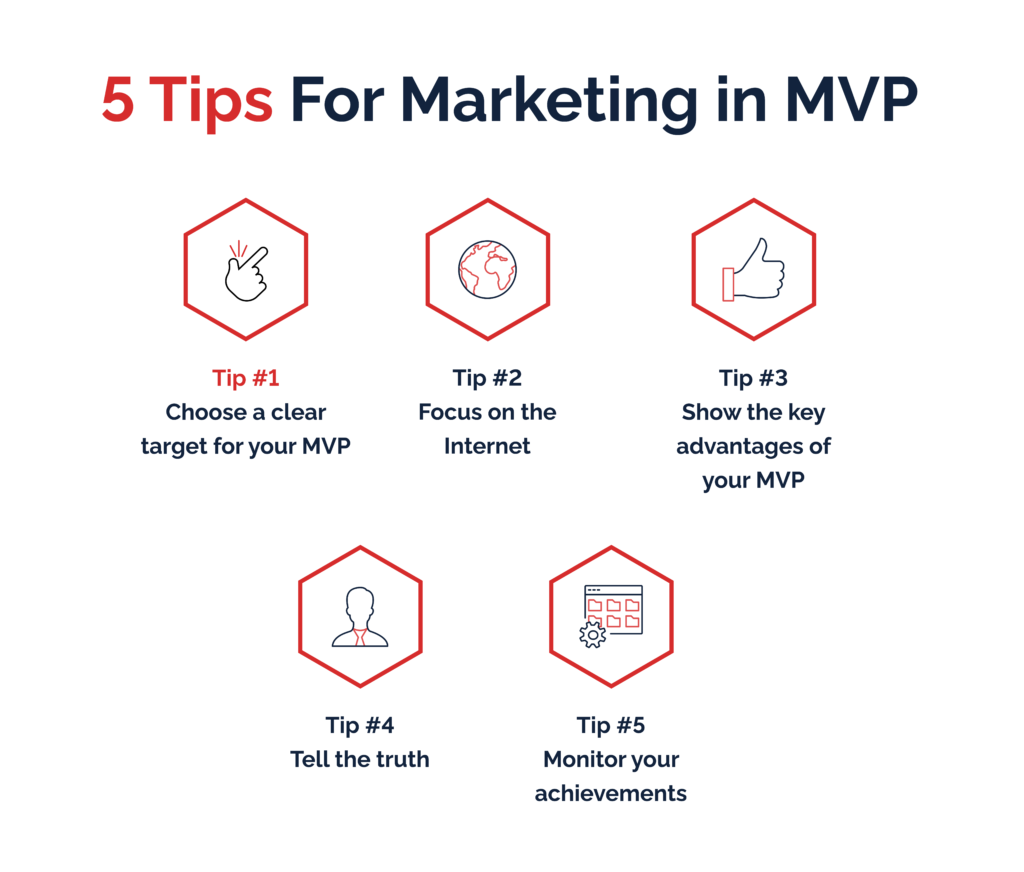 We also have some tips capable of helping you with MVP marketing. What are those? Let's find out:
Tip #1: Choose a clear target for your MVP
A big problem for many projects is not understanding who their main audience is. The market is gigantic. If you're targeting everyone, you're targeting no one. It's impossible to find your core audience by concentrating on everyone. Find people who are going to be enthusiastic about your product. Only then can success truly come to your company.
Tip #2: Focus on the Internet
We live in a digital era. Advertising something on the streets is no longer a good option. Most people spend more and more time online. With lockdowns and work-from-home rising, cities are going to be less crowded. In this light, you should invest in the place where most people of working age are, the Internet. Billions of people spend many hours of their days on TikTok or YouTube. The easiest way to convince them is to target those platforms. The digital marketing strategy with ads on Google and other social media platforms is the best option.
Tip #3: Show the key advantages of your MVP
When devising a marketing campaign, think about the ways your MVP is unique. You should talk about the features that make your product stand out from the crowd. This approach is the best path to the success of your business strategy. Computers have been in existence for more than 50 years. This means solutions to almost every task are already out there. Your product won't be unique in general. You have to show something truly specific to attract the attention of the customers. In this regard, the best option is to focus on the key feature. Do you sell laptops with great privacy features? Show those features. Highlight how you can turn off the camera or a microphone on a hardware level. Describe your innovative operating system. Be unique!
Tip #4: Tell the truth
One thing people truly hate is when companies lie about the capabilities of their products. It's disappointing to buy a word-processing program that can't offer great art capabilities despite the claims. If you want to cause dissatisfaction, lie. It's better to tell the truth. Describe the capabilities as they are. There shouldn't be any highly specific use cases. The author's personal experience of translation offers a perfect example of negative consequences. Many solutions on the market promise an almost perfect quality of automatic translation from other languages. The reality of those innovative AI tools is that they often offer raw texts needing a lot of editing. In some cases, it may take more time than human translation. Obviously, hate against such programs is inevitable. Show what you can truly do. Be honorable.
Tip #5: Monitor your achievements
Before starting any project, define what success means for you. Then, steadily test your project according to the criteria you've created. It's crucial to see if your marketing makes sense. Without good benchmarks, you may be spending tremendous funds on something useless. The more you analyze, the better. It's crucial to adjust your product through user feedback rather than rely on personal judgments.
When Should You Start Developing MVP?
You should develop an MVP once there's a clear understanding of what you want to create and what business growth means for you. There should already be a minimalistic team and some investments. Simultaneously, you shouldn't have a full-scale budget at this point. A minimum product requires a minimum viable team. As for the more general understanding of the question, we believe developing an MVP is always a good idea. The more you know about your product, the better.
MVP Marketing Strategy And Design
MVP marketing strategy and design should include the following options:
1) Defining the gaps in the products of the competitors;
2) Defining what new things you can offer;
3) Analyzing the potential customers groups;
4) Creating a high-quality target message for the customer groups;
5) Selecting the online platforms for promoting your product;
6) Choosing the features to focus on and your overall message;
7) Selecting the criteria for the marketing campaign's success.
Hire an MVP Development Company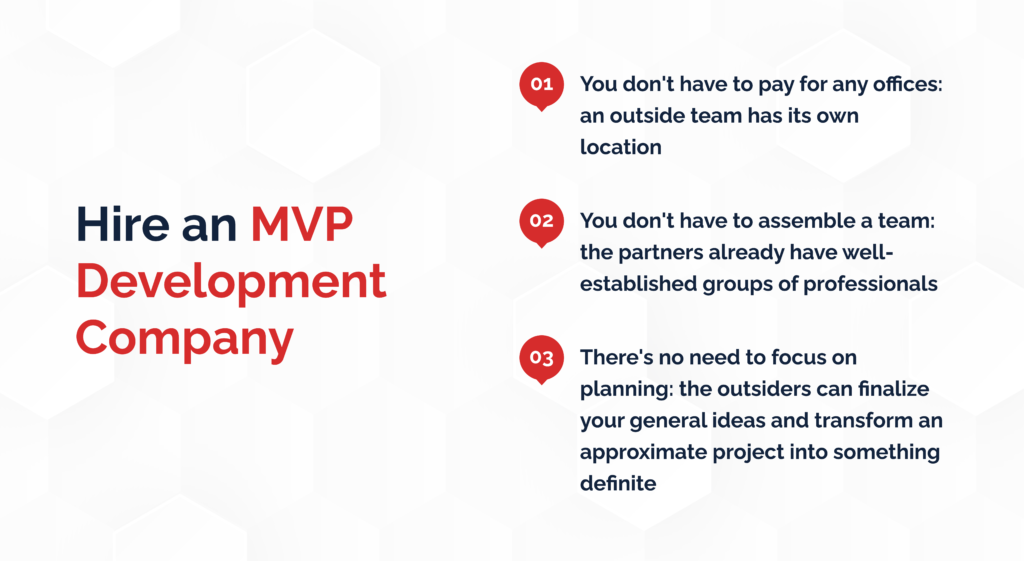 As we've mentioned before, an MVP requires a minimum team. The best feature of such an approach is its focus on the minimization of expenditures. Hiring an MVP development company can be a great solution in many cases. An outside company has several advantages that fulfill the MVP marketing meaning, in our opinion:
1) You don't have to pay for any offices: an outside team has its own location;
2) You don't have to assemble a team: the partners already have well-established groups of professionals;
3) There's no need to focus on planning: the outsiders can finalize your general ideas and transform an approximate project into something definite.
In short, the approach is perfect for saving funds. In this case, you only have to pay for some outsider team and your marketing department. Why not use this advantage? If you're interested, our company offers the option of hiring some specialists for MVP creation.
In Conclusion
To summarize, an MVP is a crucial thing for any business. If you want to achieve something of value, we recommend considering this option. A good MVP can save you time by showcasing what ideas are good or bad. MVP is a potent tool of marketing today. We hope this article was of genuine help. If you're interested in any advice related to MVPs, our team is more than willing to help!
MVP development is complex
Our company is ready to help!