Attendance
Tracking schedules and salaries of the KeenEthics team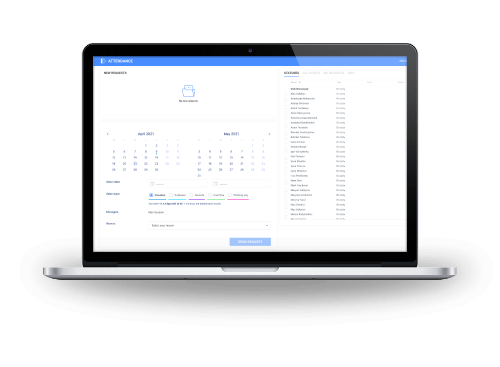 Team

11-50 employees

Industry

Business Administration

Location

Lviv, Ukraine 🇺🇦
Have a look at the internal KeenEthics project for tracking schedules and salaries of employees.
Attendance is an internal KeenEthics project – an employee scheduling tool, which allows employees to conveniently and quickly manage their schedule. Here, they can request schedule changes, inform about vacation days or a sick leave, check the information about their salary coefficient, learn about days-off and bank holidays.  
Challenges & Solutions
Challenge
There used to be a problem with tracking the attendance of KeenEthics employees. Team members had to ask their manager in person whether they could take a vacation, a sick leave, or a day-off. If the manager approved their request, they had to inform the administration via email. Then, the HR manager had to enter all the data manually to a Google spreadsheets table, which was working too slow because of complicated formulas and a huge amount of data. At the end of each month, the accountant calculated the salary coefficient for each employee based on the data from the spreadsheet.
Solution
Considering the user experience, we have decided to develop a dashboard with the essential and most frequently used functions on the main screen. Depending on the user role – are you an employee, a manager, or a system administrator – everyone sees an individual interface. This should be a system for everyday use. A user should not only submit their request and receive notifications on the status updates from the manager but also get the information about their coworkers. With this system, one should easily see who is in the office or absent today. Everyone should also be able to get information about their salary coefficient and the number of vacation days they have left.
Our Full-Cycle Method On The Project
We guide businesses through every stage of software development while delivering effective and elegantly designed solutions to improve your daily business processes.
The goal of business analysis is to test the project idea.
Learn More
Through continuous testing, we make sure the code we develop is clean, effective, and free of bugs.
Learn More
The goal of a discovery stage is to test and develop the project idea.
Learn More
Software grows outdated, technical errors occur, and the project idea undergoes changes.
Learn More
Download our full portfolio
See Our Works
Service ×
Web development

15 cases

Machine Learning & AI Development Services

2 cases

Mobile Development

9 cases

IOT Software Development Services

2 cases

Development Team

1 case
Technology ×
Express.js

5 cases

GraphQL

2 cases

Node.js

8 cases

React

11 cases

MongoDB

7 cases

Next.js

1 case

MySQL

1 case

Meteor

6 cases

Angular

1 case

REST API

1 case

Vue.js

1 case

Fastify

1 case

Nest.js

1 case

React Native

1 case
Industry ×
Business

7 cases

Media & Publishing

4 cases

Real Estate

1 case

Education

2 cases

Learning Management System

2 cases

DIgitalization

5 cases

Healthcare

3 cases

Banking & Finance

2 cases

Business Administration

5 cases

Agriculture

1 case

Employee Training Software

3 cases

Logistics

1 case
I'm here to help you find a software solution.
If you have a business challenge you want to solve with a software solution, let me tell you about our offers. Should we start with a free estimate of your project?
Let's talk