Personal Development Software: What Do Bloggers Have to Show You?
9 bloggers, 9 success stories, and 9 software solutions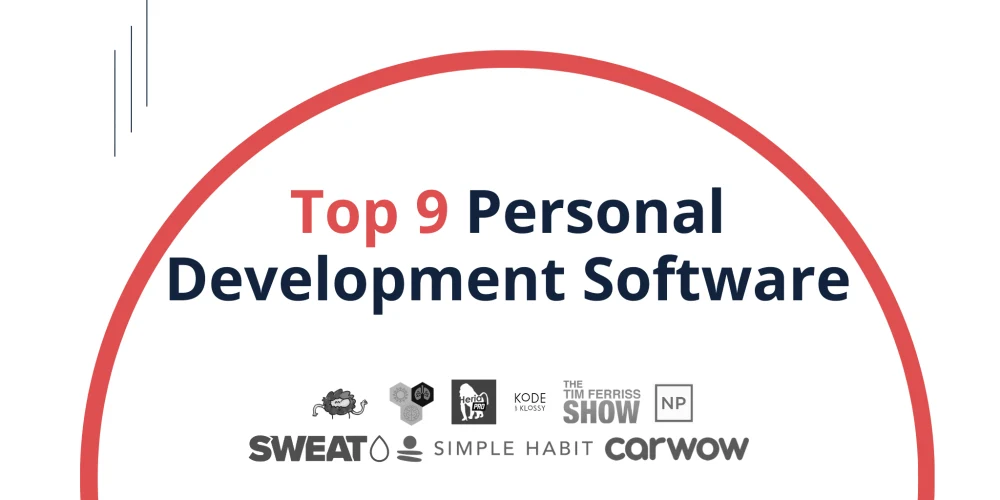 What is the difference between the global society of 2000 and the global society of 2020?
We would argue that the greatest difference is in the way people educate themselves, get news, and broaden their outlook. Two decades ago, people read books, watched TV, and listened to the radio. Today, people satisfy their informational needs through the Internet. People do not trust TV anchors or book authors anymore. Instead, they listen to bloggers, vloggers, and social media influencers.
In most cases, these people communicate with the public through Instagram, YouTube, Telegram, or Twitter. However, for some of them, these platforms are not enough, so they develop their own websites and mobile apps. In this article, we will look through the most interesting and inspiring coaching apps and self-development websites that most popular world bloggers offer us. So here it goes – the list of most inspiring social media people that the Keenethics team adores and of their self-development applications or websites.
---
Health & Fitness
Wim Hof
Wim Hof – The Iceman – is an extreme athlete and a lifestyle coach from the Netherlands. Known for his ability to withstand freezing cold temperatures, Hof set numerous Guinness records for swimming under ice, lying on ice, or jogging on ice barefoot. He believes in the almightiness of the human spirit and body and challenges his followers to leave the corner of their comfort. Therefore, he has developed his own body hardening method, called Wim Hof Method (WHM).
Twitter: Iceman_Hof
YouTube: Wim Hof
Wim Hof Method App
To communicate his method to the public, Wim Hof has developed his website. Here, one can sign up for a workshop, join a video course, or even book a meeting with this exceptional person. It also serves the informational role. It tells about the three pillars of Wim Hof Method: cold therapy, breathing, and commitment. What Wim Hof promises is increased energy and willpower, improved sleep and performance, heightened focus and creativity, reduced stress, and stronger immune system. To help people implement his method, he has launched a mobile personal development software, which is available for both Android and iOS. Here, one can do exercises together with their mobile coach.
Basically, the mobile app is how Wim Hof monetized his talent and his vocation and brought it to the entire world.
Website: wimhofmethod.com
Counting myself among the productive tribe, I rely on multiple coaching apps to maintain my focus and daily progress. This apps offers a scientifically-backed routine from a well-respected blogger. I find it to be the best motivator for any long-term progress.

Oleg Romanyuk Head of Inbound Marketing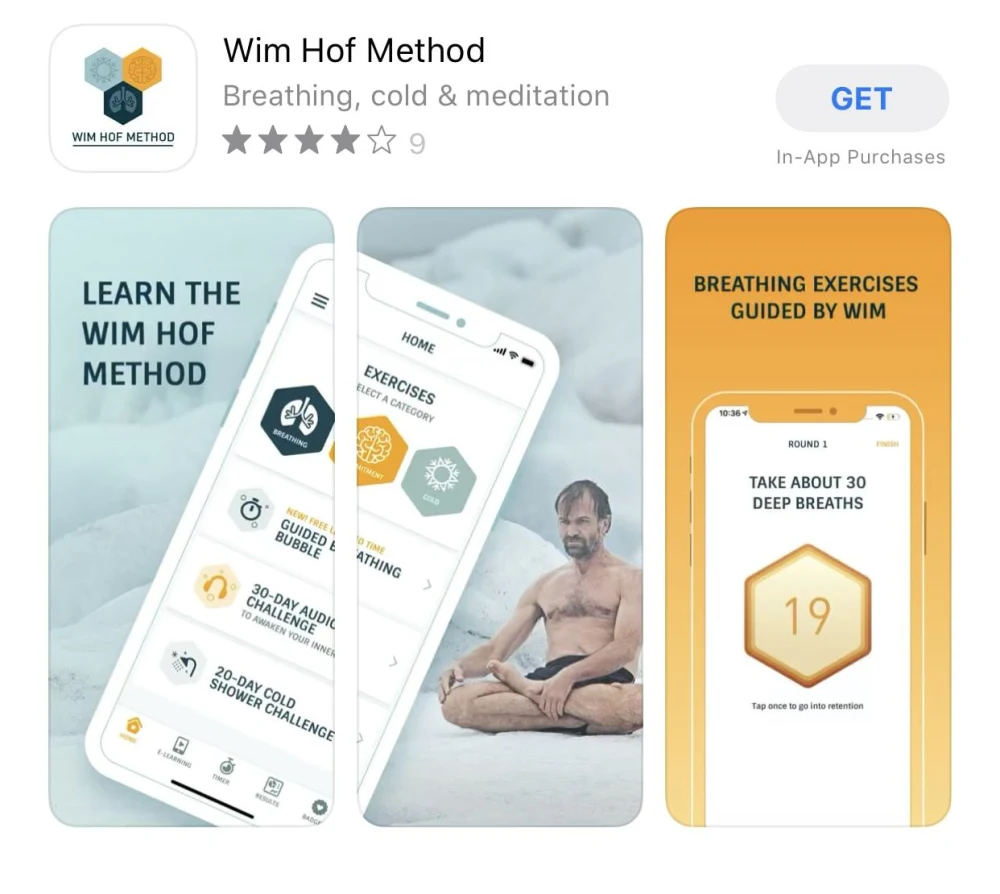 ---
Kayla Itsines
Kayla Itsines is an Australian fitness coach, entrepreneur, and book author. According to Time, she was one of the 30 most influential people on the Internet in 2016. Kayla has developed a unique meal and training method she calls the Bikini Body Guide (BBG). Thanks to it, thousands of women from all over the world have already changed their bodies and reinvented their lives.
Twitter: kayla_itsines
YouTube: kaylaitsines
SWEAT App
To coach people from all over the world, Kayla has developed a website and mobile apps for Android and iOS. This way, each person can train together with Kayla and other renowned fitness coaches via their smartphone or laptop both in the gym and at home. There are different training routines, including strength and high-intensity workouts, resistance workouts, cardio, and yoga. There are hundreds of healthy recipes and over 300 pages of educational content on fitness, nutrition, and wellbeing. What makes the application unique is that it features a post-pregnancy program for women to recover their strength and fitness.
SWEAT app became the most popular and profitable app of 2016.
Website: sweat.com
---
Chris Heria
Chris Heria is a health & fitness social media influencer, who promotes calisthenics. Being only 28 years old, Chris Heria is a founder and a CEO of THENX.com, WEIGHTVEST, Chris Heria's Shop, and Heria Pro App. He motivates people to start eating healthy, to start training, to take up calisthenics, and to be optimistic about their lives. Heria is adored and followed by people of all sexes and ages from all around the world. And yet, he has quite a few haters, partly because of his unwillingness to disclose his ethnicity, partly because of his criminal record.
Twitter: christianheria
YouTube: CHRIS HERIA
HERIA PRO App
Chris Heria has developed a few websites to promote himself and his merchandise. Yet, his key software solution is Heria Pro app – a self-management assessment tool for athletes, which is available for both iOS and Android. This app features an extensive library of separate workouts and multi-day programs, a personal workout calendar, and a workout generator. This app is quite similar to SWEAT by Kayla Itsines, but it is less educational and more practical, focused on exercise – fat burning, strength building, and Tabata.
Through a wise web promotion strategy, Heria managed to turn his persona into a global fitness brand.
Website: heriapro.com, chrisheria.com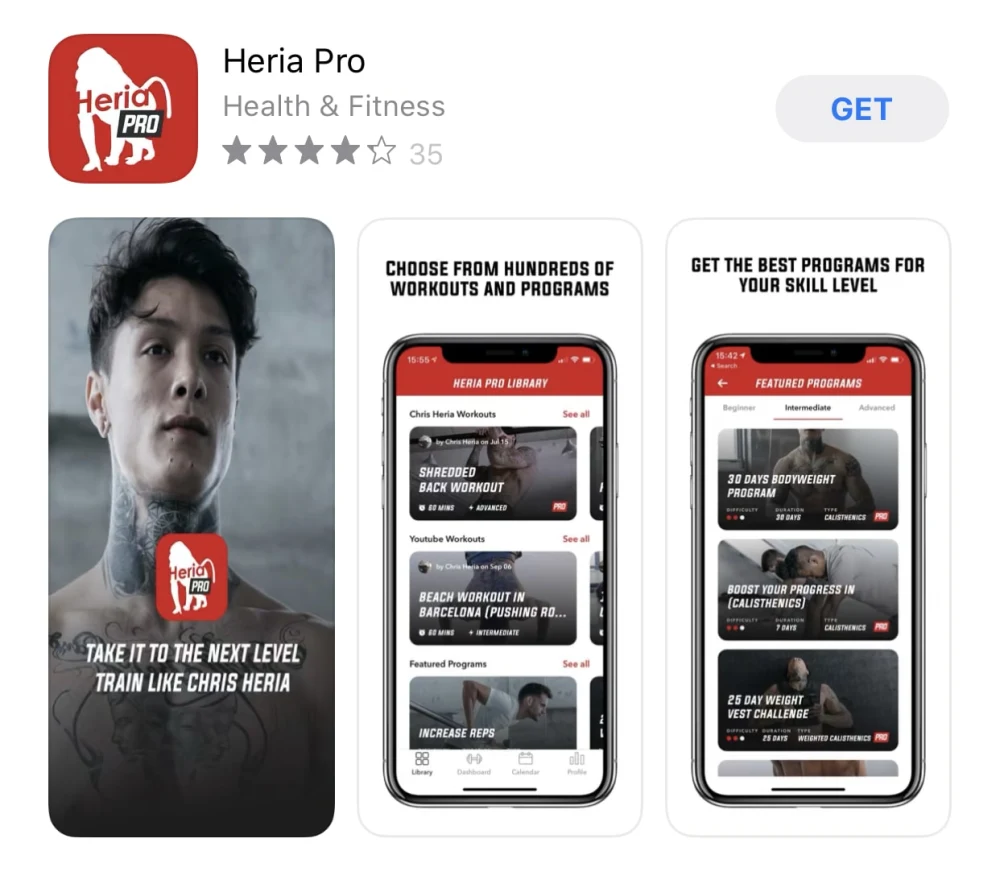 ---
Programming & Female Empowerment
Karlie Kloss
Karlie Kloss is an American model, a former Victoria's Secret Angel, and one of the top 30 models of the 2000s, according to Vogue Paris. Yet, her modeling achievements are not why we listed her here.
Karlie Kloss is an entrepreneur and a founder of the "Kode With Klossy" project, which empowers women to learn programming. When she was 21 years old, she started to learn to code herself, and a few years later, she decided to share her knowledge with other girls.
Twitter: karliekloss
YouTube: Klossy
Kode With Klossy
Kode With Klossy is a female empowerment project, which breaks stereotypes about women in STEM and teaches them to go against the rules of the industry. The goal of this platform is to make young women more confident, to inspire them to pursue their passions, and to make them leaders in tech. Kode With Klossy sets up multiple camps across the United States and offers a free two-weeks-long summer scholarship for women with different knowledge levels of programming.
Karlie Kloss does such an important job – she changes the landscape of modern STEM education, and she would not be able to do that without her website.
Website: kodewithklossy.com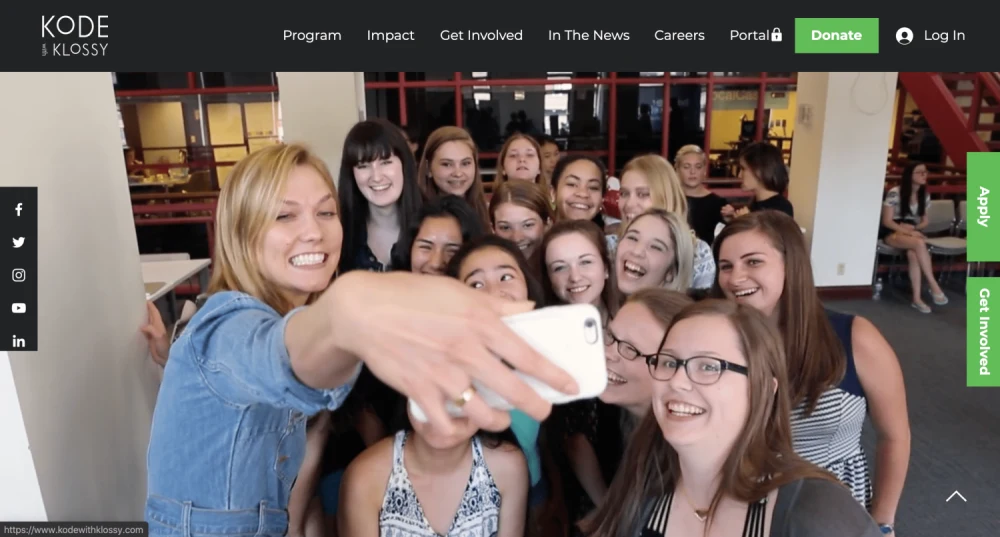 ---
Business & Productivity
Tim Ferriss
Tim Ferriss is an American entrepreneur, popular podcaster, and book author in the field of personal development and business. The topics he covers vary greatly, but most of them are devoted to how to make yourself or your business perform better: how to improve morning routine, how to lose fat or to build muscles, how to create sustainable content, how to automate and delegate. Besides, Ferriss holds interviews with some interesting people from the world of business and pop culture, such as Edward Norton or Adam Sawage. Tim Ferriss is best known for his concept of the 4-hour workweek
Twitter: tferriss
YouTube: Tim Ferriss
The Tim Ferriss Show
Tim Ferriss has successfully promoted himself, his books and videos via YouTube, and yet, at some point in 2007, he has decided that this platform is not enough. He has developed a website for his personal blog "to build a community and learn from smart readers". Here, he stores all his videos, podcasts, and books (or the websites where to purchase them). This blog has its audience. For some, this website will come across as nothing but a bunch of not-so-interesting business and self-development ideas. But for some people, Tim Ferriss's blog is a mind-changer.
Regardless of what one may say about this web blog, Tim Ferriss reached his goal – to build a community.
Website: tim.blog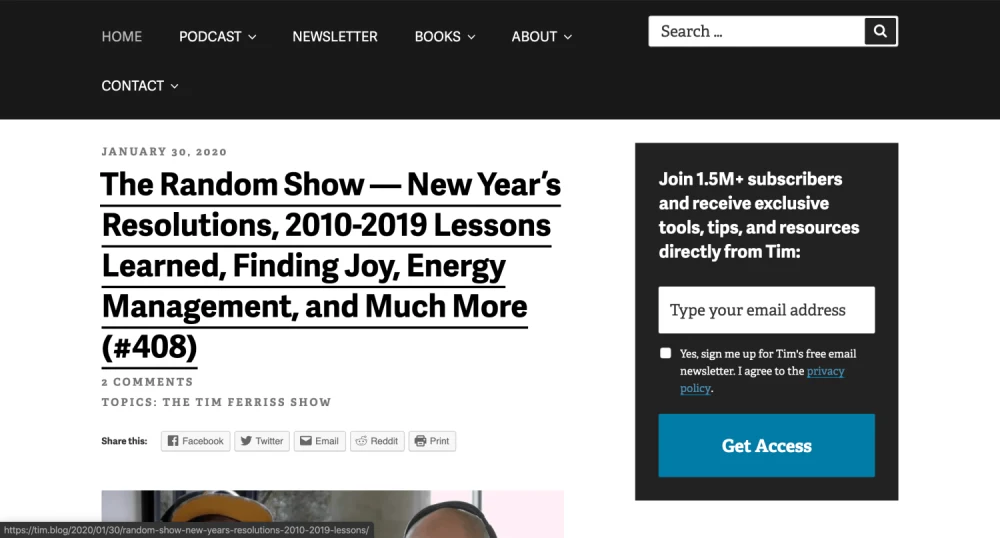 ---
Marketing & SEO
Neil Patel
Neil Patel is a name that most marketing, business analysis, business development, and content management specialists from all around the world are excited about. He is a New York Times bestselling author, a top 100 entrepreneur under 30 by, and a top 10 marketer by Forbes. Also, he is a co-founder and a face of Neil Patel Digital – a digital marketing agency, which specializes in SEO, content management, and SMM. Neil is known for his ability to explain complex matters in a simple and understandable manner. His videos and books are a starter pack for each beginning marketing specialist.
Twitter: neilpatel
YouTube: Neil Patel
Neil Patel Digital
Npdigital.com is a corporate website of Neil Patel Digital – a digital marketing agency founded by Neil Patel and Mike Kamo. The primary purpose of this website is to promote the services of the company, but for most readers, it is more than that. Internet users treat npdigital.com as Neil Patel's blog where they can find useful tips & tricks about, for example, how to deal with haters on social media, how to understand website ranking, or how to create a content plan.
The website has become Neil Patel's way to extend his target audience beyond avid book readers and to target those who prefer searching Internet for all the answers.
Website: npdigital.com
I enjoy reading Neil Patel because there is no other way I would learn those SEO and content writing tricks that I learn with him. His ideas are fresh, his method is effective, and his attitude is inspiring. The passion he brings into this sphere is out of this world.

Oleg Romanyuk Head of Inbound Marketing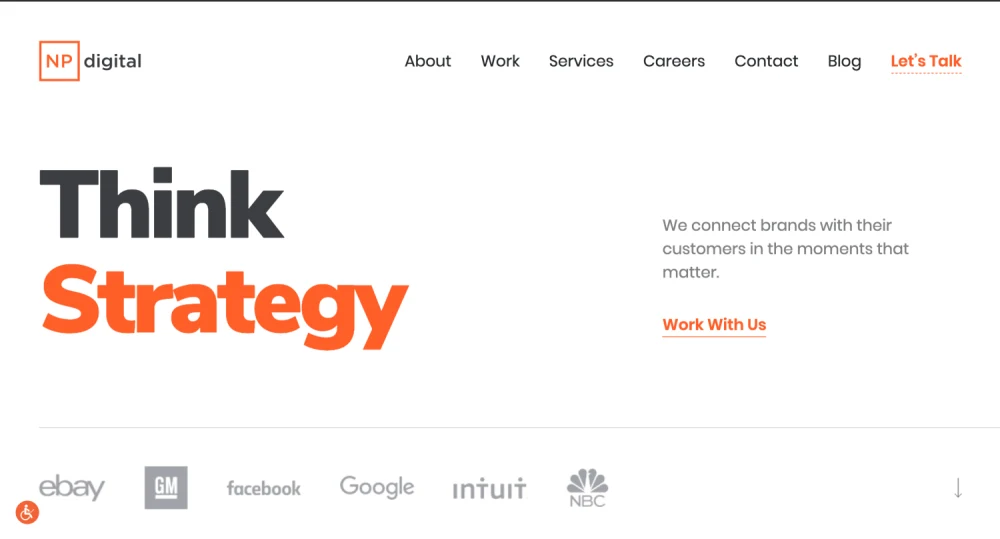 ---
Art & Design
Pablo Stanley
Pablo Stanley is a lead designer at InVision, illustrator, musician, podcaster, and comics writer. This multi-faceted personality is known in the UI/UX community for his simple and humorous comics and outstanding artistic illustrations. The topics he covers are those from the everyday life of designers and that everyone may relate to. Pablo is a co-founder of Carbon Health – an innovative e-hospital. Also, he leads a community of Latino designers – Latinxs Who Design.
Twitter: pablostanley
YouTube: pablostanley
Pablo Stanley Website
Each project Pablo Stanley runs, should it be Carbon Health or Sketch Together, has its website. Pablo himself has two websites – one for his portfolio and the other one for his comics and illustrations. Both look pretty similar in terms of stylistics, and both are quite captivating. If you start scrolling stanleycolors.com, you can get stuck there for the entire evening.
The successful story of Pablo Stanley and his multiple projects proves that each start-up needs a website to succeed.
Website: pablostanley.com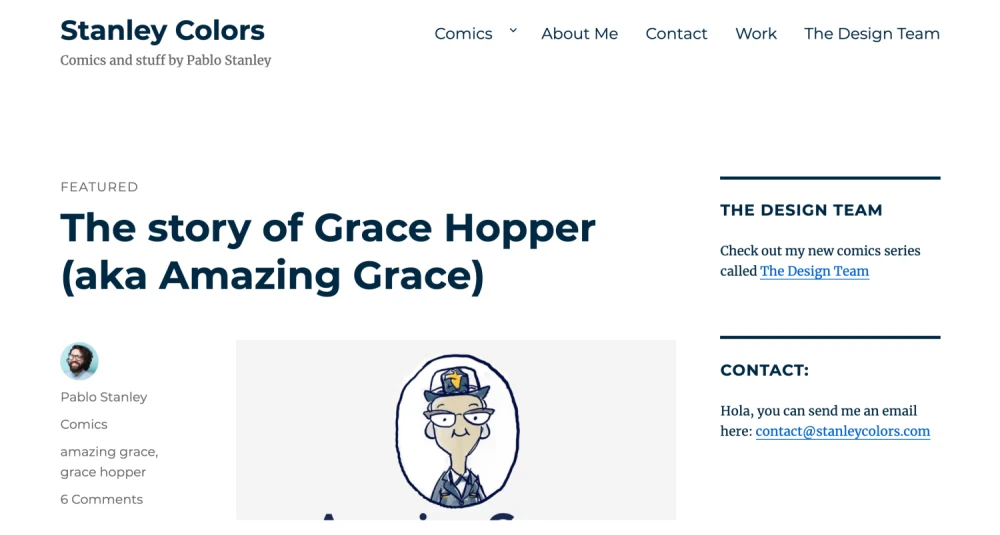 ---
Mindfulness & Mental Health
Cory Muscara
Cory Muscara is a positive psychology coach, renowned author, podcaster, and social media influencer. He is the founder of the Long Island Mindfulness Center, where he helps people move towards their vision of happiness using the tools and strategies of mindfulness, positive psychology, and integrative health coaching. A former monk, he calls himself a teacher of presence & wellbeing.
Twitter: corymuscara
YouTube: Cory Muscara
Simple Habit App
Simple Habit is a mindfulness project founded by Cory Muscara. This personal development software includes a website and an iOS/Android mobile app for meditation. There are meditations for better job productivity, healthier sleep, happier family relationships, improved self-control, sharpened focus, and an even more enjoyable cup of coffee in the morning. These meditations are narrated by different people to suit the liking of any user. As Cory's Instagram shows, both adults and children enjoy this meditation platform.
The web and mobile solutions help Cory reach and help those whom he cannot talk in person to. Simple Habit is his way to share his wisdom with the world.
Website: simplehabit.com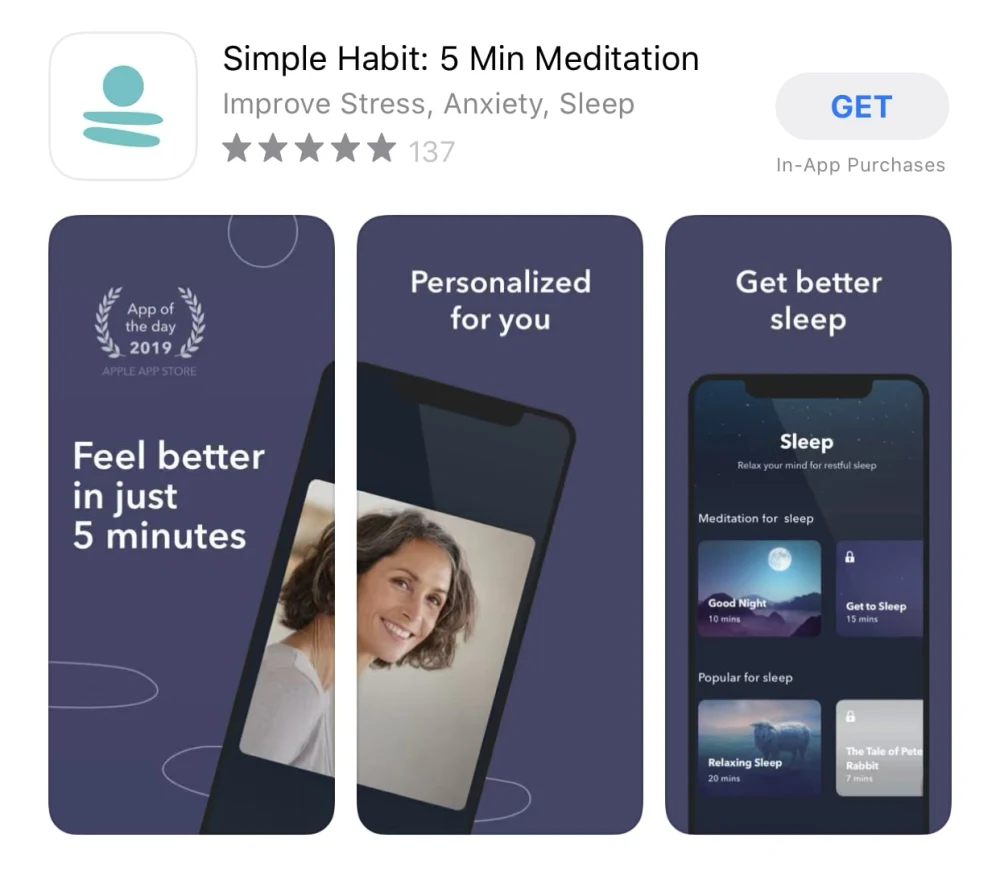 ---
Car enthusiasm
Mat Watson
Every petrolhead should know about Mat Watson – the car review guy. His life is cars and travels, and he gladly shares it with the public. His YouTube channel is one of the most popular Youtube channels for car enthusiasts in the world. You may ask us, "What does a car review site has to do with personal development software?". Car enthusiasm is a subculture, a community with its rules, values, and leaders. For these people, personal development is to know everything about automobiles and to drive a super-fast car.
A lot of people thinking about which auto to buy go to Mat Watson to help them with the difficult choice. Others visit his page to get inspired to work harder to afford a rocket-fast car. Some people follow him to learn more about what is under the bonnet of a £60,000 Dodge Charger or of a £18,000 Skoda Kamiq.
Twitter: mat_watson
YouTube: MatWatsonCars
Carwow
Mat Watson is the face of a popular car review website Carwow. Here, one can read expert reviews on almost any car, compare technical characteristics or prices of any two vehicles, and eventually find their perfect car deal. This web platform proves that the car industry can be smart and honest, that it can have a human face.
The Carwow website turns the automotive industry into the petrolhead culture.
Website: carwow.co.uk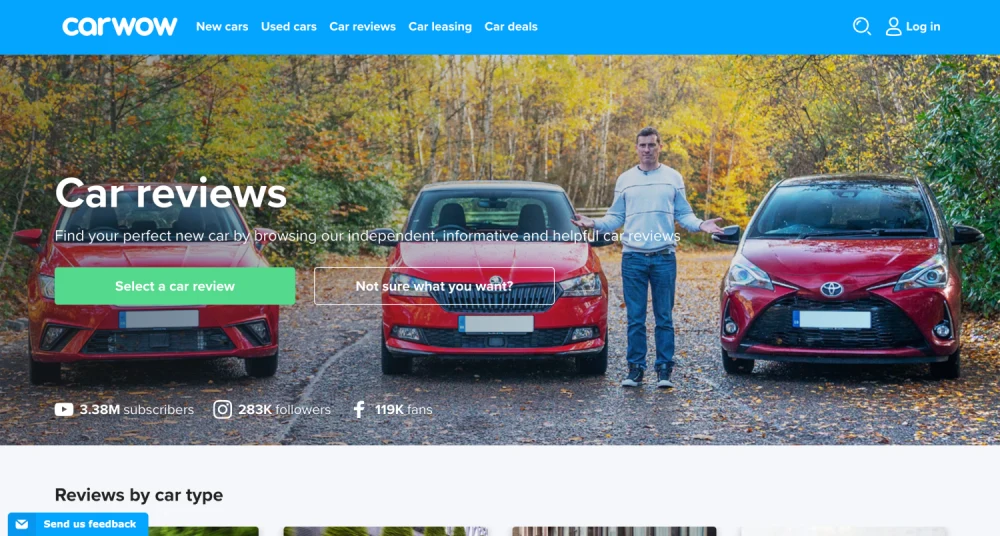 To Wrap Up
The success stories of Wim Hof, Kayla Itsines, Chris Heria, Karlie Kloss, Tim Ferriss, Neil Patel, Pablo Stanley, Cory Muscara, and Mat Watson prove that personal development software solutions may be a huge part of this success.

These bloggers are not the only bloggers who decided to invest in software development and benefited from it. There are many more examples of such success stories, but these are what the Keenethics team loves.
Bloggers prove that business digitalization is not an option anymore. Instead, it turned into an absolute necessity for a business that wishes to prosper.
Do you need software development services to digitize your business?
Let our team help you in designing and developing a web or mobile solution for your business idea.