Mental Health in the Time of COVID-19: Why to Be Super Attentive to Yourself and Your Loved Ones
A broken leg and a broken mind hurt the same
The pandemic has changed our normal course of life: no travels, no work meetings, no real-life entertainment, no vacations with children, no chilling with friends. We feel desperate as there is no psychological safety provided. Such a situation exacerbates mental health problems in the workplace, and not only. According to the World Health Organization (WHO), one-third of humanity has been affected by mental health issues because of the pandemic.
Director-General of the WHO Tedros Gebreesu highlights that COVID-19 has influenced the mental health of millions of people, increasing the levels of fear and anxiety. Meantime, Tedros also notes that even before the pandemic, the question of mental health was not given enough attention. According to his estimates, nearly 1 billion people worldwide suffer from mental disorders. Therefore, it is high time to talk about mental health a lot. Talk loudly and openly.
Numerous studies investigated the effects of COVID-19 on mental health. We already have scientifically sound evidence of the interconnection of these two factors. Experts from the Chapman University of America were among the first to conduct a study that showed how the coronavirus pandemic affects people's mental health. Of more than 4,000 respondents, 61% said they noticed a high level of stress, and 45% said they felt depressed or hopeless. According to the study, people began to eat more junk food, lost motivation to play sports. Instead of reading books, they chose to watch TV. In total, more than half of respondents said they felt very concerned about the coronavirus pandemic.
And that's how new COVID-19 reality looks like for most of us. On the one hand, worrying for yourself or your loved ones when there is a real threat to your health and life is biologically justified. It's okay to experience stress in such situations. On the other hand, when you feel anxiety for a long time, be ready to face the adverse consequences for your mental health. But what factors influence our mental health? Let's find it out.
---
What Causes Stress During the Quarantine and Hereafter?
Here are the main stress factors during quarantine, which will matter even after it ends:
Three studies found that an extended quarantine leads to the problems with mental health, including the symptoms of post-traumatic stress disorder.
In eight studies, the participants reported fear for their own health and fear of infecting others.
Restrictions on freedom of movement, disruption of routine, reduction of social and physical contact with other people — all these factors cause boredom, frustration, and feeling of separation from the rest of the world.
Insufficient provision of essentials (food, water, clothing, and shelter) during quarantine is a reason for frustration, which causes anxiety and anger.
In one study, participants noted that they had not been sufficiently informed about the situation with COVID-19. Healthcare authorities gave no sufficient instructions, which played a role as a stress factor. Furthermore, they presented unclear protocols for actions to be taken and could not clearly explain the purpose of the quarantine.
Many people lost their jobs. Their salaries became smaller. As a result, they could not plan anything, they felt insecure. Unstable financial situation adversely affects people's mental well-being and causes serious socio-economic distress. Moreover, insecurity can be a risk factor for symptoms of some mental disorders, anger, and anxiety for several months after the quarantine.
Why to Care About Mental Health?
We should care about our mental health at work and at home because COVID-19 has direct and indirect effects on our well-being: it can cause anxiety, depression, apathy, insomnia, panic attacks, obsessive-compulsive disorder, germaphobia. Therefore, it is doubly important to have background knowledge of mental health question and understand what problems you can face and how to deal with them.
How to Take Care of Yourself and Your Loved Ones?
The basic recommendations for taking care of your mental health include: having quality sleep, eating tasty and healthy food, having plenty of communication, playing sports, and doing your favorite activities. Maintaining a healthy climate in a family and feeling the support of your closest ones is also very important. These factors give us a sense of security. Besides, you can practice the so-called resource activities. It's when you recall happy memories or force yourself to feel happiness. After all, each of us has memories and dreams that make us happy. So, be sure to surround yourself with good information and cultivate positive thinking.
However, if post-COVID problems with mental health make your life difficult, you need to consult a healthcare professional. For example, you can ask them to help you choose meds for treating insomnia or excessive anxiety. Sometimes a few consultations can be enough to significantly improve your condition. In fact, we all have to cultivate the practice of working with mental health and visiting a psychotherapist because most people still feel uncomfortable while talking about their mental health issues. Yet, responses to stress can be different in different people, and your response to abnormal circumstances is as normal as the response of anyone else. Take care of yourself and keep in mind that mental health always matters, particularly under the COVID-19 conditions.
How to Monitor Your Mental Health?
The main piece of advice I can give you is to seek professional help as soon as you feel that something goes wrong with your mental well-being. As soon as you experience intrusive, obsessive, anxious thoughts, as soon as you have thoughts about harming yourself, you should address a mental health expert. To help you monitor your mood and mental well-being, there are two solutions for healthcare I would recommend.
Moodkit
This app uses the principles and tools of Cognitive Behavior Therapy to help you improve your mood, identify and understand the nature of unhealthy thoughts, and track changes in your mental well-being over time. You can use it as both an individual practice and an extra measure along with professional treatment. The greatest advantage of it is self-reflection — the ability to track and chart your mood daily. This application is available only for iOS.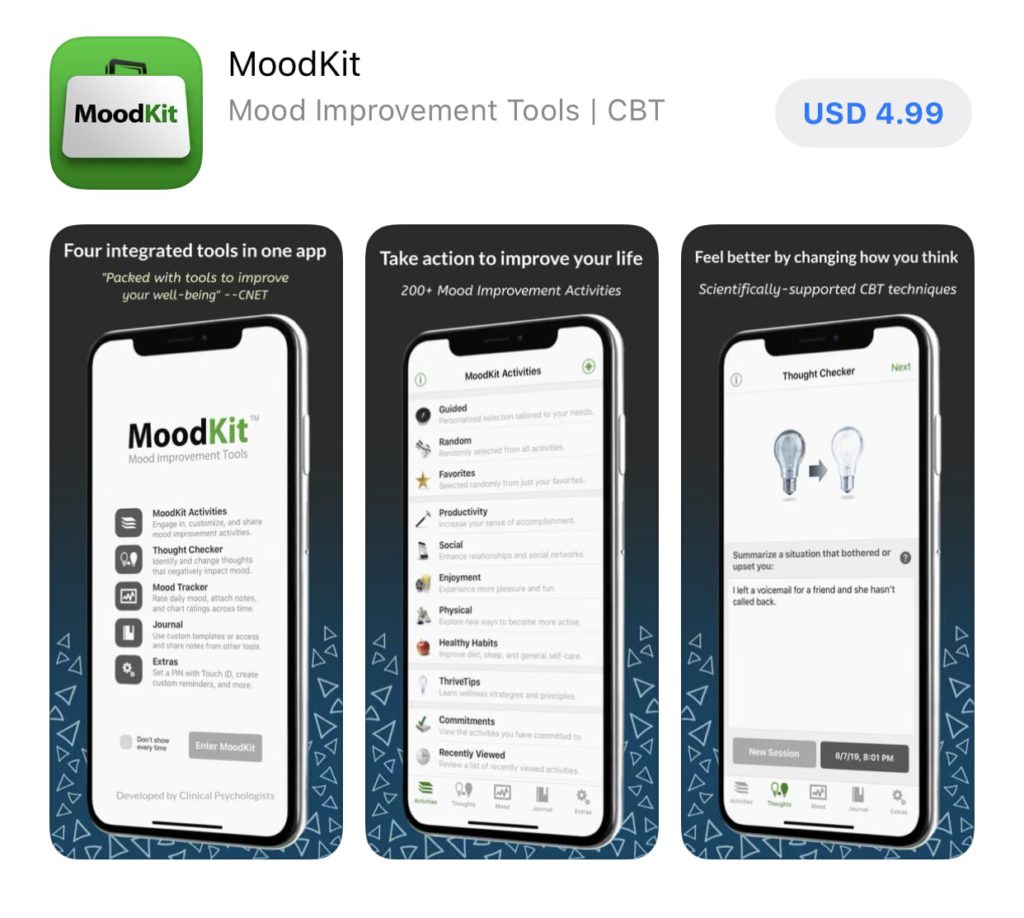 What's Up?
What's Up? uses the concepts and methods of Cognitive Behavioural Therapy and Acceptance Commitment Therapy to help a person better understand oneself and deal with their mental issues. It offers different strategies to overcome negative thinking patterns, mood and habit tracking tools, breathing techniques, and positive thinking quotes. This application is available for both iOS and Android.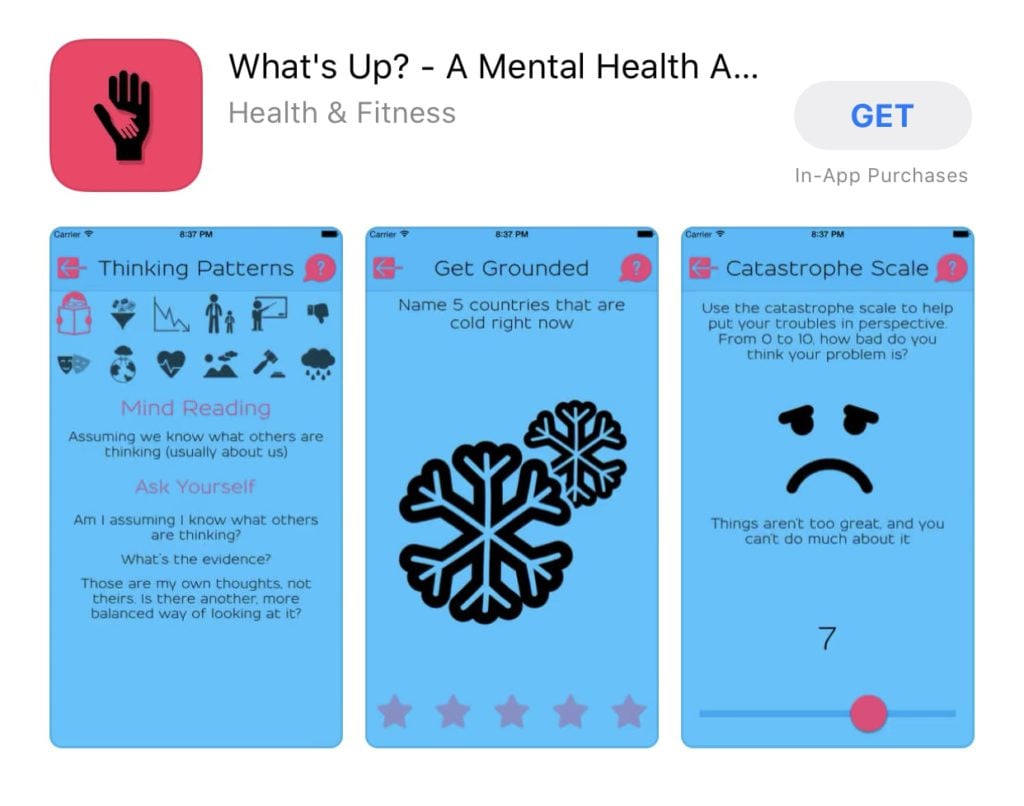 How to Take Care of Your Employees?
It is actually so important to notice people beside you. Pay attention to them, ask sincerely how they are doing, be empathetic. "Hey, how is your mood today?". "Are you sleeping well?". "Can I help you somehow?". "Let me know if anything bothers you, alright?". These questions are so simple but so powerful — they have the potential to save lives. Company owners should understand that their business is going to be by many times more profitable, prosperous, and socially responsible if they take care of the mental well-being of their employees.
---
The happiness of an employee translates into high performance and productivity. The psychological climate in a team, the quality of interpersonal relationships have an immense impact on a worker and on a team in general.
The US Department of Health & Human Services published a set of recommendations as to how to create a mental-health-friendly working environment. These recommendations include:
Being open to all candidates when hiring them;
Appreciating diversity;
Ensuring healthcare, which covers mental health issues as well as physical health;
Developing programs and practices that support people's health and life-work balance;
Training managers and supervisors on the matters of corporate mental health;
Ensuring the safety and confidentiality of employees' health information;
Supporting employees who need medical help;
Ensuring a decent end of collaboration in case an employee needs to quit.
Do you have an idea for a mental health app?
Our healthcare software development team will gladly help you research and develop your idea.
---
So It's Not that Bad, Is It?
Despite concerns about the negative effects of the pandemic, psychologists trace some positive trends. According to psychologist Steven Taylor, the pandemic has already shown that most people can be resilient to stress and can stay flexible. Humanity in general is able to recover fairly quickly after damaging events. Wuhan, for example, was the place where the pandemic began and where it was curbed with a harsh 76-day quarantine. Soon in August, Wuhan citizens organized and held a music festival. Thousands of people gathered side by side, without masks and social distancing simply because they eradicated the infection and there was no need to do so. This is what happens when a community is determined to eliminate the problem and regain safety.
To Wrap Up
Psychohygiene is as important as brushing your teeth in the morning. Pay attention to your feelings, emotions, mood. Remember that workplace mental health directly affects your motivation and productivity. Sharing your thoughts and worries with friends, colleagues, and family, using custom healthcare solutions, and not being afraid to seek professional treatment can help you keep control over your life.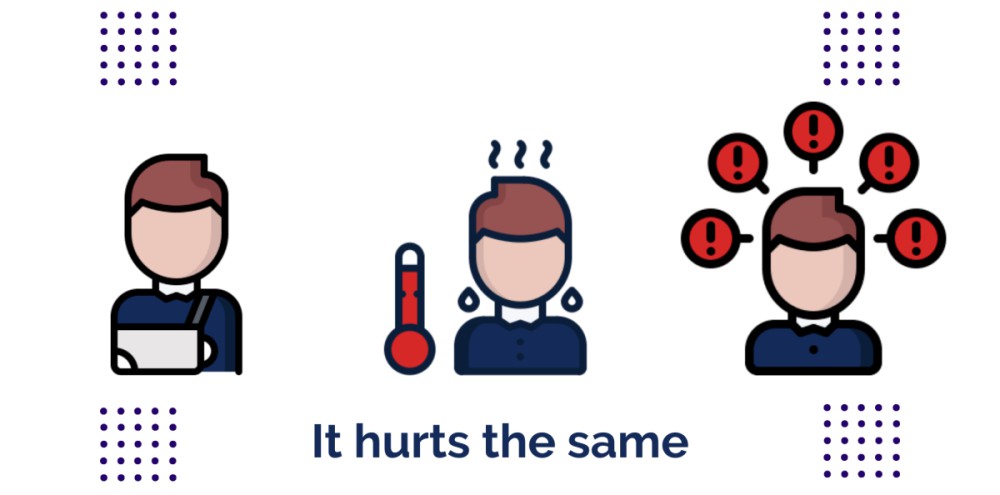 Moreover, taking care of the mental well-being of your employees is as important as hiring the right candidates. It will help you reduce attrition, boost productivity, and create a stronger corporate culture. After all, people are the highest value you ever have!