Keenethics accepts the title of one of the best web developers in New York City
Ukraine – Lviv, Netherlands – Oss, USA – New York, Poland – Krakow, Keenethics, March 15, 2022 / Expertise.com – We are proud to announce that Expertise.com involved us in the list of 43 best web developers in NYC.
https://www.expertise.com/ny/nyc/web-developers?testID=1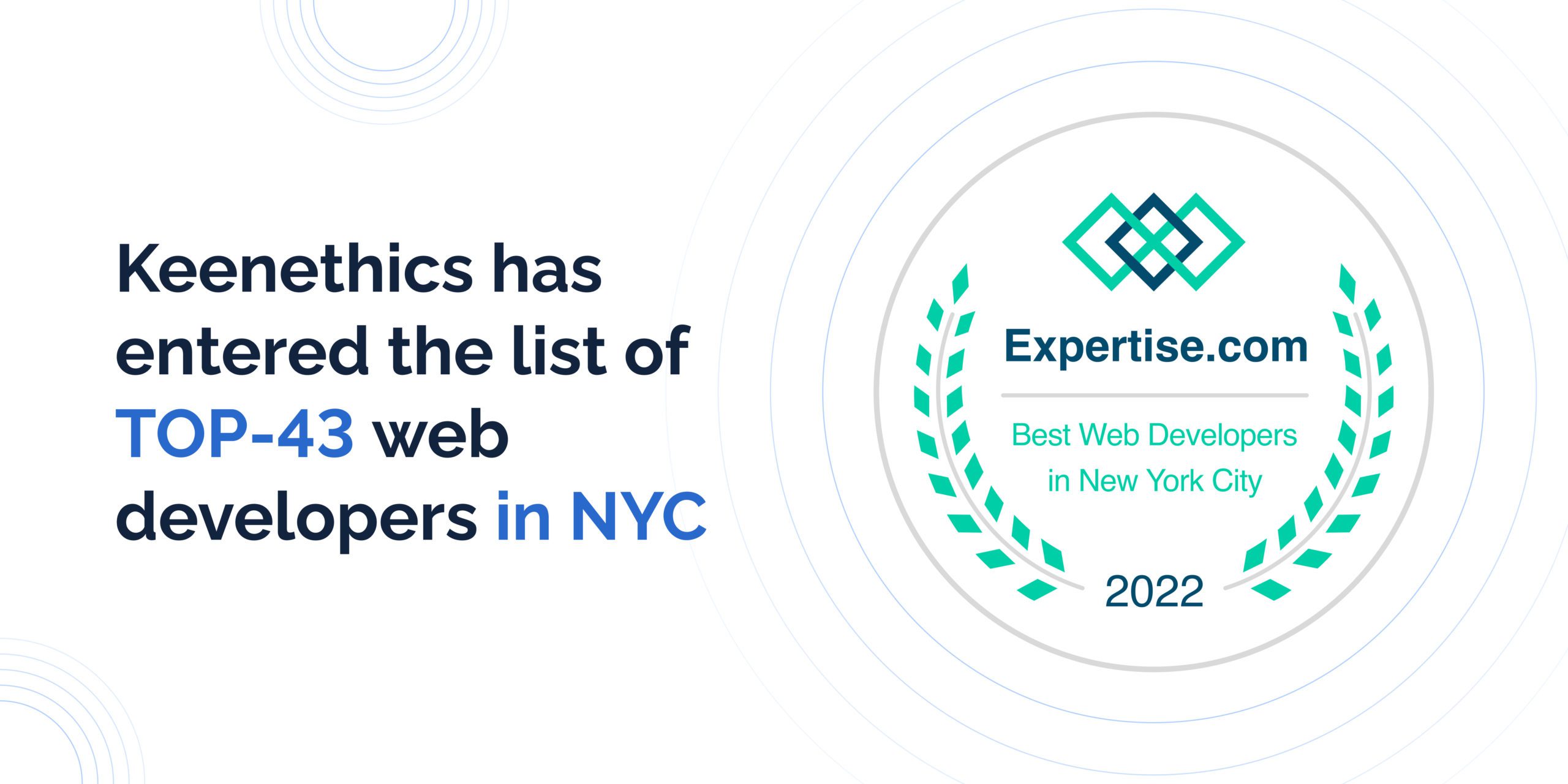 About our rating position
After conducting proprietary research and selection process, Expertise.com quantified Keenethics as one of the best web development businesses across the U.S.
Keenethics specializes in creating innovative web development services for our global clients in many industries. Our developers are purposeful and committed to offering the best custom solutions in education, healthcare, logistics, retail, real estate, agriculture, nonprofit, finance, and banking. We deliver 24/7 maintenance, support, tech consultancy, business analytics, development & testing, UI/UX design.
In turn, we continue collecting stellar client reviews at Clutch:
"After launching, we saw a tremendous increase in traffic, converted first leads, and had a really good response from the user tests we run. The quality of the provided code was always on a very high level. Keenethics has always adhered to schedules. Communication has always been proactive. In general, the Keenethics team has done everything possible to meet our needs to our complete satisfaction." (Sapera)
https://clutch.co/profile/keenethics#review-1888701
Keenethics is also featured on DesignRush, a b2b marketplace to find top agencies.
About Keenethics
Keenethics is a full-cycle software development company with a thoughtful and ethical approach to technology. Since 2015, we have put many projects into action. More than 50 companies trusted us to turn their ideas into promising products.
Two of many priorities in business are customer satisfaction and effective fast-to-market product development.
Find out more at https://keenethics.com/#about-us
About our services and projects
In 2017, we contributed to school education by launching our first social program, "Let Kids Move." During class, students can alternate between sitting and standing. It has a favorable impact on the quality of education and student motivation.
Keenethics has completed a dozen of successful projects in the following high-quality services: web/mobile app/desktop/cloud development, AI, chatbots, IOT, PWA, MVP.
Our stack includes Node.js development, React, Vue, Angular, Express, Nest.js, Next, PhoneGap, Svelte, React Native, GraphQL, AWS, MongoDB, PostgreSQL, MySQL, and Flutter.
We plan, build, and provide responsive web and cross-platform mobile apps while delivering elegant and modern web design services and solutions. We proved to be a company with an excellent reputation, open communication, and high-quality service from conception to final delivery.
Find out more at https://keenethics.com/#main
Address Keenethics to get consulting at https://keenethics.com/contacts
We believe that we can make the world of technologies even more exciting!
Implement your idea in the world of technologies with Keenethics.
If you have a business challenge you want to be solved with a software solution, let me tell you about what we can offer. Should we start with a free estimate of your project?
Why choose Keenethics?
quality with strike force

satisfied users with UX audit

security with an escrow account

motivated team with our mental health program