LMS For Schools And Colleges in 2023: Take Management to a New Level
LMS for schools and colleges: facilitate the work of school staff and enhance teacher-student-parent interaction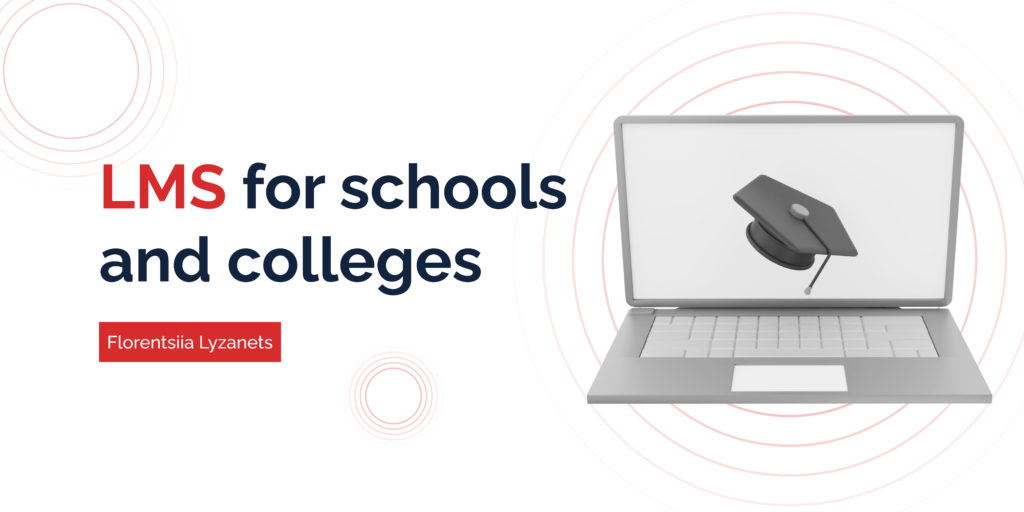 Today, nearly all spheres of life move online. We order food, buy clothes, manage finances, and take language classes using smartphones. Everything is changing under the digitalization trend, and we can't stand aside. The education sphere is no exception: it's overrun with e-learning apps, digital communication, and online homework assignments.

Schools support this tendency and gradually move from tedious bureaucracy to novel management solutions. By 2026, digital education is expected to reach more than $336 billion. Why do schools drive this transformation? Because the digital toolbox expands education opportunities for both teachers and students.
Schools promoting EdTech earn the respect of education competitors and the trust of young learners. Edtech positively affects your school's reputation and improves students' performance. No wonder why learners and parents would choose a school using outdated teaching methods and doesn't prepare them for an adult, independent life?
But here the question arises: how to become one of such schools that first come to people's mind when they hear the phrase "modern education"? The answer is pretty simple. Create a powerful and best LMS for schools first.
What Is a Learning Management System (LMS) for School?
A learning management system (LMS) in education is a software-based platform employed for managing, automating, and providing educational content and programs for different purposes. The organization's training strategy and goals determine the specific role that the LMS plays. As a robust technology solution, a learning management system for schools operates best when it's adaptable and scalable to meet various learners' needs.
Based on the unique requirements, the tool helps monitor students' performance and enhance learning by automating the creation of assignments, examinations, and quizzes.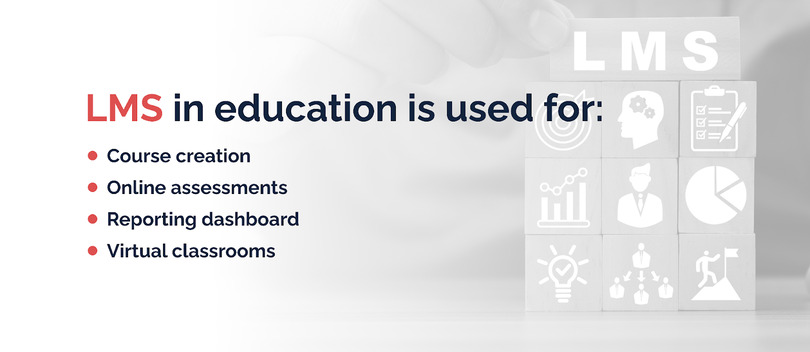 All learning management systems in education are designed to be used for:
course creation: LMSs enable administrators to produce an online curriculum for subjects by producing content, timelines, and educational assignments;
online assessments: LMS systems for education assist educators in enhancing learners' engagement and assessing their knowledge levels. Due to LMS, they can easily create test questions, assign scores, and automatically sum grades on exams;
reporting dashboard: LMSs provide educators and learners with a comprehensive view of all grades for a specific period;
virtual classrooms: LMS software for schools gives teachers the ability to organize online classes via videoconferencing. The flexibility to access the course materials on any device is an advantageous feature that LMS offers the students.
LMS for schools can help to address many issues of educational institutions, including:
monitoring progress report
delivering constant notifications to parents
conducting evaluations
presenting real-time results
delivering individualized instruction
enhancing teacher-student-parent smooth collaboration and the teaching-learning process
increased engagement through flexibility and accessibility
real-time analytics, dashboards, personalized learning experience, and enhanced results
reducing workload for teachers
Although LMS can't replace traditional teaching and learning, it can supplement traditional learning methods for a more exciting student experience.
How You Can Use LMS for Schools and Colleges

Adopting LMS in the educational process is beneficial. Although many LMS functions allow you to enhance students' performance, let's view the most critical features you should focus on.
If to choose either online or offline learning – use a blended one, and you won't go wrong
The benefit of blended teaching is that you can combine both online and traditional classrooms in various ways based on your initial needs aimed at learners. A blended approach can work wonders by encouraging learners to their studying. Firstly, it diversifies the learners' experience to avoid boredom and monotony. Secondly, it allows students to pass the course without being physically present in classes. Finally, learners can see more convenience and flexibility due to the online opportunities school LMS can bring. Not least important, blended learning gives students more flexibility in socializing and easy connectivity with fellow learners.
Adopt and benefit from employing gamification features
These days, gamification is one of the hot topics in the educational sector. By the way, we've written in our blog some articles related to it.
So, if you're interested in them, let me include them in the list below:
Now, turning to our question, let's examine how you benefit. Gamification strategies may range from point-based systems, leaderboards, and challenges to course learning levels. Features like point-based systems, rewards, or leaderboards make learners strive to win recognition among other peers. As a result, they're more emotionally and socially engaged in classes. Other features like course level appeal to learners as they pass every level.
However, although gamification is a promising technique, you won't get the desired results if you employ it excessively and only because it's cool or trendy. It can be helpful in some scenarios and only when you first evaluate the relevance of its use, look at your learners' knowledge level and needs, and determine the complexity of the subject and tasks.
Differentiated learning material isn't already a problem for educators and learners
The learning process becomes problematic when the learners are at different paces. It's typical as comprehending the subject depends on students' attitudes, level, ability to grasp further information, and many other things. Teachers find it challenging to quickly deliver new information in typical classrooms while keeping an eye on everyone's pace. Sometimes they focus on more productive students and skip over a topic to save time and conform to the strict time constraints of the educational program.
It's undoubtedly a concern, yet LMS is a good tool for changing how education is delivered. With a learning management system, teachers can hold courses effectively while estimating each student's progress and pace. LMS for colleges supports differentiated instruction for every learner, regardless of if the learning is traditional or online.
What about genuine feedback from learners? Easily
Best learning management system for schools gives educators a perfect chance to get valid opinions from the students and an excellent opportunity for learners to be heard and valued. The surveys and rating systems of LMS stimulate students to participate in the educational process.
Using tools like surveys, you can assess how effective particular modules or components of educational material are or get insights into enhancing the teaching workflow to interest the learners.
The LMS software product like TalentLMS is a good choice allowing one to rate a course or subject from one to five stars.
The advantages of the tool include:
instructional designers and educators get a quick summary of students' experience;
every learner can see the ratings others have given the course;
all parties get advantages: open feedback engages students and provides educators with course enhancement data.
Ensure all users are comfortable with the implemented learning management system
Deeper involvement in content material is valuable. However, the performance may lag if students aren't well-trained and adapted to the system.
What can you do?
To ensure students like your LMS system, you can follow the mentioned tip above, that is, getting genuine feedback from learners. You can view their constructive views and take measures to enhance the process.
You should explain to the learners the advantages of learning management system integration. They should understand at least that LMS gives them high accessibility and the ability to get better results. Also, you can clarify that if they get behind in their studies, LMS can provide them with a strong support system allowing them to catch up with their course.
If you don't employ some of these bits of advice, LMS is useless and only a trend in your scenario.
The final outcome
The list of LMS applications isn't exceptional. Of course, depending on your choice and the needs of the learners, the steps may change. However, based on our list, you can brainstorm your ideas related to the course enhancement or follow our tips. We believe our several steps will help you strike a balance between traditional and online teaching methods while still keeping the lesson flow exciting for the learners.
What does LMS do?
School LMS is a system used by schools or other educational institutions for data management. Learning management systems allow school staff to manage all process-related information while students get the chance to control and track their learning process and activities in one place. Best learning management systems for schools work perfectly for present-moment data management, but they're also used for planning, forecasting, prevention, and analysis.
What does LMS do? A learning management system for colleges gives you various tools, some of which are unavailable outside of the system. Here are some of your pains LMS can solve:
Forget spending hours looking for a particular document, turning shelves with folders upside down. With LMS for colleges, you only need to open the system and type down the document title for search.
Forget about queues of parents asking you to show them a complete picture of their children's academic performance. With learning management system in education, you can share necessary info with parents without leaving your work chair.
Forget about the need to pass reports from one department to another. In the best LMS for schools, all you have to do is update the info in the needed section, and all other staff members will see this update in real-time.
I should note that LMS functionality is in no way limited to the abovementioned. Communication or finance management, reporting or school activities management, resource or online school review – the list of advantages of LMS in education is endless. So your primary task is to find a decent education software development team who can make your bravest plans a reality.
Benefits of Learning Management Systems for Schools
A learning management system is a perfect tool because it functions continually across all processes in various institutions. With LMS, teachers can swiftly handle results, manage time, monitor each student's progress, and conduct statistical analysis.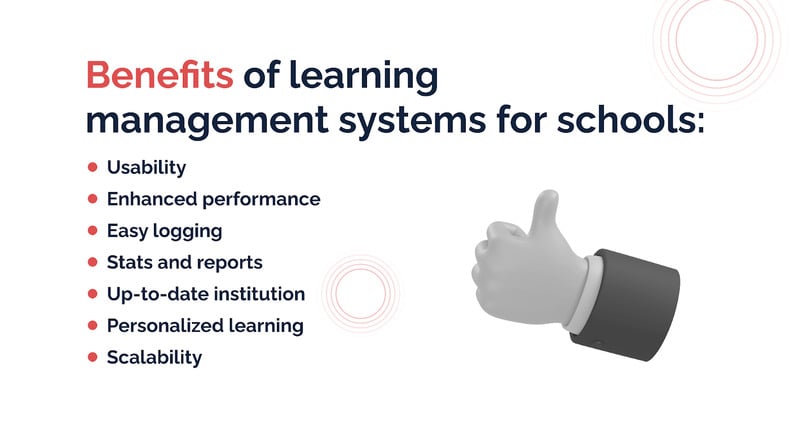 Let's discuss the main advantages of LMS for schools and colleges:
Without LMS, online education has never been as effective.
Creating and editing your course needs to be transparent and straightforward. Of course, it takes some time to grasp how to use any new platform. However, a user-friendly LMS with easy-to-remember instructions enables everyone to design whatever is necessary based on their objectives.
Instead of searching on a clunky interface, a learning management system allows learners to focus more on their learning. As a result, it increases their involvement, interest, and user experience.
Regarding usability, if your school LMS still requires a training program to be manually assigned to learners, it's not an effective LMS. The more you handle manual processes, the more administrative overheads you'll have. Solid automation makes it easier to facilitate the process and gain the quality and efficiency you can't achieve by yourself. Administrators and educators can form specific rules for student registration, control course access, and set restrictions. The advantage is that pupils will be aware of the following activities they need to complete, and teachers won't need to control them manually. As a result, thanks to automation, we can coordinate many tasks among thousands of learners.
Today, monitoring and saving numerous login details for accounts is painful. However, it's indispensable. Technology offers us Single Sign-on (SSO), a little trick saving our time for additional actions. Using your login information from one account to access another is undoubtedly something you've done before. For instance, instead of creating usernames and passwords and remembering them, we can use Facebook profile data to sign into different sites, platforms, or apps. In the same way, learners can quickly, conveniently, and securely sign in their LMS software product.
Provides learning stats and reports
With LMS systems for schools, you can track the progress of every learner and assess their productivity. You may monitor who is succeeding and who is falling behind to adapt the teaching to each learner's level,
Keep educational institutions up-to-date
Ensuring your institutions adhere to current compliance laws is possible with a learning management system. Since these regulations tend to change regularly, updating the course every time is time-consuming and challenging. An effective LMS accomplishes it within minutes. You can update information based on new trends or scientific evidence by logging into your LMS platform for schools without redoing the course. Since all content is in one location, you can modify and deploy the course to the learners. In this way, LMS allows the learners to be always in tune with the latest critical updates.
Individualized learning method and pace
Through tailored learning, students can complete the courses that best suit their preferences and aptitudes. Since each person learns differently, an LMS can be a helpful tool for raising students' interest.
Scalability is an essential feature of the best learning management system for schools. It's not always easy to predict the numbers of students and class sizes. For this reason, having a learning management system delivering uninterrupted teaching and learning is vital. An effective LMS should be able to expand with the educational institution.
Therefore, you need to focus on things like:
ability to manage the enormous scope of data and numbers of users smoothly;
incorporating modern servers allows schools and colleges to monitor and adjust capacity based on LMS use.
Considering all benefits, you see how LMS presents us with a great chance to create an extraordinary learner experience.
---
Criteria for Selecting the Best Learning Management System for colleges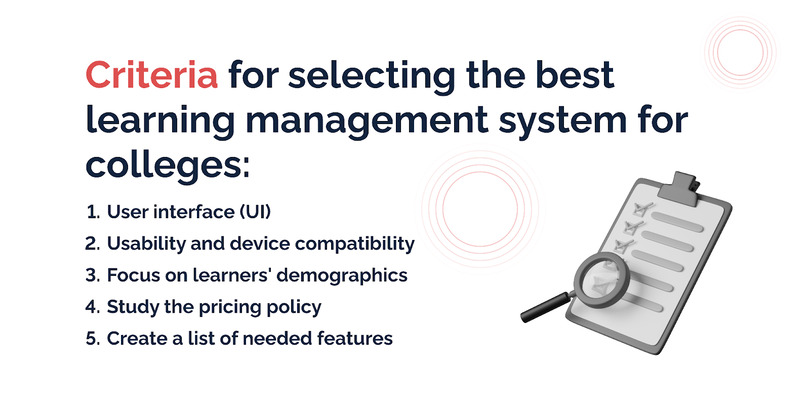 Before exploring the types of LMS for schools and their examples, discussing the criteria, you should focus on is relevant.
User interface (UI)
UI is a must-have feature. To make the teaching and learning process cost-effective, you should make your school LMS visually appealing, neat, and the one that can be quickly adjusted. Grades, analytics, stats, and learners' performance should be easy to find, manage, and interpret.
Usability and device compatibility
LMS should be easy to set up. It should have quality customer service and deliver tutorials and training materials without problems. Also, a good LMS should work on any device so that every learner can access it wherever they need it.
Focus on learners' demographics
You should analyze your learners' preferences and adapt LMS to their interests.
Focusing on their age is the right decision. The older learners perceive modern tools a bit in a different way. However, if you want to enrich your audience, your LMS should count the needs and abilities of young and older learners and incorporate two types of learning. However, it's already a vast topic to discuss, so let's focus on our question.
In addition, so that learners won't go through unneeded training and save time, you have to consider their skill-set and personalize the learning path for the users.
Study the pricing policy
Every vendor sets its price, considering the brand reputation, strategies, requirements, and other factors. Importantly, your platform shouldn't have any hidden costs or costs that can be uncovered after purchase. Users don't like it. Therefore, LMS for colleges with a transparent and well-defined pricing structure is highly-valued among buyers.
Create a list of needed features
When the core features are well-defined, you should think about additional features allowing you to expand your learning opportunities and what you want to have in your LMS.
Let me present the following features and the examples of learning management systems for schools:
Social learning. It can be based on various group discussions, tasks, and more. For instance, Paradiso contains in-built conferences, one-on-one meetings with experts, and team chats to debate numerous topics.
Mobile learning. This feature can expand the audience. For instance, Moodle provides apps for iOS and Android systems. This opportunity is beneficial for many learners.
Courses selling. It's an optional feature allowing you to monetize your courses. Absorb LMS enables authors to sell their tools. It has needed functions such as a shopping cart, discounts, and other payment features allowing the authors to sell their programs faster.
Certifications and awards. It can make your courses unique. TalentLMS has such functionality, and students can attach their certificates to their portfolios.
Reports and analytics. They usually include course reports, user reports, custom reports, and organization training. The analytics helps to define the learning tendency of the learners. It can show if learners bounce around the topic or take an interest in a particular subject.
Are you interested in how to make your LMS effective enough?
In our blog, you can read the article and learn more about how to increase your business role in the market. Otherwise, Keenethics offers custom solutions in many industries, from education, healthcare, and agriculture to banking. If you require help with LMS platform for schools or another software solution, contact us. We're available to assist you.
---
Types of LMS for Schools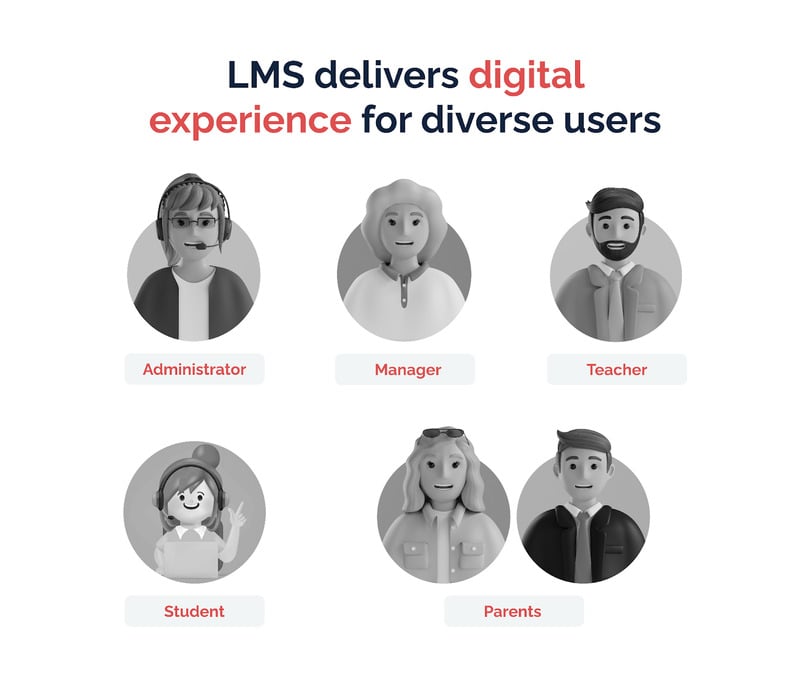 Keenethics is the promoter of custom learning management systems in education because of 5 main reasons. In our work, we don't use the "one-size-fits-all" approach. Our team believes each educational institution has its standards, needs, and goals, which must be considered while developing software. Otherwise, the academic learning system won't perform properly, and your decision to go online will be a waste of time.
There are different types of software for schools. Some offer attendance or resource management, while others focus on financial reporting and academic administration. But if you feel that combining several types of software will work best for you — contact our team, and we'll eagerly turn your ideas into powerful products!
Custom solutions aren't a challenge for us. Neither are your most creative plans. Keenethics is only happy to help the education sphere grow and digitalize. Let's discuss what types of software are the most common. It'll help you choose those that can be combined into the one powerful education tool that will fit all your requirements.
LMS for Teachers and Staff
Software for teachers and school staff enables them to manage all school-related information in one place. Requesting sick leaves, making changes to the curriculum, shifting lessons, and managing student records — you can do everything in a school learning management system. With powerful software, teachers save time and effort and spend them on a more creative and pleasant part of their job, educating the next generation.
Examples:
It's a global, cloud-based learning tool offering customers in K–12 schools all-inclusive course management and delivery solution. It works with all gadgets. Teachers, students, and parents utilize the technology to seek guidance from other professionals and collaborate effectively. Thanks to reports and analytics, everyone may view the progress in real-time and for a specific period. The pricing structure varies and depends on the educational institution's size.
It's a fully functional WordPress plugin enabling you to develop courses with diverse types of lessons, tasks, examinations, and Zoom meetings.
After creating courses, you can advertise and sell your training material on the website. The beneficial feature for you is involving as many instructors as you wish to establish an educational center.
LMS has a good support team and precise documentation. Using it, you get numerous quizzes and various types of lessons. You can create appealing personalized certificates to reward learners after course completion. This LMS platform for schools provides many tools, features, and an easy-to-use course builder module, allowing you to improve your educational resources. As a disadvantage, to access all features, you need to purchase a premium version of the plugin.
LMS for Students
Another type of school software is an interactive learning management system for students. If your students find it challenging to keep track of their academic performance, introduce a new powerful learning management system for school into the learning process. Using it, your learners will better understand how their study unfolds. They'll easily access lesson planning, see what points they get during classes, and communicate with teachers if some questions arise.
Example:
It works best for starting initial programs, multinational & blending learning, diverse content needs, and as a reasonable solution for large programs.
The pricing model involves three pricing plans: standard, premium, and enterprise. The price starts at $3500/year.
Mindflash allows learning anywhere. However, nothing is ideal: as per the reviews, report analytics needs some improvements.
Software for Parents and Stakeholders
This software allows parents to be involved in the studying process more deeply. By building elementary school software, you give them the chance to analyze schoolchildren's academic progress and find ways to encourage their kids to perform better. They'll have more control over the process and see your school's efforts in providing high-quality education services for their children.
Meantime, software management is helpful for stakeholders. Suppose your investors are interested in how their reforms work for your school. The best way to demonstrate effectiveness is to show positive statistics. But how to gather it? Use and manage data in your education management solution and share it with your stakeholders.
Examples:
It's appropriate for small and large enterprises to train employees, clients, and partners. Its pricing is $199 – $499 $ per month. As a benefit, it offers a free trial of 14 days.
It's an award-winning LMS, identified by experts for its usability and excellent customer support. This tool allows you to share easily, organize, and follow your training. It also provides gamified learning to make training exciting for your team. With this LMS, you can onboard employees, train clients on your software, and follow compliance requirements efficiently. As a drawback, this LMS provides a course authoring tool offering limited features.
It's best for companies of different sizes in any industry. Also, educational institutions and private tutors can profit from this LMS. It has an affordable price starting from 2$ per learner a month (paid annually). The benefit is that you can try any program for free for 15 days.
With ProProfs, it's easy to deploy any corporate training. It delivers pre and post-course support. Quiz-making tools, surveys, collaboration tools, analytics, 100+ ready-to-use courses, and templates are all given by this LMS.
Key takeaway:
We've provided examples of learning management systems for schools that can be used for teachers, students, and stakeholders. As per reviews, they have a high rating position. If you're interested, you can search for more LMSs available on the market. The main goal of giving you these examples is to help you understand how you might profit and what features you can take into account. Before choosing the finest LMS for your purposes, don't forget to identify and concentrate on a few criteria. Happy hunting!
A brief reminder!
We'll be happy to assist you in your search if you have trouble locating an acceptable LMS for your needs.
---
Answering Your Questions About LMS
But if everything were that easy, your school would already have a robust management system, right? If you have such a thought in your head, it's a perfect time for us to organize the "LMS in education" QA rubric.
#1 How to build software according to the education standards?
Your fear: Education standards won't be met in your system. For sure, your school sticks to particular education standards. For a company to transfer the learning management system for schools and colleges into the digital mode, a deep knowledge of these standards is required. Otherwise, the risks are that the whole system won't function properly. School staff won't be able to manage internal processes in the system. The entire idea of creating a unified management software will be pointless.
Don't worry! At Keenethics, we'll review your school's strategy and needs in-depth. We use education standards as a benchmark for developing learning management systems for schools. You can be sure that a platform or system developed by our team won't only be compelling — it will bear value in terms of education industry standards.
#2 How to make sure that I don't waste my money?
Your fear: Developing LMS system for education will waste money. Hiring a software development team is often an expensive decision. Particularly for schools that, apart from software development costs, have a wide range of expenses on their plate. Not so many companies can offer you both high-quality service and fair pricing.
Here is some good news for you: Keenethics has chosen the Tech4Good movement as a direction for growth. Our company promotes ethical software development. We spend some part of our revenue on spreading the Tech4Good trend. By choosing us as your partners, you not only get a high-quality product at a fair price. You also contribute to the promotion of Tech4Good values on the market.
#3 How to protect my school's confidential data?
Your fear: Your data will be stolen or lost. Sure, schools usually store vast databases on their computers. These databases contain the personal information of students, teachers, and other school representatives. They also include finance info and other administrative documents. Moreover, most schools have academic resources that can't be found anywhere except the school library or accessed for free. This is why maintaining data security is one of the first tasks for software developers.
What if I told you that there are companies worth your attention? Having a high level of expertise, the Keenethics team ensures you 100% data security. Our developers' regular data security and personal safety training sessions make network intrusion impossible. With your online school LMS system in our hands, you can sleep soundly and ensure your data is safe.
#4 How to make my LMS integrative?
Your fear: Transferring academic data from one database to another will take a lot of time. First, a teacher should make a written record during the lesson. Then, they should transfer it to a PC database. Other teachers can access the same database and use the information listed. But what if someone makes a mistake? In such cases, should all these steps be done again?
Not exactly. Developing the LMS software for your school, we offer you the highest level of integration. Counting your requirements and goals, we'll create software that can be accessed both from mobile and from a PC, a tablet, or a laptop. All changes introduced to a system will be instantly visible to all users. Forget about spending hours checking the validity of your data and letting technology do it for you.
#5 How to encourage teachers and students to move to LMS?
Your fear: Your software will look too boring for the young and too complicated for the senior. LMS platform for schools should be easy to use because of its target audience. On the one hand, it should be understandable even for the most senior users. On the other hand, it should be entertaining enough for the youngest ones.
Don't worry anymore! Our software products are built according to the strategy developed in advance. We deeply study the requirements of your school and your user personas. Our designers with years-long experience put maximum effort into ensuring that a product has a user-friendly interface and comprehensive functionality. We welcome you to entrust your idea to our team and check it on your own.
In Conclusion
To sum up, learning management systems are critical in the educational sector and will continue to be. By choosing a well-developed LMS for colleges, you benefit greatly, from cost-effectiveness to better progress in the learning environment.
LMS service isn't the only focus of Keenethics. However, if we're talking about it, you might be familiar with the popular software programs SelfLeaders and Let's Start Coding we've created for the Edtech industry. We've helped many companies implement our LMS software development services into their business. We put a lot of effort into producing fully functional apps, timely releases, clean code, and expectation management.
Because of the situation in the world, the digital learning market is growing day by day. Distance learning has become common for schools, as do education LMSs. If you don't want to lower the quality of education and show stably high academic results, look for an effective school LMS. Or hire a development team to help you choose the best strategy and build the best custom e-learning solution.
Why choose Keenethics?
1. You'll align your company needs with the best innovative learning practices.
2. We'll help you monetize your software, promote it, and allow you to benefit while keeping a happy user base.
3. You can see the intended outcome from a short-term perspective.
Are you looking for a perfect learning management solution for your school?
Here at Keenethics, we build high-quality software fitting your particular case. We consider your preferences and demands and turn them into unique, customized, and effective LMS products.