LMS for Schools: Take School Management to a New Level
Facilitate the work of school staff and enhance teacher-student-parents interaction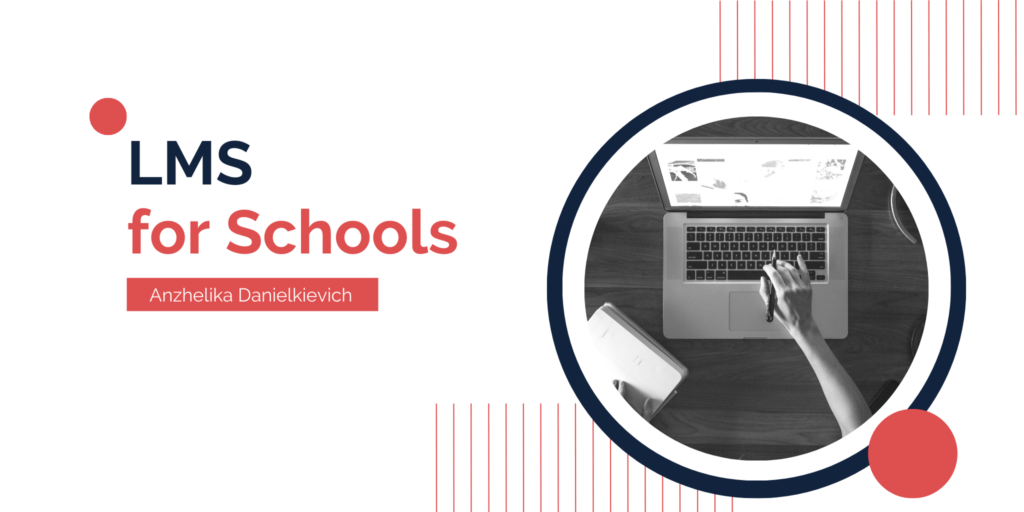 Today, nearly all spheres of life move to online. We order food, buy clothes, manage finances, take language classes using our smartphones. Everything is changing under the digitalization trend, and we cannot stand aside. The education sphere is no exception: it is overrun with e-learning apps, digital communication, and online homework assignments.
Schools support this tendency and gradually move from tedious bureaucracy to novel management solutions. By 2026, digital education is expected to reach the point of more than $336 billion. Why do schools drive this transformation? Because the digital toolbox expands education opportunities for both teachers and students.
Schools promoting edtech earn the respect of education competitors and the trust of young learners. Edtech positively affects your school's reputation and improves students' performance. No wonder: why would learners and parents choose a school that uses outdated teaching methods and does not prepare them for an adult, independent life?
However, here comes the question: how to become one of such schools that first come to people's mind when they hear the phrase "modern education"? The answer is pretty simple. Create a powerful school learning management system first.
What LMS for Schools Is and How You Can Use It
School LMS is a system used by schools or other educational institutions for the purpose of data management. Learning management systems for schools allow school staff to manage all process-related information, while students get the chance to control and track their learning process and activities in one place. Best LMS for schools works perfectly for present-moment data management, but you can also use it for planning and forecasting, prevention, and analysis.
---
What does LMS do? Learning management system for school gives you a variety of tools, some of which are unavailable outside of the system. Here are some of your pains that you can solve with LMS:
Forget about spending hours looking for a particular document, turning shelves with folders upside down. With education LMS, all you need to do is open the system and type down the document title for search.
Forget about queues of parents asking you to show them a complete picture of their children's academic performance. With LMS for education, you will be able to share necessary info with parents without leaving your work chair.
Forget about the need to pass reports from one department to another. In the best LMS for schools, all you have to do is update the info in the needed section, and all other staff members will see this update in real-time.
---
I should note that LMS functionality is in no way limited to the abovementioned. Communication or finance management, reporting or school activities management, resource or online school review – the list of advantages of LMS in education is endless. So your main task is to find a decent education software development team that will make your bravest plans a reality.
Types of LMS for Schools
KeenEthics is the promoter of custom learning management systems in education because of 5 main reasons. In our work, we do not use the "one-size-fits-all" approach. Our team believes that each educational institution has its own standards, needs, and goals, which must be considered while developing software. Otherwise, the educational learning system will not perform its functions properly, and your decision to go online will be a waste of time.
There are different types of software for schools. Some offer attendance or resource management, others are focused on financial reporting and academic administration. But if you feel that combining several types of software will work best for you — contact our team, and we will eagerly turn your ideas into powerful products!
Custom solutions are not a challenge for us. Neither are your most creative plans. KeenEthics is only happy to help the education sphere grow and digitalize. Let's discuss what types of software are the most common. It will help you choose the types that can be combined in the one powerful education tool that will fit all your requirements.
LMS for Teachers and Staff
Software for teachers and school staff enables them to manage all school-related information in one place. Requesting sick leaves, making changes to the curriculum, shifting lessons, managing student records — do each of these with the help of a school learning management system. With powerful software, teachers save time and effort and spend them on a more creative and pleasant part of their job, that is, educating the next generation.
One more type of school software is an interactive learning management system for students. If your students find it challenging to keep track of their academic performance, introduce a new powerful learning management system for school into the learning process. Using it, your young learners will get a better understanding of how their study unfolds. They will easily access lesson planning, see what points they get during classes, and communicate with teachers if some questions arise.
Software for Parents and Stakeholders
This type of software allows parents to take an active role in the studying process more deeply. Building elementary school software, you give them the chance to analyze schoolchildren's academic progress and find ways to encourage their kids to perform better. They will have more control over the process and see the efforts your school puts into providing high-quality education services for their children.
Meantime, software management is helpful for stakeholders. Suppose that your investors ask you to show how their reforms work for your school. The best way to demonstrate effectiveness is to give them positive statistics. But how to gather it? Use and manage data in your education management solution and share it with your stakeholders.
Answering Your Questions About LMS
But if everything were that easy, your school would already have a powerful management system, right? If you have such a thought in your head, it's a perfect time for us to organize the "LMS and education" QA rubric.
#1 How to build software according to the education standards?
Your fear: Education standards will not be met in your system. For sure, your school sticks to particular education standards. If a company plans to transfer the educational learning management system into the digital mode, the team should have a deep knowledge of these standards. Otherwise, the risks are that the whole system will not function properly. School staff will not be able to manage internal processes in the system. The whole idea of creating a unified management software will be pointless.
Don't worry! At KeenEthics, we will conduct an in-depth review of your school's strategy and needs. We use education standards as a benchmark for the development of learning management systems for schools. You can be sure that a platform or system developed by our team will not only be compelling — it will bear value in terms of education industry standards.
#2 How to make sure that I don't waste my money?
Your fear: Developing a learning management system for education will be a waste of money. Hiring a software development team is often an expensive decision. Particularly for schools that, apart from software development costs, have a wide range of expenses on their plate. Not so many companies can offer you both high-quality service and adequate pricing.
Here is some good news for you: KeenEthics has chosen the Tech4Good movement as a direction for growth. Our company promotes ethical software development. We spend some part of our revenue on spreading the Tech4Good trend. By choosing us as your partners, you not only get a high-quality product at a fair price. You also contribute to the promotion of Tech4Good values on the market.
#3 How to protect my school's confidential data?
Your fear: Your data will be stolen or lost. Sure, schools usually store vast databases on their computers. These databases contain the personal information of students, teachers, and other school representatives. They also include finance info and other administrative documents. Moreover, most schools have their own academic resources that cannot be found anywhere except the school library and cannot be accessed for free. This is why maintaining data security is one of the first tasks for software developers.
And what if I told you that there are companies worth your attention? Having a high level of expertise, the KeenEthics team ensures you 100% data security. Regular data security and personal safety training sessions for our developers make network intrusion impossible. With your online school system in our hands, you can sleep soundly and be sure that your data is safe.
#4 How to make my LMS integrative?
Your fear: Transferring academic data from one database to another will take a lot of time. First, a teacher should make a written record during the lesson. Then, they should transfer it to a PC database. Only then, other teachers can access the same database and use the information listed. But what if someone makes a mistake? In such cases, should we go through all these steps again?
Not exactly. Developing a product for your school, we offer you the highest level of integration. Depending on your wishes, we'll create such software that could be accessed both from mobile and from a PC, from a tablet or a laptop. All changes introduced to a system will be instantly visible for all users. Forget about spending hours checking the validity of your data and let technology do it for you.
#5 How to encourage teachers and students to move to LMS?
Your fear: Your software will look too boring for the young and too complicated for the senior. Software for schools should be easy to use because of its target audience. On the one hand, it should be understandable enough even for the most senior users. On the other hand, it should be entertaining enough for the youngest ones.
Don't worry anymore! We build our software products according to the strategy developed in advance. We deeply study the requirements of your school and your user personas. Our designers with years-long experience put maximum effort into making sure that a product has a user-friendly interface and comprehensive functionality. We welcome you to entrust your idea to our team and check it on your own.
Wrap Up
Because of the situation in the world, the digital learning market is growing day by day. Distance learning becomes a common thing for schools, so do education LMSs. If you do not want to lower the quality of education and show stably high academic results, look for an effective school LMS. Or hire a development team to help you choose the best strategy and build the best custom e-learning solution.
Are you looking for a perfect learning management solution for your school?
Here at KeenEthics, we build high-quality software that will fit your particular case. We consider all your preferences and demands and turn them into unique, customized, and effective LMS products.