The Ultimate Guide on How to Create an Educational App in the Competitive Environment: Process, Costs, and Features
How to develop a custom e-learning app that brings value?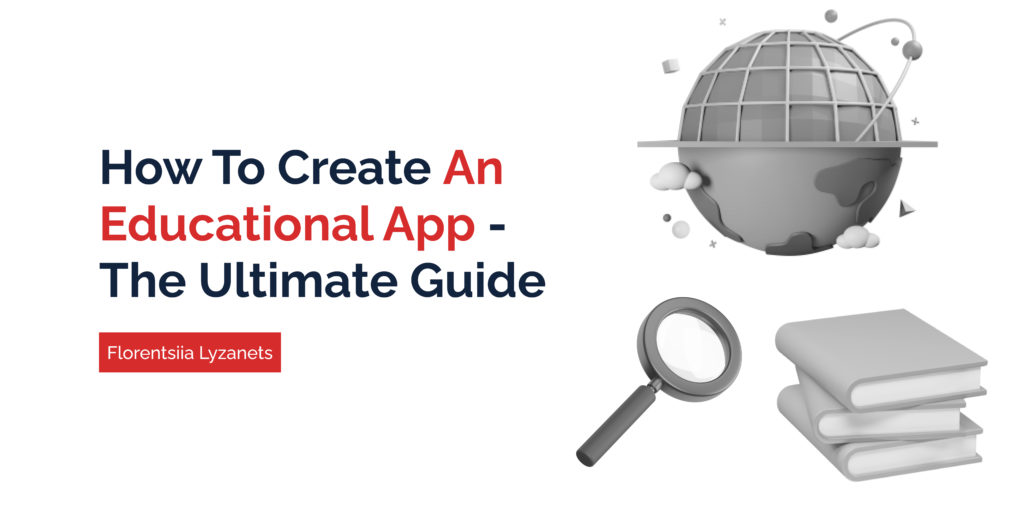 Educational app development is your chance to create something useful for people and make a profit.
Education isn't the way it was a long time ago, and the education app market is at its peak of popularity. Everyone can be educated today without the barrier of location and resources. All this is because of e-learning. Learners can study anytime and anywhere using only a phone or a laptop. There is nothing phenomenal for us already, but if we told it to our parents in their youth, they wouldn't believe it.
In this article, I share my competence in how to create an educational app. We'll present a parallel between a ready-made app and a custom educational app from scratch to let you decide for yourself. Who benefits from the educational app: students, teachers, or learners? What features should you implement into your app to reach a broad audience? How students may view challenges as opportunities rather than problems? Please enjoy!
What is educational app development?
Educational application is software enabling and encouraging virtual teaching. It's targeted not only at students but at kids, applicants, educational institutions, specialists, online course platforms, and all individuals striving to get additional education or master their skills. Knowledge is a core of modern society, and educational app is one of many tools giving access to emerging opportunities and advancements.
Why Should You Build a Custom Educational App Solution?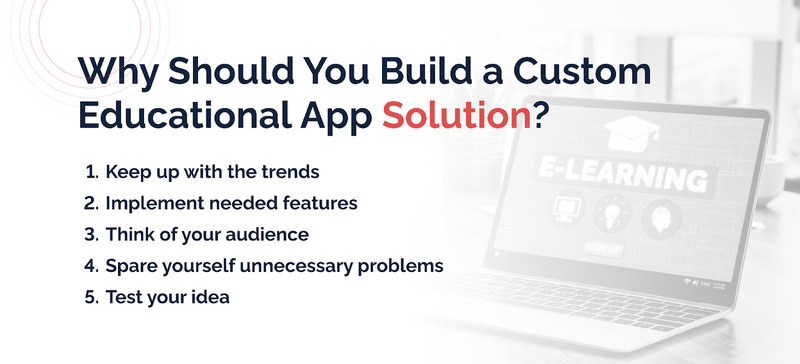 #1. Keep up with the trends
Modern technologies, strategies, and solutions in the software market are extending rapidly. Are you willing to implement one of those newest decisions? There are probably no ready-made software solutions yet, but you can create a learning app. Later, you might even sell it to other people. So please hurry up and enter this niche while it's still vacant!
#2. Implement needed features
When you purchase a ready-made solution, you will be presented with various functions, the majority of which you won't require. Developing your own educational app is a more reasonable approach if you want to concentrate on your demands without being distracted. Similarly, if security is your top priority, you can focus on guaranteeing it while developing your custom software.
#3. Think of your audience
Before developing an app, clearly define your purpose and study the preferences of your target user. Do you create your app for teachers, students, pupils, librarians, drivers, language learners, or people with special needs? Building a custom app will let you consider all these specific features, design the optimal UX/UI, and incorporate the best content. More than that, by creating your own app from scratch, you'll have an opportunity to integrate your application with the most popular social networks in your country or area, make your app culture-specific, develop it in any language, and make sure it's error-free. In particular, while creating an educational app, think of the most relevant and catchy motivational messages to retain your target audience.
#4. Spare yourself unnecessary problems
If you decide to buy a ready-made solution, you rely on somebody else's knowledge of how to build an educational app. You can't be sure that the code is clean, the app is bug-free, and nothing will break when you start scaling your product. Instead, if you decide to build an educational app, you'll start from scratch. You'll have complete control over the quality, and it will depend solely on the technical expertise of your team.
#5. Test your idea
If you aren't sure if your idea is going to work, start with MVP app development. It will let you try out your idea and analyze its performance. According to the findings, you will be able to adjust it to your user's needs and be sure that the project is going to succeed.
Types of Educational Apps
All you need to define about types of educational apps is whom your product will target and how it will help its target audience. There are two types of apps – those for students and those for educators. Besides, each type has its subtypes catering to the needs of different user groups such as kids, students, language learners, specialists in various industries, and individuals maintaining lifelong learning.
Let's discuss the leading types of learning apps in the education sector:
Learning management system (LMS) apps
Large corporations commonly use LMS apps to deliver training to their staff. Such an educational app makes it simple to track, analyze, and assess employee performance while also providing tutorials in one place.
If you desire to use a ready-made LMS product, we recommend SelfLeaders, a personal and corporate learning management system. This software platform houses a collection of corporate training tools, some of which were developed by Keenethics. SelfLeaders assist you in identifying organizational values, vision, and strategy. Using the platform, you can effectively establish a solid corporate culture and engage individuals in educational and working processes. You may also learn more about the platform by clicking in our portfolio.
Are you interested in how LMS might enhance the performance of your business or educational institution? Max Savonin, CEO of KeeEthics, shares his vision on how LMS can boost the success of your business or educational institution by offering five core arguments. Please enjoy your reading.
Well-thought-out and efficient gamification is quite complex in educational mobile app development, but it's worth it. As learning goes hand in hand with entertainment, creators should devise aggregated and exciting scenarios that will engage learners. However, this app is complex but much more popular than other types.
Technology advancement gives learners the best time ever to learn a new language. These apps promote effective and quick ways of learning. Thanks to attractive design, friendly UI, and exciting assignments complemented with different scenarios, users improve their memory, cognitive skills, and communication.
These apps allow users to access educational material at any location and time. Online courses provide learners with access to various resources, from textbooks to video and audio tutorials, to study online without difficulty.
Educational apps for teachers
The apps offer everything an educator might need for teaching. Planning, grading, scheduling, statistics, and analytics tools are all included in educational apps. Furthermore, teachers can find separate apps tailored to specific needs. For instance, a progress tracking app can be used to track students' performance and achievements and as well as to solve any problems that arise during the learning process.
These examples are just a few types of educational apps, but there are plenty more. If you want to learn more about this topic, contact our Head of Engagement, and you will be referred to the proper expert in the tech domain.
Benefits of Educational Apps
Being educated is trendy today. Therefore, developing a custom e-learning app tailored to users' preferences is critical.
Let's examine the benefits of developing learning apps:
Gamified education enhances parent-teacher, student-teacher, and parent-student-teacher collaboration. Since teachers and parents have busy workloads with strict schedules, it's sometimes hard to find time to share transparent, effective communication about students' performance.
Introducing educational apps reduced the paperwork to a large extent. Instead of printing the textbook, students can download any possible material in no time and start using it. In addition, in e-material, students can quickly find needed information by searching words. Thus, apps significantly save time and costs and improve students' learning experience.
Personalized training program
Teachers can design tests and share them among students to get a better insight into students' skillset. The received result can significantly help teachers form a learning plan according to learners' capabilities, knowledge, interests, and performance.
Educational apps significantly motivate students because they get personalized feedback from teachers based on their performance. Moreover, teachers can make real-time updates concerning students' behavior and progress, and students can take some measures to enhance their academic grades.
Since the young generation follows modern tech trends, building an educational app can be a great choice to increase their interest in learning. In addition, by integrating gamification and modern software elements in your app, you can attract a bigger target audience.
What if Considering Parents' Opinions?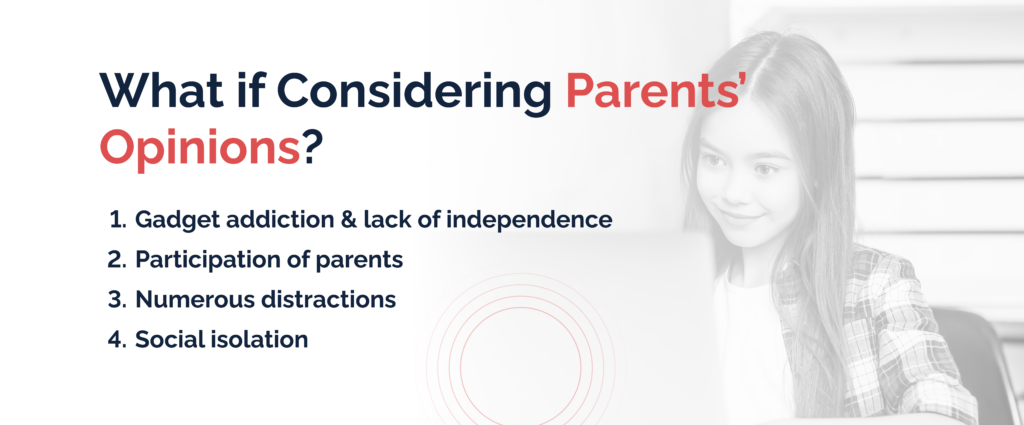 Interestingly, different people have varied perspectives on remote learning. Parents, in particular, have pretty divergent viewpoints about e-learning. I'm going to provide challenges parents face and suggest solutions to eliminate similar problems in the educational environment.
Gadget addiction & lack of independence
The shift to e-learning caused the problem of gadget dependence among kids. They now spend time on their smartphones when studying and while resting.
Another issue among children is their lack of autonomy in the learning process. As a result, parents make an effort to organize their children and force them to sit for classes. On the one hand, parents should sacrifice their free time or work to track or improve children's academic performance. On the other hand, parents should get their children interested in walks or other forms of entertainment to reduce their use of electronics in their everyday routine. So, in this way, since not all kids can manage their self-organization, the responsibility rests with the parents.
My Suggestion
Teachers shouldn't forget to engage students in extracurricular activities like real-life communication.
Participation of parents
Due to the busy work schedules of parents, not all of them can devote enough time to studying with their kids.
My suggestion
Providing students with platforms where they may ask specific questions about their classes can serve as a good idea. Teachers can assist students in identifying knowledge gaps and finding appropriate solutions. Also, creating a shared chat with parents can help break all barriers in teacher-parent interaction and analyze teaching procedures and the quality of the educational process.
Numerous distractions
School is school, and the academic environment at home is different. Parents can place their kids in front of the computer, but at some moment, they can start using their devices for non-class purposes. In school, on the contrary, the teacher observes the real reaction and behavior of kids at that moment and tries to keep them engaged. At home, the teacher-student interaction is slightly lost with e-learning.
My suggestion
Finding a quiet spot at home and designating it for learning is good for parents. Again, the responsibility is on the parents.
Social isolation
At distance learning, parents believe their children interact less with their peers. As a result, similar isolation can lead to mental health issues like stress, anxiety, or negative thoughts.
My Suggestion
Parents can share their initiatives of engaging and interacting more with students. Teachers can:
employ blended learning environments, including online and offline learning;
hold offline meetings with students to maintain a live connection with kids;
appoint interactive extracurricular activities like a visit to the cinema or quest room, etc.
Features of Developing Learning Apps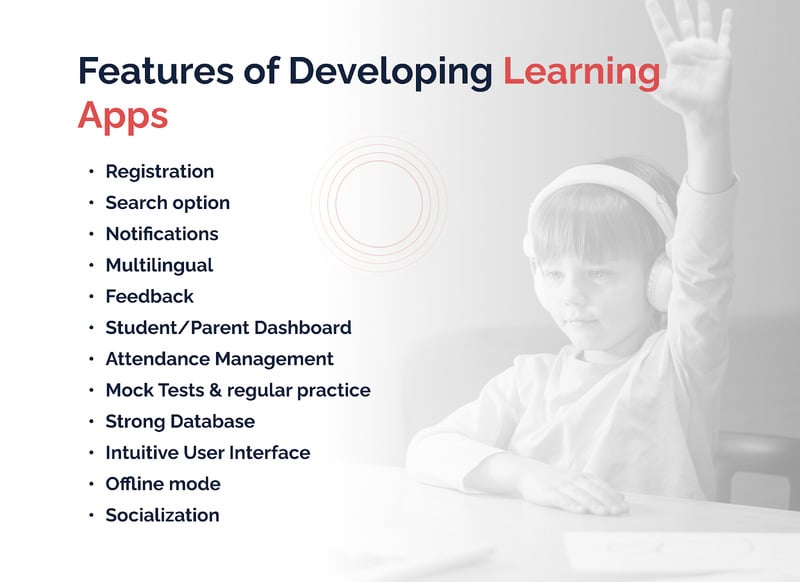 To make a winning educational application in the market, you should think of the following must-have features:
Even if you want to create something incredibly unique for everyone, you shouldn't reinvent the wheel. Such an apparent stage as registration is essential for learners since it helps them access their course material anytime and continue learning where they left off.
When students or educators can't find the needed information, topic, or answers to questions, they can get nervous. Therefore, this feature can save users time instead of navigating through the entire app.
Notifications help increase students' engagement. Learners can keep track of course updates and receive reminders about the timetable, upcoming courses, and other educational news. These minor updates will enable students to set study goals and find time for extra activities.
When the educational content is provided in only one language, the audience is limited. For this reason, if you want to increase the reach of the audience, you should think about the feature of multilingualism. It helps enlarge the user base, communication, and understanding between all parties.
You can include a review and rating feature in your educational software. On the one hand, it enables you to assess the user experience and tailor your service to your users' preferences. On the other hand, students can leave feedback about a specific lesson or course, which will provide more information to other users and assist them in making the best decision possible.
This feature is beneficial for all parties. It engages teachers, students, and parents in the learning process. The best component of the app is the AI-controlled examination dashboard incorporating essential data with statistics and graphical portrayal, allowing for tracking the progress from anywhere.
Teachers can mark the attendance of the students in less than a minute. This feature enables teachers to see the presence in classrooms of the whole class or specific students for a particular period.
Mock Tests & regular practice
Test assessments help teachers better analyze the level of understanding among students and examine weaknesses in their preparation.
Integrating a solid database is a critical step in educational mobile app development. It's done for the ease of updating process. The students value when the content is always up-to-date, variable, and catered to their interests.
There is no sense in telling why convenient and appealing UI is essential.
Students may not have a regular stable internet connection. Offline mode will allow students to access all needed content whenever they need it.
Effective communication and teamwork in a learning environment play a vital part. It's not enough to build an educational app solely to help students obtain new knowledge and skills. The better option is to create an app in the form of a network presenting learners with the opportunity to communicate, message in chats, add friends, and share resources and views about specific topics.
Popular Educational Apps
These days smartphones serve as tools for educational purposes. We'll look at a few popular apps and highlight their strengths and distinctive features that make them desirable to consumers.
DuoLingo
You don't have to sit in a class and learn a language. You can use Duolingo, a popular language-learning platform.
What's the advantage?
The main advantage of the app is that it allows users to learn several languages simultaneously. It also contains many gamification elements, cool badges, rewards, and challenges. Besides, the app provides effective persistent notifications reminding learners about their lessons.
The fascinating truth about Duolingo is that the total number of app downloads hit 1.5 million in January 2022.
Google Classrooms
The reasons to use the app:
You can use it anywhere
The educators can employ it for distance learning and traditional classrooms and provide the learners with interactive resources.
No need for paper
Improved organization
All files are automatically sorted for the users allowing students to focus on what matters.
Ease of collaboration
Even when students are physically separated, the app delivers various ways of engagement, such as collaborative projects and teamwork in creating docs or slides. Teachers can easily collaborate with students by adding needed material, assessing students, and supporting them in their progress.
Keep track of student grades
Unlimited learning resources
Teachers can send videos, virtual tours, and many other exciting learning experiences for students.
The fact that Google Classroom has received 50 million downloads speaks a lot about the app's effectiveness.
Khan Academy
Khan Academy is famous worldwide, providing students with material for many courses and classes. It's compatible with iOS and Android systems to let learners access the app anywhere.
The main goal of Khan Academy is to provide knowledge for everyone. There are 10,000 unique videos, 50,000 unique free activities, 999 million lessons provided, and over six billion problems solved. We should admit the way how they do it is outstanding. You won't see any hidden fees, subscriptions, or anything else, because everything is in public access.
It employs an exciting format of lessons to help learners perceive knowledge. All classes are in the form of video tutorials with the elements of virtual reality.
Learning in many languages, progress tracking, and test assessments are all valuable components of Khan Academy.
Last month, the app received 300k downloads.
How to Monetize an Educational App?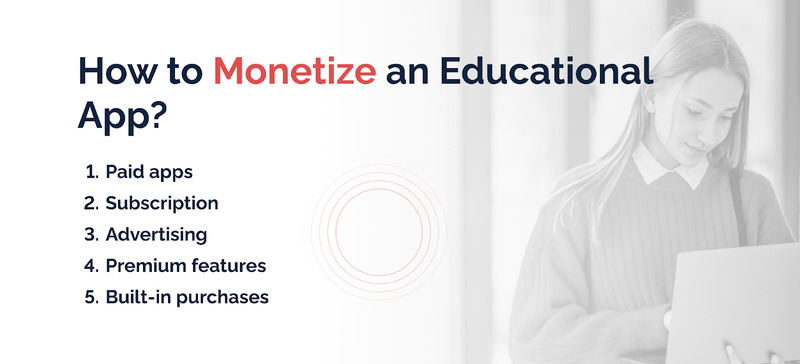 Not all methods of monetization are appropriate for any app. Therefore, you should always test different ways to increase your ROI. The monetization strategy is determined by the type of the app, target audience, and the final objective.
Let's view several possible ways how you can monetize your educational app:
#1. Paid apps
Although it's a simple option, not all users are willing to pay for the software product. Here, you should highlight the privilege of your app over competitors, present unique features and reasons why users need your app and set a reasonable price.
If you decide to make a free app, you can use one of the following monetization strategies:
#2. Subscription
It's a popular method of monetization. You can employ a monthly or a lifetime subscription. Drops, a popular language application, have successfully implemented this method and reached 25 mln users so far. Isn't this a winning solution?
#3. Advertising
It's an excellent opportunity for companies looking to promote their brand. You can advertise their brand in your app while also benefiting from a consistent cash flow. However, it's critical to ensure that similar ads don't flash before the users' eyes. Otherwise, it may divert their focus from the content, making them stop using the app before they begin.
#4. Premium features
This feature allows you to distinguish between the app's free and premium features. The free version of the app typically provides users with materials of a basic level of knowledge, allowing them to assess their skills and level of informativity. Premium resources have more advanced content that may aid learners in progressing through their educational program.
#5. Built-in purchases
You can make most of the features available for users. However, you can also create different rewards, badges, or coins for the learners' progress, which they can use to unlock more premium modules, additional features, or facilities. Those who lack virtual money can pay real money to proceed with their course. This feature is a kind of marketing strategy but not one that is obsessive.
Consult our tech experts on any matter of interest in education software development, and apply the right strategy to fit your idea of an educational app.
How to Make an Educational App?
Choose your niche
The education industry provides plenty of options for developing educational applications.
? You might want to create a customized education system targeted at a particular group of people. Let's say you want to develop an application for primary school students to learn to read and write.
? Maybe, you want to let beginner athletes pick the right e-learning platform to learn more about nutrition and exercise.
? You may create an e-learning software product, which would feature a variety of courses in multiple subjects of various difficulty levels and duration.
? It's also a great idea to develop an AI chatbot to help your users learn languages or solve math problems.
? It might also be used to study processes within an organization during onboarding and to test employees' competence.
A gamified education service would let you encourage a young audience to study while playing, whereas more mature users would enjoy full-scale self-learning management systems. Educators would be grateful if you developed a skills assessment solution or a school management platform. Meanwhile, businesses would greatly benefit from a professional training system.
There are plenty of types of educational apps. So, have you decided what it should be? An app for learning foreign languages? A self-learning platform? Or maybe, a digital literature database? The opportunities are endless, and all of them may become helpful for someone on the condition that you take the needs of your target user into account.
Develop the idea
Before you start developing educational software, create your idea. Place your future app in the 7 product dimensions: diversity, publicity, geography, identity, communication, time, and price.
It would be best to start with understanding what your product should be. Should it be an individual software product or one of the tools of a broader educational system? For instance, if you develop learning management systems for a more comprehensive online learning platform, you'll be limited by the standards and requirements of the latter. However, if you establish a gamified application for children to learn math, you're free to do whatever you want.
You'll have to decide if your app will be open only to a specific group of people or a broader audience. If you develop an app for learning languages, you will want to make it generally accessible. However, if you create an internal education management platform for a particular school, you'll want to close it from the public.
Respectively, another important choice to make is whether your target audience will be global or limited to some geographical place. If your app should be available only for specific users, you'll customize it under a particular geographical location. For instance, if you develop a performance assessment platform for the USA, the marks should range from "A" to "F", for Germany ― from "1" to "6", for the Netherlands ― from "10" to "1".
Going even further, you might want to consider whether to customize your app to a particular user or not. For example, if your product is targeted at athletes, you should provide them with information that they find relevant. However, if it's a platform with online courses in all possible subjects and topics, you should leave your app neutral.
As for communication, you need to decide if the information flow is unidirectional or bidirectional. If your online-learning app is limited to lectures, the transmission will be one-way. If you're going to provide your users with an opportunity to pass tests, answer questions, or chat with each other, the information flow will be two-way.
It would be best to decide whether the users of your app will interact with it synchronously or asynchronously. For instance, if your app features a chat room or an online conferencing tool, your users will interact in real-time. If your app features a discussion forum or any other form of communication that doesn't require an immediate response, you'll foster asynchronous interaction. The first option helps students learn to communicate more effectively and to think faster, whereas the second one allows them to take time to formulate their thoughts.
The last but not the least important question to answer is whether your app should be free or paid, or maybe it should feature in-app purchases. Depending on your purpose and target audience, you need to decide if monetization is possible. For example, if you develop an online dictionary, you could make it accessible for free but add some premium features that can be purchased. If you create a translator, there is no point in making it paid because of many free competitors in the market. Instead, you can profit from advertising. However, if your learning app has to feature some exclusive courses or resources, you'll better charge your users for using it.
Find your team
You must select your team based on the nature of your product, your time and financial constraints for producing an educational app, and the unique features that must be included. The developers must understand how to design learning apps, so look over their portfolios carefully. You'll need a team of experts to help you develop educational software. If you wish to use AR/VR, you need to look for people specializing in the field. If you want to incorporate machine learning and AI in your app, you'll need to hire knowledgeable people in these fields. Another critical question to consider is whether to hire freelancers or an agency. While the former option is more cost-efficient, the latter is more reliable. Read more about the Freelancers vs. Agencies dilemma.
At this point, you also need to discuss payment strategy. Are you willing to sign a Statement of Work, or do you want to work by a "Time and Material" (T&M) approach? In the first case, you'll know a fixed price in advance so that you can plan your budget expenditures. However, a fixed price usually covers all the risks your vendor might encounter. Thus, it may be higher than the end price in T&M. In the latter case, you will have an opportunity to spend more time and costs on perfecting the application or adding some additional features.
Conduct a discovery stage
Discovery is the crucial stage of e-learning application development. Have you decided what your app should look like and whom you will work with? Now, conduct profound research to evaluate the existing software and e-learning resources and better understand your user needs. By doing so, you will be able to reassess your idea before starting the educational app development. You'll know whether the niche is vacant or overcrowded, whether there are some other features you would want to implement, what makes a successful education app in your particular sphere, or which mistakes to avoid. The discovery stage must be conducted after you have hired your team because a professional business analyst would see some opportunities or potential issues that you, otherwise, could easily miss.
More than that, you should be prepared that your initial product idea is barely likely to stay intact. After the discovery stage, you might need to reevaluate your target audience, communication model, or pricing strategy. It's a natural part of educational app development to improve the outcome. So if you trust your development partners, don't resist the changes they offer.
At this point, you also need to decide which platforms you want your app to operate on, is it a web platform or a mobile app. Think about how to adopt the latest technologies, such as machine learning and AI, voice chatbots, AR/VR, or PWA. Also, consider simulation and gamification if applicable. If that is a chatbot, you need to select channels it should support. Accordingly, your partners will help you choose the technical stack, allowing them to develop the best-functioning application.
Hand in your idea to developers
Once you have formulated the final idea, it's time to entrust it to your team of professionals, who will design, develop, deploy, and support your app. The first step would be to create a prototype and then a minimum viable product to ensure that your idea will work. After the UI/UX requirements and technical specifications are finalized, the e-learning app development starts. Throughout the development process, your app should be continuously tested by QA specialists to ensure that there are no bugs. It can be deployed to the store only after the application is perfect. Maintenance and support are equally important since you may develop new ideas for creating an educational app. Your users may want to see some additional features; technologies may require updates or some unpredictable mistakes may occur.
Promote and advertise
Your software product won't work if your target users are unaware of its existence. To reach and communicate with your target audience, you can create an account on Instagram or Facebook. You'll be able to spread awareness about your product through paid advertising and word-of-mouth. Remember that the better your product is, the less money you'll spend on marketing because your customers will do all of the promotion for you. Social media networks will also help collect learner input and adjust your app to your users' best interests. Besides, you may also contact your target users directly and offer them to test your software for free. For example, if you have developed a plagiarism checker, you can contact significant schools and universities and offer them a trial period of your program. Finally, good old marketing strategies, such as TV advertisements, billboards, or handouts, will serve their purpose even though they may cost you more than any other marketing solution.
Why Should You Buy a Ready-Made E-Learning Solution?
#1. Don't reinvent the wheel
Most likely, whatever your idea is, a similar software product has already been developed. Why would you do an unnecessary job and create e-learning apps that already exist? Instead, you can buy a ready-made app and focus on the content you will incorporate into it.
#2. Save time and effort
Developing an educational app from scratch is a time-consuming process. You need to find a team of professionals, conduct a discovery stage, design UI and UX, write code and test it, fix bugs, and only then deploy your app. Buying a ready-made solution is faster, cheaper, and more straightforward than e-learning application development since you skip most educational app development stages.
#3. Use someone else's tech expertise
There are ready-made apps with a variety of functions implemented, including kinetic interaction (touching, moving, scaling, and swiping), audial interaction (talking, repeating, singing, and listening), or cognitive interaction (dealing with exercises, images, videos, or symbolic systems). There are solutions for implementing artificial intelligence and machine learning, AR, and VR, so you don't need to hire a team of different specialists to implement all these functions. In other words, you don't need to worry about how to create a learning app of your own. Instead, you can rely on the proven technical expertise of other people and focus on what you can do best.
#4. Know the price beforehand
When you are buying a ready-made app, you know the final price in advance. When you're building your own app, in most cases, you follow the "Time and Material" approach, which means that the final price may vary. Indeed, if you are on a limited budget, you may discuss a fixed-price process with your education app development team. However, buying an educational app is still more secure.
#5. Expect no surprises
While buying a ready-made app, you can look and click through the final product. If you choose to build an educational app, regardless of how precise your requirements are, the final product always comes with a bit of surprise. To compare, if you buy a ready-made apartment, you can go through the rooms, check the furniture, and get the actual feeling of your new home. When you purchase an apartment with bare walls, you can't know what to expect at the end, however nice the design looked on paper. A similar thing happens when you make an educational app of your own — you can never know what you'll have in the end.
Perspective Directions of E-learning: Challenges or Opportunities?
What are the challenges of e-learning? What if it depends on every learner? While some people see challenges as barriers, others see them as opportunities. Wonder how?
Let's compare the perspective directions of e-learning.
Distance learning requires self-government skills. Since not all students can effectively control their behavior in studying, their performance may worsen. On the one hand, it appears to be a problem for students, and on the other hand, it's an excellent opportunity for those who can find ways to engage themselves in self-studying better.
Unfortunately, one of the most significant drawbacks of remote learning is the possibility of cheating in many ways. On the one hand, it's a challenge for those who are used to cheating to get high grades. On the other hand, it's an opportunity for everyone to critically comprehend the value and importance of learning and to learn not just for the sake of learning, but to be able to apply gained knowledge in the future.
Where else could you experience adaptive learning?
E-learning is no longer a challenge, thanks to technology-driven personalization. Using technological advancements, teachers may give each learner their individualized path suited to their skills, limitations, and goals in a particular subject. Learners receive an optimal curriculum that is tailored to their learning styles.
Theoretical lectures are easier to deliver than practical lectures. The reason is the lack of face-to-face interaction and physical classrooms.
Although it's still difficult to focus on practical skills in e-learning, many innovative learning platforms like Udacity or Springboard address this issue. These platforms incorporate courses with mentors' assistance in developing and improving practical skills for specific goals, subjects, or career paths.
Challenges + Opportunities = the Power of E-learning
On the one hand, e-learning may cause inconveniences to ordinary processes in education. On the other hand, it opens a new door to the education industry. Recent trends in e-learning show that the industry is continually growing. Compared to traditional classrooms, gamification, cloud-based systems, big data, and virtual reality training provide learners with a considerably more engaging experience.
As an end note, these challenges and opportunities are excellent chances to change old habits to new habits that students didn't use to do in their traditional learning.
---
How We Can Help: Keenethics Example
Keenethics is a growing web and mobile software development company, and educational mobile app development is one of our domains of expertise. We have been developing digital solutions for the education industry since 2015.
We're happy to share several of our large-scale projects that have a vast community of users:
It's a brain-training website allowing you to discover what your mind can do. It's a perfect opportunity for you to find time for self-improvement. With only 15-20 minutes per day, users can simultaneously play and stimulate their brains with exciting activities.
The software product offers unique approaches and modules allowing everyone to become a leader in a modern sustainable, and prosperous world. Thanks to training sessions and workshops worldwide, the product enables personal growth and professional development.
It's a valuable desktop app offering learners knowledge and skills in the basics of computer coding. The app incorporates a variety of tasks boosting kids' interest in the world of programming. Moreover, it provides plenty of tips to minimize the knowledge gaps.
If you desire to learn more about our educational apps in other industries, view our portfolio.
To Wrap Up
The days are gone when education was solely confined to classrooms. With a free schedule, personalized educational program, and the chance to pass lessons endlessly, education apps are taking over the education market. An intuitive UI/UX and 5-star ratings are an excellent end-product, but there's a lot more to a winning education app.
Parents face several challenges related to distance learning. They take the role of teachers, whereas teachers only guide students to learn through resources. Not all teachers use innovative educational elements and methods in online teaching, and not all parents are ready to adapt to new changes in education.
There is no such thing as a thing that gives everyone and everything just advantages. While distance learning has benefits, it also presents learners with particular challenges or opportunities. Some may see them as challenges, while others see them as opportunities. Everything depends on the student's personality, desire to study, self-organization, and motivation.
We have no reason to doubt that educational app development will have a bright future.
Parents shouldn't be constantly involved in learning and supervision. It's to be handled by the app. You can employ the fully-functional app with all needed features, like numerous interactive levels, test assessments, leaderboards, video and audio tutorials, support from subject experts, additional services for particular pay, and many more. Don't hesitate to contact us if you require assistance from Keenethics' IT experts. We'll gladly advise you on how to develop an educational app.