Why Should You Build a Custom Learning Management System? — Top 5 Reasons
Boost performance, flexibility, centralization, and efficiency!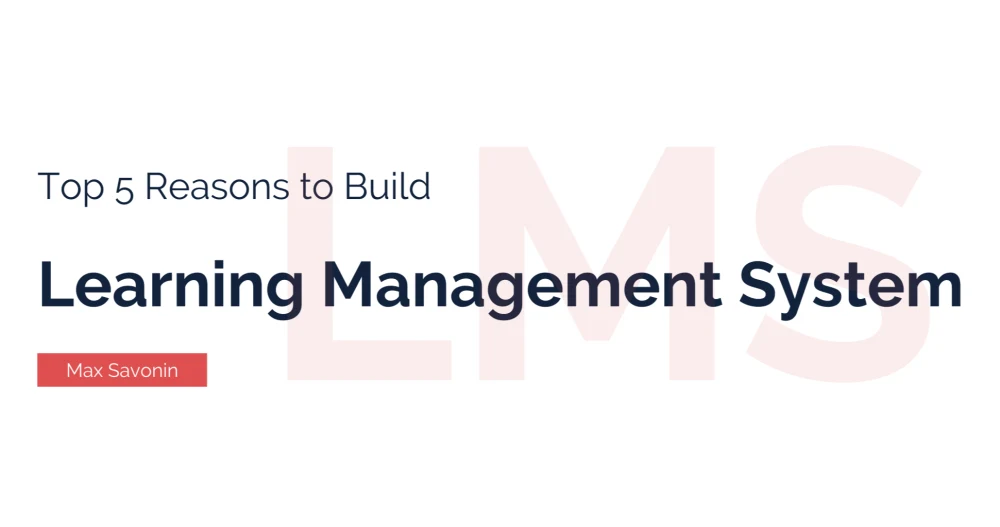 COVID-19 pandemic hit our planet hard, and its dire impact will affect our lives for years to come. Education is one of such spheres that are not related to the disease directly but suffered from it a lot. The pandemic revealed the underlying management problem, which badly affects the entire education system.
Teachers found themselves in a situation where their primary concern was not teaching itself — but rather student management. They realized that, outside the traditional classroom, they have barely any tools to reach all the students, to distribute resources equally, to conduct fair knowledge assessment, and to receive timely learner feedback.
Educators and institutions could have been more resilient and prepared if they had a learning management system in place.
---
So, in this article, I would like to have a look at the very definition of LMS and at the practical learning management system benefits. Let's start with the basics: what is a learning management system?
What Is a Custom Learning Management System?
The learning management system (LMS) is a software platform, a knowledge repository, and an online classroom.
This software platform is aimed to administer, record, track, report, and deliver various educational materials and courses. You can think of it as an advanced repository of learning resources and courses, which all the authorized users can access and use in a manner defined by the educator. You can also think of it as an online classroom, where learners communicate with teachers, pursue their learning objectives, and evaluate their learning progress.
Learning management systems are actively used in higher education and in the corporate sector. The best-known examples of those include Moodle, Opigno, Dokeos, SkyPrep, BlackBoard. Another personal and corporate learning management system that we recommend is SelfLeaders.
SelfLeaders is a system of corporate training tools, some of which have been developed by KeenEthics. This platform helps to clarify organizational values, vision, and common direction, create a strong corporate culture, motivate people, and inspire a sense of responsibility.
SelfLeaders helps to engage coworkers and to encourage them to take responsibility, cooperate, and strive towards acting in accordance with both personal and organizational vision and values. It gives an opportunity to measure and document the training effect in terms of motivation, feedback, and collaboration. This platform implements transformational learning for the purpose of inspiring trust and cooperation in the team.

Oleksandr Saltykov

Project Manager
---
Unless you have already developed or worked with a learning management system, you would probably think of it as of an expensive, technologically complicated, and barely helpful platform. If it costs so much, requires technical experts to be involved, and brings little value, you can easily do without it. And it is clear, why you would think so — until you learn about the learning management system features and benefits.
In general, there are five reasons why you should build a learning management system. These advantages of learning management systems include improved business performance, flexibility, centralization, time- and cost-efficiency, and customization.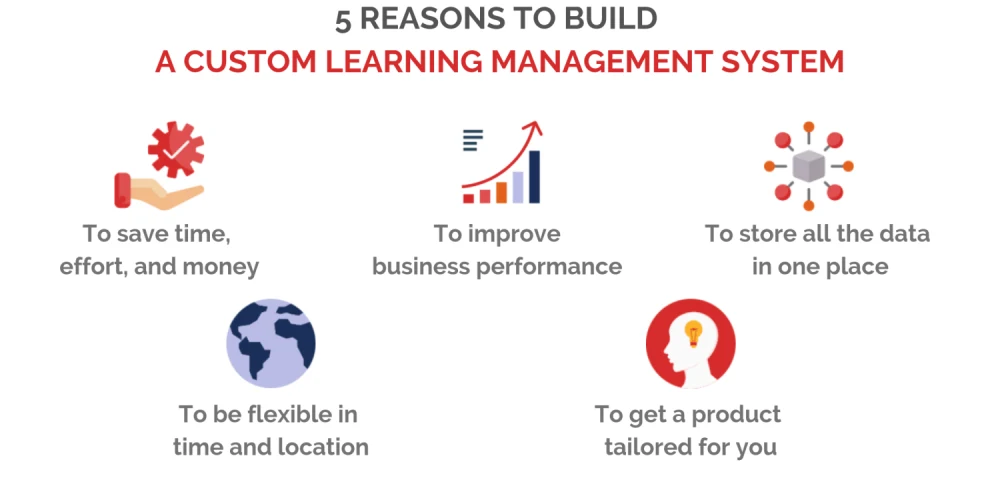 Reason 1: Improve the performance of your business/learners
Implementing LMS is a perfect shortcut to improve the performance of your business or educational institution.
Your business is defined by people working for you, and their personal advancement translates directly into the advancement of your business. According to Topyx,

Your employees and their training are integral to your business success. Hiring top talent can result in a 10 percent increase in productivity, 20 percent increase in sales, 30 percent increase in profitability and a 25 percent decrease in unscheduled absences.
A learning management system can be used to educate employees on the most recent operational or technological changes. For example, if you install an expensive state-of-the-art device, you might not want your inexperienced employees to come straight to work with it. Instead, you would rather train them via a virtual LMS first. A custom LMS can also be used to improve the soft skills of your personnel and to train their communication, conflict solving, or decision-making skills.
Similarly, LMS promises to boost the learning performance of your students. It makes the learning process more personalized, interesting, and flexible — it is easier for users to maintain focus if they decide on their own schedule. Also, LMS grants an opportunity to use various multimedia files and tools, which diversify learning and makes theoretical studies more exciting.
According to a study by Santiago and Ramirez (2020),

The results from an LMS Classroom, architecturally and configuration-wise, had the highest level of performance, with an average of 73% when evaluated using statistical coefficients.
The importance of learning management systems also rests in the fact that they help you track the performance and progress of your employees and students. In this way, you can see who is working hard and deserves encouragement and promotion, and who is falling behind and needs help. It can also serve as an important tool for the challenge system, which is aimed to foster the personal and professional development of employees.
Reason 2: Be flexible and do not depend on any learning environment
A custom learning management system is a perfect opportunity to leave the premises of an office or a traditional classroom. When having all the information in the virtual environment, people would be able to access it or to do a training course while at home, in a café, on the road, in the park, or while on sick leave. This is perfect for the students and employees of the new generation, who do not want to work from 10 am to 6 pm five days a week from the office. The modern generation strives for flexibility, creativity, and communication, and giving them full freedom in terms of time and location while studying is a perfect way to keep them motivated and engaged.
According to a study conducted by Potomac University,

77% of educators believe that online learning is just as good as traditional learning, if not better. Also, nearly 70% of all students claim online instruction to be as good as or better than in a traditional classroom setting.
Yet, such flexibility can be not just a benefit but a necessity — as the situation with COVID-19 proved. Schools and companies that were prepared to move their operations online greatly won over their competitors. After all, coronavirus left almost no time to think or to get ready — everyone had to act fast, and learning management systems became a salvation for the training and education sector.
Reason 3: Store all the relevant data in one place
A custom learning management system can be used to centralize data storage. Data centralization by itself is not a convincing advantage — at first sight, it does not offer any practical value. However, there are four significant benefits of using a learning management system data centralization offers:
1) People get faster answers
Most people nowadays do not fancy the idea of going to the library or flicking through numerous papers. The modern generation wants to have all the answers here and now, and a custom LMS satisfies this demand.
2) Data is secure, and the access to it is regulated
You can store all the training materials, company policies, job guidelines, documents, or personal notes in one place. To make better use of it, your custom LMS should give you an opportunity to manage the access rights of people. This is how you let your students or employees access the information they need with a single click, at the same time, without being worried that they can see something that they are not supposed to.
3) Learners are provided with equal knowledge opportunities
Such a system also lets you be sure that, regardless of the physical location of your employees, all of them have relevant and up-to-date information. In this way, learning management systems help to ensure compliance with corporate ethical and legal guidelines. This is how the learning management system turns into a centralized knowledge hub.
4) You can analyze and adjust knowledge base efficiency
Finally, a comprehensive knowledge base will help you analyze what learning materials, books, courses are the most and the least popular among learners. Respectively, this will let you adjust your teaching strategy to make the process more interesting for your learners.
Reason 4: Save costs and efforts with LMS
Efficiency is one of the central benefits of LMS. A custom learning management system allows you to save a great deal of time, effort, and money. While the development of such a system is expensive and time-consuming, it is a one-time expenditure, which certainly pays off in the future.
Having an LMS at hand, you minimize the time and resources you spend on training employees or teaching students. Employee training in its traditional understanding is quite expensive as it requires a coach to be hired, additional materials to be developed, and some working time to be spent. Instead, a learning management system allows you to conduct employee training without any additional expenses.
According to eLearning Industry,

With LMS, the organization saves on trainers, venue, printing, equipment, travel, logistics and most importantly, save on time.
Reason 5: Get a custom solution
However, the main reason to choose a custom learning management system over a ready-made solution is that custom development gives you an opportunity to get a product tailored specifically for your interests and needs. You as the owner and main user of the future LMS should decide what functions to or not to implement and how the optimal interface should look like. Also, the online learning platform is a perfect opportunity to brand your company or educational institution. Make sure that your interface and learning materials follow your unique style guide, feature corporate logos, and use corporate colors. Your learners and employees will certainly enjoy your one-of-a-kind style.
Making sure that all your tools and products comply with the overall corporate strategy can be more important than it seems. According to Trissa Strategy Consulting,

63% of successful companies have all their business units aligned to their overall corporate strategy.
If you do not have sufficient technical expertise in the field, you can always hire a team of professional software developers, including designers, engineers, testers, and a PM to manage the project. These people, who know how to build a learning management system, would conduct a discovery stage to help you understand the needs of your users better and to test the idea before bringing it to life. As a result, you will have a software product which you know everything about, which lets you do whatever you need, and which looks the way you want it to look.
To Wrap Up
The IT industry has grown to an extent where the development of a custom learning management system is available for companies of any size or business field. All of them would greatly benefit from implementing an LMS because it gives an opportunity to improve business outcomes, train employees, manage data storage, and save time and resources. Similarly, a custom LMS for educational institutions is a great way to organize the learning progress, track the performance and progress of students, and communicate with educators and learners.
Are these benefits of learning management systems sufficient for you to launch custom LMS development?
Do you have an idea for an education app?
Let us help you to take your educational project from the idea through discovery, design, and development to a final product. We know the answer to the question "How to create e learning app?", and we have a sound experience in it.