Benefits of Learning Management System: Top 5 Industry Standards
You can easily do without following LMS standards. But if you do follow, it is a win-win decision.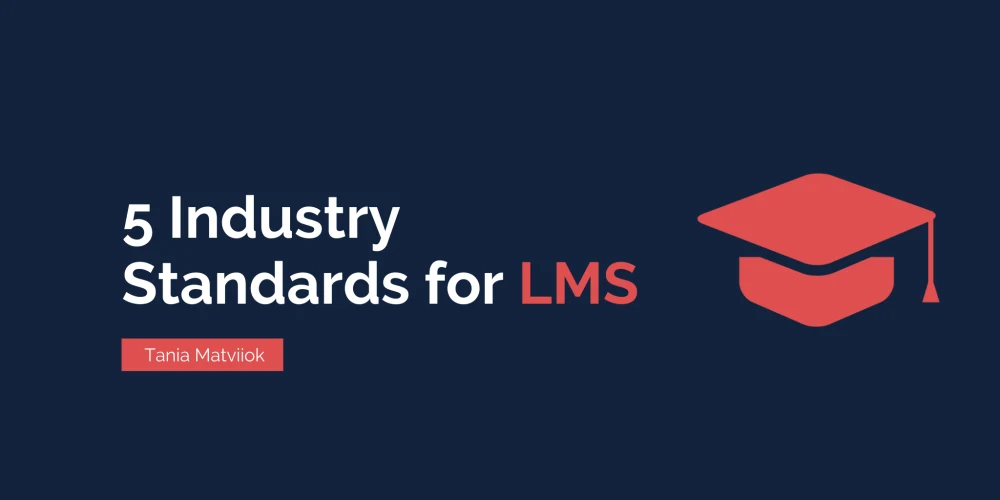 The crisis of 2020 has changed the world. One of the spheres affected the most is education — the educational processes in most countries had to be put on hold or moved online. For those teachers who have been mastering their Zoom and Skype skills, managing students remotely is a strenuous task. This is where learning management systems come into play.
Learning management systems, both custom and off-the-shelf ones, are now in higher demand than ever. Although no such statistical report is available, I am sure that Zoom is not the only software whose usage stats have rocketed in the last months.
In fact, such solutions can be used not only in education per se but also in business development and training. After all, even when working remotely, you have to onboard newcomers and train your employees.
---
However, what should you do if no off-the-shelf LMS solution suits you? Say, the proposed features are not enough or way too much, data security is questionable, or you just do not like the feel of it. You can develop your own solution — the one specifically tailored to your needs.
Bear in mind, however, that there are 5 industry standards that your learning management system should follow. But before jumping into details about these standards, I want to make sure that we are on the same page about why use an LMS.
So, let's clarify what is a learning management system LMS and why use a learning management system.
What Is LMS Software?
The learning management system (LMS) is a software solution, web, mobile, or desktop, which facilitates the administration, documentation, delivery, and analysis of learning courses, training sessions, tutorials, and other educational programs. One of the first LMS's was FirstClass, developed by SoftArc for the Open University in the UK in the 1990s–2000s. The best-known and most popular LMS software of nowadays includes Moodle, TalentLMS, OpenEdx, and Easy LMS. Here, at Keenethics, we have developed a learning management system as well. Check the case study of SelfLeaders.
In any case, a learning management system should include the following features, which would help to maximize the benefits of LMS:
1. Course management: Delivering training courses is the job number one of a learning management system. You should be able to:
Create and edit courses
Create and edit lessons
Create and edit tests and exams
Add and edit content
Add time limits
Track course results
Manage sharing settings
2. Learning portal management: You may want to deliver courses to different groups of people, such as different classes or different company departments. Each group should have their own learning portal. You should be able to:
Create and edit portals
Style portals
Manage portal participants
Manage content in a portal
Manage learner forum
3. Branding: It should be obvious that your LMS belongs to your educational institution or business organization. You have to be able to:
Change colors, fonts, images
Add logo
Customize URL
4. Administration: LMS should spare you some routine tasks. It has to be able to:
Analyze and record data
Manage documentation
Manage payments (if applicable)
Manage learning portals, learning materials, and learners
Send notifications and reminders
5. Integration: Your LMS should integrate with other software you may be using, such as:
Google Drive
Video conferencing tools, such as Skype, Zoom, or Google Meet
HR management platforms
CRM platforms
6. User experience management: Your LMS should be user-friendly by default. Aside from intuitive UI, these are some features you can include:
Gamification
Simulation
Teamwork opportunities
Do you need help with LMS software development?
We are not a purely LMS development company — but we do specialize in developing software for education and e-learning. We will gladly help you solve your LMS development challenges! Learn more about the education software development services that we offer.