Telehealth App Development: Step-by-Step Guide on How to Develop a Telemedicine Application in 2023
Telemedicine app development – what is the role?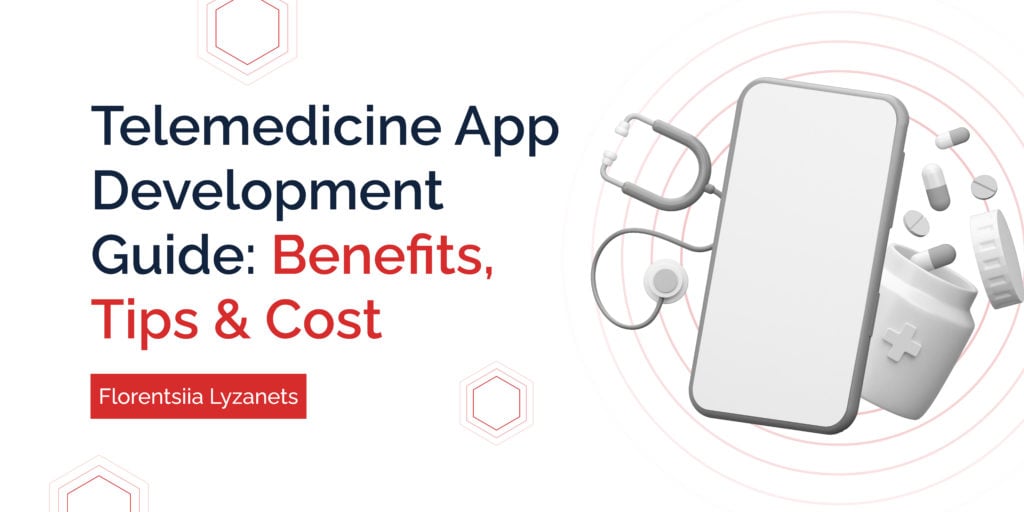 Remember when you had a visit to a doctor, but at the end of the day, you were so tired that you wanted to pass out with all your might? Pardon my exaggeration, but I often consider how nice it would be to have the ability to teleport. Ironic or not, you and I have such a possibility in at least one field – healthcare. As communication technology advances, our options for monitoring our health are expanding. Well, we believe nothing surprises you anymore. But today, it's our topic, and we're going to discuss it.
Stay tuned cause we'll discover how promising telehealth app development is, how it works, why to build telemedicine in 2023, who benefits, the step-by-step process to create it, and many other exciting or tedious questions. Let's check.
What is Telemedicine?
Personalized and quality services are what modern customers seek in all spheres of life. Today we have no barriers to medical care, and telemedicine is one of the great alternatives to a traditional healthcare system in various scenarios. Although it isn't suitable for severe emergencies like heart attacks, strokes, or broken bones, the technology is a helpful assistant for solving simple issues and providing patients with consultations. Sure, there is tons of info on the Internet, but specialists can give reasonable answers faster and more efficiently.
Use cases:
Imagine you got a bite from an insect but don't know what the insect was.
Colds, flu, sore throats, and pink eye are other issues you may address via telemedicine application.
Despite the holidays, weekends, and time of the day – you can get medical care whenever needed.
Although telemedicine isn't a new concept, it has gained popularity in recent years. Telemedicine is a practice of remote clinical services allowing patients and healthcare providers to maintain communication through the power of technology. Thanks to telemedicine app development, patients can discuss their symptoms, medical problems, and state being, receive diagnoses and treatments in real-time chat, healthcare portal, and other platforms.
Telemedicine also provides patient and professional education in healthcare and health administration. The practice is powered by video consultations, text chats, media files, remote monitoring and nursing, distance physical and psychological therapy, health records and prescriptions, and IoT. But how the app works and what are the benefits – we'll define in the following sections. We hope you'll find the helpful info in responding to your queries.
Types of Telemedicine Apps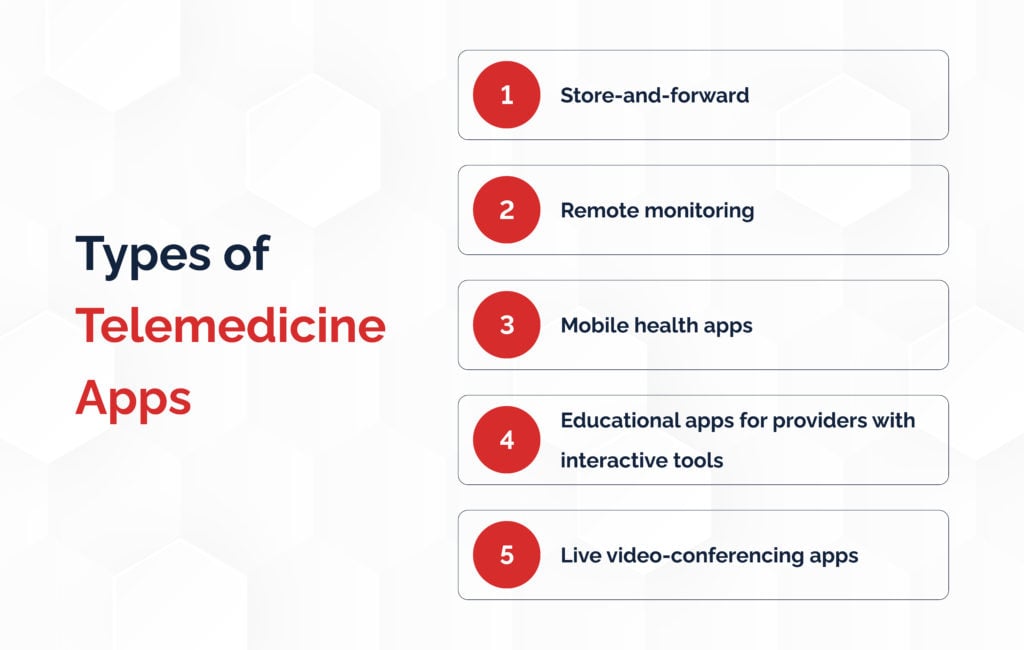 The telemedicine app has three significant functionalities:
store and forward telemedicine,
remote control,
real-time interactive services.
Let's look at each type and discuss their role shortly.
#1 Store-and-forward
In telemedicine app development, storing and sharing information efficiently and adequately is highly critical. Store-and-forward, also called asynchronous telemedicine, is the practice resembling how we share data via emails. But there is a slight but vital difference. The platforms designed to share healthcare data like lab reports, x-rays, and other confidential patient information incorporate built-in security features. They also follow HIPPAA compliance ensuring the security, reliability, and confidentiality of the patient's records. The store and forward type simplifies the communication between providers and their patients, even if the former is located in remote geographical areas.
#2 Remote monitoring
This type of telemedicine app is widely practiced and very useful for patients. They can track, control, record, and share their vital signs through technology. It helps patients who need regularly check their state of being and vital signs to minimize the adverse effects and seek medical care promptly. It refers to asthma, stroke, epilepsy, cardiovascular diseases, diabetes, and many other critical chronic diseases. A similar practice is cost-effective for the patients since hiring a nurse for monitoring is a costly solution. Also, this is an excellent AI-based solution reducing the workload of healthcare providers and simplifying medical examination.
#3 Mobile health apps
We've recently explored the future of MHealth app development and 7 steps to build a medical app in 7 steps. The article above can help you learn the difference between mHealth and telehealth applications. Yet, let's explore the type of this telemedicine shortly. The mhealth app can direct patients to accessible specialists based on the available work schedule and appointment hours. The mhealth app allows the creation of a personal patient account with the support of push notifications, reminding the patients about the upcoming visit to the specialist.
#4 Educational apps for providers with interactive tools
AI solutions are used in different industries providing learners with an interactive and engaging learning experience. Virtual reality, augmented reality, and 360-degree video significantly impact the learner's perception of specific healthcare topics. Three-dimensional models allow healthcare providers to experience almost like real surgeons but more humanely and conveniently concerning mobility. Although this solution requires costs on equipment, it's widespread and has a higher potential in the future.
#5 Live video-conferencing apps
This type of telemedicine app is the most popular one cause it greatly resembles the way patients and doctors communicate in healthcare institutions. Real-time video-conferencing allows providers and patients to save time on the way and spreads healthcare, particularly in some rural areas where healthcare options are partly limited.
How Does the Telemedicine App Works?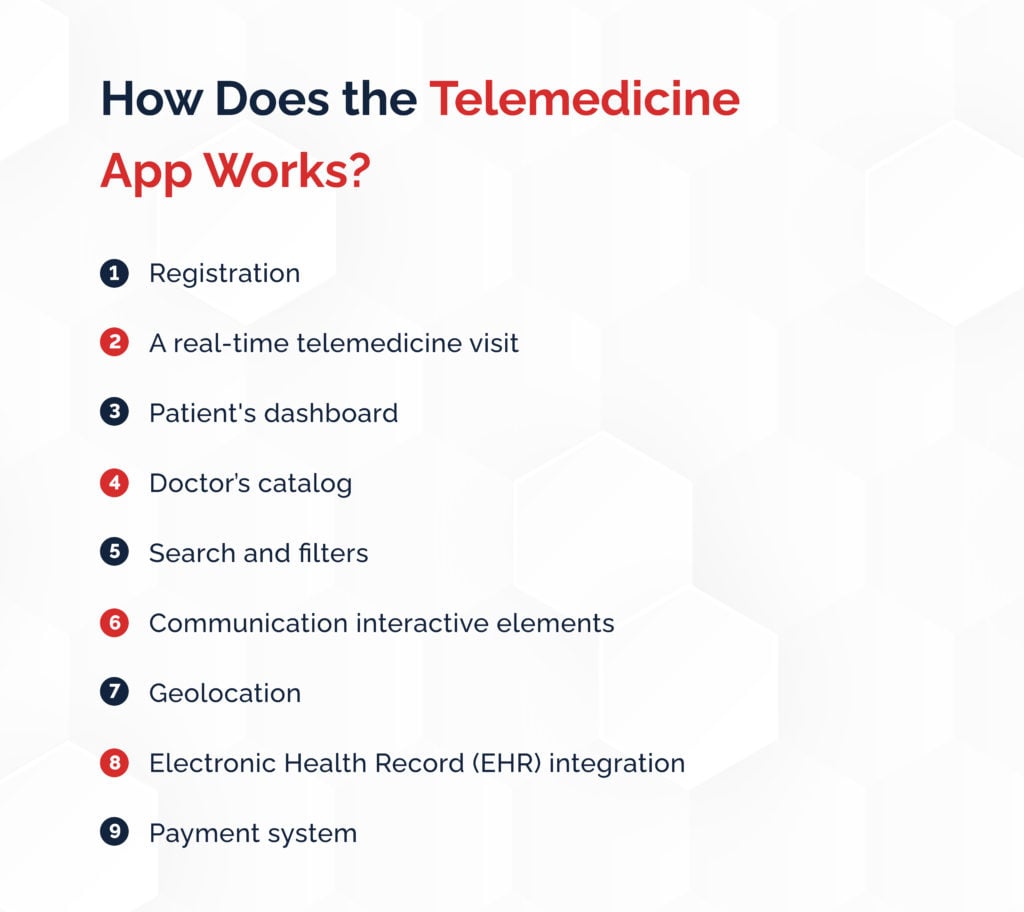 The telemedicine app development incorporates many functionalities, from patient registration, appointment management, and e-prescription to payment gateway. Let's explore this in detail.
◉ Registration
Registration in the app is the first step, and users find it straightforward with minimum steps to accomplish. It requires filling in the information and uploading some documents. The patients can scan and upload medical records easily without additional printing. The benefit of telemedicine apps is robust authentication methods to prevent data threats and leaks. Usually, the users pass simple registration via email or phone numbers but with extra security steps.
◉ A real-time telemedicine visit
By signing in with an app, the patient sees the profiles of many doctors, including their schedules, workload, and qualifications. App possibility to see all real-time updates allows patients to make a relevant appointments. Then, up to personal medical needs, patients can choose the doctor.
◉ Patient's dashboard
The patient's profile benefits the doctors, allowing them to make a proper and immediate treatment plan when needed. The specialists don't need to ask the patients for the same information. The dashboard involvement in the app saves much time enabling healthcare providers to focus on establishing diagnoses and patient treatment. The integration feature of the telemedicine app shows the patient queue to the specialist and helps doctors filter patient profiles based on the complexity of their state.
The patient's dashboard incorporates the following:
the medical history of the patient;
a past treatment plan;
up-to-date info about improvement or deterioration of the patient's state;
patient complaints;
patient management;
insurance information.
◉ Doctor's catalog
The doctor's catalog is a savior for everyone, enhancing the match-making contact between patients and doctors. By resembling the patient's profile, it usually includes the following data about the healthcare providers:
address;
qualification;
specialization;
experience;
schedule for availability.
◉ Search and filters
Filters help patients easily find information like the doctor's specialization, gender, rating position, language, insurance provider, and more.
◉ Communication interactive elements
This feature improves the patient experience with the app's usability. The parties can share photos, audio-video files, messages, and documents while maintaining the confidentiality of data with HIPAA compliance.
◉ Geolocation
Geolocation allows patients to find pharmacies and hospitals nearby their location.
◉ Electronic Health Record (EHR) integration
The app with EHR integration simplifies many processes by digitally storing all the data, including laboratory tests, blood work, MRI images, and prescriptions. The telemedicine app, integrated with EHR, works much better and reliably.
It brings vast benefits such as:
preventing the duplication of data and visits;
processing the patient's records to the specialists;
simplification of smooth billing services;
improved data collection.
◉ Payment system
Every telemedicine app should have the opportunity to pay medical bills via different options. If you think about a telemedicine app development project from the ground up, consider the payment gateways like credit/debit cards, insurance coverage, or coupons, and users will assess.
---
5 Reasons to Build a Telemedicine App in 2023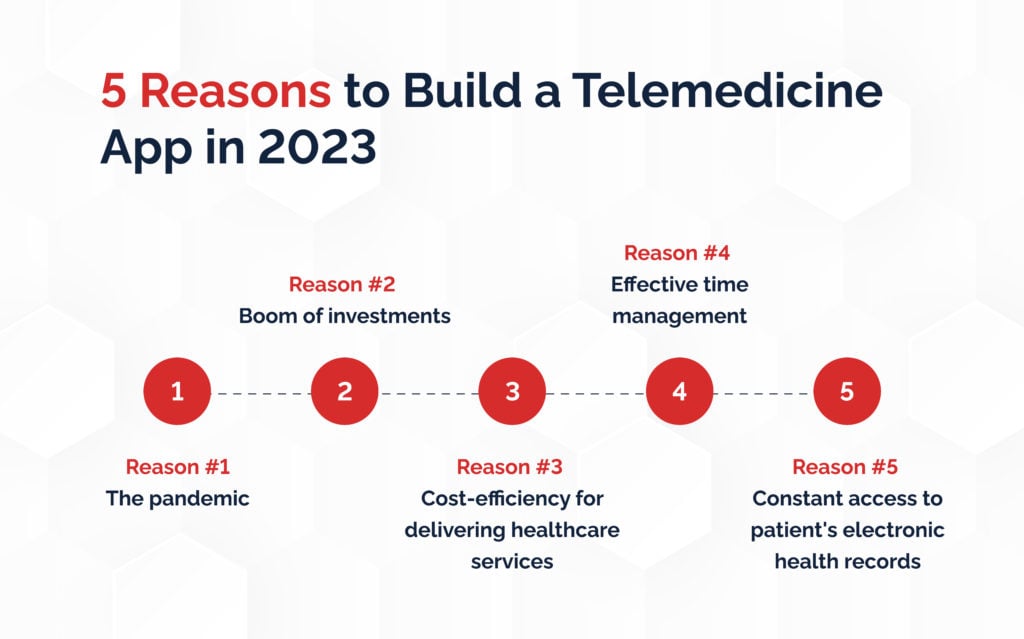 Why do you need to consider telemedicine app development and invest in it? We'll present 5 core reasons influencing the rising popularity of telemedicine apps.
Reason #1 The pandemic
Covid19 is still not a forgotten theme. Even now, many businesses continue to move online, and the pandemic is one of the reasons.
Reason #2 Boom of investments
The telemedicine market has grown and still is forecasted to grow at about 460 bln U.S. dollars by 2030. While in 2019, the global telemedicine market was valued at nearly 50 mln U.S. dollars, in 2021, the market size was valued at 277.22 mln. Above mentioned $50 billion and $277 million show the investment potential of telemedicine app development can justify the forecast.
Reason #3 Cost-efficiency for delivering healthcare services
Telemedicine services bring three main benefits:
Independence for healthcare providers
Businesses and self-employed specialists don't need to rent a working space.
Reduction of maintenance cost
A study by ResearchGate reports that telemedicine apps decreased maintenance costs by 94%.
A high flow of patients
There are no queues in hospitals. Telemedicine simplifies patient records and makes consultation faster and more effective.
Reason #4 Effective time management
Telemedicine apps reduce the possibility of burnout or depression among healthcare professionals. Healthcare professionals can see the real picture of their workload and schedule availability and make necessary calendar adjustments. Telemedicine is an excellent tool helping to maintain a healthy work-life balance.
Reason #5 Constant access to patient's electronic health records
Despite the holidays or weekends, the doctors can easily access the patient data and provide immediate care if some emergent situations arise. Even when there is a high patient flow, there is zero chance of medication error.
Benefits of Telemedicine Apps for Doctors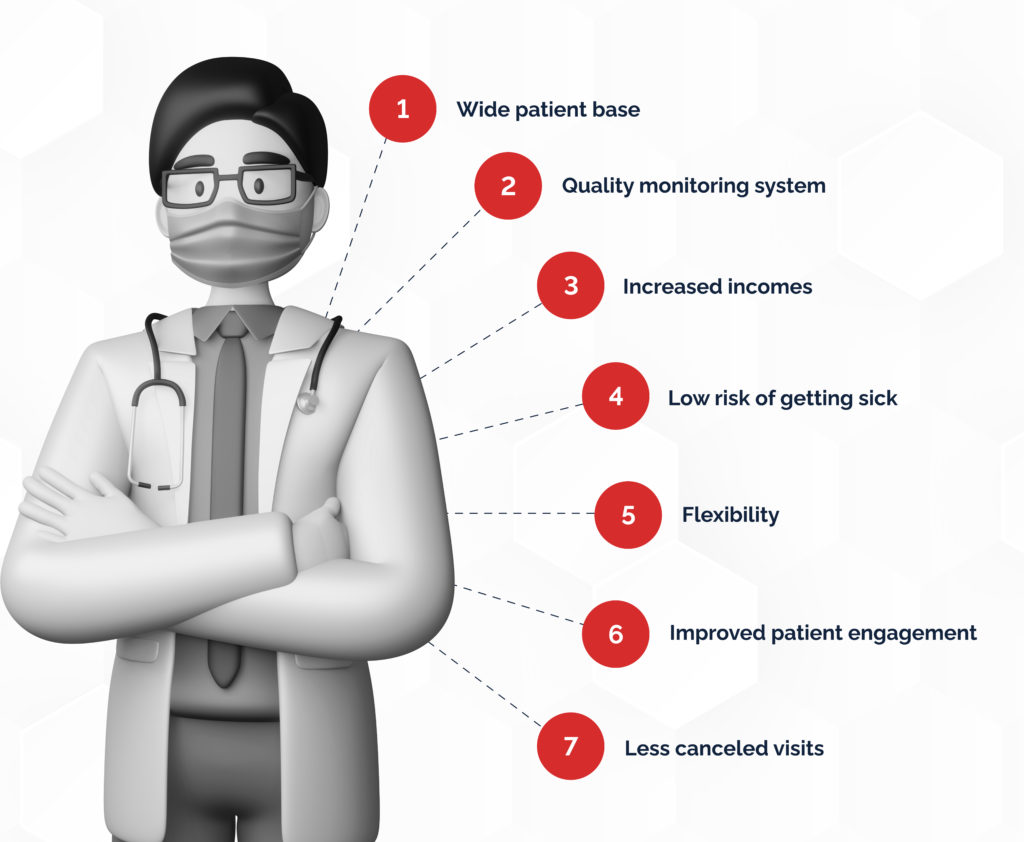 Telemedicine allows healthcare providers to be flexible, facilitating their workload. Have a look at the undeniable benefits from a doctor's perspective:
Wide patient base
Telemedicine app development provides the ability to reach patients from around the world. It spreads the healthcare services in remote areas, where not all people can get instant medical care or advice. For this reason, a telemedicine app is a great solution to maintaining regular contact with specialists and tracking the state of health.
Quality monitoring system
Telemedicine apps incorporate efficient monitoring systems keeping medical records and doctor/patient data. Everything is stored in one space, and due to automation and integration, it's time-effective for doctors to track the patient's health and make the proper diagnosis.
Increased incomes
Usually, video-audio-text chats take less time than physical ones. The specialists can examine more people faster and more efficiently, having everything at hand. Recent statistics from Indeed show telemedicine providers earn $30/h more in the USA than regular doctors.
Low risk of getting sick
In the case of the Covid pandemic, telemedicine is a practical alternative for contactless and secure communication with patients.
Flexibility
Healthcare providers can provide virtual medical care for any patient worldwide. It also allows the specialists to adjust their schedule to their time outside work.
Improved patient engagement
Online visits are beneficial for two reasons. Patients find them more convenient compared to a physical meeting with the doctor. Another benefit is that telemedicine makes patients more responsible for their conditions. The researches show that patients try to follow their treatment procedures regularly.
Less canceled visits
Canceled or missed visits cost the US medical system over $150 billion annually. Telemedicine allows doctors not to waste their precious time and appropriately collate it with their schedule.
Benefits of Telemedicine Apps for Patients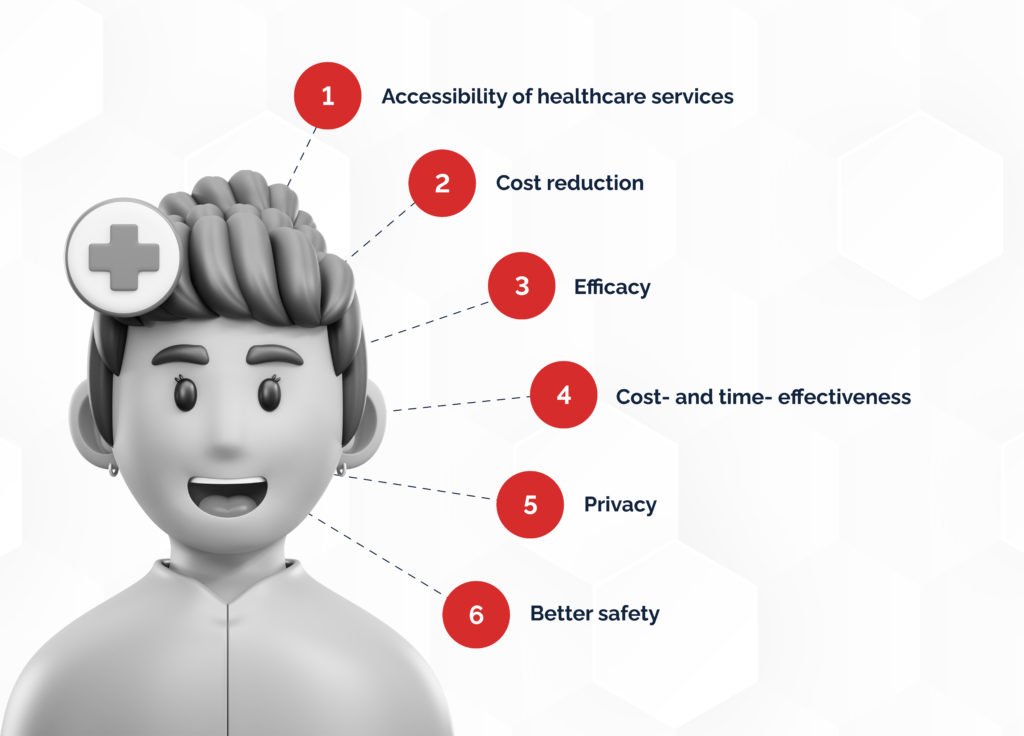 These days, a large part of the population has never tried telehealth app development opportunities. A recent survey shows that only 41% of Americans are active telemedicine users, finding it convenient.
So what are the benefits that attract the patients?
Accessibility of healthcare services
As we've already mentioned, telemedicine breaks any gap between doctors and patients. Having the ability to get the answers and medical help 24/7, they can be informed of their health on time.
Cost reduction
The telemedicine app now offers various telehealth packages incorporating more services to patients at a reduced price.
Efficacy
Telemedicine apps minimize the possibility of insufficient data due to continuous monitoring. Patients are regularly notified about administering medicines or accomplishing the required steps. Through instruction and remote monitoring, telemedicine boosts patients to make better health decisions and provides practical preventive measures compared to in-person treatment.
Cost- and time- effectiveness
Usually, visiting specialists takes some time, effort, and costs. Instead, telemedicine reduces extra expenses on needs like transport, parking, food, babysitters (in case the patients are parents), hotels (if the patients live in remote areas), and others. Furthermore, doctors can remotely set the diagnosis and offer treatment faster if the patient has false symptoms or specific ones like a cold, sore throat, or runny nose. As a result, patients get better more quickly.
Privacy
Virtual medicine is an excellent solution for those feeling discomfort, fear, or stress while being examined. Virtual visits are private, so nobody knows why and what specialists patients address.
Better safety
Telemedicine benefits a specific patient and others at hospitals, reducing the risk of infection or transferring the disease in overcrowded hospitals.
---
Advantages of Telemedicine App Development
Well, you may think benefits for doctors and patients are okay, but what about business owners?
Let's present some of the biggest compelling arguments (read – opportunities) you can benefit from.
#1 Easy to use
You can provide the chance for those who're always tied to work or home. Similar people often delay scheduling an appointment with the doctor. For this reason, creating a telemedicine app is a great alternative. Instead of driving to the hospital, everyone can sign into the app, find the right specialist and talk to them whenever they need.
#2 Low healthcare spending
You partly save costs on equipment and maintenance of the hospitals. In turn, healthcare employees don't need to spend time and expenses traveling to work.
#3 Information exchange
Thanks to app integration and other critical features, all information is stored in one place. There are no odd papers; you shouldn't worry about information security and loss of medical records.
#4 Engage more patients
Through telehealth app development, you can provide access to healthcare to more individuals.
#5 Quality time management of the specialists
Through the app, you can track the workload of the healthcare providers and prevent potential burnout due to the high flow of patients.
Challenges to Consider when Developing a Telehealth App
Before developing a telemedicine app development project, you need to consider the following critical tips:
◉ Special attention to the UX design
The interface should correspond to the preferences of all audiences. When you develop two versions – for the doctors and patients – you should define the features and functionality for two audiences. Please note what the doctor prefers to have on the screen may not be relevant to the patient, and vice versa.
◉ Data security
If the backend infrastructure is weak, it's easier to breach the data for hackers. The solution is to hire a dedicated cybersecurity specialist or team of specialists. When providing security, it's essential to view and analyze cross-site scripting. To ensure the app development process is secure, the backend team should:
use only tested frameworks;
employ the latest security updates;
use reliable data storage with HIPAA compliance and more.
◉ Listen to the audience
Analytics is great, but listening to the common sense of the users and their real needs worth attention. Active users, service providers, and healthcare specialists can help you not pull the product in different directions.
How much Does It Cost to Develop a Telemedicine App?
MVP starts from $45,000. But whatever the web product is, now we can't provide the exact price since it depends on various aspects, some of which are:
The type of the app
The type of application determines its complexity. The complexity depends on the needed features, the stage of the product, and the cross-platform or native app it'll be.
The technical level of the team
You can hire an in-house team, a local development company, freelancers, or an outsourcing development company, and the price will differ.
The location
The location of the web company or some specialists also plays a role. We feel the approximate telemedicine app development cost won't get you anything for three reasons:
This telemedicine app development guide might not be updated when you read it.
The pricing policy of the worldwide market may be inconstant.
Given the many other variables we haven't covered, the estimated cost can be pretty subjective.
UI/UX design, backend development, project management, and quality assurance are other factors in determining price.
If you want a project cost estimation, contact us, and we'll respond based on your requirements.
How to Create a Telemedicine App: Step-by-Step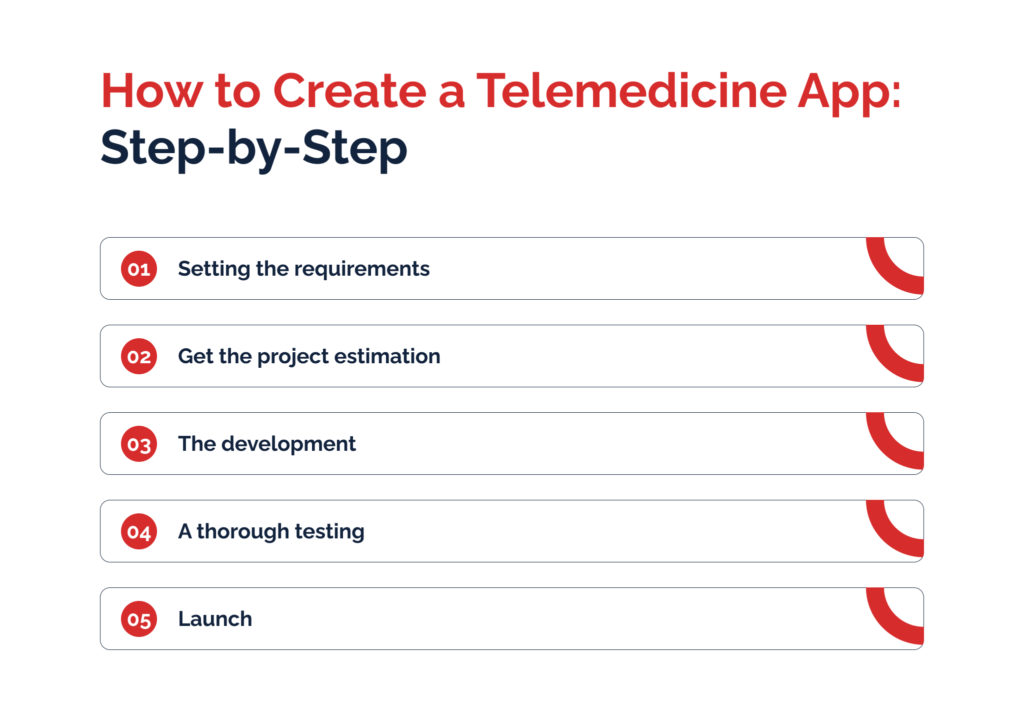 Now, we'll offer you the step-by-step process for telemedicine app development. However, note the list isn't the ultimate one. It'll only guide you in the right direction.
Step #1 Setting the requirements
Before development, you need to analyze the market, compare competitors, define the target users and goals for the project, and document the features you want to see in your future product. Then, creating a document incorporating the scope of work is helpful.
Step #2 Get the project estimation
It's ideal to have a list of must-have features before addressing the development company. If you doubt the relevance of specific features, we can help you figure out this part. You can contact us to tell us all details about telemedicine software, and we'll offer you pricing rates based on your request.
At this stage, you need to think over another aspect, conceptualization. The approximate questions to answer are:
What is the idea behind your future product?
How will your app earn?
What functionalities to develop to make an outstanding telemedicine product in the competitive market?
Step #3 The development
When you signed the contract with the web development company, clarified details, and got product prototypes, it's time to move to development. Usually, this process starts with wireframes, mockup design, backend development, and others. Keenethics keeps you in tune throughout the development cycle to match your vision. We develop code, test it, fix bugs, and make all needed changes to create an efficient end product.
Step #4 A thorough testing
When the project demo is ready, it's essential to test the software to ensure all features work as needed. We test the product on different devices to deliver an exciting experience for future users.
Step #5 Launch
After launching the product, the app will start gaining user feedback. It's helpful to consider their views to improve and modify your app. Furthermore, after launching, you can add any functionality and scale the work of telemedicine software.
Tech Stack for Telehealth App Development
We've recently been asked which tech stack is necessary for healthcare development. So, in our telemedicine app development guide, we'll now give a bit of a comprehensive response.
The technology stack is crucial in creating the unique appearance, design, and capability of the app. This way, it should be relevantly assessed and chosen by a team of specialists. Programming languages, databases, frameworks, API, and back-end and front-end tools make up the tech stack for creating telemedicine apps. In fact, there is no limitation among technologies suitable for development; we'll only provide some of them to answer this question partly.
Also, mind you won't find platforms with identical tech stacks. While Facebook uses JavaScript, HTML, PHP, and React.js, Twitter uses a different combination. They're React.js, Express, Redis, MySQL, and others. Sure, they aren't healthcare examples. However, you can understand our message based on these two famous sites.
If you're interested in developing interactive and intuitive interfaces in dynamic React solutions, contact us.
Below, we present the right but not the last tech stack for telemedicine app development project:
◉ WebRTC: It's an excellent tool in healthcare app development, offering real-time connection with many forwarding features.
◉ Back-end framework: PHP facilitates the smooth and effective operation of the app. Laravel is a PHP framework offering a stable environment. You get a variety of pre-made integrations for automatic processes, including sessions, authentication, and caching. Other great samples are Node.js, Nest.js, and Express.
◉ Front-end framework: You can design your app using any technology. The requirements and project scope determine the technology. React, React Native, Next.js, and Vue.js are good examples of front-end frameworks.
◉ Databases: PostgreSQL and MongoDB are just two samples; they aren't the final stack.
Other critical aspects while choosing the tech stack are cloud services, third-party technologies, and tools like geolocation, cloud-based messaging, flexible search, and many others.
Future of Telemedicine Apps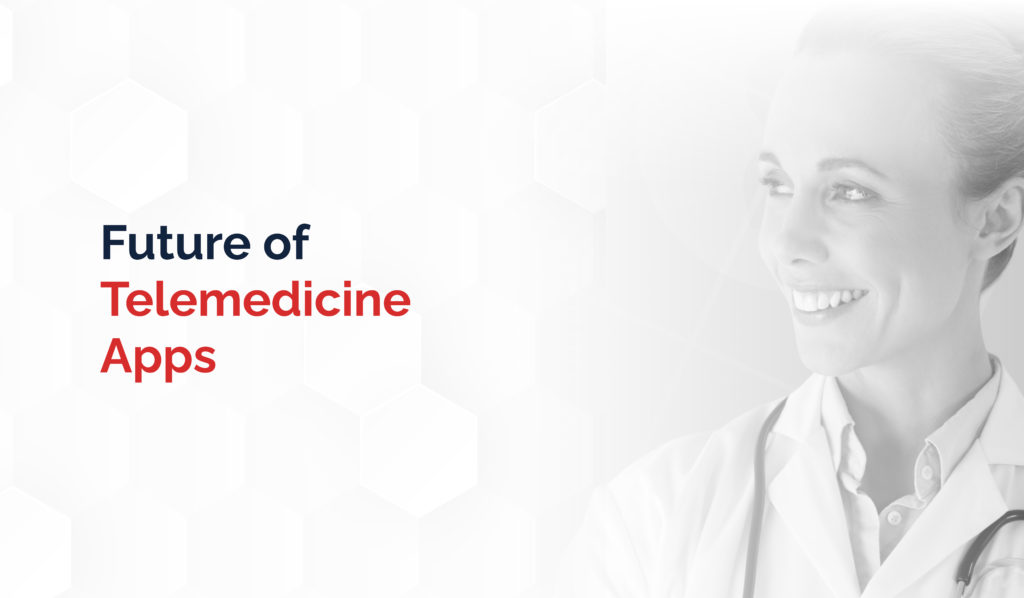 ◉ A slight digression and request for you
If we call some product promising, we hope you don't take it as a marketing trick. We ensure telemedicine has a place to be among the software projects with future potential. If you're really in the healthcare industry, it's difficult not to notice it. Of course, telemedicine can't replace the treatment of serious diseases, but you've already had enough time to familiarize yourself with its benefits. We're always happy to answer your questions if you're in doubt.
Today, telemedicine isn't a standard service, but it has a chance to be in the future. People have gotten accustomed to the accessibility and comfort it provides, and there is no turning back. Providing the solutions to present challenges is a revolutionary opportunity not only from a technological perspective but also from a sociocultural perspective. Since it engages a broader base of patients, we expect it to grow and become a thriving healthcare tool for society.
Patients with chronic diseases can minimize hospital visits and improve health monitoring through telemedicine. The same is the case with stable patients who need to maintain treatment at their homes. This way, they free the hospital rooms for those with severe diseases and remove the doctor's workload. There are many more examples to provide, but telemedicine has a definite future. If you're interested in how to develop a telemedicine app and become a pioneer in this field, contact our manager, and get quality consultation on demand.
In Conclusion
Although traditional healthcare is here to stay, we shouldn't doubt that more technological advancements will appear to facilitate our lives. Level of comfort, quick accessibility, lack of barriers, confidentiality, and management of healthcare services – all these aspects make healthcare providers advance technology. What can be better than having such a reality?
With Keenethics, you can learn more about custom healthcare development.
You're welcome to contact us and get the answers.