7-Step Checklist to Create Your Own mHealth App
How to make a mobile health app that will bring both benefits and profit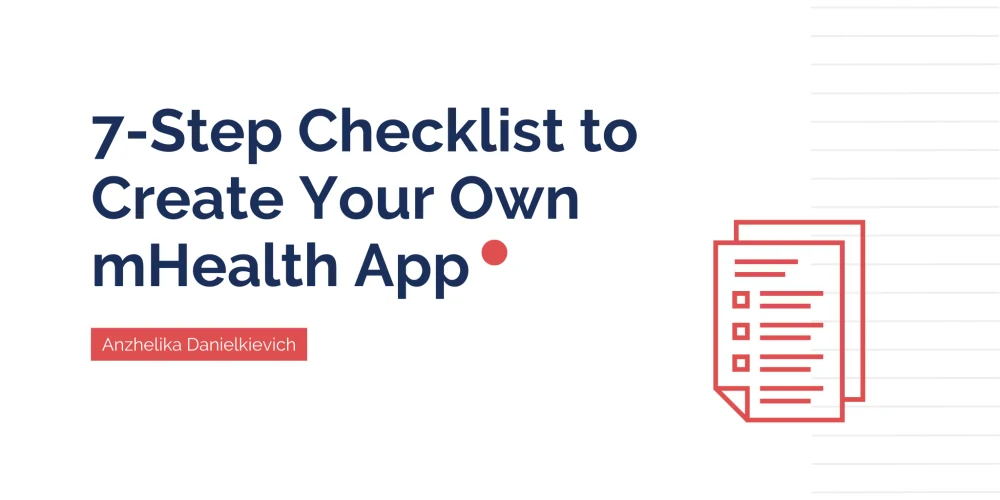 Covid-19 has significantly transformed our lives and taught us to take care of our health. More and more people start to realize the relevance of technological solutions for healthcare. Technologies make one's medical experience more pleasant and comfortable, be it a doctor or a patient. If you still doubt whether you should develop your Meditech app, you have to explore the benefits of mobile health technology.
Now, let's move to the realization of your ideas. Review Our 7-Step Checklist and learn how to implement your intentions in practice. Check the presented information and tick the boxes – it is a great way to start your journey in healthcare app development!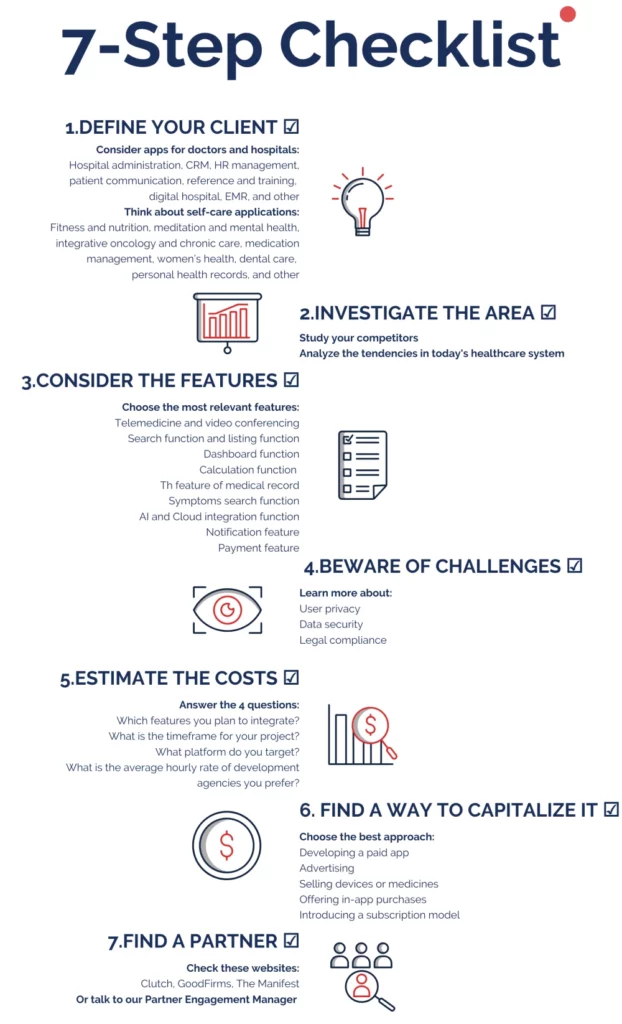 Understanding the needs of the target audience will help you to make a really gainful app. Depending on the purpose, apps can be targeted at different clients. Namely, if you are interested in developing a mHealth app for doctors and hospitals, your target user is a healthcare provider. For example, consider developing an app for hospital administration that enhances working efficiency.
Or what about the app that will help doctors to systematize patient health records? It seems that today, many healthcare institutions lack a functional basis that would help medical workers to access information about each patient quickly. Developing a technological solution to this problem will be a responsible yet practical decision. If you have doubts, think about the thousands of medical files stored on the shelves already packed from floor to ceiling.
So, how do these medical apps look like in practice? Below, you can see the icons of the two famous mHealth apps used by doctors and other mHealth providers worldwide. The first, Medscape, is created to educate physicians and reference scholarly medical articles. The app constitutes a really vast knowledge base for healthcare professionals. The second, Epocrates, provides reference information concerning diseases, drugs, as well as diagnostics.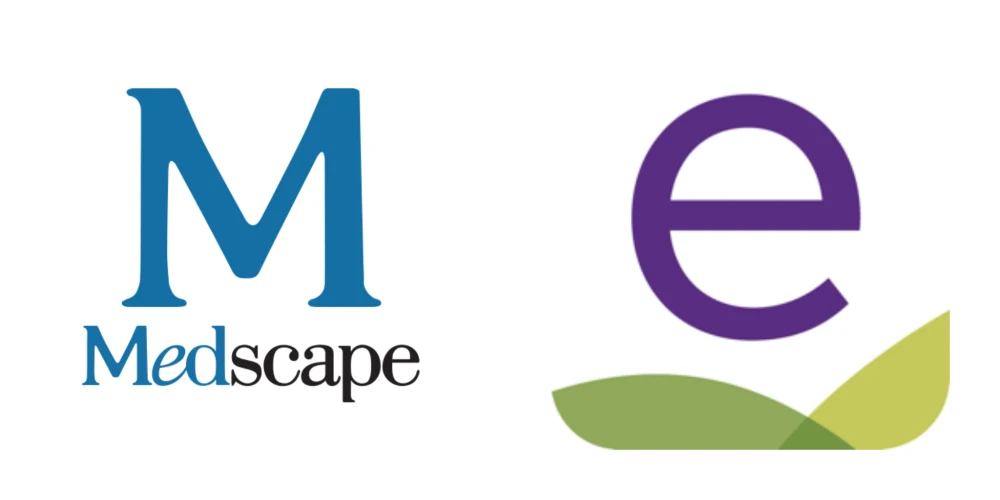 Meantime, if you choose to invest in self-care health apps, a patient or a client of healthcare services is at the center of your attention. To get a better idea of how to earn a client, let's have a look at the App Store's Top Charts in the category of Health and Fitness.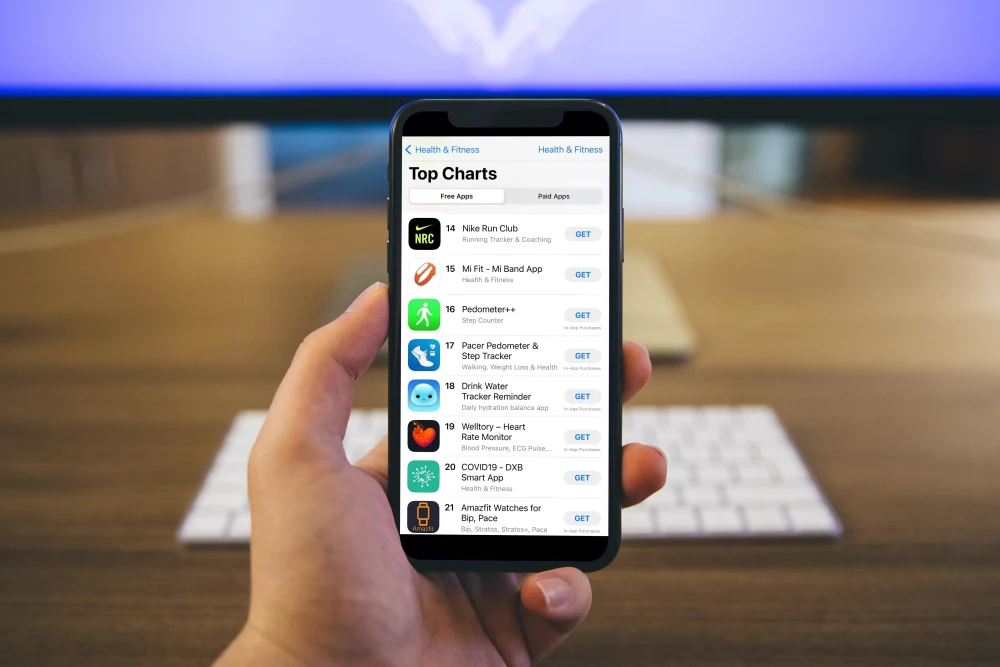 As you can see, self-care mobile health applications meet a number of users' needs. You can develop a running tracker, step counter, drink water tracker, or even pace pedometer. By the way, under the conditions of the pandemic, it will be a great idea to develop an app that will track people's symptoms of Covid-19.
Step 2: Investigate the Area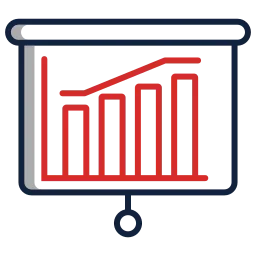 Here are two points to consider: the tendencies in today's healthcare and competitors. The first matters because you want to make your app relevant, and the other matters if you want to make your app competitive.
Let's start with the overall market snapshot and move to the aspect of competitors. As a field, health technologies are continually expanding. Now, the number of applications available on different app stores reaches 318 000. Since 2015, more than 200 mHealth applications have been launched daily. There is no point in relying on past experiences since evolution unfolds today. Cloud, Internet of Things, and Artificial Intelligence are among the fastest-growing areas. Why is the issue important? Just because the more you know about the pace of market development, the better strategy you can design.
Another point is the level of competition. Once you choose what kind of app you want to develop, consider who are the key players in the area. What makes users prefer one app over another? What strategies do the competitors use to market and promote their mHealth applications? What unique offer can be provided to clients so that they will choose your app among all the options? Answering these questions will help you to understand the overall picture better.
Step 3: Consider the Features
The features of your apps should be designed with your target audience in mind. They should be the solution to your clients' needs. Depending on the purpose, your app can include a number of interesting functions that will make someone's life easier.
Telemedicine and video conferencing
Under the conditions of the pandemic, the practice of video conferencing is becoming more and more popular. In case someone has no chance to solve their problems in real-life settings, they choose to do it online. For example, it can be used for remote patient monitoring (RPM) purposes.
Search function and listing function
Custom search boxes with filters, suggestions, and auto-completion will save users' time. The listing feature will also be useful while navigating the app and analyzing the search results.
Being one of the features that attracts the clients most of all, the feature of the health dashboard is crucial. It allows users to track their activity in the app and analyze the progress. See the example of the dashboard of the health and fitness tracking app below.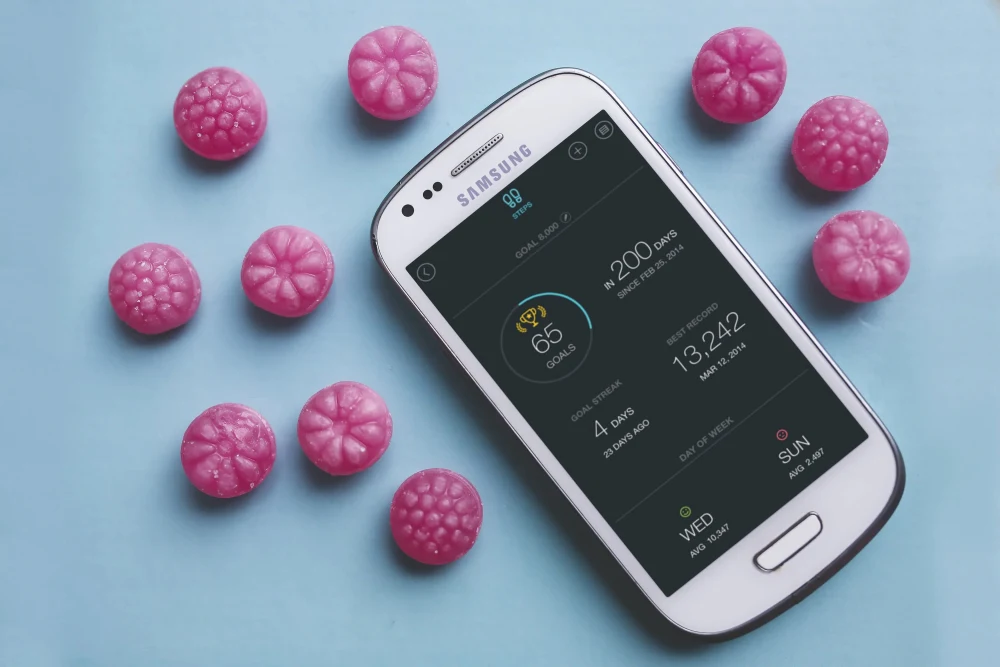 Calculation function and the feature of medical record
The calculation feature will make it easier for your users to manage healthcare data. Defining body mass index and body water or counting calories can save time and effort. A medical record can be stored in the form of a user profile with personal data.
This feature will enable your clients to get a better understanding of their bodies. They will check whether their symptoms correspond to particular diseases. It will make them feel more comfortable about their health.
AI and Cloud integration function
AI algorithms will boost functionality and enhance the work of your app. Cloud integration is a feature allowing users to access their health information anywhere and manage it anytime.
Do you want to turn the practice of using your app into a client's habit? This feature is a great way to make the client regularly open your mHealth application.
You should integrate a payment system into your app, giving clients the chance to pay for healthcare products or services online.
Step 4: Beware of the Challenges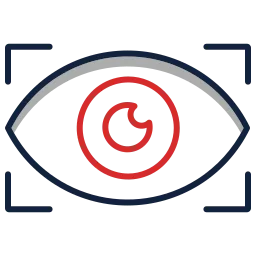 Considering challenges will help you to minimize risks. The most common pitfalls in building a mHealth app include:
User privacy
Data security
Legal compliance
The mentioned factors help to protect patient health records, clinical data, and users' personal information. They form the basis of healthy and trustful relationships with a client. That is why mobile app developers should not neglect these issues. To get a better understanding of their role, read our article on healthcare data security.
Step 5: Estimate the Costs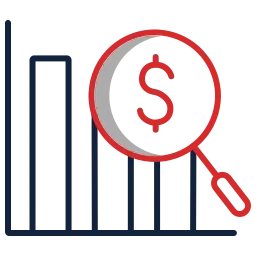 Here are 4 issues to consider. What features do you want to integrate? The complexity of the app's functions determines the costs of its development. Namely, the broader the functions of an application are, the more money it will cost.
Next, what is the timeframe for your project? Fast results mean high costs. Also, if you are going to improve your app in the course of development, it will also raise expenses.
Thirdly, do you aim at a particular platform? Or do you plan to create a cross-platform app? In this case, consider that such apps will be more expensive than those developed exclusively for IOS or Android.
Finally, what about the preferred hourly rate of mobile app development agencies?
It can vary from $20 to $200, but a high rate does not necessarily mean high quality. Developers based in Eastern Europe cost less than developers from the US. It happens not because of the discrepancies in quality but because of the differences in the costs of living. Choosing Easter European developers will save you a lot of money.
Step 6: Find a Way to Capitalize Your App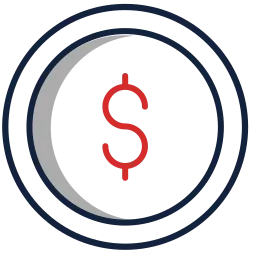 Let's examine 4 main ways of capitalization. Firstly, you can develop a paid app. Of course, it seems that users prefer not to pay for applications. But if you are determined to create a unique offer worth clients' money, you will manage to earn their trust.
Another way to monetize your app is advertising. Yet, too many ads irritate customers. So you should be really careful while picking the advertising content.
Selling products and offering in-app subscriptions are also the two ways of gaining profit. Namely, the last one is the most effective because users will be truly willing to pay if you prove your app's value.
Step 7: Find a Partner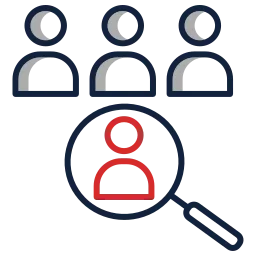 Last but not least, Step 7 will be a responsible task. Developing an idea and studying the context is halfway to success. Yet, to implement your vision into reality, you should choose a partner really carefully.
You can look for mHealth development companies at Clutch, The Manifest, or GoodFirms. Or you can consult our professionals to understand why our company is the perfect choice for healthcare software development.

Wrap up
Being a progressive area, healthcare becomes more and more dependent on mobile technologies. Don't miss the chance to develop a useful mHealth app that will become a solution for clients' needs and a means of capitalization! Use our Checklist and contact our Engagement Manager to learn how our company can turn your vision into reality.