Mobile Technology in Healthcare: Trends And Benefits
Mobile health technology: the hope of tomorrow or the threat of today? Let's figure it out.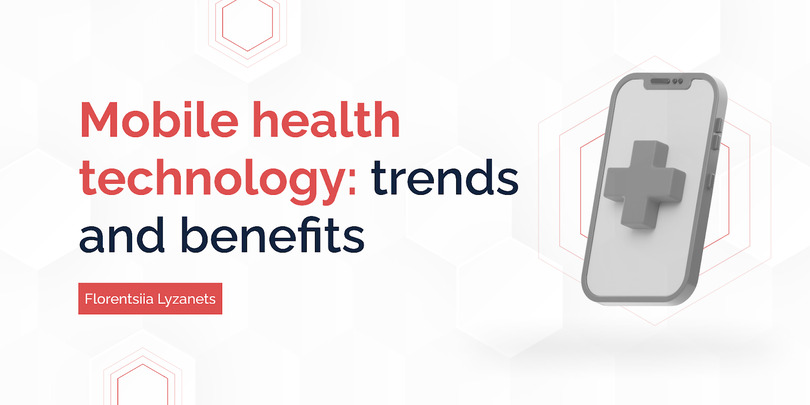 What Is mHealth Technology?
Mobile health or mHealth brings the opportunity to use our smartphones, tablets, and other portable devices to get responses to healthcare-related issues. With mHealth technology, the users receive improved healthcare support, access to records, more satisfactory quality of patient care, control of treatment regime, and more.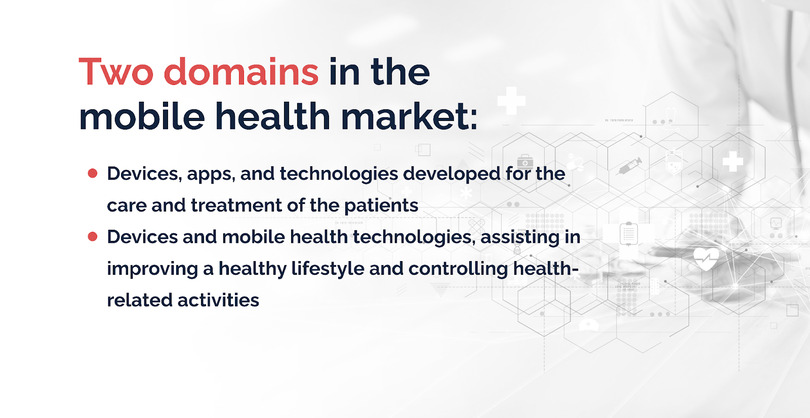 What is mhealth technology? When we view the mobile health market in general, we can see two parallel but developing domains:
devices, apps, and technologies developed for the care and treatment of the patients;
devices and mobile health technologies, assisting in improving a healthy lifestyle and controlling health-related activities.
Interestingly, these two areas have started integrating and transforming the mHealth industry.
How popular is mobile medical technology?
The statistics below show mobile medical sector can significantly help more patients and healthcare professionals in their health domain.
In major app stores, there are about 350 000 mHealth applications for numerous purposes. Since 2015 their number has significantly doubled due to the vast usage of smartphones and constant investments in the digital health market.
Statista reports the global mHealth market will reach 189$ billion by 2025. Mobile medical technology has been instrumental in delivering care during Covid-19. Moreover, the growing prevalence of numerous devices, especially smartphones, ensures that technology will continue to be in demand. Still, the popularity of mHealth depends directly on healthcare specialists. Only when they take action to incorporate mobile technology into their practice will the technology raise its popularity.
90% of healthcare specialists use their smartphones at work to access electronic records, collaborate with colleagues, get background info, or track their schedules. Healthcare applications are helpful tools allowing physicians to spend more time with their patients and effectively monitor all processes.
74% of patients say that different devices and mobile health tools enable them to control and handle their health conditions.
Should We Define mHealth as Something Extra Today?
Mobile health technologies transform our daily lives. Many of us today have at least a smartphone. Doesn't it make the healthcare industry more accessible for us? We got too accustomed to the digital world, and we often take the newness delivered by technologies for granted.
Let me count the basic things that nobody couldn't imagine a few years ago:
sleep tracking functionality in our phone;
apps notifying us about activities based on our needs like drinking water, taking a pill, taking a break, straightening your back, and others;
reminder to visit a doctor;
chatbot, assisting patients in recovering from a specific disease or answering particular issues;
test management app, allowing patients to store their test results;
a mobile drug information database, where people can read instructions for a specific medicine.
Let's discover what stands behind the future of mobile health?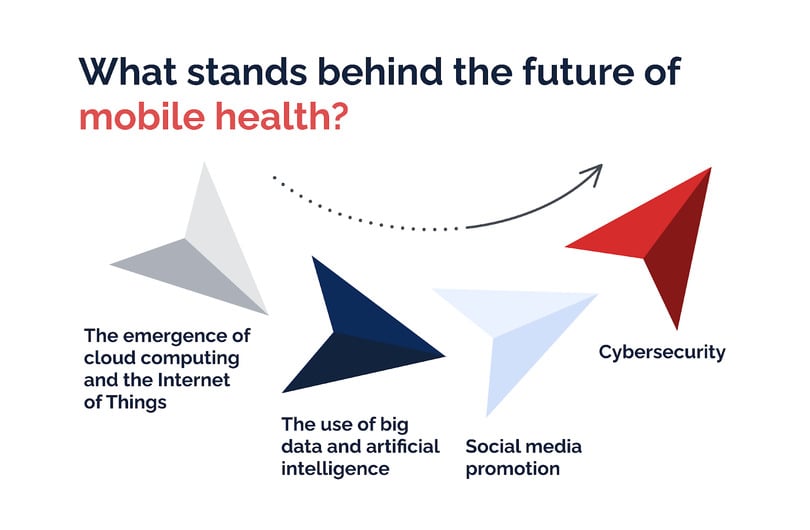 The emergence of cloud computing and the Internet of Things
These are the factors revolutionizing mHealth technology. Innovations such as electronic medical records, automating data, and data storage are highly effective in healthcare, helping handle vast amounts of data more effectively.
The use of big data and artificial intelligence
Machine learning allows gathering data from numerous sources and ensures data is safe, sound, and accurate.
Social media promotion
Social media platforms can significantly increase mobile health awareness in several ways. They help answer critical questions, monitor health concerns and appeal to diverse audiences.
Cybersecurity
Since privacy laws may not cover healthcare apps, it may lead to data vulnerability. In light of this, cybersecurity must and will be strengthened in the future.
Top 8 Benefits of Mobile Technology in Healthcare
Today, we're adapting digital innovations to facilitate the way we solve our problems.
So, let's figure out the top 8 benefits of mobile health apps.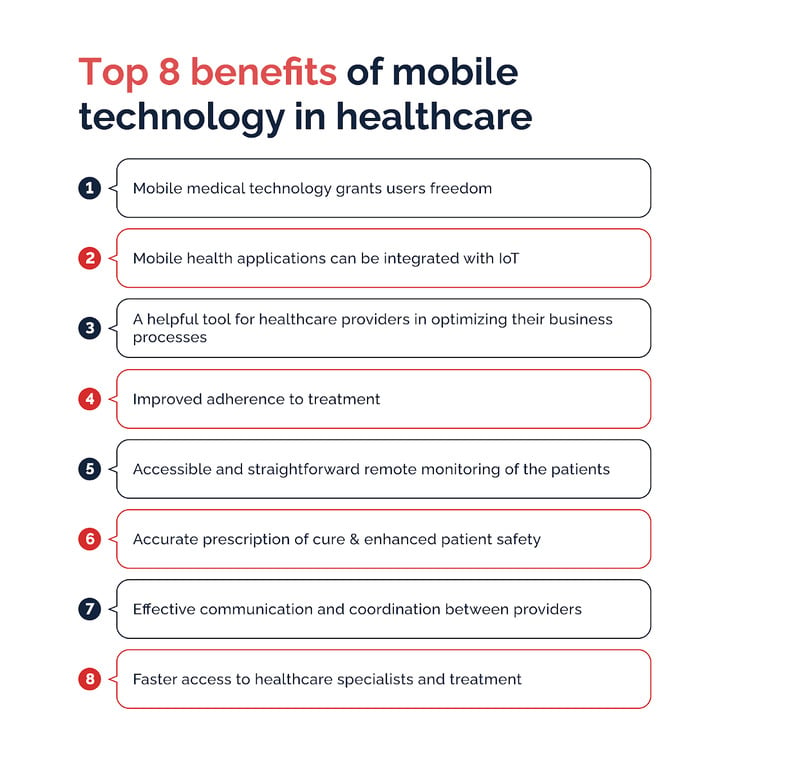 Mobile medical technology grants users freedom
The freedom to choose the most suitable healthcare provider.
The freedom to learn about diseases or treatments.
The freedom to keep track of their health.
You can be sure: the increasing demand for digital health services expands the availability of mhealth apps.
Earlier, healthcare facilities were the primary source of medical knowledge. Now, with a mobile device in their pocket, patients don't have to stand in line to schedule an appointment. They don't have to pile up medical papers as all the information is stored in a mobile healthcare platform. More than that, they don't have to adjust their schedule to meet with a doctor, as they can contact them anytime via telemedicine. Indeed, with the advantages of mobile technology in healthcare, patients' opportunities are only expanding.
Mobile health applications can be integrated with IoT
The era of visiting a doctor to record an electrocardiogram or measure blood pressure is almost over. This need is fully substituted with opportunities provided by wearable technology. Fitness trackers now measure heart rate, blood pressure, breath pace, and sleep quality. Phone notifications help users control their health and prevent adverse outcomes. With the integration of the IoT solution, the process of health facilitation becomes double effective. After all, IoT developers provide people with the opportunity to store vital healthcare data in a mobile phone.
The brightest example of it is Apple with its Apple Watch. Today, it has become an indispensable part of customers' healthy lifestyles. The device gives essential information on heart health. Apple Watch controls heart rates and collects data about untypically low or high heart rates. In case of a severe underlying condition, it notifies a user. Furthermore, experiencing unusual symptoms, Apple customers have the chance to capture an ECG. In the long run, the available tools reduce the risks of overlooking symptoms.
Yes, Apple Watch does hold the top place in this market. But it doesn't mean that the niche is entire. There are plenty of opportunities to break into this market segment. Namely, you can implement a more personalized approach here. Think about the categories of people who mainly need daily healthcare assistance. Of course, the elderly come to your mind first. So, you may develop mobile solutions for healthcare targeted at the elderly. What about tracking not only their vitals but also their movement? In an emergency, the system would inform caretakers and the nearest ambulance.
A helpful tool for healthcare providers in optimizing their business processes
It reduces bureaucracy, improves customer relationship management, and optimizes data management. You can use it to enhance the performance of the HR Department, Marketing Department, or the Finance & Accounting Department. In the background of climate change, reducing paper waste is another benefit of mHealth technologies. The electronic database allows medical institutions to save both workspace and the environment. Simply put, the benefits of mobile technology in healthcare are countless.
Here goes an example of a Hospital Marketing Administration System. Unfortunately, we cannot disclose the name or show any visuals. This web-based application enhances the job of a front-desk developer, a marketing specialist, and a business consultant. From the consumers' side, the software ensures assistance at all stages of the medical experience. It helps to engage potential clients, turn them into actual patients, and retain their trust. Hence, why not make this app mobile and use the benefits of mobile healthcare technology?
Improved adherence to treatment
Poor adherence to treatment is critical in patient care since it can result in re-treatment. After hospital discharge, it's difficult to monitor if patients take the meds on time and due to instruction. Thousands of apps help patients remember about taking the pills and provide them with other educational material.
Accessible and straightforward remote monitoring of the patients
Remote monitoring is a big step forward in managing care requiring technology in this process. Remote monitoring enables patients to use their devices and mhealth technology to find, document, and automatically gather and share all data with healthcare providers. It helps patients handle chronic diseases or ensure they're following the doctors' instructions. We can monitor vital signs, fitness levels, stress, sleep quality, and more using mobile health technology. It trains us to monitor the quality of our healthy lifestyle; with time, we get healthy habits.
Accurate prescription of cure & enhanced patient safety
Many patients who don't work with healthcare tend not to recall the names of drugs and the dosages they need to take. When patients or healthcare providers forget about a specific medication, it may lead to adverse drug reactions, inappropriate treatments, or hospitalization of patients.
Cureatr is a mobile health app enhancing safety, medication control, and information gap about treatment among specialists and patients.
There are more similar examples of mhealth, which we'll discuss later, but I've tried only to give you the understanding that mHealth technology isn't something extraordinary. In recent times, actually, in recent years, technology has developed and has been used widely in healthcare institutions by care providers and patients.
Effective communication and coordination between providers
Considering the strict working schedule of the healthcare providers and their need to cover numerous facilities, communication between colleagues and patients becomes challenging. Mobile health technology facilitates this process. Now, everyone can connect through the health system securely and cost-effectively. It provides many benefits, from secure messaging and data sharing to quick smartphone access to records. Many mobile medical platforms enable specialists to view the complete picture of the patient, including info about their past treatment, the doctor's name, healthcare facility, and other issues. It helps significantly to coordinate, standardize, and streamline the care of patients on their mobile even if they change the facility.
Faster access to healthcare specialists and treatment
Unlike traditional and inefficient telephone access to physicians and healthcare organizations, mobile health technologies enable patients to send secure messages, schedule appointments quickly and connect to providers 24/7 for online meetings. This is performed by telemedicine, the fastest growing way of mhealth application the patients use on their devices. Mobile health gives the convenience of making an appointment on the smartphone without leaving home. As a result, the technology enhances the ease and speed of communication between healthcare providers and patients. If the patient worries about their health but can't visit the doctor physically, the mhealth app allows the doctor to interfere on time and prevent serious outcomes.
---
Given the proliferation and wide usage of mobile devices, the benefits of mhealth technology are expected to develop. Since the technology is more integrated into healthcare, we'll see further and more enhanced effects on outcomes in patient care, providers-patients communication, and effectiveness in clinical practice.
Trends in Mobile Health Technology
Living in a digital era where innovations are prevalent, the question remains: what will be next? We can guess, but health technology growth shows the key players in digital healthcare will remain artificial intelligence, the internet of things, and mobile health development. But is there anything? Well, let's dive deeper.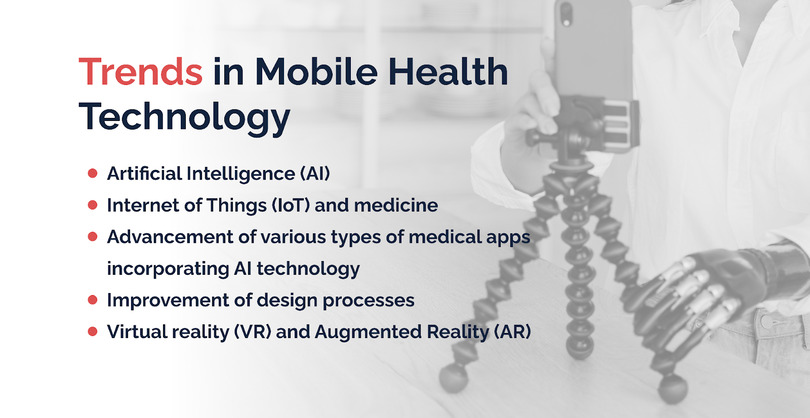 Artificial Intelligence (AI)
AI is only getting brighter. Chatbots are now constantly available to provide us with answers to numerous medical concerns, and if necessary, they can automatically make an appointment for the patient. While healthcare providers concentrate on more critical things, AI technology is designed to even for low-level assignments.
Are you interested in deep insight into the benefits of chatbot and AI technology for learners, educators, businesses, and the entire educational system? Read the article.
Internet of Things (IoT) and medicine
IoT is the evolving network incorporating software, sensors, and technologies, allowing it to connect and share data with various systems and devices across the Internet. In turn, the medical Internet of Things is a field using portable devices, monitors, and integrated apps tailored to healthcare goals.
An example of IoT is the mix of AI and machine learning. It can provide a smart inhaler synchronizing patients' usage with a mobile application. IoT may give the users many benefits such as remote monitoring, better convenience, lower costs for patients and hospitals, data storage, and security.
Advancement of various types of medical apps incorporating AI technology
Since improving health has become the top goal of the care system, mobile applications are helpful to fulfill that need. The mobile apps are expected to transform into CDSS applications. It's also required to create standards for the apps to integrate easily with HIS capabilities, including monitoring systems. The role of mobile health apps will be valued and highly used by all parties, ranging from medical schools and organizations to educational care programs.
Improvement of design processes
Although mobile apps have excellent prospects, there are some areas for improvement. To get the most of mhealth benefits, enhancing its usability is reasonable so that apps have the desired effect on the users.
Virtual reality (VR) and Augmented Reality (AR)
Not long ago, these two interactive digital worlds seemed to perceive like newness—however, not today. Beyond gaming and entertainment, VR and AR technologies present numerous ways for their practical usage.
Also, if you're interested in this issue, you can read our latest article about VR in Education and its usage from different perspectives.
Healthcare providers use VR to treat different conditions, including mental illnesses. On the patients' side, specialists can create simulations of scenarios of many phobias to make users face challenges and try to overcome their fear practically. On the providers' side, VR allows healthcare providers to be trained with specific skills and, as a result, to complete the tasks in practice 29% faster and more efficiently.
---
Sum up! Thanks to technologies, IoT, AI, accelerated development, and research in the mobile health industry, we can now highly understand the value of digital care. Sure, there are still areas for enhancement and modifications. But healthcare focuses on making an innovative future and better healthcare conditions for every individual.
There is still massive scope for improvement. However, the success won't take long since the healthcare industry employs innovations to create a better future and more significant health equity for everyone.
Examples of mHealth and Their Types
Mobile health applications may split into several categories.
Apps targeted at remote monitoring and management
Many health apps save time for healthcare specialists and providers, and remote monitoring apps aren't the exception. Now, the patients and providers shouldn't visit each other. Remote management allows providers to care for patients when they aren't physically present at medical institutions. Similar apps let to check the blood pressure, heart rate, blood glucose level, and more.
Athenahealth
The app is used by patients who need advice on medical conditions. The app boosts patient involvement, notifies about medical billings, remind about appointments with specialist, and others. Another excellent feature is that the app provides the route to a specific hospital or another needed location. Using the app, healthcare specialists can see patient history wherever they need it.
This app helps the providers quickly and effectively collect patient data, assess and share it with colleagues, and deliver results to the patients in a cloud environment. The doctors can get laboratory results, monitor the medical records, and even make digital imaging. Using diagnostic apps, providers can diagnose the disease based on the symptoms provided by the apps. Making an appointment is also accessible through this type of app.
Mychart
It's the app allowing you to get access to medical reports before attending the specialists. The app is accessible for iOS and Android users, thus enriching its audience. The data includes test results, health state, medications, and vaccination. Mychart is one of the most usable apps helping to manage and maintain records. The users can pay their bills, make appointments, upload any info, and directly message the healthcare providers.
Fitness & healthy lifestyle apps
Fitness apps can train us to develop healthy habits. Also, the patients can attach personal data: weight, height, dietary preferences, sports level, mental health issues, and sleep. The app analyzes the metrics and provides users with tips on improving their stats and daily health. It may be helpful for those with severe illnesses like diabetes or heart disease. They can monitor their heartbeat, associated problems, and glucose level and normalize general wellbeing.
Beachbody On Demand
The app is targeted at health lifestyle recommendations. It offers access to premium fitness workouts and tools. Apart from fitness exercises, the app provides personalized meal plans with healthy meal recipes. Beachbody On Demand is accessible on many platforms, from Apple TV, Amazon Fire, and iPhone to Roku.
Apps containing medical reference data
With these apps, we can easily search and find needed references and guides without being lost on the web. The benefit is all info is always at your fingertips.
Airstrip
The essential functionality of the app is the chance to connect providers with patients even when they're geographically too far. It delivers patient-centric care, maintenance, engagement, and understanding via mobile interoperability. The users can access all critical data gathered throughout the entire treatment.
Apps helping to improve productivity
This type is helpful for healthcare staff. It allows personnel to track home healthcare scheduling, internal communication, and remote control of other processes.
Careaware connect
It enables patients and specialists to manage workflows and maintain a good connection between all parties, including patients, providers, staff, and other hospitals. It also helps to coordinate better to deliver patient care. The team can easily interact and collaborate using Careaware connect. On the providers' side, it streamlines interaction and alerts in case of service processes.
The Successful Mhealth Software Solution Developed by Keenethics
OneRemission is a chatbot-based mobile application. It's a one-of-a-kind solution in Integrative Oncology, bringing cancer survivor care to a new level. Being one of the major apps in the area, OneRemission helps users organize their diet, training, sleep, and stress management. This technological solution saves time and effort. It also increases the effectiveness of the preventative strategy. As you see, OneRemission is a shining example of how mobile healthcare technology can save lives.
uMore is an artificial intelligence app allowing you to monitor your wellbeing and form healthy behavior. This tool helps you gather all your negative feelings and thoughts in one place to realize and address your issues. You can also share your info with your safe circle of family, mates, and healthcare providers. Utilizing technological advancements and breakthroughs to benefit people worldwide is a crucial component of our growth strategy. Our app is practical, providing users with critical data about their state and solutions for improvement, thus enabling them to enhance their quality of life.
What Are the Risks of Mobile Health Technology?
The apparent benefit of mhealth is its capacity to take the healthcare providers' responsibility allowing them to focus on more essential and large-level assignments. However, not all people still trust the technologies and may sometimes resist any change or innovation. May it provoke more harm than good? Are there reasons for such mistrust? Let's consider.
Mobile healthcare technology allows for too much patient freedom.
Referring back to the benefits of mhealth, I've mentioned freedom as the number one advantage. Yet, the measure is a treasure. Some users may think that they don't need a doctor anymore. They can google all the symptoms and treatments, buy medicines online, or go for traditional healing. Such a misconception is particularly risky because self-medication can be dangerous. People try to give themselves diagnoses or to cure their alleged disease with improper medicine. As a result, they lose valuable time. In the worst-case scenario, they can worsen their health condition with harmful treatment.
The thing is, doctors consider each particular case separately. They pay attention to the peculiarities of people's health. As for now, mhealth apps are targeted at a broad audience. They can't detect all the specifics of one's body and the physiological differences among users. It becomes difficult to define whether the measures suggested by the mobile apps are safe in each situation. If to neglect this issue, the risks associated with self-medication will outweigh the possible benefits of mobile health apps.
Another challenge is the lack of medical expertise and practical regulatory aspect.
Imagine you hire a software development agency with no experience in mhealth development. Undoubtedly, the quality of your future app will suffer a lot. And so will your budget because the research stage, testing, and debugging will take a little more time. The best way to prevent such outcomes is to deal with responsible and competent developers.
As for the regulatory aspect, it also impedes technological progress in the medical field. Doctors might rely on one electronic database, while patients don't. Since the latter have no access to this solution, they use different mhealth technologies. Such a situation leads to discrepancies in the information available to medical workers and patients. To enhance the effectiveness of technological healthcare solutions, developers should integrate data for both sides.
Besides, data safety is the most severe mhealth technology challenge.
No patient wants their health information to be spilled as this data is often sensitive. Unprotected health information increases the risks of a data breach. Its leakage is bound to cause severe issues with reputation and mental well-being. On the one hand, a patient might experience social pressure since many diagnoses today form the ground for stigmatization. On the other hand, the situation might be impeded if the data record is disclosed and lost.
Losing access to one's health information causes psychological difficulties. It adversely affects the course of subsequent treatment. For more about how patient privacy is ensured and important, read our recent article on Healthcare Data Security.
Much dependency.
Despite broad usage of the mHealth apps, they haven't been previously tested in the patient community or approved by such regulatory agencies as Food and Drug Administration (FDA). Nevertheless, many patients rely on them regularly, sometimes too much. Some may neglect to address the healthcare professionals and listen to a chatbot or other apps.
Healthcare experts at Harvard School in Boston conducted a study concerning the accuracy of symptoms presented by websites and apps to the users. Researchers got results based on the top 23 symptom checkers. The results showed the checkers have flaws in triage and valid diagnosis. They found that the top 23 symptom checkers of the apps gave the correct diagnosis in 34% of patients' tests.
As a result, we can see that choosing the apps entirely instead of addressing the professionals may lead to dangerous implications. The absence of a diagnosis or inaccurate one can impede the proper patient treatment and even cause risks to patients' life.
In Conclusion
Preventing severe diseases usually costs us much time and money. However, mobile technology and mobile healthcare app development can significantly change the potential adverse scenario.
Regardless of who we are – patients or healthcare specialists – mobile health advancement brings us many advantages. Sure, there are some risks, including freedom of patients, lack of regulation, data safety, and dependency. But if the apps are reasonably used, the risks aren't as critical as they may seem.
Mobile health technology helps us act timely and pragmatically regarding individual healthcare needs. We can:
monitor any necessary data concerning our treatment based on personal metrics;
collaborate easily with healthcare providers;
prevent adverse outcomes on time.
More trends and innovations in healthcare apps are expected to be in the future.
At Keenethics, we assist everyone in developing awesome apps that can impact millions and boost your healthcare business income and reputation. You can contact us and get a closer insight into our approach to creating healthcare software products.