What Are the Roles and Risks of Chatbots in Healthcare?
A customer support system, a patient data management system, a business management system, and a A hospital administrator, a healthcare consultant, a self-care coach, or an elderly care provider?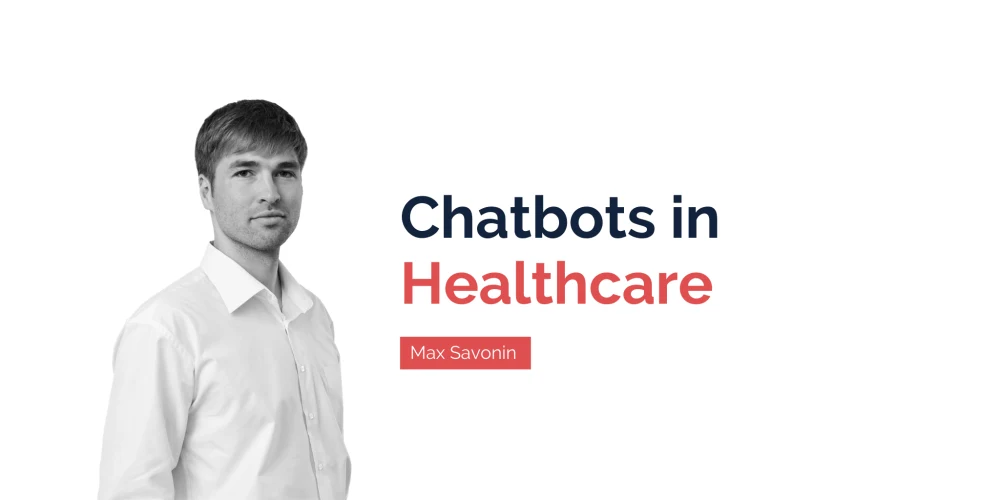 Healthcare as one of the vital spheres of human life is badly falling behind technological progress. While e-commerce, hospitality, or the food industry are advanced and augmented with various technological solutions, healthcare mostly still sticks to the traditional way of doing things.
Why can you order a pizza in ten seconds but have to wait for an appointment with healthcare providers for days and weeks? How can you make sure that urgent medical help is indeed urgent? Why finding a credible answer to an important question about your health is so annoyingly difficult?
Here at Keenethics, we are deeply concerned about the lack of attention that the healthcare industry receives. And the first and easiest solution we can offer to change it is to implement the chatbot technology in custom medical software.
---
This article was supposed to tell you about chatbot advantages and disadvantages. However, this topic proved to be so overdiscussed that this article would offer little to no value. Instead, I have decided to talk about the roles that chatbots for healthcare can assume and about the risks associated with them. The key take-away from this article is:
---
Healthcare chatbots will never substitute doctors. But they provide plenty of opportunities to facilitate their job or to improve their performance.
Role #1: Chatbot can be a Healthcare Consultant
Being worried about your health is natural. Every day, people have many questions, both major and minor, concerning their health condition. It would be particularly useful if there was a healthcare consultant in their pocket who would provide all the answers.
No, Google is not working. There are so many websites with questionable credibility that you better not trust them with your health issues.
Hopefully, one day, such an application — trusted by millions of people worldwide, reviewed by expert healthcare agencies, and constantly updated — will be in every pocket. It will be particularly topical for people living with chronic health conditions, such as diabetes, asthma, or HIV/AIDS. For now, there are only a few narrowly specialized chatbots in healthcare industry, mostly about women's health and nutrition. Does it sound like an opportunity for startup?
---
There is a reason why the first advantage I have mentioned is "Chatbot as a healthcare consultant". At some point on my Keenethics path, I have got a chance to see myself the true impact of such a healthcare chatbot. Let me tell you what it was.
Case Study: OneRemission

At Keenethics, we had the pleasure to work with a company striving to make the lives of cancer survivors better. OneRemission is an Integrative Oncology application augmented with a chatbot. Here, the chatbot plays the role of a physical, mental, and social health consultant. If a user has anything positive or negative to share, they message a chatbot and receive an explanation of their feelings. If they have a question to ask, they ask the chatbot and get an instant profound answer. Once they need advice on nutrition, sleep, or exercise, OneRemission becomes a personal consultant. Similarly, it helps relatives of friends of cancer survivors to learn how to behave in the most helpful manner, how to support their close one, and how to analyze their condition.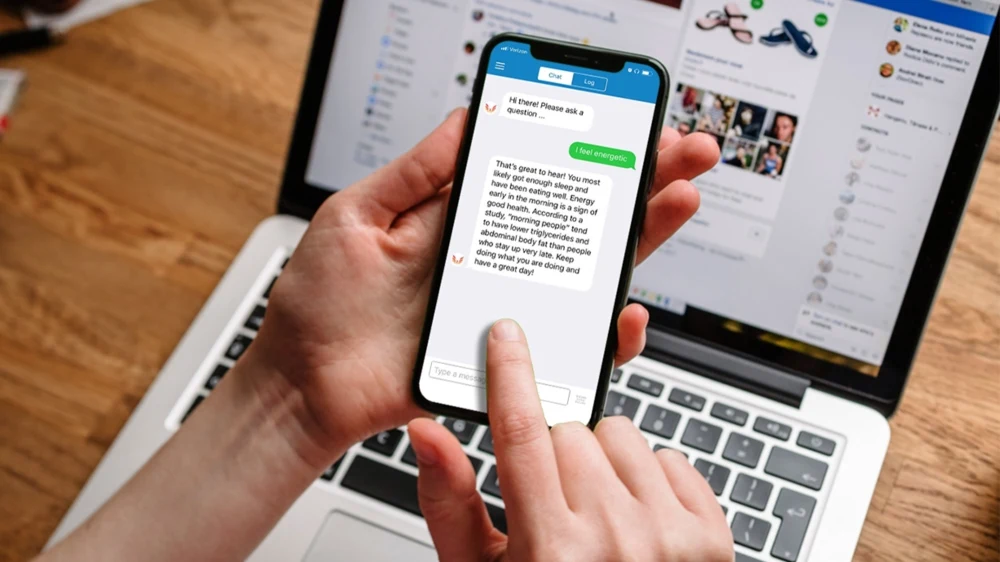 This application became a life vest for people recovering from cancer and for their families. It is an outstanding example of how healthcare chatbots can improve patient outcomes, and we are proud to have been a part of it.
---
Role #2: Chatbot can be a Hospital Administrator
Scheduling appointments and answering typical questions is what most healthcare administrators spend their day doing. Repeating the same words and actions over and over again is neither productive nor really necessary. This kind of job can be easily performed by a chatbot, who can collect user requests, schedule doctor visits, and answer simple questions — it is one of the essential benefits of chatbots in healthcare.
Chatbots for hospitals can be used to remind patients about an upcoming appointment or a regular check, to collect feedback, to check up on their health condition, or to advertise a healthcare business. Meanwhile, your healthcare personnel can spend time actually caring about patients instead of going through an unnecessary routine.
Start with implementing a simple customer service chatbot on your website. Your patients will say "thank you" for the opportunity to get their requests processed without any delay or extra effort. They will not have to go to a hospital or even to make a call in order to solve a simple problem. They will just open a mobile or web app and message their questions.
Role #3: Chatbot can be a Self-Care Coach
Disciplining yourself is hard. Trying to discipline your patients is useless. Yet, there is hope. Self-care coach is not the most typical use of chatbots in healthcare, so let me explain what I mean.
Chatbots can be used to count calories, monitor the amount of water a person has consumed, keep records of exercising, or track sleeping routine. They can suggest different healthy food recipes, remind people of the need to take pills, or recommend seeing a doctor. Finally, chatbots can send inspirational and motivational quotes to boost one's mood and self-esteem.
Surely, a chatbot will not substitute medical care — but it can easily become a personal holistic self-care coach. It can become a valuable addition to the physical and mental self-care routine of your patients. Such a feature is not a necessity, and you or your patients can live without it. But implementing such a feature will certainly bring your hospital to a new quality and patient experience level.
Role #4: Chatbot can be an Elderly Care Provider
It might be hard to imagine an old lady messaging a chatbot. And there is no need to. Your elderly patients can talk to a voice personal health assistant and get all the answers or requests processed.
Voice app development is barely different from the development of a regular chatbot. The procedure is almost the same, and the challenges are quite similar. However, it allows you to target an additional segment of patients without putting too much extra effort. Your application can come in handy not only for the elderly patients but also for people with visual or mobility impairments.
Role #5: Chatbot can be a Red Panic Button
Irregular breathing, breathlessness, or a dangerous heart rate can be symptoms of a life-threatening health condition. Incorporate your chatbot application with a smartwatch or a fitness tracker, which can monitor breathing and heart rate. If there are any signs of danger, alert your user with a chatbot message. If they do not answer, let their emergency contacts know.
This is how you can turn your chatbot app into a red panic button, which may warn your user about a dangerous symptom or call for emergency help. It is probably one of the most important chatbot healthcare use cases.
---
To recap, chatbots in healthare can serve as:
healthcare consultants
hospital administrators
self-care coaches
elderly care providers
red panic buttons
---
While the level of responsibility is huge, the healthcare chatbot technology is still pretty new. There are some concerns and challenges that may threaten even your best idea of a chatbot solution for healthcare industry. Your future application or web platform might be doomed to fail unless you address the three major risks:
user privacy,
trustworthiness,
effectiveness.
Risk #1: User Privacy
The users of your software product may be reluctant to share their personal information with your chatbot. Clearly, nobody wants their private data to be exposed. As a business owner, what can you do to address this challenge?
At first, you should implement healthcare data safety measures to make sure that your healthcare web platform or mobile app is resistant to system errors or cyber-attacks. When after continuous testing of your security system you make sure that it is a hundred percent reliable, you have to talk to your users. Develop a page titled "User Privacy". Tell them about safety measures that you implement, be honest about the potential risks and how you address them. Let people sign a user consent, where you outline safety rules and regulations. Make your users feel protected.
Risk #2: Trustworthiness
Few people trust the Internet with their health. When googling for the symptoms of any disease, you come across a variety of websites, each offering their own version of the disease signs, causes, and cures. How can you inspire people to trust your web platform or mobile application?
Prove your medical expertise. Add a personal touch to your platform. Create an "About Us" page, where you and other members of your healthcare team will tell about themselves and their professional experience. Add pictures, certificates, awards, and patient success stories.
Risk #3: Effectiveness
Some people do not download healthcare industry apps simply because these are not working. When a user is promised a revolutionary and highly personalized electronic hospital but receives a monotonous pharmaceutical database filled with hundreds of ads, pop-up windows, and only premium features, they feel deceived. How not to disappoint your users with your health chatbot?
Make it effective. Seriously, before offering a healthcare service or a product, make sure that you are able to provide value, and do your best to keep the promise. Do not promise to cure cancer or to help in losing weight via healthcare chatbots. Do not promise to schedule immediate doctor appointments or to give blood test results in 5 seconds. However, do promise to give healthcare advice, to connect your user with the nearest hospital, or to count calories, and keep this promise. Be honest with yourself and with your user, and nobody will blame you for being ineffective.
To Wrap Up
Your healthcare chatbot can be untrustworthy, ineffective, or unsafe for user privacy. It can also become a life-saver for patients with diabetes, HIV/AIDS, or cancer, a self-care coach, a doctor's assistant, or an elderly care provider.
---
What will become of your chatbot depends solely on you and your healthcare app development team.
If all the risks and opportunities are considered, the planning stage is profound, the development is diligent and thoughtful, testing and debugging are thorough, and project maintenance is continuous, your users will not stumble upon the poor performance of your virtual assistants or data privacy hazards. Chatbot technology in healthcare can be effective.
Do you want to create a healthcare app?
Find out more about how the healthcare app development is conducted, what the essential challenges are, and how they can be solved.