Healthcare Data Security: The Overview of Challenges and Safety Measures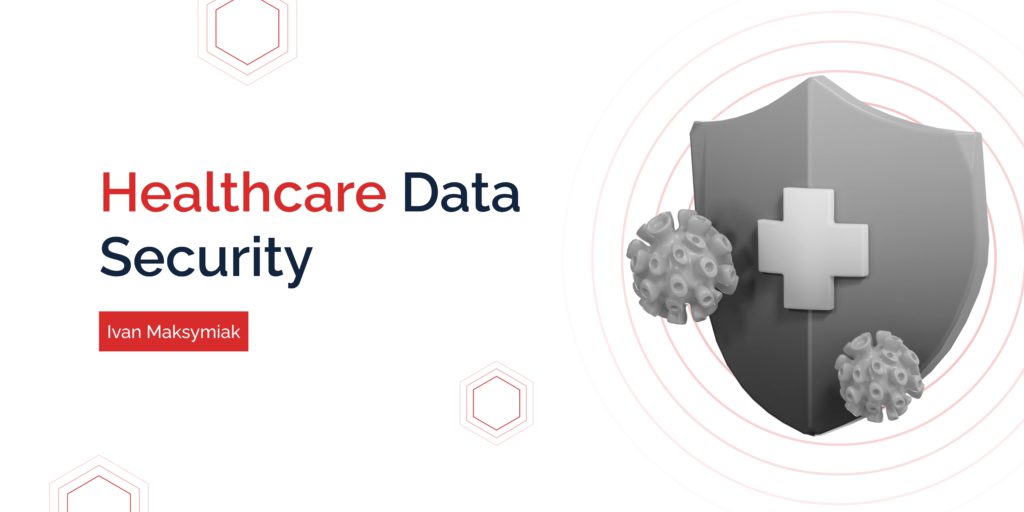 Recently, you can hear how scientists are carefully researching the topical issue of personal data security in healthcare. Our experts provide a health data security guide and reveal another question "what is a standard of study." The study demonstrates how to ensure the rights of the patient and the doctor obtaining medical services and medicines.
What is healthcare data security?
What is healthcare data?
Personal health data is a collection of information about an individual patient. This information makes it possible to identify a person, in particular by medical history and medical records.
What is security in healthcare?
Healthcare data security guarantees the protection of this data against accidental deletion. The protection guarantee also applies to illegal breach in healthcare information security, including unlawful destruction or access to personal data.
The Health Insurance Portability and Accountability Act contains an essential element – medical data security. Healthcare data protection involves finding ways to control, critically assessing threats, and implementing a risk management system. Healthcare information security involves administrative and technical preventive security measures to guarantee the confidentiality and availability of electronically protected health information. As cyberattacks on healthcare organizations increase, medical data security becomes a critical issue.
The importance of healthcare data security
Protecting electronic health records is based on hackers' constant breaches in healthcare. Privacy in healthcare is vital, as cyber-attacks can significantly threaten not only the system but also the health of patients.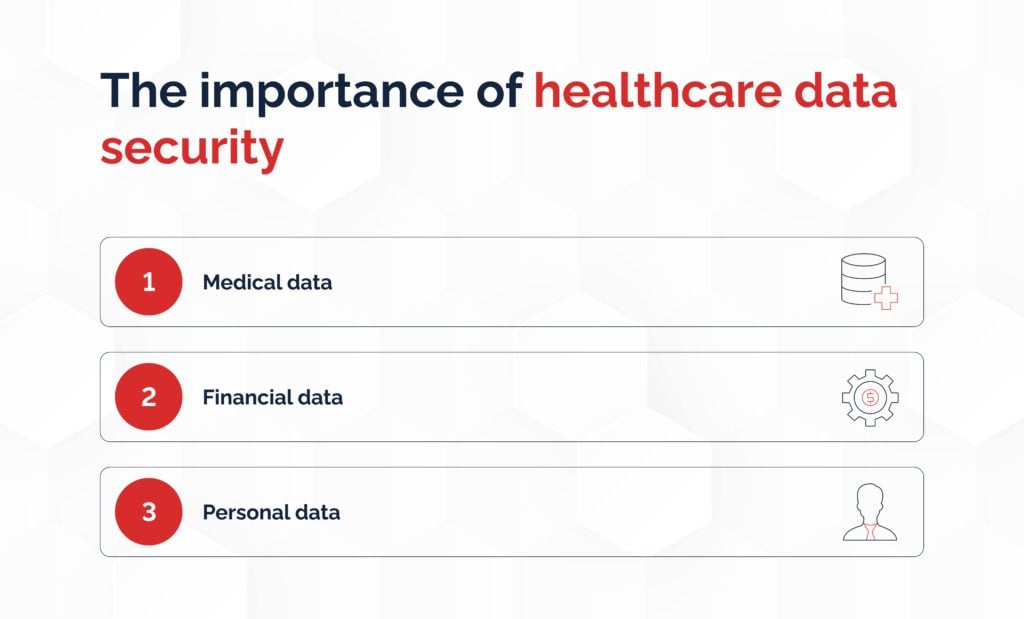 ◉
Medical data.
Differential privacy is stored in digital files, databases, fingerprint records, and DNA samples. Online consultation with a doctor also contains the patient's medical data. The information may also be transferred to healthcare authorities and government bodies, including the police or a court.
Information in medical records directly relates to a person's private life and health. Such medical information has a personal character and is considered a particular category of personal data.
◉
Financial data.
Valuable financial data of the patient is also recorded in the general medical information in the healthcare sector. In the case of a successful hacking attack, criminals gain access to this medical data. Then they can steal the finances of patients, doctors, or medical institutions.
◉
Personal data.
Personal addresses, phone numbers, or e-mails are also available in the healthcare database. The database also includes all passport data, social status, and unique identification numbers.
As a result, the patient can become a victim of blackmailers and stalkers. These attackers can use the patient records to hack into his social networks and bank accounts.
Challenges facing healthcare data security
Healthcare cybersecurity can be affected by a range of factors:
➣
Electronic medical documentation
Ensuring the confidentiality and security of health data is a critical concern of NIEs throughout the data sharing process. Organizations and participants must comply with all government healthcare data security standards while ensuring the free exchange of information.
On the one hand, patients are concerned that digital health information may be transferred outside their physician and medical facility. In addition, they aren't confident that their doctor will be able to maintain sufficient technological proficiency. On the other hand, doctors experience an incredible overload of information they fill in and process. Doctors are already feeling burnout. This burnout leads to less effective work for doctors.
➣
User problems in medical technologies application
Medical systems process a large amount of data, so that any software error can lead to the loss of important information. The ability to handle overload is another critical data security measure.
An error in the program caused intentionally or accidentally can negatively affect the patient's health. Then medical prescriptions, recommendations, or definitions of a potential disease can be fake.
➣
The spread of "hacktivism"
Periodically, hackers break into the system to get private information about some patients or doctors. They use this information for blackmail or slander. Hackers also sell the data to advertisers or use it for personal purposes.
As a result of health information security breaches, hackers install special software that will further interfere with the standard functioning of the platform. In such cases, the medical institution often pays a massive ransom to the criminals.
➣
The role of cloud and mobile technologies
The presence of cloud or mobile technologies helps medical staff to serve patients better. For healthcare providers, adopting these devices maximizes staff productivity by saving time on data entry and enabling cloud mobility.
Smartphones and tablets are the most common mobile devices in healthcare settings. Mobile communication expands the organization's visibility in real-time and quickly provides health information technology security for making critical decisions.
➣
Lack of new technologies in hospitals
Due to the state's problem with the proper financing of medical systems, patient data is often stored in outdated technologies. Old software automatically makes it easier for hackers to access these systems. Due to the lack of new technologies and updates, operating systems risk patient data privacy. For example, X-rays, MRIs, and online consultations with a doctor become vulnerable to hacking and subsequent blackmail.
➣
Vulnerable network and technologies
A significant risk to healthcare information security and privacy also exists with a low-level network connection. An incompletely secured web network and unsecured devices in a medical institution will lead to critical material consequences.
➣
The corruption growth among employees
Along with the biggest threat of a hacker attack or technology vulnerability, healthcare professionals also threaten medical data security. Honesty and loyalty are the cornerstones of the proper functioning of the organization. Employees can access patients' digital health abuse their official duties for financial enrichment. The medical system must guarantee different healthcare data access levels to control corrupt officials.
➣
Time management
In healthcare, it's crucial to manage time rationally and quickly. In emergencies, the time allocated to treating patients or even saving their lives shouldn't be wasted. Healthcare measures should be carried out automatically, smoothly, and quickly. Medical personnel must act decisively, and the healthcare administration must be technically secure.
Healthcare data security standards
Now it's essential to discover the following question – How to protect healthcare data?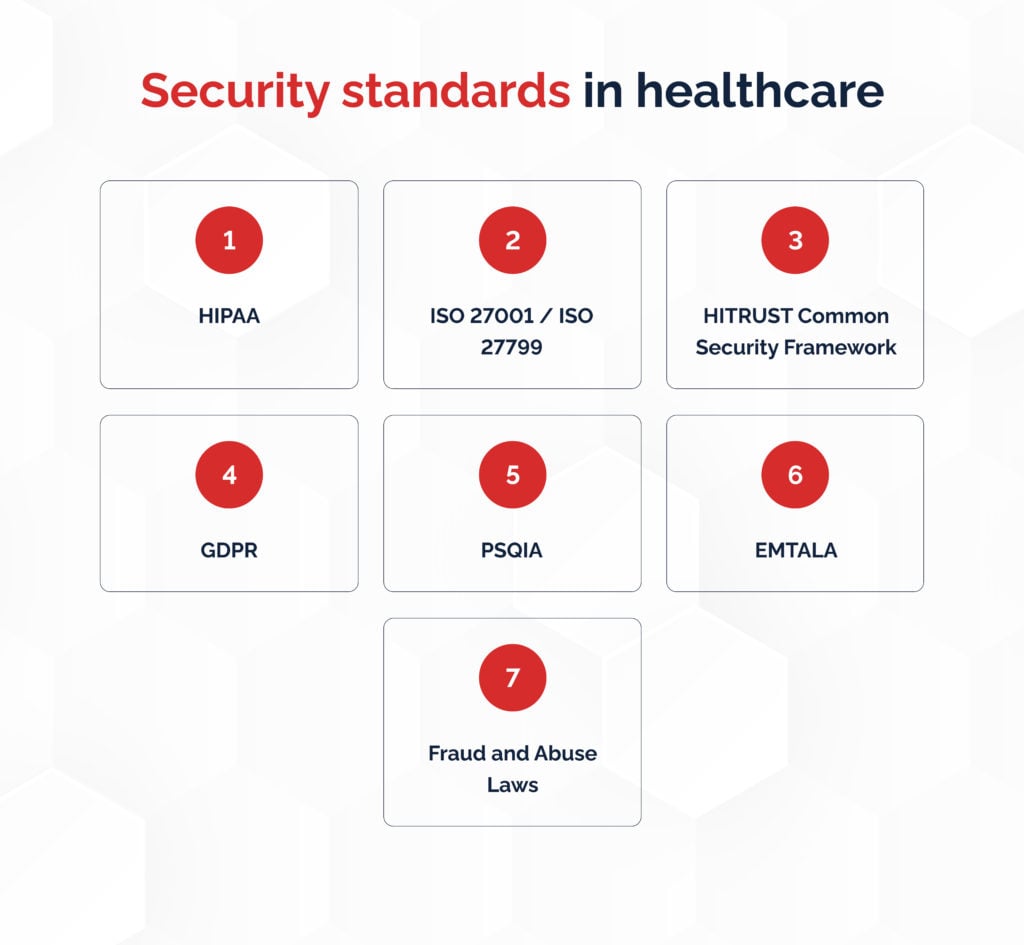 ✓ HIPAA
The Health Insurance Portability and Accountability Act improves accountability and health insurance coverage. At first, the government tried to systematize medical patient records and initiated the HIPAA privacy regulations and social security rules.
HIPAA regulations provide a set of security standards that healthcare entities must adhere to:
HIPAA Privacy Rule;

HIPAA Security Rule;

HIPAA Enforcement Rule;

HIPAA Breach Notification Rule.
However, there is no clear list of approved security solutions, technology providers, or HIPAA-compliant software pieces.
✓ ISO 27001 / ISO 27799
To protect confidential medical information, two necessary international security standards should be applied. ISO 27001 sets clear requirements for an information security management system. Whereas ISO 27799 provides best practices for working with data flow in healthcare.
In turn, ISO 27799 is threatened by the following problems in particular:
Illegal use of a program with health information;

Implementation of malicious software;

Communication interception;

Operator, user, or maintenance error.
✓ HITRUST Common Security Framework
HITRUST CSF is a global framework that meets security standards to ensure ISO and HIPAA requirements. Covered entities can quickly respond to audit requests for health data security standards, saving buyer and supplier time and resources.
There are also other essential healthcare data security standards:
▫
GDPR
The General Data Protection Regulation provides new rules for processing website users' personal data. In particular, the restrictions apply to EU citizens, even if these sites are located outside the EU but are used by these residents. Then it's necessary to optimize your services and areas according to the requirements of the GDPR regarding security, for example, credit card data, profile data when registering at a hotel, and passport data of users.
If you want to implement GDPR in your company, then, first of all, you need to check the affiliation of customers and partners to the EU. Then you can proceed to the implementation of changes under GDPR requirements. Next, you should assess the risks of late change implementation and use tools that will help you adapt to the new conditions of service provision.
▫
PSQIA
The Patient Safety and Quality Improvement Act provides a reporting system to improve health data security and address patient safety and care quality. The Act also guarantees the confidentiality of patient safety information, authorizing HHS to impose civil monetary penalties for violations of patient confidentiality. The Act also coordinates the Agency for Healthcare Research and Quality's listing of Patient Safety Organizations (PSOs).
▫
EMTALA
The Emergency Medical Treatment and Labor Act provides stabilization and treatment regardless of patients' insurance status or ability to pay. Since 1986, the law has lost its mandate and state funding, so emergency physicians provide the most charitable care of any physician.
EMTALA requires emergency hospitals to evaluate and treat emergency medical conditions of patients without regard to nationality, race, or financial status.
▫ Fraud and Abuse Laws
National laws prohibiting fraud and abuse of office also apply to health care providers. Medical professionals are prohibited from providing false invoices to private or public insurance companies or prescribing unnecessary drugs for personal enrichment. Money laundering by employees through medical institutions is also severely punished.
Local laws can vary greatly. Health care organizations need to be aware of local legal requirements and ensure that their systems comply strictly to prevent problems with law enforcement.
Best practices for protecting healthcare data
➥
Improving the quality of medical personnel:
Improving the quality of medical personnel develops the ability to implement the received training into action. Enhancing the knowledge of healthcare workers should include skills in managing complexity, leading change, and reflection. In training, they will also become resilient to the human factors that affect patient capacity and engagement throughout the process.
Healthcare professionals should be trained to understand the importance of health data security, recognize phishing attempts, identify hazardous web pages or files, clean the computer system, and act appropriately in case of a system error. Healthcare organizations should conduct regular training sessions and workshops to ensure that all employees are on the same page, know how vital patient data loss prevention measures are, and are devoted to the organization.
➥
Information encryption process:
Encrypting information is an important preventive step to restrain hackers from decoding it. The development team develops the most suitable method for individual platforms – symmetric or asymmetric access key. You can encrypt your private network with Virtual Private Network without being an expert. Then outside the private network, it's challenging to identify the data and upload or download it from your personal computer. Secure Hypertext Transfer Protocol, Secure File Transfer Protocol, and Secure Sockets Layer also ensure private data security.
Benefits of encrypting medical data:
Data protection when the user uses different types of devices;

Combination with advanced authentication to make data more secure;

Prevention of material losses due to data leakage.
For example, your company can be punished with significant fines if attackers get access to confidential information.
It's also worth considering some practices that will help you effectively encrypt medical data:
Regularly assess security risks to identify when encryption is proper.

Minimization of costs to prevent large-scale modification of the existing IT infrastructure.

Key management to ensure the future recovery of encrypted data.

Ability to encrypt data on all removable media and external devices to protect PHI.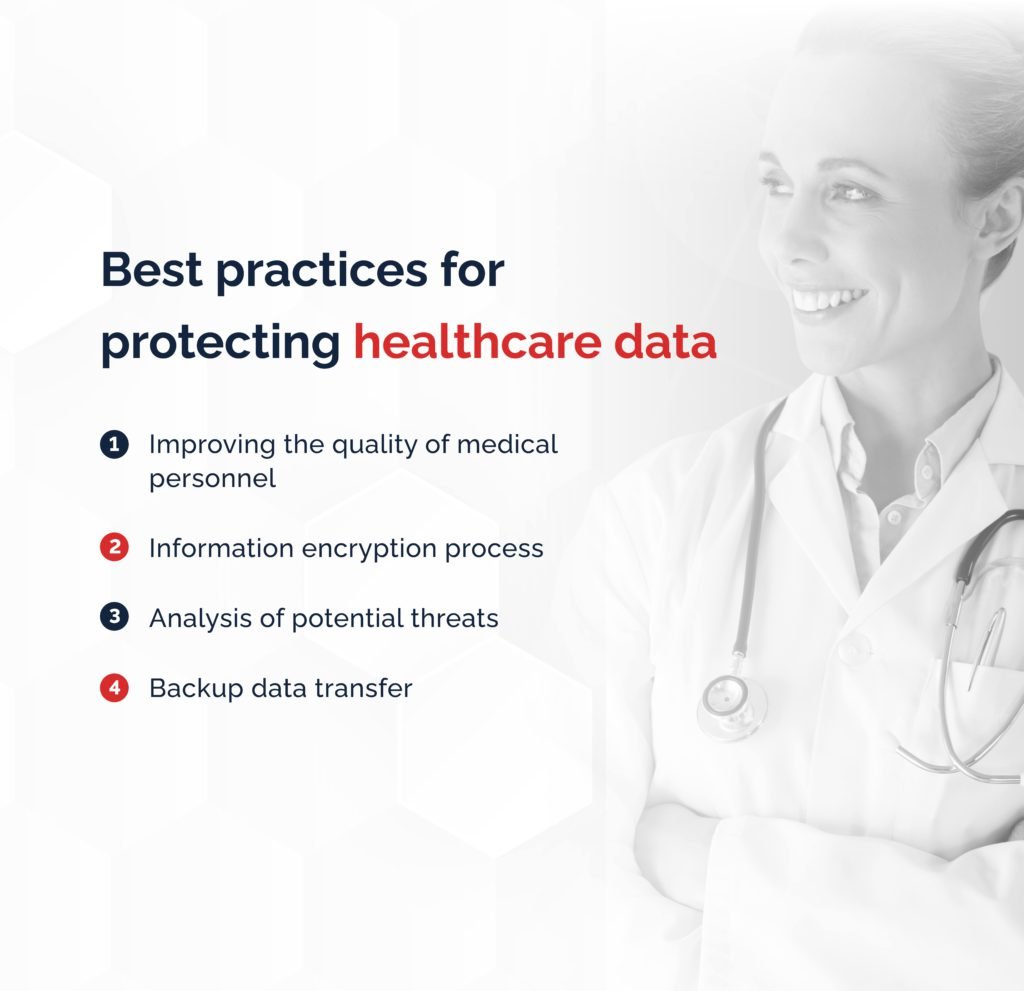 ➥
Analysis of potential threats:
There are threats in every practice, but too many people or institutions ignore or minimize healthcare data security challenges. The best way to identify threats is to form a SWOT analysis based on competitor research and subsequent priorities. Threats can haunt a medical facility from anywhere, including:
– unfavorable conditions in compensation or rules
– loss of key personnel or partners
– changes in market demand or recommendations
➥
Backup data transfer:
Knowing how to store medical records and choosing a good backup strategy is necessary. Ensuring high standards of data integrity and access is an important task for healthcare providers. The vulnerable healthcare system requires an extremely secure backup. Therefore, it's imperative for healthcare organizations to assess their security requirements and take appropriate measures to implement strong data protection.
The most proven and reliable method of protecting medical data remains the 3-2-1 Backup Strategy. It guarantees at least three copies of your data on two different devices and at least one in the cloud. If you back up your NAS device to cloud storage, this will be the third external copy.
IBackup also provides a backup and storage solution for the security and protection of critical data without compromising patient privacy. The program securely archives all information and prevents illegal access by storing data in encrypted form.
Who to trust in data security in healthcare?
To ensure that healthcare data policy is safe and secure, healthcare organizations should choose technical experts with a transparent and ethical approach to providing medical software development services.
To develop a mobile healthcare app or a web platform that is safe and helpful, the biggest healthcare organizations need to have two types of expertise: medical and technical. Few people are lucky enough to have both, and it's normal. While handling healthcare issues, find a custom software development company to assist you with the communication channels.
In conclusion
Patient medical records are the most valuable data in healthcare. The protected health information is used to provide the best patient care practices. When hackers break into a database, there's the possibility of severe consequences for people's health, financial situation, and personal harassment.
If you want your future software product to be reliable, high-quality, and safe for a user, find a healthcare provider with an ethical approach to software development and cybersecurity. If you trust Keenethics, we will gladly become this vendor for you!
Do you know how to protect your healthcare data?
Various data security practices in healthcare aim to eliminate privacy threats and protect data during transmission and use. With Keenethics, you can learn more about different approaches to ensuring data security.