LMS for Companies: 11 Reasons Why an LMS is Necessary for Business
LMS for companies, LMS for businesses – boring name or trend?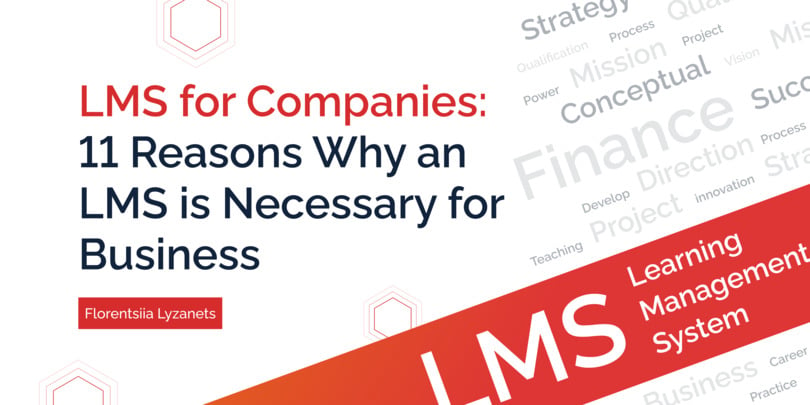 In our blog, we've written a lot about LMS and its usage in healthcare, education development, business, and other industries. Maybe you consider it to be a trite issue. But it's not. Today, I'd like to tell a bit about another specificity of the learning management system and focus on subtopics we might have only briefly explored in our blog articles. If you want to review your internal educational processes in your business, create a new LMS or employ an existing one, don't leave the page, please. We believe you'll find helpful tips.
Who Uses an LMS?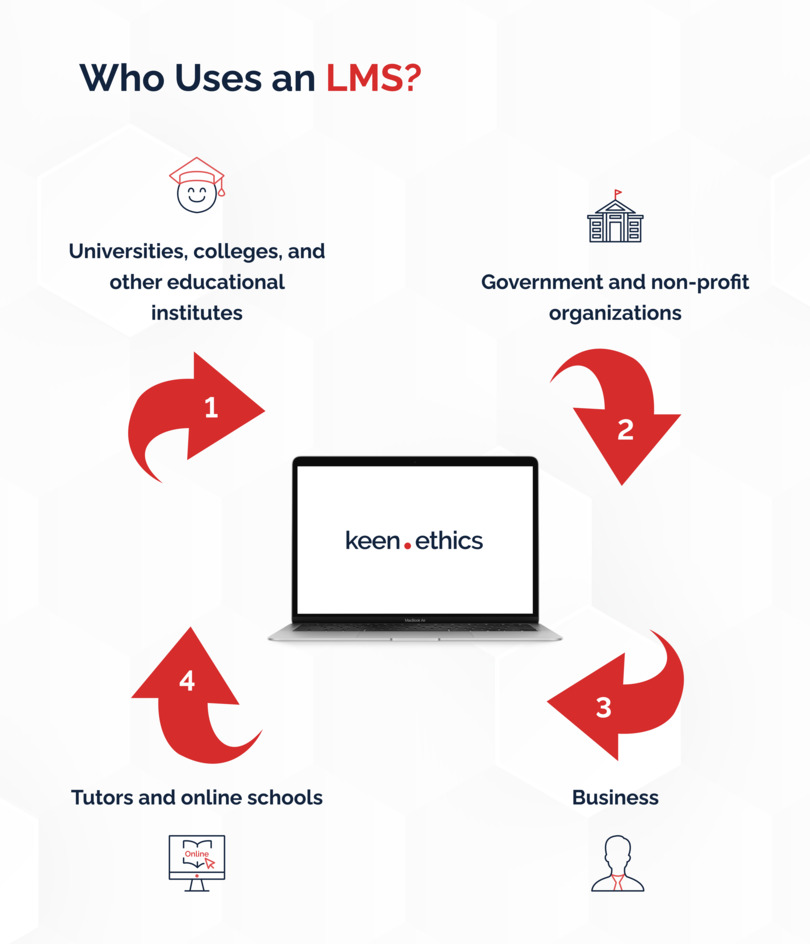 You may ask – who can benefit from using LMS? The practice shows that LMS is a choice for different industries and users. It presents no limits. Whether healthcare, banking, agriculture, or education, teaching and learning are critical everywhere. Consequently, controlling and establishing all related processes is efficient. It gives benefits to everyone. Using LMS wisely, everyone can save time and costs and increase revenues and performance of various roles.
Let's view who can take much of the corporate learning management system. However, note the list isn't limited and can be supplemented.
Universities, colleges, and other educational institutes
LMS is used in schools for granted. It's a helpful tool to manage, control, and advance courses daily. Instructors shouldn't spend time on repetitive processes. Instead, they deliver much more exciting learning to the learners oriented on their interests and preferences in education. LMS isn't a new but a beneficial way to grow the tech-savvy generation with better learning results and engagement in learning.
Government and non-profit organizations
Using LMS, governments or non-profit organizations can provide internal training for the staff and external training for the public. The employees of organizations are in charge of distributing funds appropriately. Corporate training LMS can help solve the issue imperatively using tech and AI solutions. LMS solutions help authorities and non-profit organizations use modern technologies to rely on data analytics and analyze the efficacy of future projects.
Business
It's the easiest way to improve corporate learning in different departments. The tool allows for the quick and effective onboarding of new staff and their advancement in career paths. LMS helps business owners save money on travel, accommodations, meeting room rent, and other event costs. The online material can be constantly updated, modified to modern learning standards, and delivered to the employees. By employing LMS for business, managers can track who've completed the course, the quality of their completion, and gaps in understanding. Staff development is part of a business growth strategy. Based on the report, admins can find ways to improve the training program.
Tutors and online schools
Integration of educational material into one platform is an advantage. It's far easier to manage courses, classes, and learners' achievements and get quick reports about queries that interest instructors. Another way schools can increase profits is by selling the programs with membership programs or other pricing plans.
Are you interested in how LMS can facilitate the work of staff and teacher-student-parents interaction?
Read our recent articles, and you'll find the answer.
What Is an LMS for Companies?
As a business owner of a big or small corporation, you certainly understand the need to be one step further in a competitive market. With constantly developing learning standards and strict timeframes, it's pretty challenging to keep up with the processes in different departments. But LMS can help you in the learning segment to make your employees competent professionals in their domain. I believe you know what LMS for companies is. But if, in brief, it's an excellent way to control and deliver training processes inside your organization. With regular updates of training modules, you can retain staff knowledge so that they can at any time contribute to the growth of your business.
Without further ado, here are the following benefits LMS presents to businesses:
accessible and flexible training for every employee;
one place for all the educational content;
the schedule suitable for everyone;
cost- and time-efficiency;
regular improvements in the quality of training;
tracking staff progress;
protection of the client's data;
straightforward onboarding;
KPI improvements through training employees
employee satisfaction and retention
improvements in customer service and sales
LMS for Businesses: Key Features
Every customer may have a different vision and requirements about LMS. But in fact, the features of LMS should correspond to the basic needs of the system, which are to manage learners and courses and evaluate the performance of training.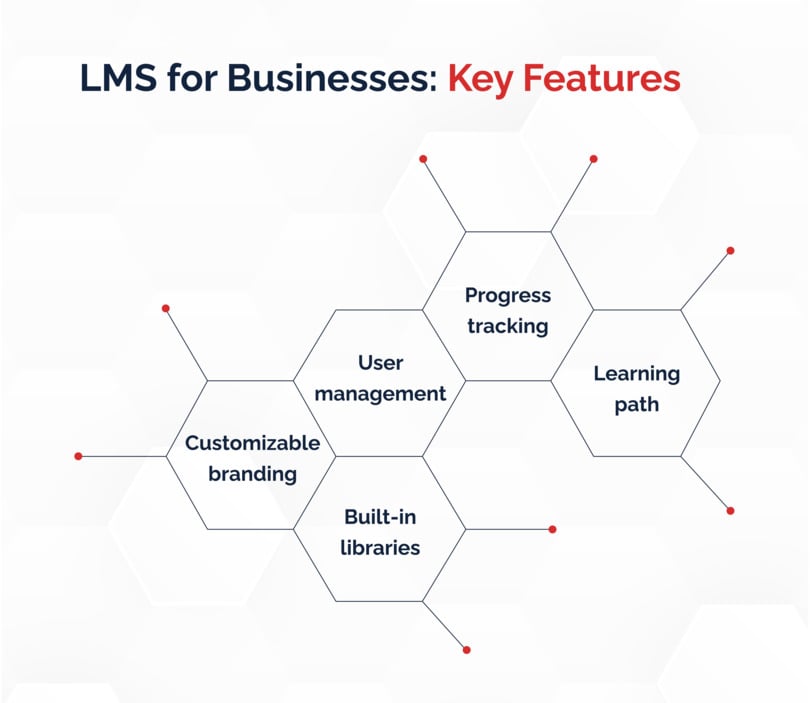 Let's view the main LMS features we can focus on in the effective LMS for business:
Customizable branding.
To make your training customizable with prospects in the future, you should focus on the ability to modify the view of the platform. At least you can create a unique design and add a logo so that users recognize the company.
Built-in libraries.
You needn't create the content library independently since many systems have already taken care of that.
Learning path.
A similar feature allows you to create detailed stages of your program. It enables everyone to follow the sequence of learning. Besides, you can deploy specific criteria for evaluation, set course deadlines, and update the course units.
User management.
User management lets you invite users, edit them, divide them into groups and departments, and assign specific roles.
Progress tracking.
The ability to assess learners' performance and analyze training efficiency promptly is critical. It helps prevent barriers like lack of interest, low engagement in courses, and no correspondence to the learners' expectations and needs.
11 Reasons Why an LMS Is Necessary for Your Business?
Wise use of resources is a priority for every company. While some businesses regularly dive into emerging tendencies, others doubt. It's not as easy as it may seem. Before choosing the right solution and integrating it, every business should weigh its opinions, workforce, and resources. LMS for businesses is a solution worth examining. You can take much of LMS if you fully understand its relevance for your business.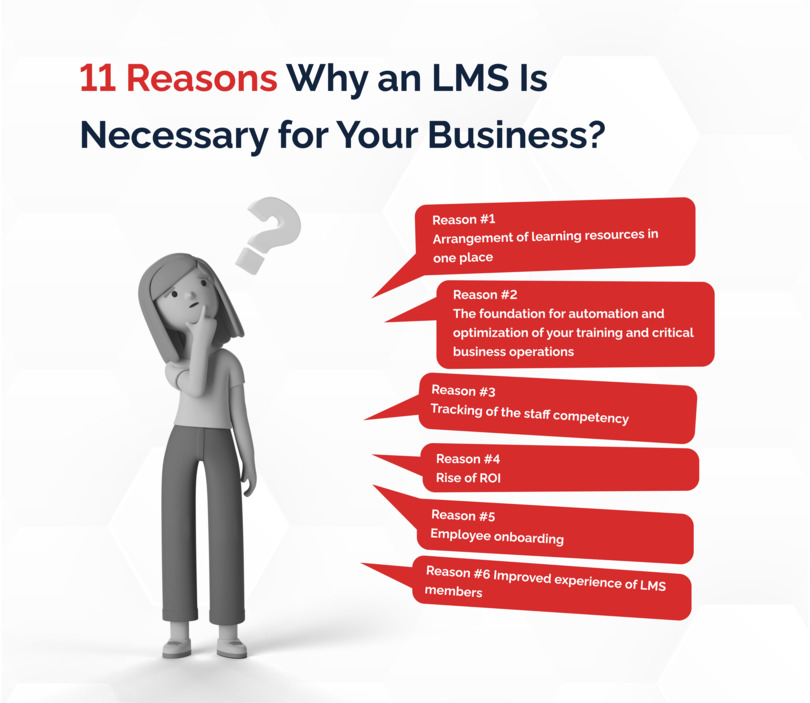 So, let's view the reasons to invest in a solid LMS.
Reason #1 Arrangement of learning resources in one place
Before enterprises began employing LMS for corporations, all training content and schedules were scattered and hard to find and control. Now, with LMS, you have all content in one place, and it's easy to deliver it to the right learners at the proper location and device. Another benefit is the easy integration of LMS with other critical business software.
Reason #2 The foundation for automation and optimization of your training and critical business operations
LMS helps you follow specific operations which streamline daily functioning. These processes are integral to the company's smooth operations, including sales, customer services, human resources, IT, finance, and others. Fully functioning LMS formalizes the learning processes, preventing your business from inconsistent training sessions. It's a great tool allowing new and old employees easy understand the operations at hand and be equipped to achieve the company's goals.
Reason #3 Tracking of the staff competency
Understanding the competency of employees and improving their knowledge and skill gaps is critical. LMS presents insights into how well staff can perform individually and with colleagues. The L&D team is in charge of bridging all existing barriers. With LMS systems for business, you can create accessible tests and courses for knowledge assessment. They help set course completion rates and determine needed training.
Reason #4 Rise of ROI
Training programs and sessions usually include costs for premises, trainers, transport, and others. Additionally, expenses are recurring when new employees join or new requirements are required. For this reason, if the company regularly wants to maintain employee development, LMS is a good tool giving many benefits in the long run. Repeated material usage, regular updates when needed, and access to courses from any time and location is only part of the benefits compared to traditional training.
Reason #5 Employee onboarding
Managers sometimes engage old employees in training new employees, thus taking away their time and resources. It's not a good approach, though. Consequently, well-organized onboarding boosts productivity and minimizes the rate of staff turnover. But how can you create a fully compatible orientation course, and is this easy? With LMS for corporate training, sure. A learning management system offers you many features you can employ. It can help you write good material, involve the content of any format, and access professionals and other ready-made training courses. With LMS, you can adapt, enhance, update, and re-use the same training material for each group of new employees.
Reason #6 Improved experience of LMS members
A learning management system for businesses can set up and deliver members exciting content on various topics. Due to time and space limits, traditional learning can be challenging to cover many issues. However, using LMS allows you to choose topics and learning paths for your learners and give them the most valuable and critical data for their position.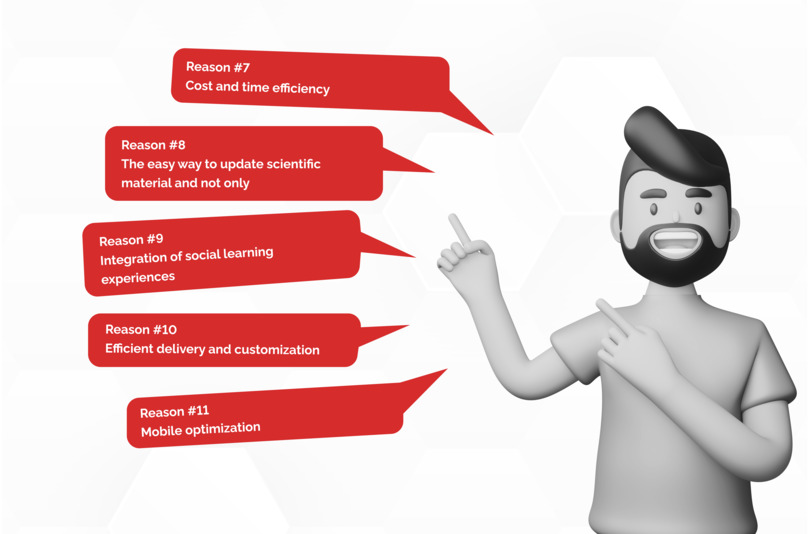 Reason #7 Cost and time efficiency
LMS learning is faster and more effective compared to traditional classroom learning. It minimizes training-related disruptions. The schedule should be changed when workloads increase to suit every learner's needs. It's LMS's responsibility, from renting the learning space to printing our leaflets and hiring educators. With a course delivered on a specific LMS, one company can train from 5 to 50 thousand employees. With LMS, it's easy to manage and control in-person training and track the efficiency of courses. Within one LMS, you can hold several programs. Besides, you can adapt, update, and reuse them for different purposes and prices.
Reason #8 The easy way to update scientific material and not only
Updating the educational content or making minor adjustments isn't cheap or easy when it comes to paper courses or programs. With a learning management system for business, you need only access. It's a helpful tool allowing you to add, delete, or change various modules for a learning program.
Reason #9 Integration of social learning experiences
You can easily integrate social media tools to engage learners of different ages, locations, and interests. A similar idea can transform and update your learning strategy. You can add links to various social platforms, including Facebook, Twitter, LinkedIn, online forums, capacity to leave feedback or comments. It's undoubtfully interesting for the learners, and you'll get a broader learner base.
Reason #10 Efficient delivery and customization
Corporate LMS allows you to personalize your training to the learners' needs flexibly. Besides, with API interfaces, you get automation of content delivery. As a result, you can be sure the learners get the required content at the right time. Another benefit of LMS is the creation of learning paths for the learners to prevent different doubts or questions about where to move next in learning.
Reason #11 Mobile optimization
Today, everyone uses smartphones since it's easy and efficient. LMS compatibility is excellent, but what about mobile optimization? What if corporate LMS is accessible on your phone, but all content isn't presented well? What if it's only for a bigger or smaller screen? It may mean only one thing: the learners won't use it and opt for another, more convenient, user-friendly platform. Microlearning is one step forward to making a fully tailored experience. You can take all your training content and optimize it for users. Users can learn anywhere and the way they like. As a result, all parties, including you and your clients, benefit.
Overviews of the 12 Best LMS for Corporate Training
Does your organization have LMS, or do you doubt which to choose? Developing a custom LMS or employing an existing one is up to you. Each choice is good. We recommend you view the list of popular LMSs for companies. But you should note that since there is a vast range of popular LMSs, we can't incorporate all of them into one list. Otherwise, it can be endless. Yet, by learning more about their features, you can compare and decide which functionalities you want to have in your "ideal" LMS.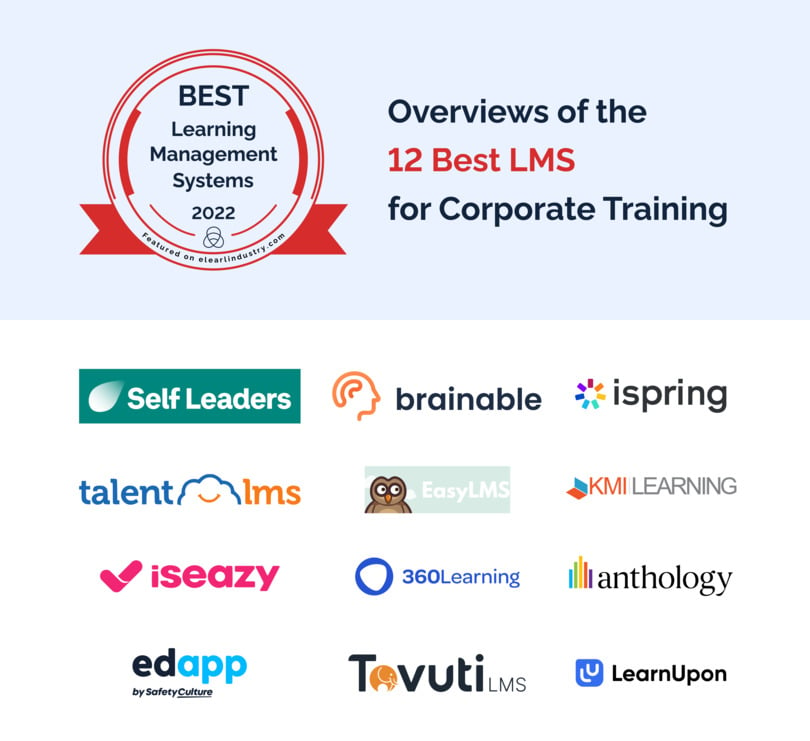 If we didn't execute LMS projects, then what would be the point of writing about it, wouldn't it? Therefore, we're happy to share our two favorites in the field of education. Let SelfLeaders be the first case to discuss.
SelfLeaders strives to approach working with individual and organizational transformation.
Key features:
the platform offers numerous educational tools for personal and professional development; self-leadership is the core idea behind the company;
users can visit training vents and workshops to enhance their corporate culture;
Keenethics continues working on the project and adjusts app improvements based on the user's interests;
our team refactored code, replaced some technologies, and implemented a new design with a variety of functions;
shift to digital technologies was an excellent decision for SelfLeaders;
We recommend you try this LMS and get insights into the world of self-leadership.
Brainable isn't only an entertaining but educational app helping you train your memory. If you try, you may enjoy it.
Core features:
the app contains about 20 carefully crafted games so that you can check and improve your mental abilities;
after analyzing your strengths and weaknesses, you can focus on skills you need to improve, thus skipping nonessential exercises;
tracking personal progress to keep motivated and achieve the best results is another beneficial feature;
games fully correspond to the users' knowledge;
Brainable includes tailored progress reports in 5 areas: memory, reaction, concentration, logic, and speed.
You might ask what makes Brainable unique. There is the following answer:
variety of games;
personalized learning;
focus on the main areas of cognitive skill;
learning with fun with different game complexity.
iSpring Learn
iSpring Learn can help you scale your business by upskilling your personnel and improving business operations.
There are the following features of the system:
automated training delivery, personalized learning path, and mobile compatibility;
analytics and reports allowing you to determine the competency of the staff;
it includes gamification features like leaderboards, badges, and scores for learners' motivation and engagement in learning;
an intuitive user interface where you can add your brand colors and logo;
user-friendly and appealing to the learners;
built-in newsfeed keeps all staff in tune with company news, product releases, and all updated information;
reports and analytics allow you to see an accurate picture of what affects employees and business;
your human resource system, corporate portal, ERP system, and other systems, including Zoom and SSO, are all integrated with Spring Learn via REST/SOAP API;
it's cost-efficient: its price starts at $3.66/year, not per all registered users but only per active user who is trained on the platform;
you have the opportunity to try a 30-day free offer.
TalentLMS
TalentLMS is a well-known flexible corporate LMS for developing a simple and convenient learning journey.
It offers the following features:
powerful program development tools suitable for different online learning platforms;
incorporates administration of course authoring, branding, catalog, marketplace, and friendly space for content;
custom homepage, reporting corresponding to the requirements of the clients;
personalized plans involving user roles, grading system, and metrics of learners' performance;
offers instructional leadership support and solid registration management;
you can try a free version of the Talent LMS supporting up to 25 users and about 10 courses. Or you can choose one of the eight paid editions the platform offers. These pricing plans are at different affordable prices for various companies with different budgets.
Easy LMS
Easy LMS is a user-friendly and affordable platform available in multiple languages.
It incorporates the following functionality:
multimedia customized learning material, ranging from audio and video to presentation files;
a customizable learning portal so that you can adjust it to your branding;
capacity to add various elements, like in-course questions, exams, assessments, and more;
the feature "Academy" serves as a core training space incorporating training materials for studying and sharing;
integration through their API or a Zapier account, allowing you to have access to many different web apps;
the platform offers a free 7-day trial via the website, and the cost starts at $50/month.
KMI LMS
It's a simple LMS for companies offering valuable integration.
Core features:
you can easily brand their learning management portal;
it offers a dedicated implementation manager to help your platform to deploy;
you have access to a graphical dashboard and report tool;
it supports any course format;
integration with Google products, Microsoft 265, and Zoom;
mobile compatibility;
price starts at $2 per user a month plus a price for the implementation due to configuration requirements;
before buying, you can access a free demo through their site.
isEazy
isEazy is a universal shop for digital learning, helping businesses support all stages of the staff development cycle.
The platform gives the following features:
the creation and sharing of any content;
optimization of trainers' time and resources to the max;
easy editing with multiple templates and ready-to-use resources;
high customization allows you to prevent extra installation and gives access to various users to set the courses;
about 20 types of interactive elements for learners' engagement;
sharing knowledge in any format and to any device;
a native gallery interaction showing you a series of images with accompanying text to present a step-by-step process;
the robust assessment with a variety of quizzes and exercises;
linked scenes feature gives an exciting learning experience; learners can simulate different exercises and learn by game levels;
to discourage cheating, you can randomize test questions;
a ton of great authoring tools;
several pricing plans, including a free plan with some limits to the course authors, storage space, and other features, and a professional plan with access to regular and more sophisticated features.
360Learning
360Learning is a tool for building a culture of collaborative learning easily.
Features:
advanced learning features from a course integration system to an analytics dashboard;
non-tech savvy users can quickly master and create courses thanks to the intuitive course authoring suite;
the capacity to add any learning resources, including audio-visual material, blog articles, and research, to keep the material up-to-date;
360Learning is the leader on G2 and a category leader on Capterra;
integration with the core business tools, the analytics will help you connect the dots between learning and impact;
easy to find idea experts throughout your company;
feedback encourages students to share their knowledge and help with course modifications.
Blackboard
Blackboard continues to be one of the leading players in education.
Its core features:
educators can manage blended and online classes;
the ability to provide assessments and track grades;
the system has seamless integration and a mobile platform;
you can upgrade your courses by purchasing some commercial content offered by Blackboard; you can easily plug it into your training;
the LMS offers mass notifications and intelligent analytics for tracking learners' retention, registration, and engagement;
since the price is set for various institutions individually, it's not publicly available, but it's not cheap.
EdApp
EdApp is an award-winning robust authoring tool easy to use and deploy. It provides many built-in features, such as cloud-based translation, Canva integration, and PowerPoint conversion.
Its functions:
mobile learning management solution;
automate the translation of the course material into more than 100 languages with a few clicks;
creation of bespoke graphics for courses and results through analytics;
its built-in features incorporate a free and editable library of world-class course material provided by leaders from different industries;
it's easy and flexibly to create interactive and results-driven microlessons;
the platform presents the managers with insights into the questions concerning the proper sequence of templates, placement of tasks, optimal lesson duration, the functionality of the built-in library, and others;
Canva integration unlocks access to tons of images and graphics;
provides interactive elements, including gamification and real prizes to boost learners' interests to let them achieve better results in learning;
social learning tools such as comments on courses, idea discussion, and communication with peers;
its price starts at $1.95/per user per month. Generally, the platform incorporates two pricing plans: authoring and delivery plans and pro-authoring plans. Each includes three sub-packages with different prices.
Tovuti
Tovuti is a universal solution for building exciting programs and courses.
Its features:
you can choose from modern authoring tools and customized learning portals to reports and analytics, directories, affiliate and subscription management;
provides a library of 7000 courses on human resources, compliance, and career development;
Tovuti presents CMS and the opportunity to host a few websites through its brand manager;
ability to develop more than 40 types of exciting and highly interactive programs;
it's cost-effective because everything is in one solution;
the price starts at $775 per month; you can choose the plan ranging from up to 50 users, 250 users, 500 users, and 1500 users. Consequently, the price varies.
LearnUpon LMS
LearnUpon LMS is a partner to over 1300 businesses.
Key benefits of LearnUpon LMS for companies:
automation and integration streamline the creation, management, and delivery of training;
being oriented toward the learners, the platform offers an intuitive and easy-to-use interactive interface allowing learners to control their learning path;
it provides custom reports to measure training performance;
it's reliable and scalable;
the platform has about 11 mln users and 80 mln delivered courses worldwide;
the platform offers a classic SaaS subscription model, including a few price ranges for active users and portals. The prices aren't publicly accessible. You can get pricing details by contacting the LearnUpon account manager.
In Conclusion
LMS for corporations is an essential tool for streamlining training processes. Providing better control over the learning experience, improving customer service, and getting enhanced scalability is easy. If you've managed your learning segment manually, LMS can undoubtfully provide huge benefits for corporate training. Today, many organizations offer LMS for free or at an affordable price. If you doubt it, you can try some free platforms. Before developing your own or using the existing one, try comparing the software and its features to realize the potential, usefulness, and profits of employing LMS. Instead of instantly investing your time and money, it's worth setting your business priorities for training and analyzing your target audience.
Keenethics can help you. We're a company specializing in many technologies, industries, and services, including LMS software development services. Get in touch with us, and we'll help you with your inquiries in education software development.
To learn more about LMS and what works and what doesn't, get in touch with us.
With Keenethics, you'll be able to weigh all your options, make an informed decision, and create your killer customizable LMS.