How to Be an Effective Teacher in 2022: Covid-19, Distance Learning, and Virtual Classroom
How to make learning effective when everyone stays at home?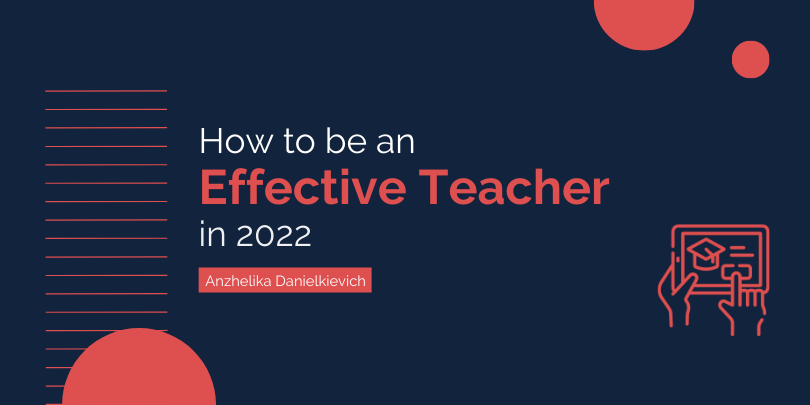 Recent education changes and the perks they brought show us the education sector will never be the same. Imagine the situation: your friend calls you and says there is no Covid-19 anymore. Everyone can freely visit shopping malls, conduct offline classes, and go to big sporting events. You can forget about wearing a mask and using antiseptic. You can live life in the same way as it was before the pandemic. Would you be excited about such news? For sure, you would.
But would you stop using a mobile version of your favorite teaching management tool? Would you deprive your students of the opportunity to contact you via communication channels used during Covid-19? Would you forget about the education software solutions that gave you the chance to inform colleagues about schedule changes? I think that you wouldn't. Simply because of the benefits that such solutions give.
Virtual learning tools are not the "Covid-19" must-have. Edtech and virtual classroom software mark the beginning of the whole new stage of education development. When the pandemic comes to an end, we will be on the verge of meeting a new, hybrid form of education that will combine both offline and online learning tools. 2022 is the year when a new approach to teaching comes into play.
Impact of Covid-19 on Education
Despite all the negative consequences of the pandemic, Covid-19 set the perfect time for learning. The education sphere opened new opportunities for students worldwide. Live classes and online tutoring gave them the chance to educate themselves regardless of circumstances and location. Schools and universities integrate new educational technologies into their classrooms. Some look for unlimited video conferencing tools and test autotranslation. Others are answering our checklist questions to see whether they need school LMS.
The education technology sphere reached the point of $90 billion in 2020 and is expected to grow at the rate of 20% from 2021 to 2028. With the rise of edtech, access to education spreads globally. Digital content-making is reaching its peak, lowering the production costs for education. Less paperwork, fewer management expenses, less bureaucracy.
Even if Covid-19 disappears and there are no social distancing and safety measures, education will continue to depend on technology.
How Teacher's Role Changed
First of all, the pandemic proved teachers are also avid learners. They learned how to adapt to a new normal where traditional in-person teaching doesn't work. They learned how to be flexible and keep pace with the latest edtech trends and innovations. Common education methods used by teachers for many years became irrelevant at once.
When the pandemic started, teachers had to use different communication channels such as online conferencing tools, management platforms, mobile solutions to help learners stay engaged. They had to use their creative potential to make sure that students do not feel separated and see their support even when sitting at home. It was the teachers' responsibility to show students their readiness to meet new challenges, to move with the times. And they did it.
I bet that before Covid-19, many of us did not even know how to use Google Meet or how to schedule events on Calendly. We didn't use online management tools and controlled all processes manually. But with the rise of Covid-19, we learned that technology drives growth. Many educational institutions even considered developing their own e-learning apps. They learned how to spend time effectively: communicate and engage with learners, manage administrative tasks, and do the teaching.
A year ago, every learner had the chance to look at their teachers from a fresh perspective. The way educators supported was inspiring — teachers showed the highest commitment. They demonstrated a sense of students' motivation, they did everything possible to make learners feel included. If modern teachers refused to meet new challenges and be flexible, we wouldn't have the chance to grow and self-improve online.
These are at least some of the reasons to say thank you to modern teachers — the real guardians of our growth and knowledge.
Virtual Teaching: Keep Your Online Virtual Classroom Effective
When you are a teacher, your goal is to get students involved in the learning process, give them motivation for self-development. With modern technology, meeting this goal is possible not only during Covid-19 but also hereafter.
Teachers vs Technology: Rivals or Allies?
Some teachers are afraid that the rise of technology would put an end to their profession. Movies and ads from all corners claim that robots will soon replace humans in almost all spheres. Machines will teach children, treat patients, do housework. However, all these assumptions don't consider the main value of every job — human interaction. And while stories about human-robot wars seem like something from science fiction, the situation we see today is different. As 2020-2022 showed, technology can be a powerful and helpful tool in the teacher's hands. 
Technology allowed educators to grow their capabilities even in the tough times of Covid-19. The gamification approach and simulation gave students no chance to feel bored. Abstract concepts that seem so hard to understand are now more accessible thanks to interactive learning tools. The whole new learning experience is provided to teachers and learners. Moreover, blockchain technology allows teachers to gather student data and analyze statistics.
Suppose that one of your best students in the class started to show bad results in the last two weeks. Using student performance graphs generated automatically, you can detect such changes in their performance and look for reasons. Maybe your student faces some mental difficulties at home and lacks support. Or maybe some gap occurred in student-teacher interaction and it is the right time to organize a one-to-one meeting. By doing so, you will show your student that you care not only about their performance but also their problems.
As the mentioned advantages prove, edtech will continue to evolve. Internet of Things, Virtual Reality, Artificial Intelligence, Augmented Reality take education to a completely new level. Bringing these technologies to your virtual classroom can be a great way to increase student engagement and realize their creative potential.
But what is a virtual classroom?
Virtual Classroom Platforms: How They Work
Before we look closer at how online classroom platforms work, let's clarify what it means. A virtual classroom is an online learning space where teachers and students interact in real-time. Virtual learning platforms work in a similar way as brick-and-mortar classrooms but use edtech tools as a basis for human interaction. Studying in a virtual classroom presupposes active teacher-student communication. A teacher and learners appear online simultaneously.
So what is the difference between online classroom software and online courses? In online courses, teachers implement the "on-demand" approach. That is, students are unable to communicate with teachers in the present moment. To ask questions or get in touch with educators, they have to use other system functions. Learning in an online virtual classroom flows more naturally as compared to recorded courses because teaching and learning happen simultaneously.
Using a virtual learning platform, teachers explain the material, give tasks, ask questions. Students acquire new information, answer questions, clarify task details, interact with peers. At the same time, they make use of auxiliary tools that facilitate learning: presentations, videos, games, simulations, digital whiteboards. All of these are used online to visualize material and make it more comprehensive.
Remote classroom software is a learner-friendly environment that presents students with creative education tools.
What Benefits Virtual Classroom Tools Give
In physical classrooms, the number of students is limited because of the space limits of a classroom. With online classroom software, teachers can gather more students during one lecture. A pleasant perk is that students do not depend on their physical location — they can attend classes while living on the other side of the planet.
The main task of distance education is not to limit students' creativity. Distance learning software provides you with tools and functions to fully meet this goal. Unlike physical classrooms, virtual classrooms are not dependent on supplies such as whiteboard marker pens, paper, crayons. You have unlimited access to the tools and functions that help your students realize their creative potential.
Using online school platforms, students can draw, visualize, create tables and graphs, make prototypes together. They get plenty of tools that not only boost learning but also allow for cultural, national, social self-expression. Online platforms for education make learning communities more diverse and healthy, which increases students' interest and engagement.
With online class software, students forget about such problems as bullying by peers. Everyone is focused exclusively on the learning process. Learners face no distractions from the lesson, they are more self-focused and goal-oriented. Having the opportunity to study from anywhere, students feel comfortable and secure. It forms the ground for healthy and prolific collaboration.
All these benefits show virtual teachers that education technology is not their evil rival but their best assistant.
Wrap Up
The pandemic taught us to manage our responsibilities online, feel comfortable while turning on the camera on meetings, and trust online platforms more. Of course, technology will never replace real human interaction. Teachers will always be respected and valued professionals for each community. Yet, integrating technology into learning and teaching can be a perfect tool for maintaining education capability and keeping students' motivation on a high level. If you have an idea of how the virtual training software of your dream should look like — hire an education software development company to turn your plans into reality. And if you don't know where to start — no worries. Our software development team is always here to help you choose a winning strategy.
Do you want to take online teaching to a new level?
A virtual classroom is a great way to impress your students with tech potential. Let our professionals analyze your case and build a distance learning system that will drive growth and boost students' performance.