Virtual Classroom Software Development for Online Teaching
Who invented online learning? What was the learning standard in the past? Please, don't think it's a collective or logical decision. There had to be a person who voiced this idea for the first time. So, I'll show you those genii.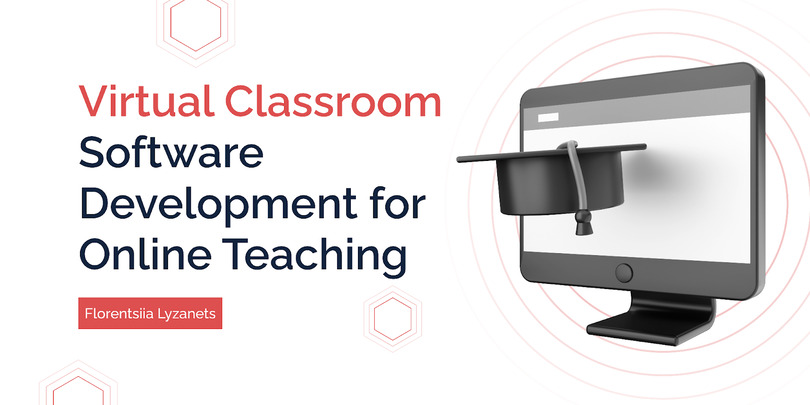 But first, let's consider. Did you know that online learning isn't the newest concept? However, why have only we recently begun to hear a lot about the virtual world, online teaching software, and its possibilities? Or is it just me who has this feeling? Okay, it's better to discuss specifics.
Everyone was somehow obsessed with Covid-19, and the impression was that the epidemic was the initiator. But the beginning goes much deeper. If not talking about software for distance learning itself but only about the concept, then the very idea of distance learning first came into practice in the middle of the 19th century, when the US Postal Service was created. The concept of ​​reliable long-distance correspondence arose, leading to the introduction of so-called commercial "correspondence colleges." Back then, students and instructors transmitted study letters through the postal service. Concerning the century, this is brilliant. Now, we're already so advanced that little can surprise us.
Today, online learning programs are more complex but accessible, thanks to the Internet and digital technologies spread. Schools worldwide are now offering open curriculums, online degrees, and classes that both legitimize and extend the idea of computer-assisted learning.
What Is Virtual Classroom Software?
Before discussing the virtual classroom software definition, let me provide a bit of historical update:
in 1873, in Boston, Ana Eliot Ticknor established the first official distance learning program called "Society to Encourage Home Studies";
in 1911, the University of Queensland in Australia launched its Department of Correspondence Studies;
in 1946, the University of South Africa, one of the colleges worldly-known for promoting open distance learning. It reshaped its mission to online education, and as a result, it became a leader and innovator of online learning;
in 1989, the University of Phoenix was a fully online institution offering bachelor's and master's degrees;
in 1996, Glen Jones and Bernand Luskin, entrepreneurs, founded Jones International University, which became the first web-based and first accredited university;
in 2003, 150 thousand online courses were held by 40 thousand instructors of the Blackboard Learning System. These courses were given to more than 6 million students across 55 countries.
I think this information is enough to see a little history of virtual learning and its growth and compare its past and present.
---
What is virtual classroom software?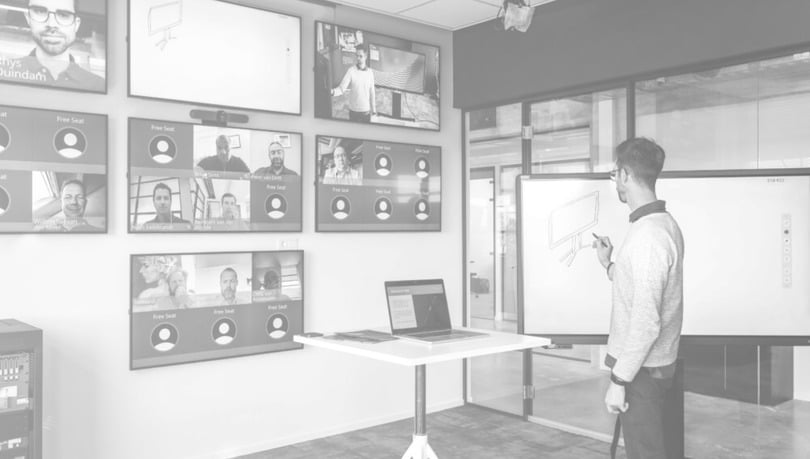 In teacher virtual classrooms, students and teachers engage similarly to how they do in a traditional setting, but solely through cutting-edge software concepts and ideas. In distance learning, students can meet with their instructors while relaxing in their preferred location and asking any questions they may have. Students who aren't physically present at the educational institution receive a certificate of achievement after a course or academic year. Isn't that magic?
Something to think about
What do you think: does traditional schooling offer a wealth of benefits, and will this type of distant learning help the younger generation reach their full potential? How well do conventional and online education complement one another?
Students can connect to qualified instructors anywhere in the world through a reliable internet connection. Similar opportunity breaks down typical barriers to traditional learning, including cost, distance, and time.
Video and audio conferencing, real-time messaging chats, interactive whiteboards, libraries of educational materials, educational tools and controls, and interactive elements are all typical features of virtual classrooms to make the educational process effective and engaging for the learners.
Who Needs Virtual Classroom Software the Most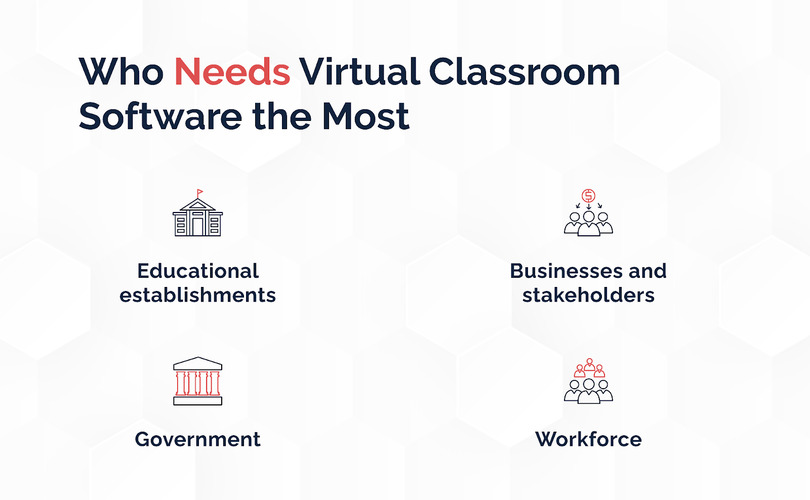 Educational establishments
The virtual classroom software development will help educational institutions reach a wider audience and remove existing barriers and difficulties. Moreover, it's an investment once and for all. The institution can now sell its courses and online degrees through any channel, popularizing its name.
Businesses and stakeholders
Remote learning software assists in reducing the cost of training and staff professional development. Companies don't need to consider such factors as the location and facility of the physical courses, organizational issues, or instructor expenses. They can educate a large audience by creating online courses and recording them. It's unnecessary to go over the same information with newly hired staff repeatedly. Professionals only have to constantly monitor the relevance and newness of instructional material and only adjust improvements.
Government
Governments need virtual learning software to implement national programs to make online education accessible to everyone.
Workforce
Virtual learning software will help society develop skills, find new jobs, and succeed in the modern digitalized world by acquiring relevant knowledge from anywhere.
How to Choose the Best Virtual Classroom Software?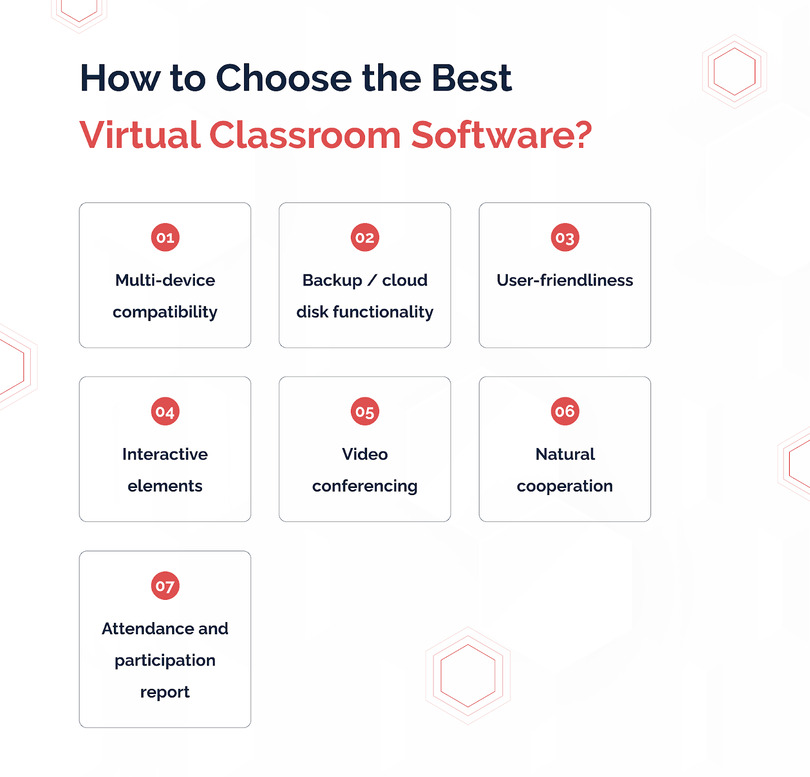 Before selecting virtual classroom platforms, you should analyze your needs and intended goal. A great idea is to brainstorm with the teachers with whom you can compile a list of the features you believe the software system needs. When the list is prepared, you may compare it, talk about the constraints of virtual software, and select the best set of characteristics for your future software. Doing this may design your audience's most effective learning environment.
The following characteristics should be taken into account to effectively share the experience of professionals with their learners, regardless of where they are. Again, it's essential to remember that each factor must satisfy your needs; thus, the list may vary. But perhaps you'll consider a few criteria and further assess them.
Multi-device compatibility
Mobile responsiveness is a feature valuable for the users. Since almost everyone uses their smartphones today, it has become an essential requirement. More learners want to have the chance to access courses wherever they are without the need to carry their laptops with them. The E-learning market is flooded with apps, websites, games, and sophisticated tools available for different systems. For this reason, by designing a mobile-compatible software for online teaching, you can enlarge your userbase and engage a more extensive new generation of learners.
Backup / cloud disk functionality
For both teachers and kids, a backup will help keep data secure.
For educators: obtaining information on pupils makes it simple to filter out potential issues like lagging behind the topic, underachievement, demotivation, and more.
For learners: since teachers can record online sessions, students can study at any time and their own pace.
For educators and students: not to mention how easy it's to find access to any materials and share them.
When an application is easy to use, clear to understand, and accessible – users can refer it to the best software product. One of the main goals is to make it easy for teachers and students to master the new platform quickly. If they encounter difficulties, this may be their last time using your virtual learning software product. Therefore, an intuitive, simple, attractive user interface will always be advantageous.
When we talk about a virtual classroom platform, given that there is no physical presence of teachers and students, the quality should be at least as good as in a traditional classroom, if not better. Therefore, interactive elements can extensively engage students in specific tasks and boost their enthusiasm. In our blog, we recently discussed gamification as one of the techniques for improving learning outcomes. Please read if you haven't used it yet in your educational institution. It might be an additional tool to enhance teacher and student interaction further. In addition, real-time instant messaging is also essential. With its help, users can register queries and receive instant responses. It can also enhance how well students receive your product.
Video conferencing is crucial to maintaining the traditional classroom setting where students and teachers maintain a face-to-face connection. A video conference will be helpful for the teacher to monitor the students' interest in a lecture when there is a large audience. The students, in their turn, will also feel the responsibility of not being distracted from what they hear. The ability to see students online makes classes more dynamic. But in this case, the video conference must be integrated into the software. Otherwise, the pupils will have to open extra tabs or services to watch the video, which will be inconvenient.
Collaboration forms the same natural collaboration as in a traditional classroom. As students spend more time in their messengers, introducing some game elements will improve their integration with each other. A leaderboard, for example, would be a practical element to ensure that students are constantly engaged in the learning process and feel little competition. The competition will be healthy, and a little excitement won't interfere with their studying. On the contrary, it'll speed up the understanding of a particular topic and also improve the process of sharing each student's experience.
Attendance and participation report
Similar data is relevant, allowing educators and students to collect information about class duration and in-class interaction. The benefit is that teachers can share similar data with parents to keep them informed about the educational process and students' performance.
Benefits of Online Classroom Software Development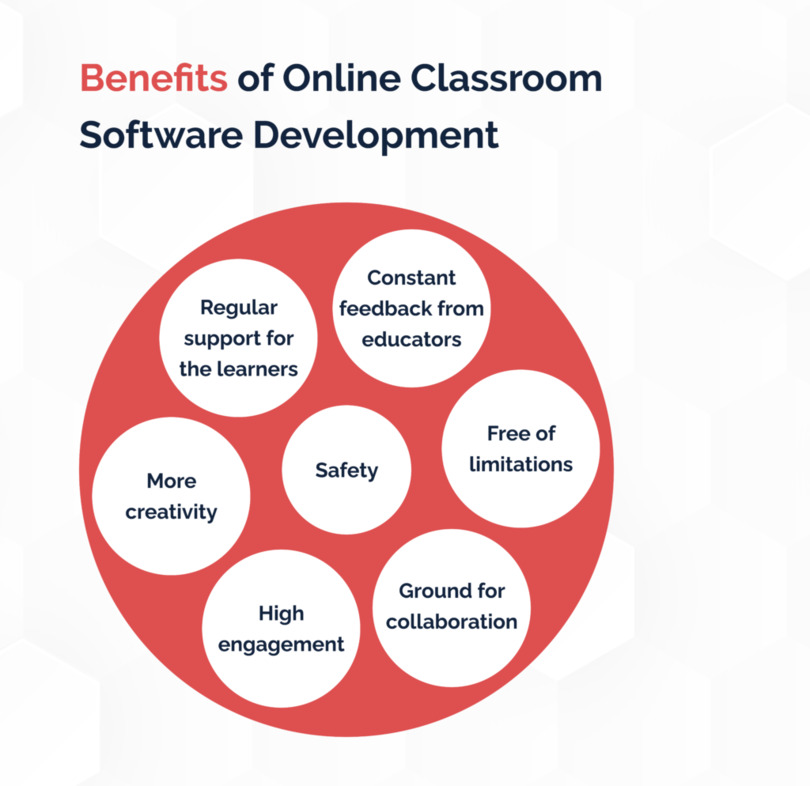 Safety
The virtual classroom software for online teaching shouldn't have free access for everyone. Only registered users with login and password can join the class. It protects learners' confidential data from unwanted access by hackers. Also, educators can configure permissions to ask for the permit to course and turn on their webcam and microphone. It helps to prevent various unwanted interactions from unknown users.
Free of limitations
In physical classrooms, the number of students is limited because of the space limits of classrooms. With online classroom software, teachers can gather more students during one lecture. A pleasant perk is that students don't depend on their physical location — they can attend classes while living on the other side of the planet.
More creativity
The main task of distance education isn't to limit students' creativity. Distance learning software provides you with tools and functions to fully meet this goal. Unlike physical classrooms, virtual classrooms aren't dependent on supplies such as whiteboard marker pens, paper, and crayons. You have unlimited access to the tools and functions helping your students realize their creative potential.
High engagement
Using virtual classroom platforms, students can draw, visualize, create tables and graphs, and make prototypes together. They get plenty of tools to boost learning and allow cultural, national, and social self-expression. Online platforms for education make learning communities more diverse and healthy, which increases students' interest and engagement.
Regular support for the learners
Students and instructors can interact regularly and anywhere. They can identify and eliminate student behavior problems instead of waiting until the next class.
Ground for collaboration
With online classroom software, students forget about such problems as peer bullying. Everyone is focused exclusively on the learning process. Learners face no distractions from the lesson; they're more self-focused and goal-oriented. Having the opportunity to study from anywhere, students feel comfortable and secure. It forms the ground for healthy and prolific collaboration.
Constant feedback from educators
Feedback is the motivation for the learners. Teachers can incorporate different ways to provide a review for the students. They can award students via interactive tools like leaderboards and scores, messaging in real-time chats, or presenting the well-performed students on video conferencing.
---

Best Virtual Classroom Softwares for Online Teaching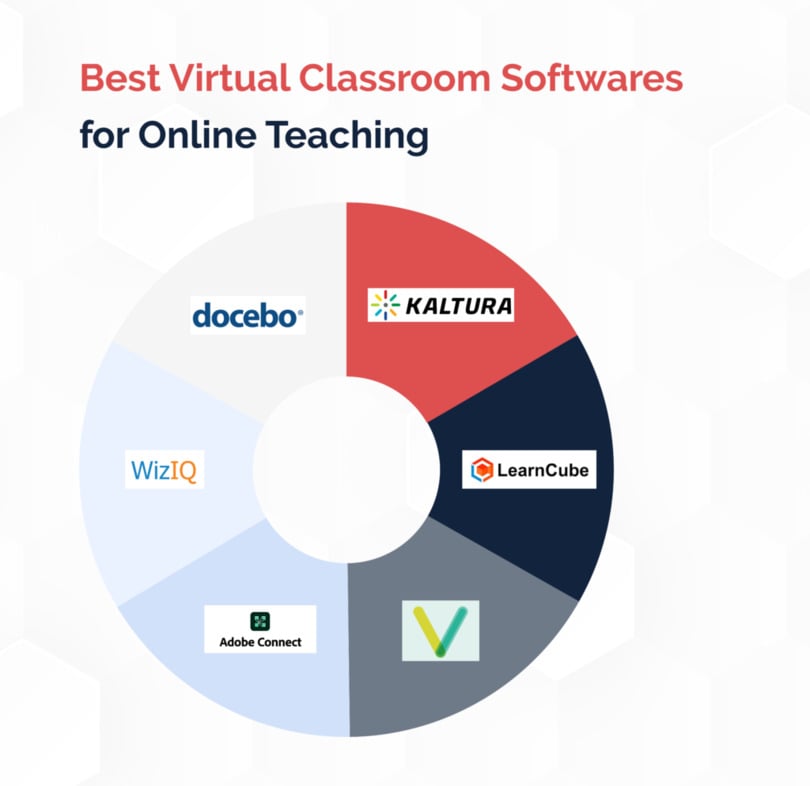 The world of virtual classrooms turns out to be enormous, presenting you variety of software you can choose from.
Kaltura
Kaltura is a famous software for online teaching, presenting great tools for classrooms. Students and educators can use various collaborative tools from digital whiteboards, lectures and presentations, cloud recording, and screen sharing to a real-time content supervision system for writing notes. The software is 100% web-based. It has neither Flash, downloads, nor installations. Kaltura enables students to use content management systems to share content, use group discussion rooms, and pass live quizzes.
LearnCube
LearnCube is a highly effective and award-winning e-learning program, ideal for interaction between instructors and learners in distant locations. Like most virtual classroom platforms, LearnCube delivers a virtual classroom that users can access from any browser without any download or Flash. The software offers valuable features, including up-to-date interactive whiteboards, personalized branding, a content management system, live chats, and training records. Also, transcription functionality is soon expected to be added to the software. The benefit is that all classes are recorded, so students can go back and examine the material whenever they want. A similar practice raises student performance and enhances teaching quality. However, drawbacks have their place. LearnCube suggests that learners take classes on desktops rather than mobile devices, which limits convenience and accessibility. However, generally, it doesn't stop the students from using the software.
Vedamo
Vedamo is a simple and intuitive choice developed by tutors for tutors who can utilize the tool in classrooms at schools, colleges, and institutes. It has a wide range of built-in features presenting users with an engaging experience. The software is a web-based app providing online whiteboards allowing everyone to exchange different materials and discuss them in live sessions. Other features include video conferences, screen-sharing, breakout rooms, media player, recording, session template, and LTI integrations.
Adobe Connect
For those familiar with online learning, Adobe Connect is undoubtedly one of the most well-known brands. This program used to be a common resource for universities. It offers excellent tools for creating customizable classrooms, ranging from puzzles, quick polls, and cloud recording to various modules and mock-ups. Although the current version might need Flash, the client version lets you ignore the Flash requirements. You can get exciting training sessions, personalized webinars, and quality meetings with Adobe Connect. The software helps users manage the virtual sessions entirely to create tailored experiences. Users can integrate with LMS to apply blended learning to get students' interest before and after the lessons. Adobe Connect can be accessed on any device, thus enriching the user base.
WizIQ
WizIQ is a browser-based virtual classroom platform with a wide range of training resources for the intended audience.
Regardless of if the audience is partners, customers, or students, you can:
build and sell online courses for independent study and live classes;
deliver learning on the go making it available on portable handheld devices;
make your classes online with minimum expenses;
train external stakeholders efficiently.
The interactive whiteboard, cloud recording, moderations, surveys, and the code editor are all virtual classroom features.
Docebo
Building content that keeps up with organizational growth, performance, and revenue is time-consuming for many businesses. Docebo is AI-based content creation software allowing to share content across users and track training in one centralized system. With Docebo, you can drive a collaborative learning environment and deliver a single place for thousands of your customers who can ask questions to your educational professionals. The users can share their content and invite peers to watch and discuss it. The software has enhanced search functionality, letting users find content quickly. With Docebo, educators can manage the classroom's timetable and location, monitor the students' progress and online attendance and assign tutors to particular courses.
Software for Online Teaching: Build Vs Buy
Online solutions are already becoming a trend and a successful boom in education. Therefore, the question is brewing, which is better: buying ready-made software or developing it yourself, guided by your desires?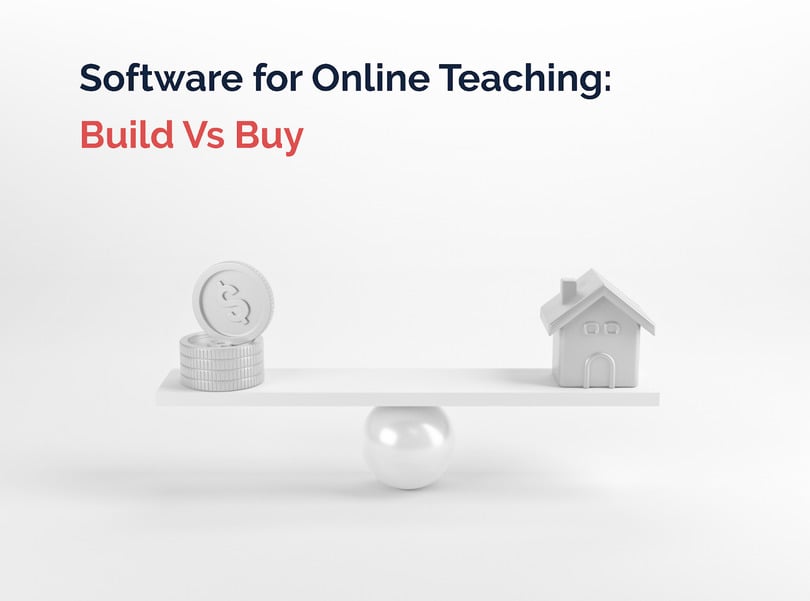 Let's look at the pros and cons of both solutions.
Developing your virtual classroom software
Benefits:
you have complete control and responsibility for the new development;
you can count all your requirements, demands, and goals;
you can implement various techniques and methods in the development orienting on your cost limits.
Challenges:
a complex task requiring many expenses;
designing the online classroom software from scratch is slower since it has to go over different processes. It takes much time cause you need to determine the concept, estimate the scope of the project; investigate, develop, test, modify, and relaunch the product;
you should be confident your software includes some originality since the market is constantly expanding and changing, many trends appear, and existing software are your competitors;
you should assess your potential profits, the view of your online product in a year, your target audience, resources, and your patience;
it's risky since you get what you pay for. If you want to save money on development costs, you should understand your product won't be competitive enough.
Sometimes, purchasing or subscribing to existing software is far more cost-effective than designing your own.
However, if you get a creative and strict vision, you can be a winner in the online market. The truth is if something goes wrong, you can fix it or at least learn from your mistakes.
Using existing virtual classroom software
Benefits:
it's faster to employ ready-made solutions. In this scenario, having leadership skills and vision will help you get to and capture the market first, acquire customers more cheaply, and make long-term plans so that your competitors would find it difficult to displace you;
you can start getting revenues from the start;
it's less risky. You not only avoid an additional $500 000 for your software development, but you get to the market faster, learn quicker, and access the professionals in WebRTC technology;
you can reduce headaches on bug-fixing, fighting hackers, maintaining your software product, learning a new tech stack, implementing new features, studying your users, and playing cat and mouse with your competitors.
Challenges:
the platform and systems are common; for this reason, you can't customize them based on your user base;
you rely on a software provider that can integrate with existing systems or deliver a simple API for the virtual classroom;
it's not easy to try and experiment with new features, concepts, and ideas.
Having fear is more straightforward than being a genius.
Regardless of all the challenges, there are always tradeoffs for two decisions. Whether developing your own or purchasing an existing software product should be your decision. The choice comes down to your cost limit, development capacity, customization level, speed-to-market, and profitability.

How to Develop Your Virtual Classroom Software?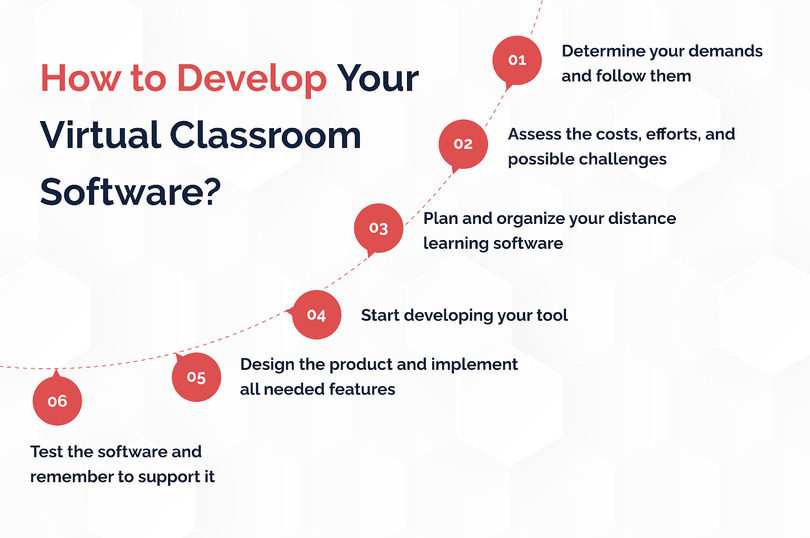 Determine your demands and follow them
When you distinguish your requirements to the wanted software and set its infrastructure, it'll be easier for you to realize your plan.
Assess the costs, efforts, and possible challenges
You should also count potential external factors that may influence the achievement of the results. It's critical to get insights into the tech stack needed for your online teaching software, the budget the development can require, workforce, expertise, and other necessary things depending on your end desire.
Plan and organize your distance learning software
During this stage, you should clearly understand what you want your users to get, including educational perspectives, tools, benefits from your software, in-build features, and others. The primary purpose is to meet your users' demands and retain them in the competitive market of innovations.
Start developing your tool
Till this stage, you should get a ready-made visualization plan. Now, you can start bringing it to the market and end users. Think of UI/UX design, user experience, software interface, device compatibility, and other design issues. You can hire a professional team of UI/UX designers.
Design the product and implement all needed features
All required features and functionalities should be developed appropriately to all standards and work accordingly.
Test the software and remember to support it
There is no software working perfectly with no errors and bugs arrises. It's a regular practice involving professionals, their efforts, and competence in all matters. Even after testing and launching your software, you should conduct tests to check the software for development bugs.
In Conclusion
Do you intend to create courses for individual or group learning? Who might be the potential audience of your training? What interactive elements and learning standards will you integrate into your classes? How to choose the virtual program meeting your demands and those of your users? These inquiries are all critical enough.
Understanding what is important to you, your facilitators, educators, and students should come first. I've previously mentioned brainstorming sessions with your team's professionals and the criteria-setting procedure. But if you have no idea or need partial help with this issue, let us guide you through the process of choosing virtual classroom software.
Keenethics has sufficient expertise in the education industry. However, since not all solutions are optimal and similar to deliver the interactive experience in education, our specialists are ready to see your vision and listen to your points. We ensure we can assist you in innovating how you teach and deliver educational material for your courses.
Do you wish to advance online education?
A virtual classroom is a great way to impress your students with tech potential. Let our professionals analyze your case and build a distance learning system fostering growth and improving student performance.