Wait, Do Not Jump Into Redesign — Perform a UX Audit First!
Every dollar invested in UX brings $100 in return. Learn to invest it right.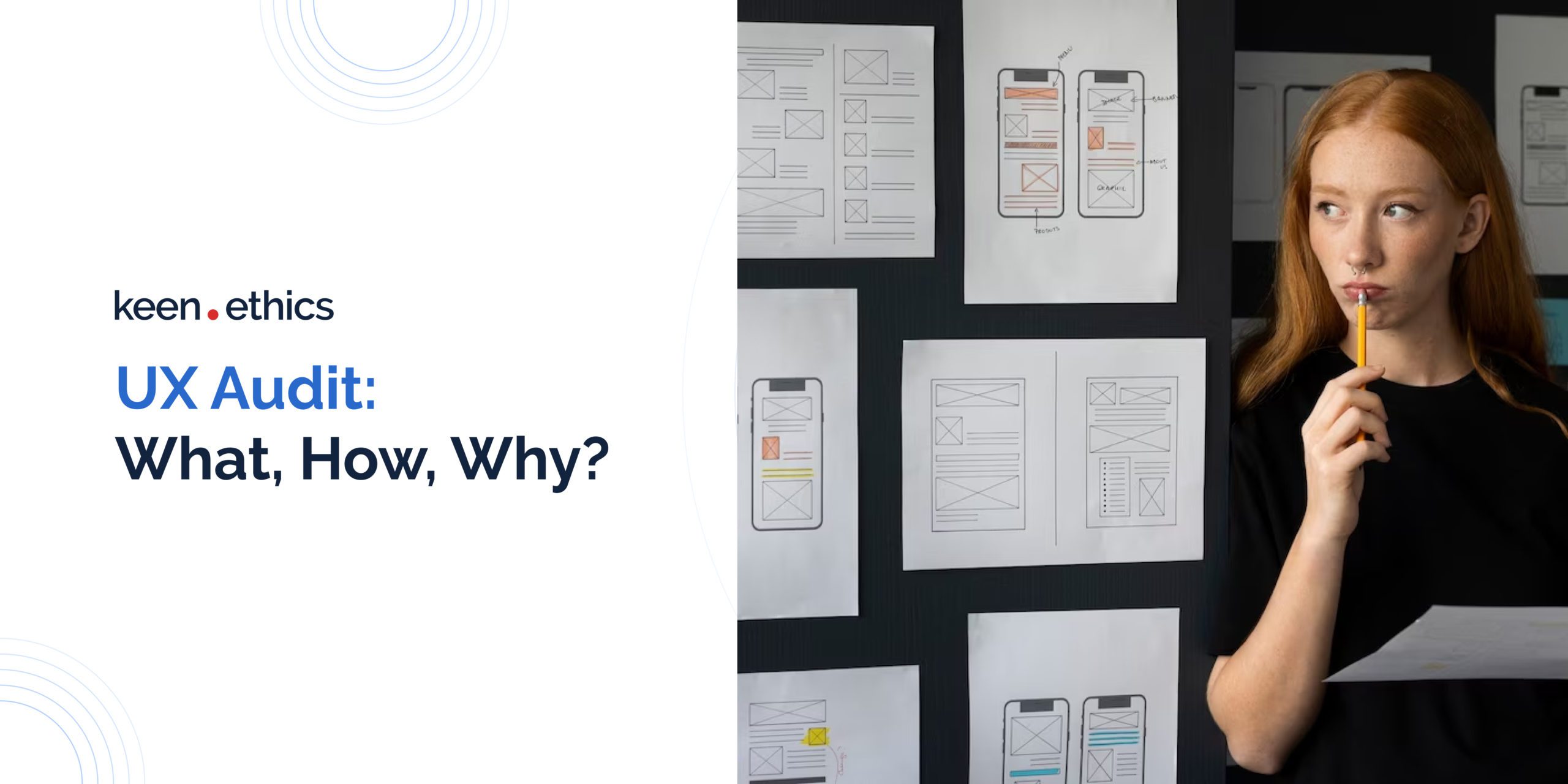 Want to stand out from competitors? Develop a sense of trends and changes on the market. Keep moving. Stay open-minded. These rules seem so simple. But how to implement them in practice? You should review your results and figures regularly. Analyze the connections, trace tendencies. And if you see that something goes wrong, it's high time to make some changes.
But when the word change is pronounced, many of us decide to immediately gather our development teams and redesign our products. We tend to believe that completely redesigning software renews its relevance. However, it's not always the case. Sometimes, a redesign can bring more bad outcomes than good. How to foresee the results? This is where one of UI UX design services — UX audit — comes into play. To expect a positive outcome, develop a strategy. Don't do anything in the heat of passion. Be rational.
Redesign vs UX Audit: What to Start with?
The decision to redesign a product may not bring positive results. Why do you think this happens? The answer is simple. To resolve a problem, you should understand its roots. Neglecting this rule results in poor outcomes for your business. You should keep in mind that simply redesigning your software without outlining the reasons is worse than doing nothing. So does redesign help at all? Indeed it helps. But only if planned and conducted wisely. To understand what aspects of your product should be redesigned, you have to understand why your users don't like them.
To reveal the pains of your user, conduct a UX audit first. It doesn't really matter which industry you are in, e-commerce, or anything else — as long as you have a digital presence, you must ensure that the customer experience is outstanding. But what is UX (User Experience) audit?
It is the process of analyzing your app, website, or another type of product that shows you what aspects of your product cause headache for your users. UX website audit is frequently based on customer journey mapping. Yet, to get reliable answers, analyzing your software from the viewpoint of an owner is not enough. If you are not skilled in empirical analysis and heuristic evaluation and have no sense of cultural factors in design, entrust this task to UX professionals.
---
UX audit helps you understand the pains of your customer.
---
Why should you spend money for UX audit if you can directly ask your users what's wrong with the app/website? If you think so, I'll ask you the question. When you use a website or an app, do you think deeply about the quality of your interaction? I bet that you don't. Most probably, you think about your goal. And when you fail to meet it, you just close down an app or a browser tab and look for a better solution. The same is true for your users. How can you base the strategy only on your users' words if they don't think over their behavior on your website?… They just either like it or not.
UX audit is not only about asking your users about the problems. It's a complex process that involves several stages. Each of these will be discussed below. But if you decide to conduct a UX audit on your own, be ready to detach yourself from all your business processes and devote much time to the analysis of data. Usually, a UX audit is performed under a well-constructed timeline, which lasts from 2 to 4 weeks. If you have no background in the UX audit sphere, interpreting results can be a difficult task for you, too.
This part of our article is called "Redesign vs UX audit." But now you see that these two notions should not be contrasted. The former can be the result of the latter, yet not always. In some cases, you'll need both. In other cases, less significant changes will save your business, and you'll not have to hire a redesign team.
Phases of UX Audit
Depending on the product type, audit goals, and requirements, a UX audit process may include different phases. Let's review the UX audit checklist developed by Keenethics: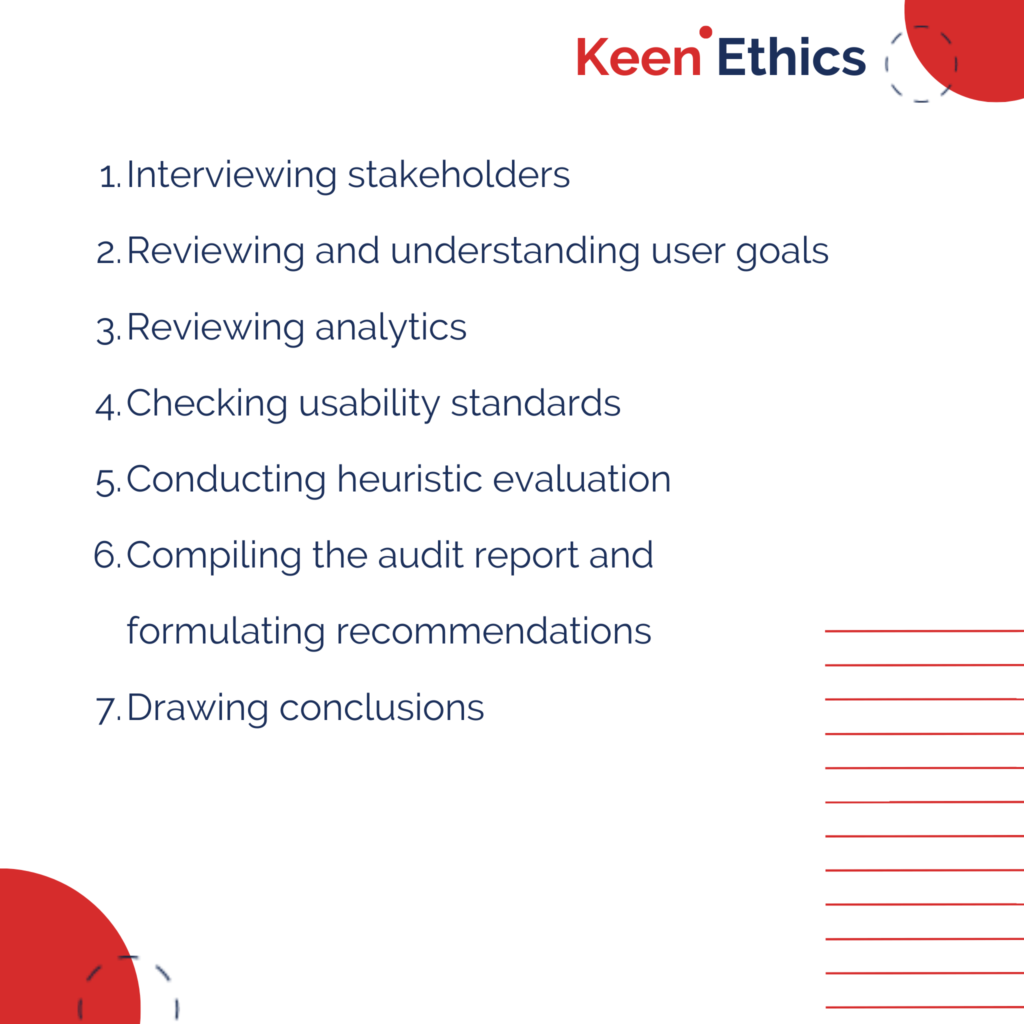 1: Interviewing stakeholders
Before the magic happens, a design team needs to prepare thoroughly. They meet with a client for a kick-off meeting or even workshop to discuss the main business and usability objectives, user flow, and previous experience and issues. It is also useful to conduct interviews with stakeholders who have an interest in the product. These can be product managers, marketers, salespeople, and/or customer service representatives.
2: Reviewing and understanding user goals
With the whole picture of business goals, it is time to go outside and meet the users. The best practice in this step is to create user flows. These user flows will show the user's objectives in different parts of the product and describe the way they will take to get there. This stage can turn into a full-fledged user testing process with its own methods, such as surveys.
3: Reviewing analytics
Some businesses use analytical tools such as Google Analytics or HotJar to track the performance of their product. If not, designers will have several tools to explore. At this stage, it is important to check how many users visit the website, how often, at what step they leave, and what difficulties they face. In fact, this step is necessary not only as a UX audit measure but as an everyday action taken by the marketing team to keep a finger on the pulse of the website.
4: Checking usability standards
As I mentioned earlier, usability standards are based on research from a variety of fields — including cognitive psychology, computer science, technical communication, and UX design itself. Using these guidelines and a UX audit sample, a UX specialist can check navigation, common design elements, consistency, visual hierarchy, and adaptivity to different devices. A crucial moment here is testing accessibility for the web products to meet the needs of people with disabilities.
5: Conducting heuristic evaluation
What are usability heuristics or standards? These are the 10 principles developed by Jakob Nielsen to evaluate usability and audit UX. In particular, the system status should be visible, and it should follow real-life conventions, speak a common language with the user. The product should give a user a feeling of freedom and control by offering the undo and redo opportunities. It should be consistent, flexible, and efficient, offer proper error messages, and minimize the user's memory load. Aesthetics should not be forgotten either. Overall, the designer has to try to see things from the user's point of view as they would take steps to meet their goals. Also, throughout the process of heuristic evaluation, a designer should take screenshots with detailed notes.
6 & 7: Compiling the audit report, formulating recommendations, drawing conclusions
At the end of the journey, the design team will prepare a document that clearly and concisely conveys the findings. This document or report should include pre-made screenshots with the list of issues, level of their severity, and additional notes that explain the issues in more detail. Also, the design team should offer mockups and resources for improvements. The report may recommend basically any measure necessary for the project's success, including testing on a larger sample of users, testing on mobile devices, making SEO enhancements, or even launching a complete redesign of the website.
UX Audit by Keenethics: Case Example
Take a look at the case example of UX Audit conducted by Keenethics for our client. Banker Advisor is an investment banking tool. It provides users with complex financial services of researching, comparing, and selecting banks. Since it is a fresh tool on the market, our client asked us to improve it with UX Audit and make an even greater impression on first clients. After weeks-long complex analysis and review, our UX professionals outlined several areas of improvement.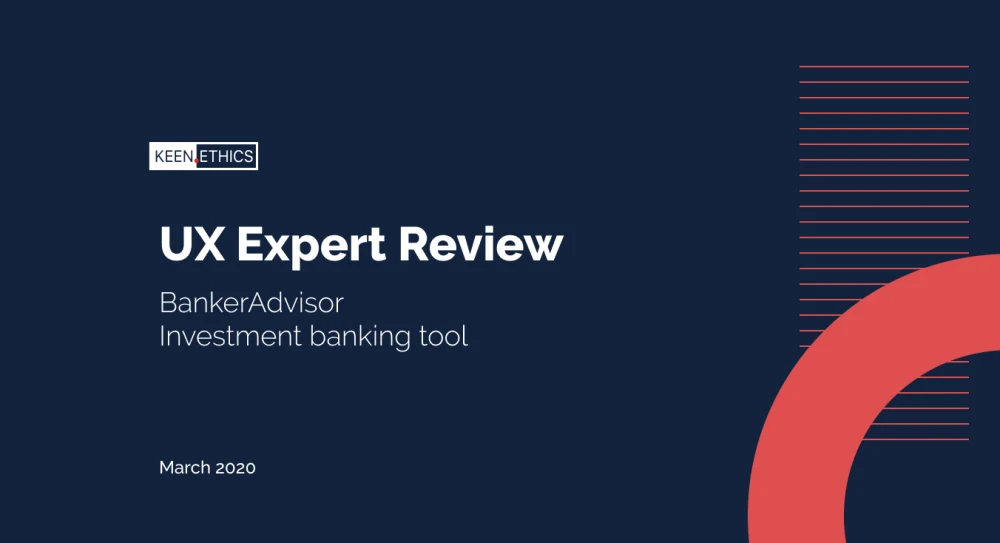 We've subdivided problems into several categories marked by different colors. There were critical, serious, medium, and low usability problems. Critical had to be eliminated urgently, while low were minor mistakes or issues that did not affect the quality of services but might worsen the first impression from the product.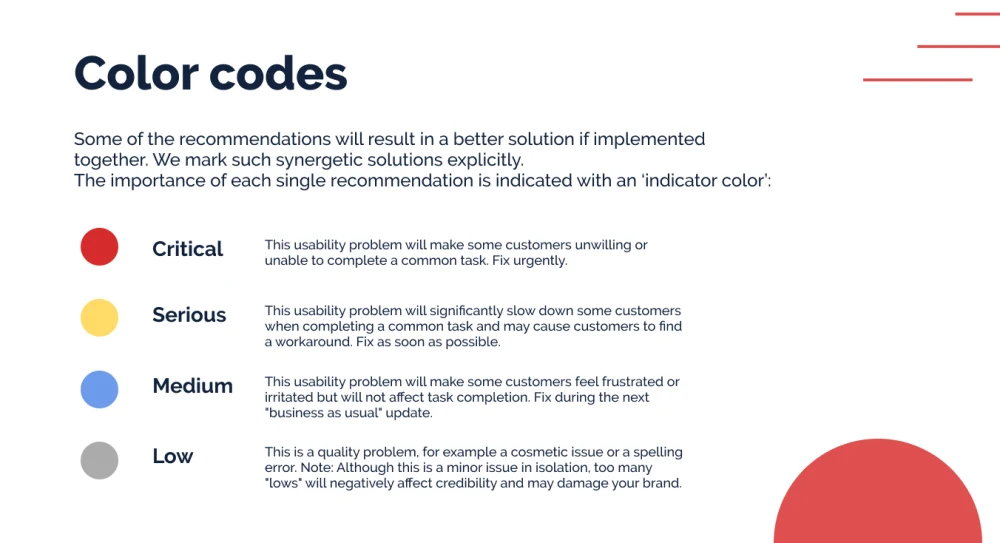 Also, we've conducted an in-depth analysis of the home page. We spotted a lot of issues and prepared a list of actionable recommendations for our client. Below, you can see the excerpt of the review for Banker Advisor. And if you'd like to dive deeper into UX Audit and learn more about our strategy, we welcome you to contact your UI / UX specialist. She's always happy to review your particular case and answer any questions!
---
Do you want to learn more about UX testing?
Check my recent article "The Value of User Testing: How to Find the Hidden Opportunity?".
---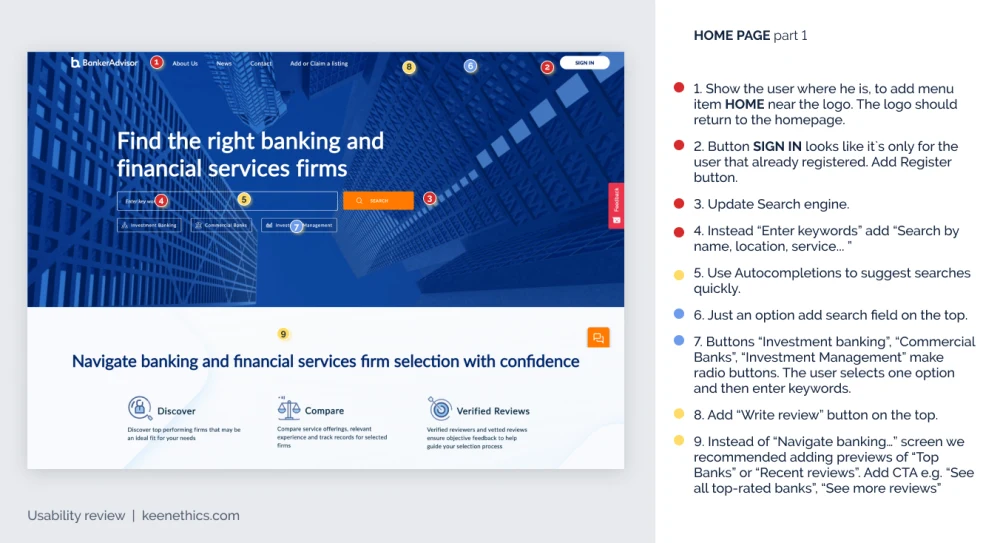 So What Benefits You Get from UX Design Audit?
Forrester's research once reported that, on average, every dollar invested in UX brings $100 in return. Truth or not, but here are some potential benefits that professional UX audits and reviews bring:
Increased conversion. A high-quality website UX / UI audit focuses on the real needs of a user and improves conversion, which may reportedly increase by 30-75% if timely action is taken.
Time-efficiency. Fixing problems in the existing product design may be more time-efficient than redesigning.
Cost-efficiency. A UX audit helps you understand how your users behave and helps you get to know them better. Subsequent fixes can improve the user's journey and increase user engagement. As a result, a business will spend less money on client acquisition and client retention.
Engaged users. UX site audit often shows very unpredictable results that have a great impact on the product. Anyway, it helps build an understanding between a business and its users. It can show the way of how to improve customer engagement and boost product performance.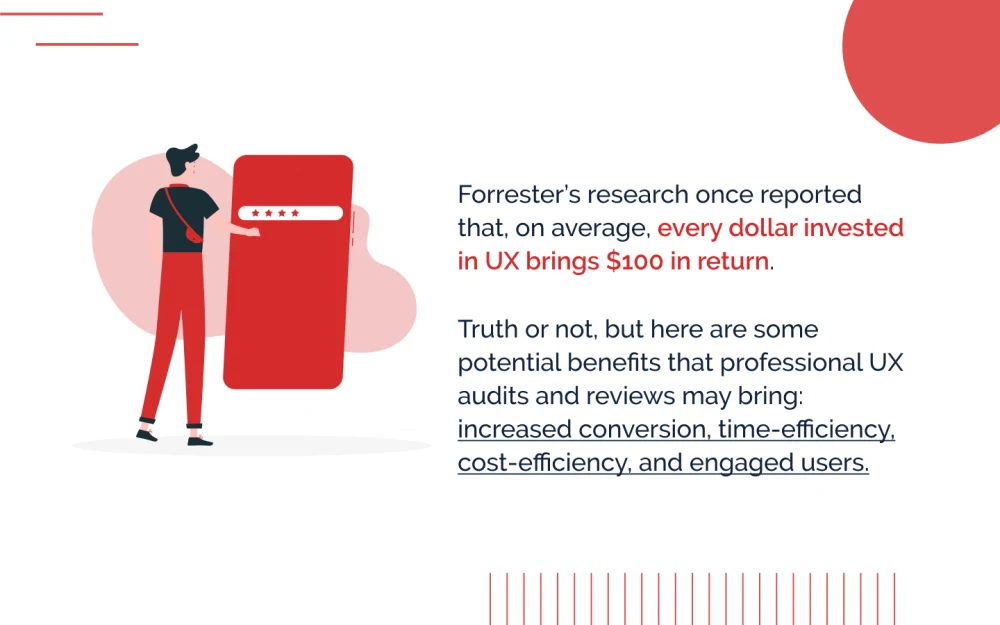 A Final Remark
Not everyone needs UX site audits.
– Wait, what? What was the entire article about then?
A UX audit will not help every business to achieve their goals. For some, a redesign is the only solution. So how do you know, which service to go for — UI / UX Audit Service or website redesign? The answer is simple: ask an expert from a UI UX design company. They will look into your website, prepare a list of recommendations, and tell you which service would suit your needs best.
Would you like an expert UX designer to review your website?
Our professionals would gladly look through your software product and see if the UX audit would help. Contact us to learn more.