Investing in Social Learning Platform: For and Against
A social learning platform — the opportunity to hit the jackpot or the risk to blow your money?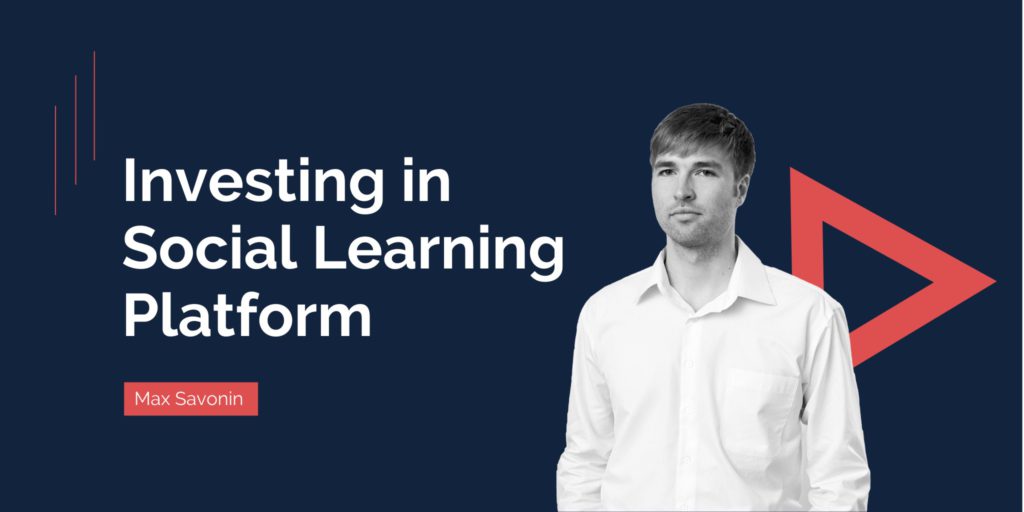 Have you ever heard about the notion of the forgetting curve? The forgetting curve shows that most people forget nearly 90% of the learned information within 3 days. For a business, such a tendency means that employees attending kick-off meetings remember only 10% of what was said. How to find a solution to such sad statistics? One of the possible way-outs is to use social learning platforms for education and training purposes. Rising demand in social learning can be a great opportunity for gaining profit. But before investing in a social learning platform, check out this article and decide whether it's a profitable decision in your case.
What Is a Social Learning Platform?
Before we dive deeper into the meaning of a social learning platform, let's discuss what social learning actually means. Social learning is the term introduced by Albert Bandura in his social learning theory. It presupposes the combination of learning and human interaction. In other words, social learning denotes the process of learning in the social context. According to Bandura, learning new information is more effective when it occurs in social settings. As compared with primarily cognitive context, social context allows learners to master fundamental human skills. When interacting with others, people learn to observe, predict, communicate, and analyze. So, social learning has the same benefits as plain learning. The only difference is that people get well-mastered social skills as a bonus.
So, what is a social learning platform? Social learning platforms are the platforms used for online social learning and collaborative experiences. There are 5 main functions realized in social learning platforms: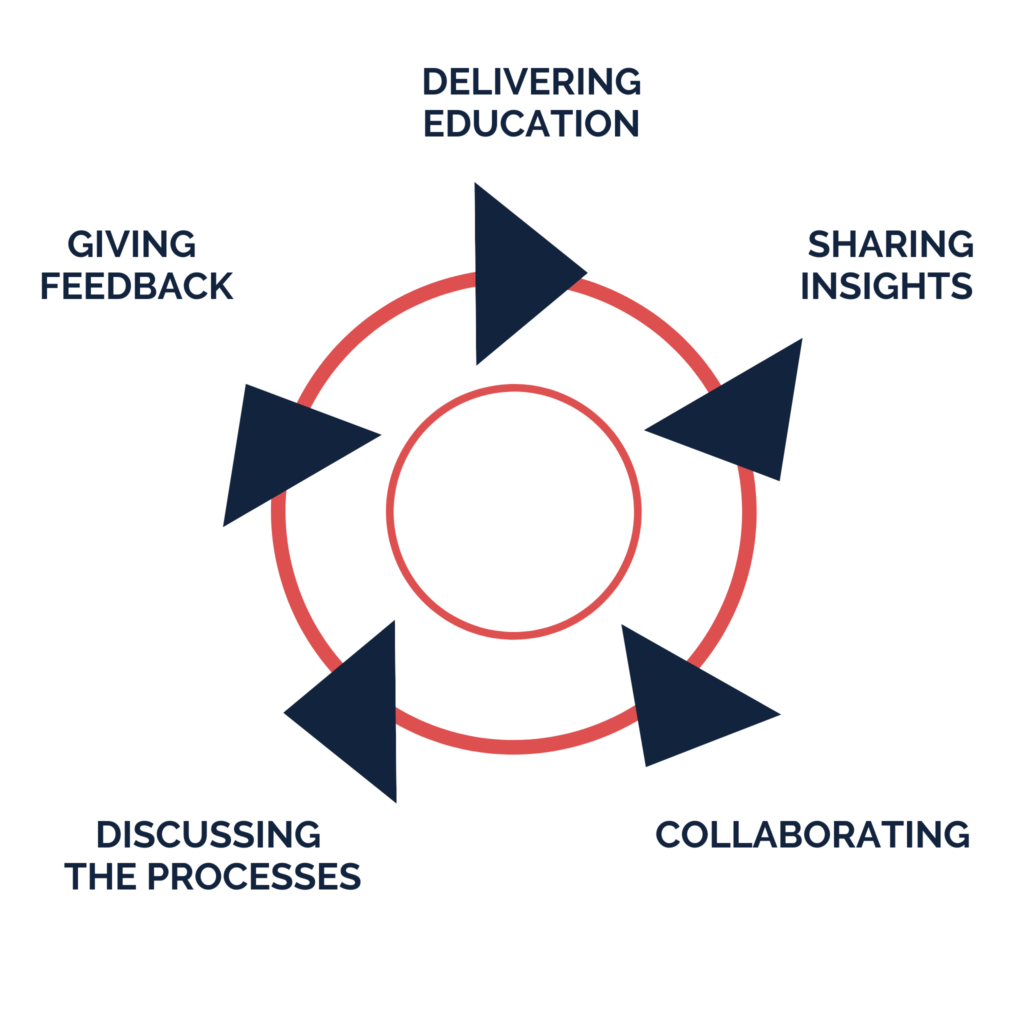 This function forms the ground for an effective social learning platform. As its name denotes, the primary goal of social learning platforms is to empower growth and introduce regular training. Organizations and businesses build their own social e-learning platforms to customize the training process.
Sharing insights and giving feedback
With a social learning platform, users can share their thoughts and give feedback. It allows companies to see whether training and education help their employees boost skills. The more companies know about the effectiveness of training, the better education they can provide to their workers.
Discussing the progress and collaborating
This aspect best explains why social learning platforms are called social. With a social learning platform, users feel their belongingness to a community. They take part in collective discussions, cooperate with each other. In this regard, using social learning systems can enhance employees' soft skills.
Target Audience
More than 30 years ago, the Center for Creative Leadership (CCL) started working on the 70/20/10 Learning Model. The members of CCL have been conducting studies for decades. Check the results of these studies in the chart: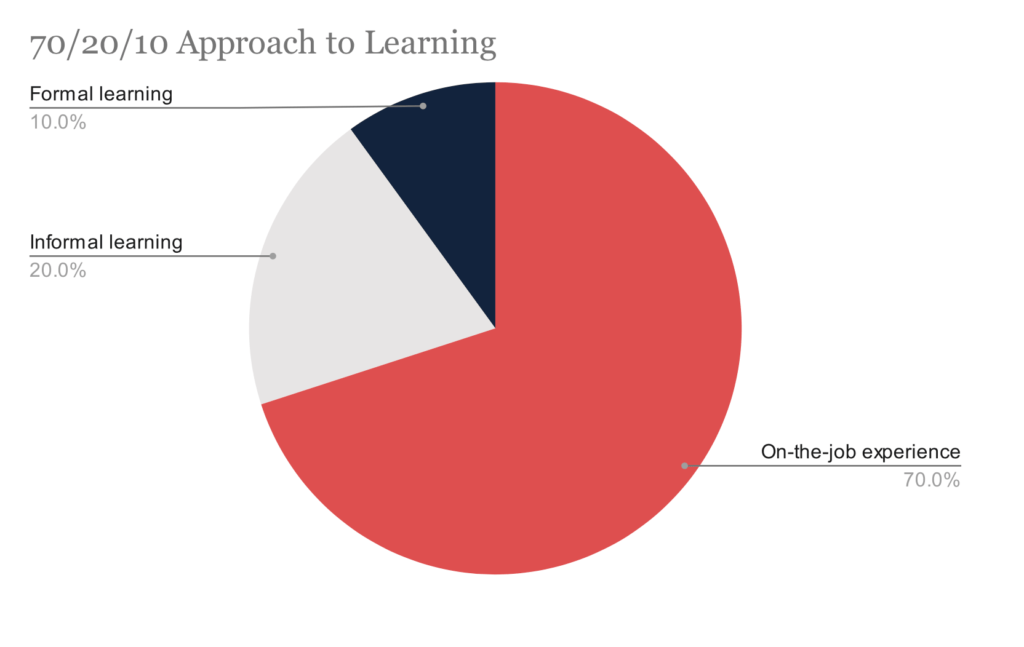 According to the 70/20/10 Model, the process of learning depends on three aspects. The first is formal learning, that is, theoretical knowledge that people acquire from courses, training, etc. People get 10% of the learned information from this aspect. The next aspect is on-the-job experience, the most vital one. As it turns out, on-the-job experience gives people nearly 70% of the knowledge they possess. That's why people frequently say that theory is worth nothing without practice. And the last, no less important aspect in this model is informal learning. Informal learning presupposes learning from others and gives employees nearly 20% of the total knowledge. Learning from others is possible only under social learning conditions.
As you see from this model, social learning plays a vital role in employee self-development. Businesses and organizations can become your target clients if you are going to invest in social learning. They are interested in how to increase their profit, create a friendly work atmosphere, and empower growth. Achieving these goals can be facilitated with a powerful social learning platform.
What Benefits Social Learning Platform Gives
There are plenty of benefits that users get with a social learning platform. Let's review the main ones. With a social learning platform, you can:
Enrolling in an online course is an alternative to studying on a social learning platform. Users just have to put their earphones on and start listening to information and taking notes. However, only a social learning platform allows them to forget about the feeling of isolation. Users' self-growth depends not only on their performance. It also depends on how well they cooperate with their colleagues. Sometimes, social skills matter more than hard skills. Why do learners need them at all? Because 97% of employers report that soft skills play either as vital role as hard skills or even a more important role when hiring.
Make result-driven decisions
When you implement a social learning platform, you take education and training to a new level. Today, we all witness how the attitude towards education is changing. Now, learning is not something that is done just for a tick. Learning is done to ensure employee growth and self-development, increasing profit margins by 24%. Social learning platforms enable employees to share their feedback. It allows companies to stay competitive, set clear goals, and make sure that education helps achieve them.
Social learning platforms allow for learning in natural settings. Human interaction is a part of the natural environment. When people communicate with each other, the emotional aspect is added to all processes. It makes learning more "alive" and effective. IBM states that social learning increases learning retention to 70%. With social learning, employees take a more active role in driving the company's growth. They gain new knowledge, exchange their skills, and make learning a part of their corporate culture.
Investing in Social Learning Platform
Investing in social learning software is a decision that's not suitable for everyone. To clarify if your decision can turn into success, consider both pros and cons. If the potential benefits appeal to your case and if risks do not outweigh, the social learning business is waiting for you!
We invite you to collaborate
Keenethics is an ethical software development company. We value dedication and transparency — so you can feel free to entrust your idea to our professionals. Together with our business analysts, you will decide whether investing in a social learning platform is the best choice for you. In case it is not, we will advise you on other ways to start a profitable online business.
Benefits of Investing in a Social Learning Platform
You offer customized learning
When you choose to move in the direction of custom e-learning, you get the chance to personalize your offer. Codes used to build and integrate social learning tools can be customized according to your goals and needs. You will have to decide what businesses you focus on, and your software partners will advise you on how to make your solution engaging and attractive.
You give space for forming an active learning community
Social learning is all about human interaction. By building social learning software, you form the ground for a powerful learning community. Users will have the opportunity to communicate, share ideas, explore new information, give feedback. It will make the learning experience more pleasant and entertaining. Also, getting feedback from users will allow you to regularly improve your solution.
You ensure diversification
Social learning encourages people with different skills to learn from each other and work together. Employees with strong soft skills learn from colleagues with effective hard skills and vice versa. People with powerful analytical thinking interact with employees with great strategic planning. Companies cannot ignore such an opportunity to make their business stronger. With a social learning platform, they give their employees the chance to have more diverse skills.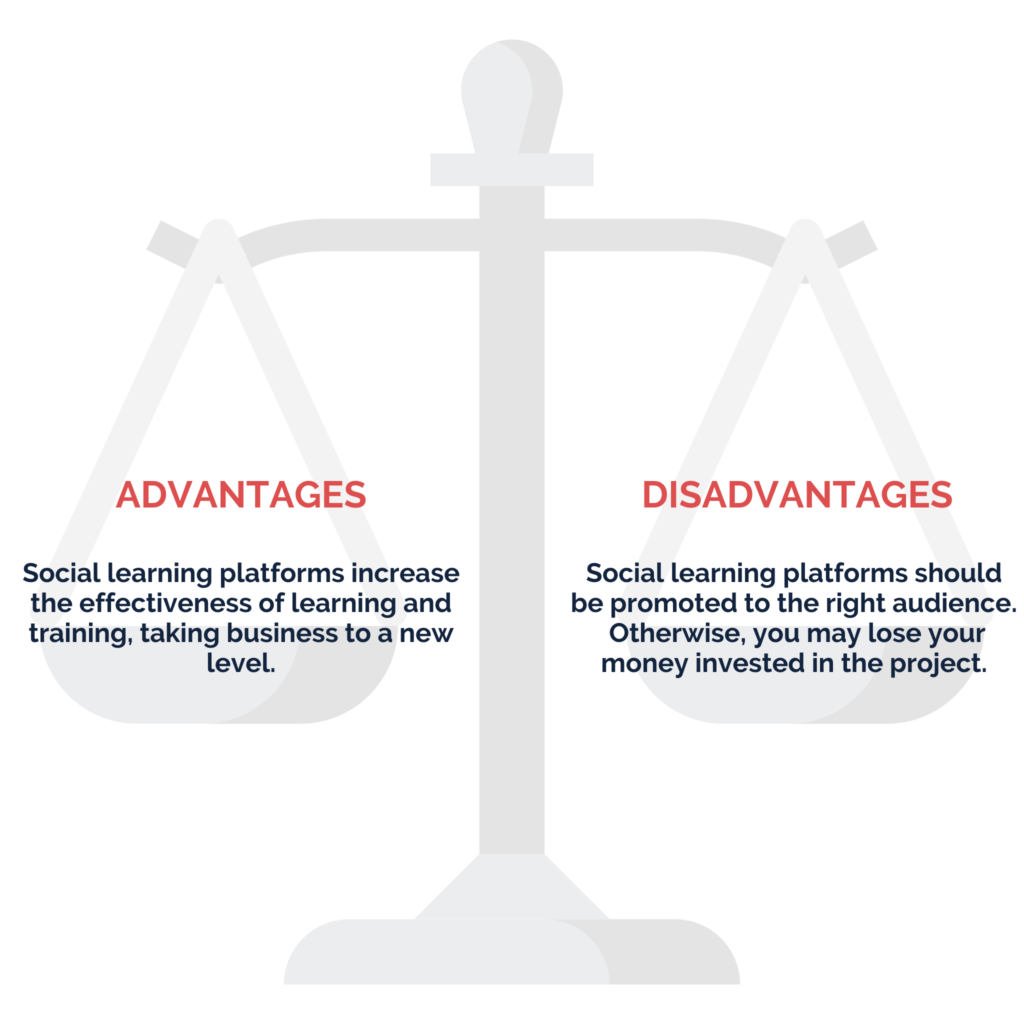 Risks of Investing in a Social Learning Platform
Investing in social learning requires not only time but also effort
Investing in business is always a risky decision. You cannot know for sure what results you will get. Business analysis may help you predict the outcomes. Yet, they will never give you a 100% precise picture. For solving this dilemma, we suggest using the following tactics. Take a sheet of paper and list all the possible scenarios that might happen if you decide to invest your money. List the pros and cons you could get in each scenario. If pros definitely outweigh cons, it's time to get in touch with a tech partner. But don't hurry up, be consistent and goal-oriented.
Be aware of the interdependence
The effectiveness of learning depends on the effectiveness of human interaction. These two metrics are interconnected since social learning says no to separation. You should not offer social learning services to companies with poor work ethics. Also, don't build social learning solutions for companies that neglect the importance of collaborative skills. For them, social learning will be a stressful experience. You should orient your software product on businesses that have managed to develop a healthy corporate culture. For businesses that have not, the better decision will be to work on team-building practices first.
Final Thoughts
As you see, investing in a social learning app or platform is a responsible task. In today's article, we've discussed the risks and benefits of investing in social learning platforms. Although we've outlined all the main aspects, there may be more specific pros and cons that apply to your case. To understand whether investing in social learning software suits your situation, ask your education software development partners to help.
Your edtech partners should consider all risks and benefits before you make such a decision. They have to make sure that the advantages you'll get suit your business context, your goals, and your expectations. On our part, we wish you the best of luck and hope that our article gave you a better understanding of how social learning platforms work. And if you have any questions — we are always glad to provide answers!