How to Build a SaaS Product: Step-by-Step Guide
SaaS products can boost your business. This article reviews how to implement them.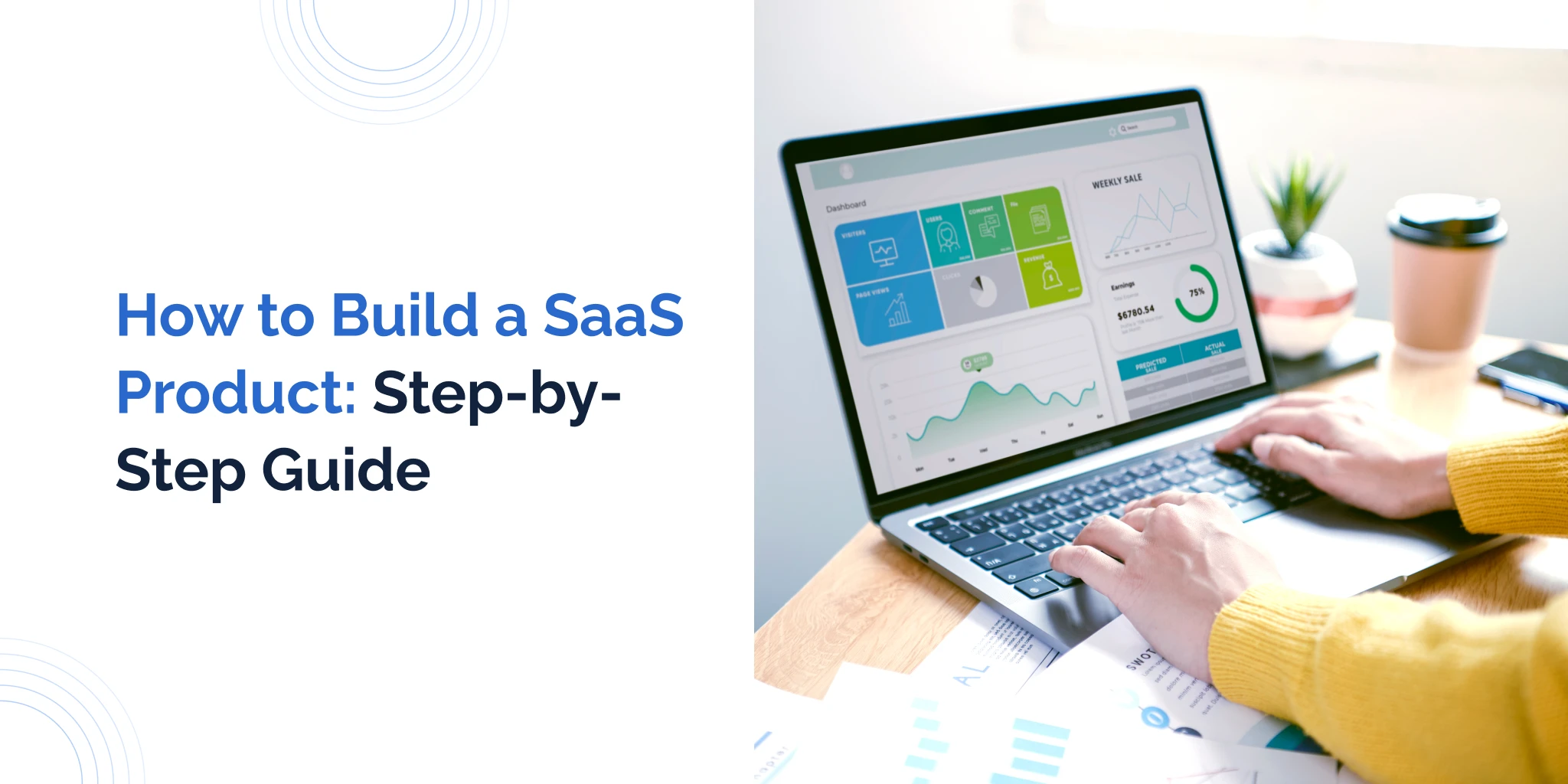 SaaS (software as a service) products are growing in popularity. Two main reasons exist for this tendency. Firstly, the SaaS framework offers an opportunity to monetize a product via subscription. Secondly, it implies constant development, making the model attractive for the users due to the continuous appearance of new features. How to build a SaaS product? In this review, we show you what to do. SaaS product development is worthwhile as it brings major benefits to both clients and the firms that promote it.
What's a SaaS product?
SaaS products are a type of software hosted online by a third party. Users need Internet access to use most of the features in such software. A typical model of distribution for SaaS is subscription-based. Users pay regular fees, and the developers offer continuous updates and maintenance. SaaS product development ends only with the closure of a project. Many SaaS product examples exist in diverging parts of the market. Primarily, it's popular in the entertainment and office sectors, with Netflix and Slack being subscription-based video-on-demand service and an office app, respectively. Microsoft 365 is also a perfect example of an app using a subscription model. This service provides all traditional Office apps via the Internet for a certain monthly fee. Adobe Creative Plan offers various apps, such as Photoshop, via a subscription model. In short, the SaaS framework is behind countless successes in the current markets. Examples of SaaS products involve many products with cultural and productive significance.
An Overview of the SaaS Product Market
The SaaS market is growing rapidly. In this regard, Statista offers interesting insights: in 2015, user spending in the sector amounted to 31 billion dollars; today, it's likely to reach 195 billion. This information means the SaaS market has grown 6.5 times over the preceding eight years. Nothing indicates this growth is about to stop. SaaS product examples show that more and more firms are likely to transition toward the model. Almost all vital work-related products, such as AutoCAD, are available via the subscription framework.
The appearance of new monetization models will likely push even more companies to consider SaaS product design. One can now earn money without subscriptions or via limited use. For example, a product may work via a freemium model, where the users get a free version of an app with advertisements without payments. A full experience remains subscription-based, with ads adding to the revenue streams. Many SaaS videogames also are free-to-play because they offer their users cosmetic (decoration) items for payment.
What Are the Advantages That Make SaaS Products So Popular?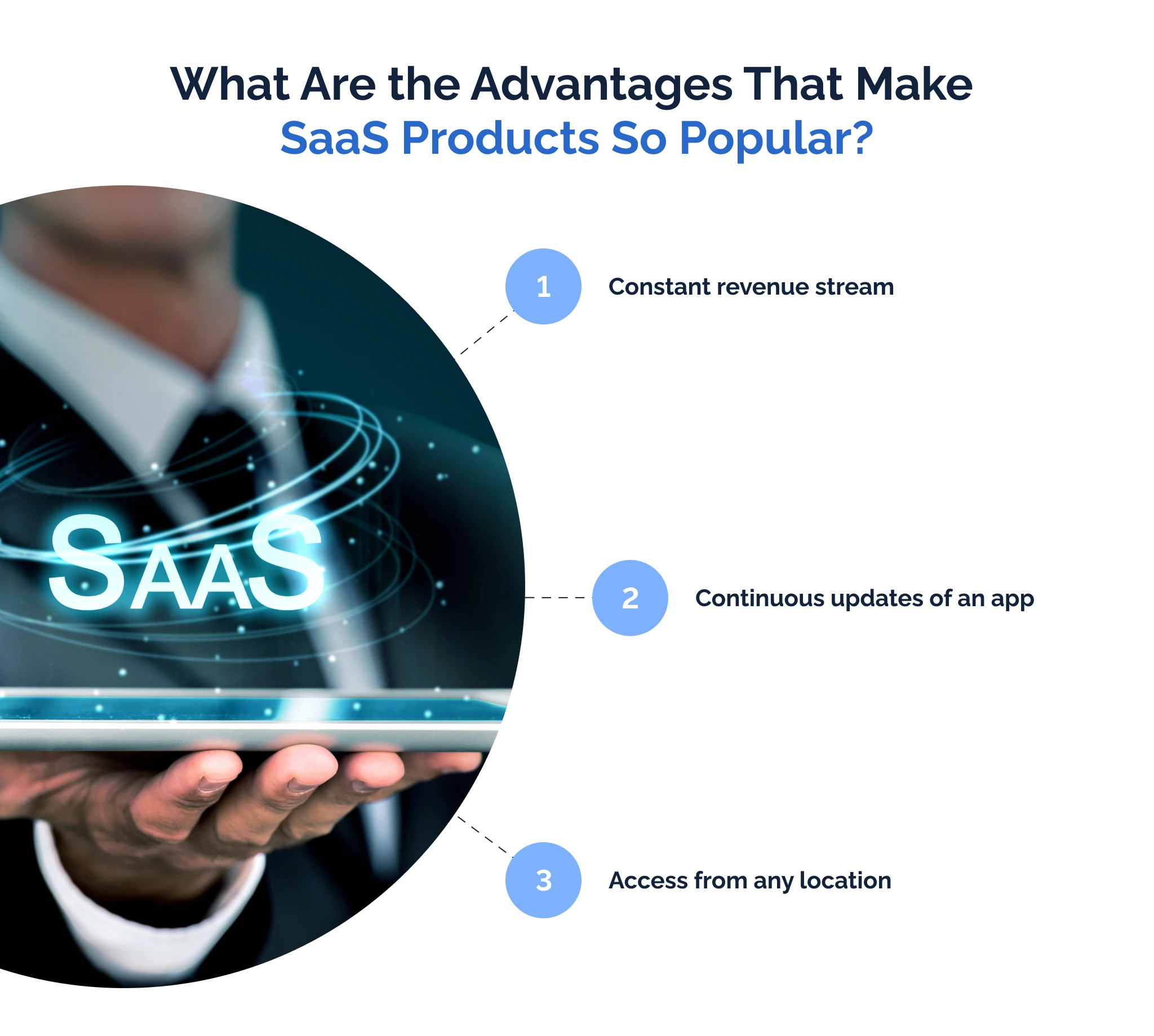 SaaS product development makes sense for a set of reasons. Let's look at them:
1) Constant revenue stream: all users of the SaaS apps pay for the product periodically. This model is lucrative because the average payment over the lifecycle of an app is likely to be higher than in the case of a single-payment framework. Many firms want to know how to build a SaaS product for this reason. Why earn money on a product once if you can do this over many years?
2) Continuous updates of an app: subscription-based apps tend to be more expensive for users than single-payment ones. This is a disadvantage of the SaaS product design because the system can upset the users. In reality, many people agree with such a model. The reason is simple: it offers constant updates. Netflix is popular, for instance, because it provides an unending stream of new shows.
3) Access from any location: all SaaS systems are typically online-based. One can use them on the Internet (Netflix or Office 365) or download the relevant programs from any place (Adobe Creative Cloud). This situation provides tremendous advantages to the users: one can change work locations without losing licenses with such systems.
Exploring the 6 Essential Types of SaaS Products
Several major types of SaaS products exist on the market. Here are the key models one should pay attention to:
eCommerce apps
As the title implies, SaaS eCommerce apps offer their users solutions centered around online commerce. A typical subscription-based app spread via such a model allows the users to create a full-scale store solution for their business. A strong SaaS product example from this category is Shopify: the app allows users to create online stores via a convenient interface.
Industry-specific SaaS
Industry-specific or vertical SaaS exists to cover the specific needs of a particular industry or niche. The idea behind them is to streamline operations and boost efficiency. Typical industries such frameworks serve include hospitality and healthcare.
Collaboration SaaS
Some examples of SaaS products enable multiple users to collaborate on certain projects. They present the ability to modify files together, leave notes for other users, and communicate with colleagues directly via text chat or video/audio. Slack, Microsoft Teams, and Google Workspace are perfect examples of apps enabling at least some of those functions.
Customer relationship management SaaS
CRM SaaS stands for customer relationship management software as a service. The idea behind these tools is to manage customer interactions centrally. A CRM SaaS platform typically includes features such as customer data management, sales automation, marketing automation, lead management, analytics, and reporting. Salesforce and Zoho CRM are examples of software belonging to this group.
SaaS enterprise resource planning software
SaaS enterprise resource planning refers to apps allowing businesses to manage their core processes in a centralized location via the Internet. These frameworks may include inventory, production, and human resources management. A strong example of such a platform is NetSuite. It offers an ERP via the SaaS model.
Billing SaaS tools
Billing SaaS tools enable users to manage the financial processes related to sales. They assist with invoicing, payment processing, and subscription management. These platforms offer a range of features to suit businesses of different sizes and industries and can be customized to meet specific needs. A strong example of a relevant app is Stripe, one of the most popular payment-processing platforms in the world.
Top Trends: Why Create SaaS in 2023?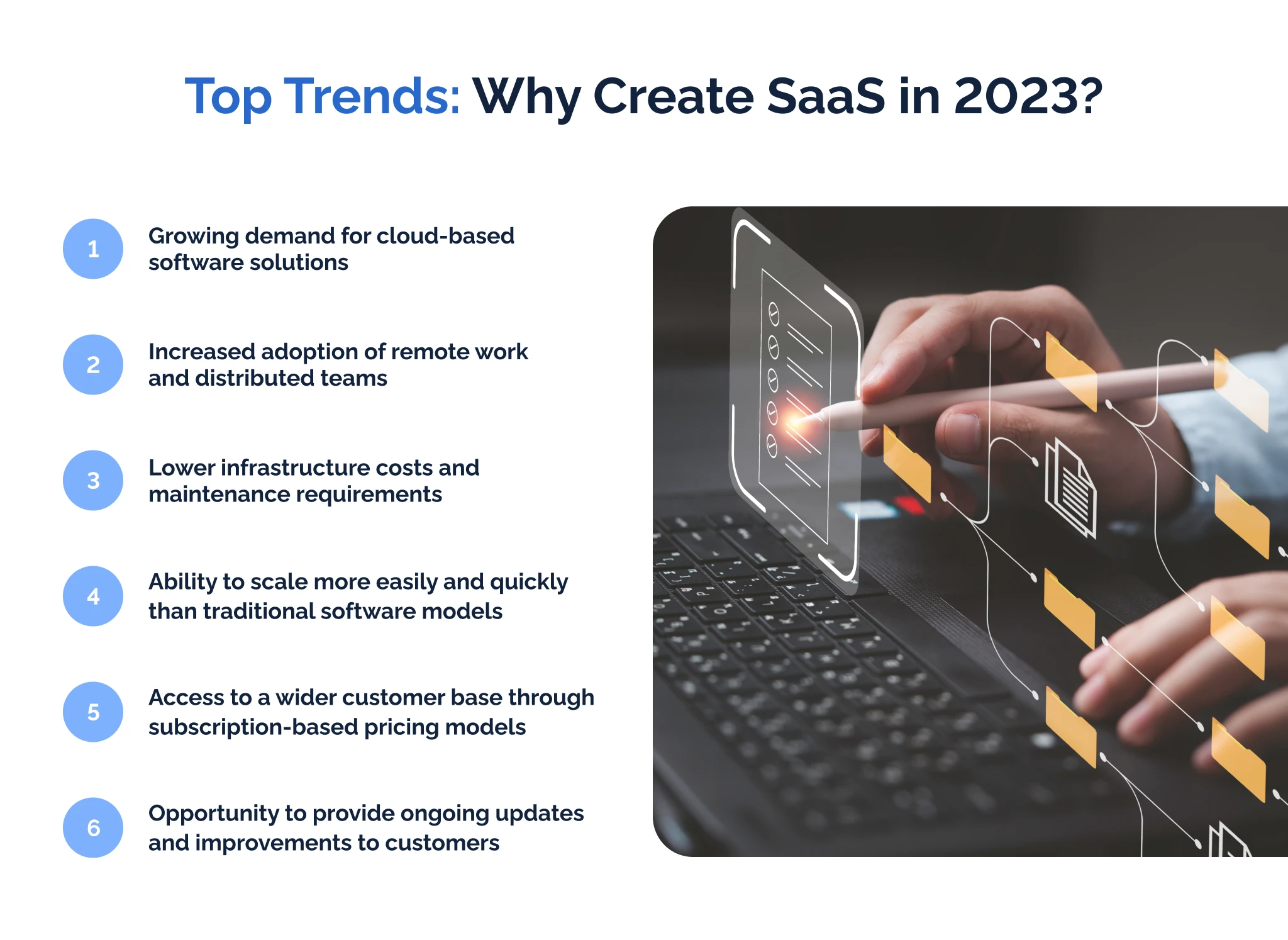 Before we study how to build a SaaS product, it's crucial to answer why one should build it. Here are the key reasons to go for SaaS in 2023:
1) Growing demand for cloud-based software solutions. Many people no longer prefer to use desktop-oriented services. Thomas Alsop at Statista notes that Chromebooks take up 12% of the laptop market. Google specifically created this platform to use web apps and cloud services. Its growing popularity indicates that many people don't need desktop apps anymore.
2) Increased adoption of remote work and distributed teams. How to build a SaaS product that's popular? Let it cover the needs of the users who want to work from home. After the 2020 COVID-19 outbreak, many companies consider transitioning to long-term work-from-home. SaaS product development can cover their needs by offering online-centric collaboration-oriented workspaces.
3) Lower infrastructure costs and maintenance requirements. Online services greatly benefit from the so-called economies of scale. Distributing an app along many computers is inefficient: you lose many interconnection benefits and spend resources on hardware that can run the relevant software. Apps such as Microsoft Office require modern computers to function well. SaaS resolves this problem by outsourcing all calculations to an outside server and allowing the users to work with cheaper hardware.
4) Ability to scale more easily and quickly than traditional software models. This positive is a continuation of the preceding one. One needs to spend major funds on appropriate hardware to spread a non-SaaS version of a program such as AutoCAD in an office. With online apps, it's enough to have an Internet-capable platform to work. This information means an app is easier to scale in such situations.
5) Access to a wider customer base through subscription-based pricing models. Many work-related apps tend to be extremely expensive. Subscription models can make the relevant apps more accessible. Instead of charging, for example, 300 dollars per license, one can ask for 50 dollars per year. This approach benefits all parties by offering short-term savings to the customers and long-term advantages to the SaaS developers. More people may be willing to try out your product in such conditions.
6) Opportunity to provide ongoing updates and improvements to customers. The final positive trend in 2023 is that SaaS product development enables companies to engage in the long-term updates of their app. A traditional app model often involves limited updates. One buys a version of an app that may require a paid upgrade later. SaaS removes this problem by allowing users to get long-term updates for a certain monthly or yearly fee. This information means the clients can save funds, and firms may attract more people to their products.
How to Build a SaaS Product? 8 Essential Steps
It's time to answer how to build a SaaS product. Let's review the key steps you should consider in this process.
Step 1: Analyze your idea
Above all, you must understand if your SaaS product development idea makes sense. Review other products on the market and decide if you cover a niche. A good idea is to also perform market research via surveys.
Step 2: Define the key SaaS feature
SaaS product development requires a clear definition of the features your project will have. You should know what your project is about before you start developing. This approach will prevent chaos during development. A good plan is the basis of success.
Step 3: Define the features of a minimum viable product
It's risky to create release versions of the products from the onset. The SaaS development process is far from being cheap. In this light, you should define the minimal features of your project. Using a so-called minimum viable product, one can test if a certain idea functions at all.
Step 4: Outline the pricing model
Once you understand your SaaS development process, it's time to focus on monetization. In the case of SaaS, you may choose between subscription-based and freemium models, for example. Select the option fitting the wishes and needs of your customers. The surveys mentioned in the first step are a perfect way to find this information.
Step 5: Choose a technology
The choice of technology in SaaS product development defines the capabilities of the project and its system requirements. We recommend web-centric technologies in this case as they're the least demanding regarding user computers. Our company, Keenethics, works with Node.js and ReactJS. If you're interested, don't hesitate to contact us.
Step 6: Choose a strong development team
Another important step for a good project is to have a strong development team. We recommend hiring an outsourcing company for this goal if you don't have internal development teams. We at Keenethics deliver such development services.
Step 7: Select your budget
Once you know how to build a SaaS product, it's time to estimate how much it'll cost. Professionals in the app development market can offer insights into the overall price. For example, you may address us.
Related Services

NODE.JS DEVELOPMENT COMPANY
Step 8: Ensure good workflow organization
Once every step of your project is outlined, it's time to engage in the development processes themselves. Your goal is to establish high-quality communication and good planning. How to build a SaaS product from scratch without major issues? You should organize the process along some potent model. We recommend Agile as it features flexibility and speed.
The Most Successful Examples of SaaS Products
How to build a SaaS product that makes sense? You should consider the real market cases:
Microsoft 365
A comprehensive suite of cloud-based productivity tools, including Word, Excel, PowerPoint, Teams, and other collaboration and productivity tools.
Adobe Creative Cloud
A collection of desktop and mobile apps for creative professionals, including industry-standard software such as Photoshop, Illustrator, InDesign, and Premiere Pro.
Netflix
A popular streaming service providing a wide selection of movies and TV shows, including original content, delivered over the Internet to various devices.
Overcoming Common SaaS Product Development Challenges
Now that we know how to build a SaaS product, it's time to look at the common development challenges:
Challenge #1. Integrating with third-party tools
Many companies use multiple SaaS products. This information means you should consider the ways to integrate third-party tools. Review what products your customers need and offer official support for integration.
Challenge #2. Ensuring data security
What's a SaaS product? It's, above all, an online app. What's the key problem of online apps? They tend to be vulnerable to outside attacks. This phenomenon means you should invest in encryption and anti-DoS capabilities.
Challenge #3. Guaranteeing scalability
The SaaS development process raises high demands for code quality. One of the key advantages of the SaaS frameworks is the constant upgrade cycle. To simplify it and make long-term support possible, you need to use modern technology and impeccable code.
Challenge #4. Offering a positive lifecycle for the clients
When starting a SaaS framework, presenting a beneficial lifecycle for the clients is crucial. If your subscription costs more in the long-term than stand-alone alternatives, you'll lose the clients to competitors. You must deliver a beneficial pricing model to achieve loyalty.
Challenge #5. Preventing feature creep and maintaining consistency
SaaS product development leads companies into a trap of feature creep. An app may become too complicated and lose consistency. It's fine to add new features, but your user experience must still focus on the main selling points of the app.
Key Mistakes to Avoid When Developing a SaaS Product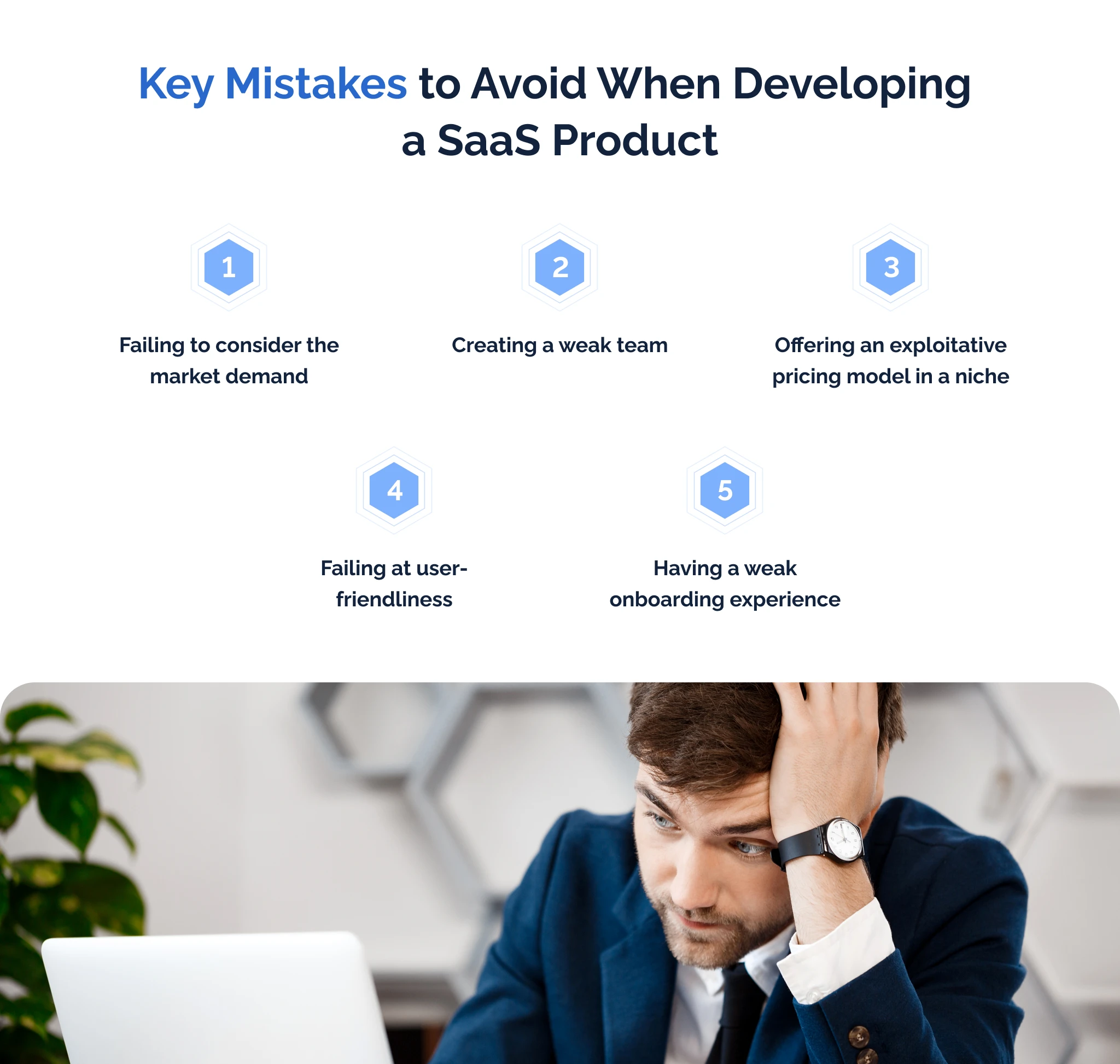 SaaS product development isn't an easy process. Many companies make major mistakes while developing such software. What are those? Let's look at the following:
Failing to consider the market demand
Some products appear for the sake of appearing. Their developers have some plan in mind and desperately want to realize it in real life. What's the problem? This product seems necessary only to the leader and developers of the project. Upon release, potential customers ignore it. To avoid this problem, perform a market review through interviews and surveys.
Creating a weak team
What's a SaaS product? It's a piece of software requiring constant updates. To deliver a high-quality product in such conditions, one needs to focus on creating a team that can deliver a strong basis. Many firms don't hire relevant professionals and ultimately encounter major problems with updates in the long-term scenario. Besides, the team must also be consistent: turnover and burnout disrupt the development process.
Offering an exploitative pricing model in a niche
SaaS product development involves many solutions controlling the central process in businesses. Some companies use aggressive pricing models, knowing their users may have no alternative. This approach is a mistake because a demand for less exploitative models would arise. The appearance of disruptive competitors becomes inevitable in such conditions. Customer loyalty is the key to long-term success.
Failing at user-friendliness
What's a SaaS product from the perspective of the users? It's an app accompanying a significant portion of their lives. Long-term dislike for your company is guaranteed if it's uncomfortable for the users. Many businesses themselves create negative rumors regarding their attitude to user experience. Such a loss of reputation is a path to long-term failure.
Having a weak onboarding experience
A significant obstacle for many companies is onboarding. How to build a SaaS product that's successful? It has to feature a strong first impression. When the users start working with your app, they should immediately feel they're using a superior solution. You may have a great app, but customers will ignore your project if the first impression it creates is confusion.
Best Tips For Creating A SaaS Product
Now that we know the things to avoid while building a SaaS project, it's time to look at some of the best tips for creating a strong product:
Centralize your operations
SaaS product development requires a well-defined strategy. Without it, there's a risk of disruptive updates, for example. A central team should always make all core decisions regarding your product. Its vision can be imperfect, but it nonetheless would be a vision.
Use no-code/low-code platforms
Modern technologies enable the creation of apps without the use of code. Platforms such as Bubble.io allow non-specialists to develop interfaces and even whole features. We recommend using this technology to expand your team's creativity and test some innovations at a low cost. A no-code implementation may be imperfect, but it'll show your coding specialists how to build a SaaS product so that it fits everyone's needs.
Strive to use microservices
What's a SaaS product from the standpoint of scope? It's a large app with countless modules and functions. This aspect makes it perfect for a microservice model. Make your subscription model module-based. Allow the users to choose only those features that they need. This approach will save money for the clients and allow you to understand what features are central to your product. Adobe Creative Cloud uses this model currently.
Start with an MVP
When starting a project, always focus on the minimum viable product. It's dangerous to launch a whole product first. There's a risk of spending too much funds on an inefficient idea. Test the central features and only then launch.
Focus on security
How to build a SaaS product with an impeccable reputation? Apart from creating a good interface, you should also focus on the safety of the user data. SaaS platforms involve the most important work processes for many companies. In this light, a leak of information from such a system can devastate the users. The more you focus on security, the better. Regarding this topic, no excessive measures exist.
Related Services

CLOUD APP DEVELOPMENT
SaaS Product Development Cost
We can't tell the exact cost of the SaaS product development. Everything depends on the scope of the project you have in mind. Another vital aspect is the coding price in different countries. In the case of Keenethics, we offer development costs between 25 and 50 dollars per developer's work hour. Are you interested in an estimate of your project cost? Then, don't hesitate to visit our site!
What Can Affect SaaS Development Cost
SaaS development costs are under the influence of multiple factors. Here are some of them:
Product scope
The principle is simple: the larger your product is, the higher the development cost. Small products are affordable for small businesses; large ones can cost millions of dollars and be affordable only for tech giants.
Team scope
The larger the team, the more costly the product. This factor correlates with product scope and complexity: large and complex projects also need bigger teams, increasing development costs.
Project complexity
Some features may be difficult to implement in SaaS product development. This information means even a small project with complex features may be expensive. Always consider how realistic your functions list is.
Choice of technology
A big aspect of development is also the technology itself. Some frameworks are more expensive than others. How to build a SaaS product with a modern and cheap platform? Try out Node.js and ReactJS. We at Keenethics are experts concerning those frameworks, so you can address us regarding development.
Integration capabilities
Sometimes, a product needs to integrate well into other frameworks. Integration capabilities (for instance, support for various formats) are among the things one should always consider while calculating development costs.
Development model selection
How you develop a project is also a vital issue. Many models exist on the market: for example, most companies use Agile. Still, one can use Waterfall in some situations too. This choice defines how long it takes to build a SaaS product and its average cost.
How To Choose The Right SaaS Product Development Company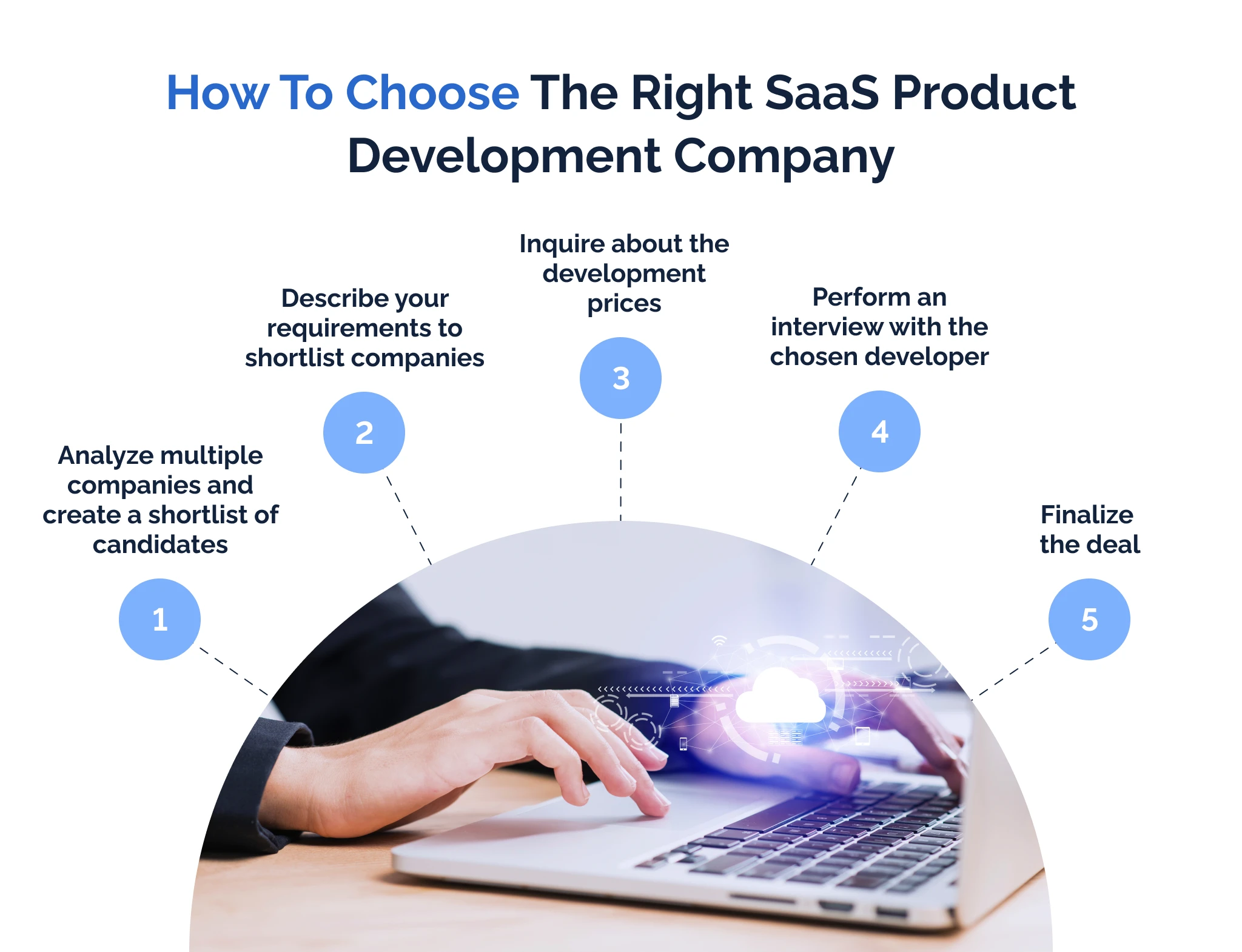 How to build a SaaS product if your company doesn't have expertise? You should focus on an outsourcing business that can help you develop a high-quality product. Here's a guideline for choosing the right partner:
Step 1: Analyze multiple companies and create a shortlist of candidates
The first step you should do is analyze several companies on the market. Based on this analysis, one must select several best candidates. They deserve a more thorough review.
Step 2: Describe your requirements to shortlist companies
Once you know your requirements, describing them to the experts in shortlisted companies is crucial. This approach will act as a sanity check for your project. Diverse opinions can help with understanding if a certain project is rational or not.
Step 3: Inquire about the development prices
When your project receives approval from the firms, learn what they can deliver regarding prices. One should remember: lower price doesn't necessarily mean better service. Instead, you must look at the experience and the overall offerings of the potential partner.
Step 4: Perform an interview with the chosen developer
Upon finding the best choice for your business, it's time to perform a final analysis of the chosen developer. You should interview them about all the questions you find crucial. The more information you get during this stage, the better. We recommend removing all doubts about the SaaS development process.
Step 5: Finalize the deal
If the answers and research satisfy you, it's time to begin cooperation. All you have to do is resolve all remaining problems and sign an agreement.
KeenEthics` Experience in SaaS Product Development
Keenethics has major experience in SaaS product development. In our portfolio, multiple products working via this model are present. We're especially proud of Paystub, GetPart, and Cordian. If you're interested in other projects from our portfolio, feel free to review them here. In case you want to start developing something with the help of our company, you can also sign up for a free estimate of your project.
Conclusion
Creating a SaaS project is a complex process with many variables. We hope this article has clarified the questions you have regarding the topic. Ultimately, we recommend investments in this sector because it's growing at an overwhelming rate.
Common Questions About SaaS Product Development
What's necessary to launch a SaaS product?
A viable product idea, market research, development team, funding, and a launch plan are necessary to start SaaS product development.
What design elements are crucial for a SaaS product?
Consistent branding, clear navigation, intuitive UI, responsive design, and accessible content are crucial design elements for a SaaS product.
What's a product cycle for SaaS?
The product cycle for SaaS includes idea generation, market research, development, launch, scaling, and ongoing updates and improvements.
What platform should I use for SaaS development?
Everything depends on your needs. Considering that SaaS is web-based, we recommend online-centric platforms such as Node.js.
How to approach product upgrades in SaaS?
Approach product upgrades in SaaS by identifying user needs, prioritizing feature requests, testing, and communicating changes to users.
What's the average development time?
We don't know how long it takes to build a SaaS product. Everything depends on the scope of the relevant tasks.
How to make a superb SaaS product?
To make a superb SaaS product, prioritize delivering a great user experience, gather and incorporate user feedback, continually improve the product, and provide value to your users.
SaaS is a perfect business opportunity.
Our company helps with developing for this sector. Are you interested? Then, don't hesitate to contact us!