HIPAA Compliant CRM for Healthcare: Key Features and Examples
No healthcare institution can function without a reliable HIPAA-compliant CRM. It's critical to protect the confidential data of the patients and the flow of medical information. HIPAA compliance software can help, and we'll explore how.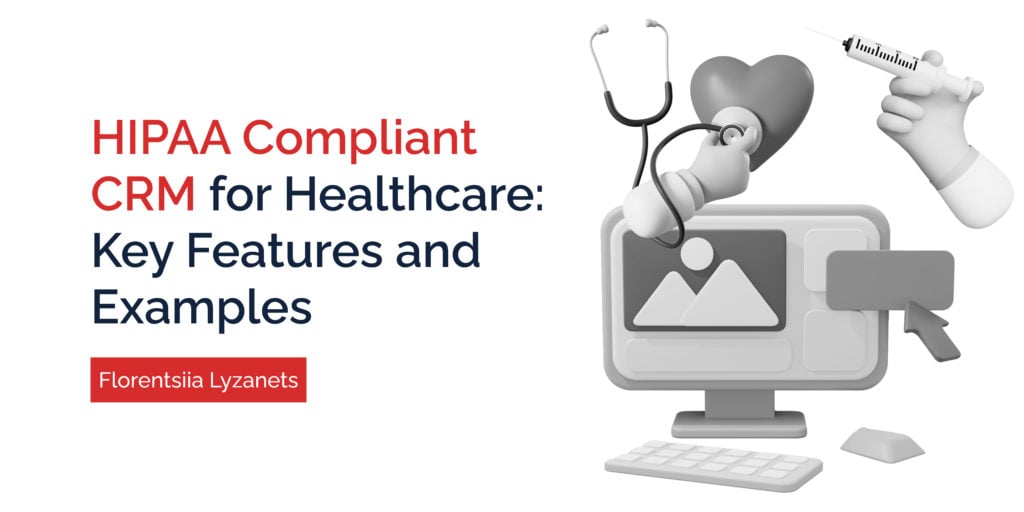 You'll get insight into why HIPAA is important, who and when needs these regulations, what essential features to implement, the benefits of custom and ready-made CRM, and other questions. Stay tuned; you're going to get interesting info.
What Is HIPAA?
HIPAA stands for the Health Insurance Portability and Accountability Act. The main reason Congress established it in 1996 was to improve the efficiency of the US healthcare system. What is leading in HIPAA compliance? HIPAA is a tool including best practices for maintaining data privacy and integrity and new regulations addressing data for different scenarios.
The rules of HIPAA define requirements to control all protected electronic healthcare information (PHI). PHI is personal information used to identify common patient data:
patient photo;
name;
date of birth;
social security number;
phone number;
biometric elements;
serial and digital identities, and others.
Technical safeguards like audits, tests, encryption controls, and appropriate secure access help to control PHI.
But that's not all. Healthcare institutions should ensure that their security program and software controls follow HIPAA compliance requirements. Otherwise, some healthcare frauds and abuses make the reputation and expertise of the providers call into question. The institution following the HIPAA can efficiently process, store, and share protected healthcare information (PHI) without getting civil or criminal liability.
Why Is HIPAA Compliance Important?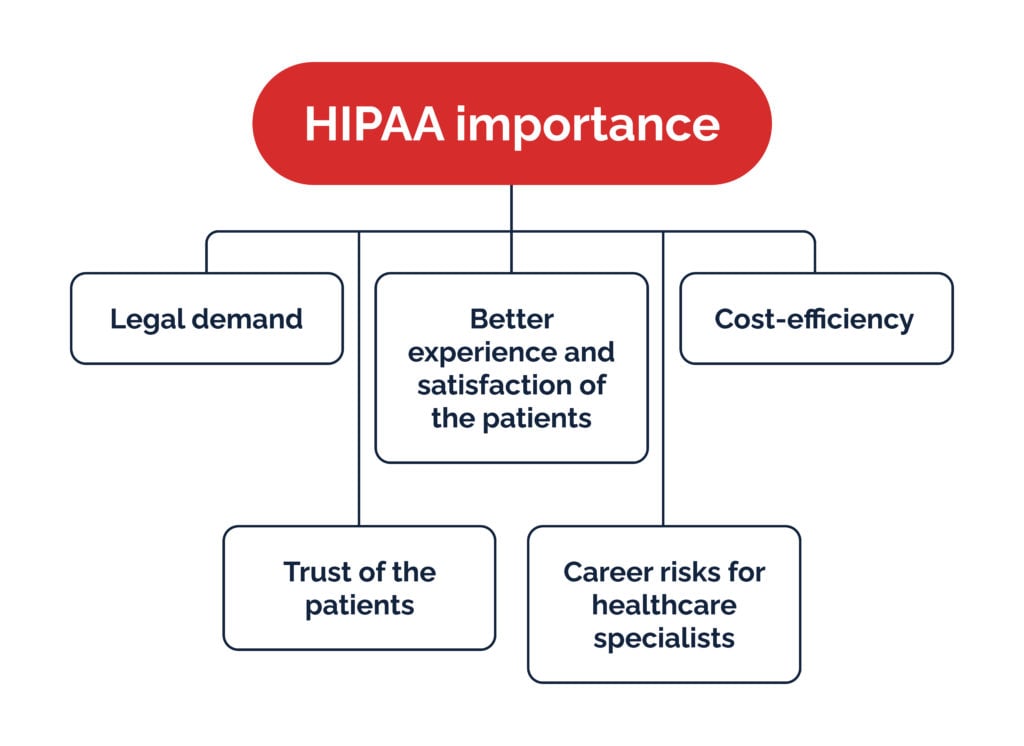 HIPAA compliance CRM is essential, no doubt.
Non-compliance with the law is the first of many "whys." Following a legal requirement isn't an option but a must. Otherwise, the outcome is heavy fines, license suspension, and a full-proof action plan to solve the situation through HIPAA. Without HIPAA, patients' data is misused for purposes.
Better experience and satisfaction of the patients
Compared to state institutions, private ones have greater demand for quality medicine. If your service doesn't match the patient's expectations, they have a vast choice to opt for private healthcare. Medical CRM, following the HIPAA compliance software checklist, brings many profits, including streamlined and efficient service to engage more satisfied patients.
HIPAA allows saving costs and not only on penalties. With HIPAA-compliant CRM software, you don't need to use several CRMs. Instead, you can manage patient data, improve patient engagement and retention rates, and offer varied services following prescribed security rules. With HIPAA-compliant CRM, you streamline your healthcare services and increase efficiency through modern technologies.
Effective integration of HIPAA CRM creates a proof environment protecting patients' rights and data through best practices. Since patients share private info with providers, they should be sure no one access any data.
Career risks for healthcare specialists
Healthcare organizations have sanction policies making patients follow the rules. If specialists even unintentionally violate HIPAA, employers should sanction them. Most policies depend on the degree of violation and neglect of healthcare professionals.
When Do You Need HIPAA-Compliant CRM Software?
Above, we've mentioned the importance of HIPAA CRM in healthcare. To avoid duplicating the response, I'd like to provide use cases for who and when may need HIPAA. I'm sure you'll find yourself in a specific category.
The use cases are endless since they depend on your healthcare role, if you're a business owner, healthcare organization, lawyer, patient, or software developer. Another dependence is your goal and vision – the result you want to see. Finally, the audience your project focuses on.
Well, let me not confuse you. I'll provide the general use cases suitable for all parties mentioned above, and if you're interested to learn more, send us your request, and we'll respond.
Who and when need HIPAA-compliant CRM software?
Covered entities and business associates are those who need to be HIPAA-compliant.
Covered entities are responsible for creating protected healthcare information (PHI) and should comply with the full extent of HIPAA regulation. Not only doctors, nurses, clinics, and pharmacies refer to the covered entities. HIPAA regulation defines a covered entity as healthcare insurance companies, health plans, and health authorities. Organizations like healthcare clearinghouses and billing services also refer to covered entities sharing the PHI with society and the entities mentioned earlier.
A business associate is any organization hired by the covered entity or other business associates. They encounter PHI in their work. This category includes MSPs, EHR providers, medical billing services, cloud storage providers, attorneys, and shredding services. Other organizations are email services, IT consultants, software developers, accounting firms, and others. The business associates category is too broad to include everyone and accurately define.
When do they need HIPAA-compliant CRM software?
The following objectives are
management of the patients-specialist relationship;
management of medical data;
reputation management of healthcare organization;
patient engagement;
payments management;
appointment management.
Top HIPAA CRM for Healthcare Features
No product is complete without well-described features. But I suggest making a checklist of all the features you'd like to see in your CRM, sharing it with the development team, and marking which are relevant and possible to implement.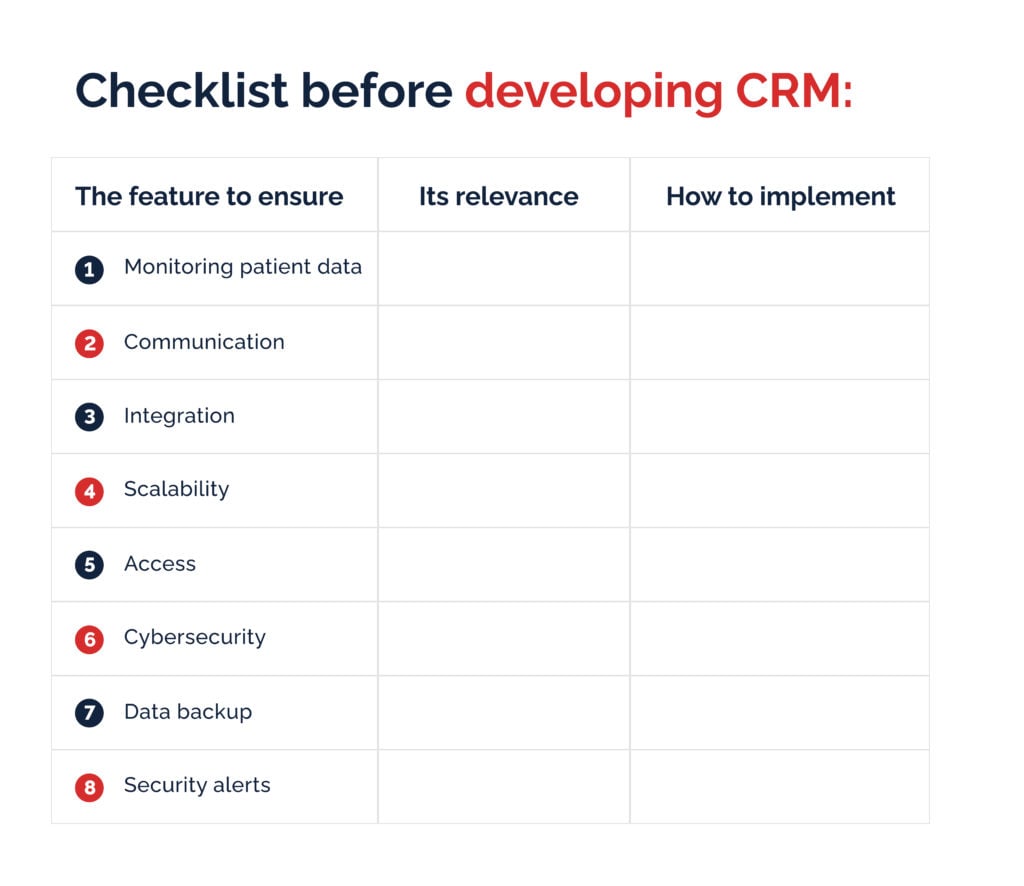 If you haven't decided which of them you want to include in your list, we'll provide you with a selection. The features depend primarily on your budget and functionality, so it's best to address a web development company offering you the most suitable choice for your business.
№1 Monitoring patient data
This feature goes without saying, but how effectively to ensure it's another question. Imagine if your patient comes to a checkup after a year or more. Without a CRM app, you may not find their medical records at once. You'll likely ask other employees to help you with that, and this is at best. What your reputation as a specialist and entire healthcare organization will be?
For this reason, with a good HIPAA CRM, you should track patients' medical records, history, PHI, and referrals in one location. You don't need to find data among numerous papers. It saves your efforts on more critical tasks.
№2 Communication
Non-disclosure of information is vital for maintaining reliable communication in a healthcare organization. Following HIPAA rules makes it secure between all parties.
№3 Integration
It's beneficial when integration is minimal, fast, and seamless. We suggest selecting HIPAA CRM, enabling you to integrate with other third-party apps and tools. This feature allows you to manage workflow better and boost the efficiency of healthcare CRM processes.
№4 Scalability
Since business demands are constantly changing and modernizing, select HIPAA CRM that is easy to scale. Scalability is one of many crucial features guaranteeing the long-lasting use of CRM. One feature gives nothing, but their mix brings a positive result.
№5 Access
A good HIPAA-compliant CRM should provide access to all employees, no matter if they're doctors or receptionists. HIPAA ensures every employee of different roles access the data but with some restrictions. For instance, receptionists need to access only primary identifying data, while nurses and specialists should access all the required medical records.
№6 Cybersecurity
CRM isn't human but a program. This way, a specialist is the one articulating the strengths and weaknesses of the CRM when needed. The knowledge of one or more specialists in CRM will demonstrate the way the company follows HIPAA rules and policies.
№7 Data backup
Data loss leads to severe cybersecurity breaches. A HIPAA-compliant CRM is a good solution, regularly creating a backup of your data in more than one location.
№8 Security alerts
When data loss and cybersecurity issues arise, HIPAA-compliant CRM alerts instantly. How the organization handles sensitive and lifesaving information depends on the rapid response. In a CRM under HIPAA, consider critical points like data verification, reliable and limited access, backup, references, and additional features lowering cybersecurity issues.
Custom HIPAA Compliant for Healthcare Vs. Ready-to-Use CRM
No matter the choice, it should be balanced. I'll provide the arguments for both options, and your task is to decide.
Some claim the best CRM for healthcare is a custom product oriented on business needs. Is this true?
Custom HIPAA-compliant CRM
The first point is – reinventing the wheel is unnecessary unless you know the project is selling. Answer: What is the way your project is better than those of competitors? What are the distinctive features? I suggest listing up to 5 reasons to develop a custom CRM for healthcare. The questions are endless, but the gist is here.
The second point – if everyone uses only the existing CRMs available on the market, what is the profit? The market would stop in its advancement. So, if you see the potential of your project idea, this is only welcome in a modern environment.
What are the benefits of custom CRM for software?
The relationship with active customers
Since you know your customers, their preferences, and their habits, custom CRM software can be helpful. Moreover, if you consider their feedback concerning the product, it'll raise their loyalty.
Integration of the marketing and sales teams
If you're the company's CEO, marketing and sales integration will bring you profits. Since they have access to customer data, you can customize the software by creating communications up to their interests.
A chance to boost the credibility
HIPAA is your chance to show your care about data protection, security, and reliability of confidential information. It's a value both for employees and customers. This way, HIPAA-compliance software can make your clients recommend your product to their circle.
Ready-to-use CRM for healthcare
If your requirements are those you can meet in an existing CRM, what is the reason for not using it? Well, investing in the competitor? There is logic, but if you find more arguments on why not choose the existing one, it'll help you understand if you're right.
You have an issue, and someone offers you a developed solution – use it. You'll only benefit – without waste of time, costs, and sleepless nights.
What are the benefits of pre-built CRM software?
Hiring
Hiring a qualified team isn't easy. It would be best to ensure team expertise in developing the product. With existing software, you don't need to worry about this step. Hiring a team, paying hours, spend time on communication saves you time.
CRM cost
The starting cost of project development is a more expensive investment than ready-made software. Firstly, the price depends on the complexity, man-hours, their level, location, CRM functionality, and many more dependencies. Secondly, it's not only about costs but time. Project development takes months to be deployed.
Peace of mind
It sounds banal, but not.
The project development involves the following responsibilities:
analysis of the market;
creating project vision;
hiring a team;
discussing the project from development to deployment;
regular updates;
fixing bugs;
support and maintenance.
When you use the existing platform, you're confident of the safety and security since everything is updated automatically.
Well, where do we go from here?
On the one hand, a custom healthcare CRM minimizes unnecessary module expenses. On the other hand, considering many CRMs on the market, it's hard to believe you won't find the appropriate one for yourself. Both decisions are excellent.
If you were born a leader and a person with a vision to create a winning product for society, a custom CRM is waiting for you. Listen to your heart, count your power/resources wisely, and think twice.
If you're in doubt, I suggest two solutions. The first is to address the company to dispel your doubts and encourage you to act appropriately. The second is to research the market, compare the CRMs with different functionalities, and select the one that got into your mind.
It's your turn, now and tomorrow. Don't procrastinate on your project idea.
Top 5 HIPAA-Compliant CRMs for Healthcare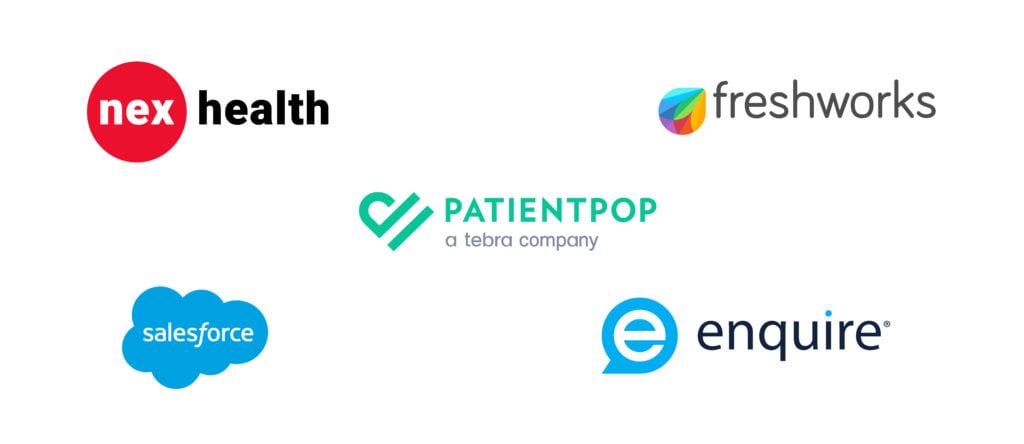 The list of best HIPAA-compliant CRMs gives you an insight into the functionality. You can compare the peculiarities of software solutions and make a checklist of your ideas.
NexHealth is a CRM designed for healthcare specialists. It's an industry-specific platform allowing staff to focus on patient communications and interactions. With NexHealth, they get convenient online scheduling to manage their time-consuming tasks. A click from a smartphone saves time on visiting the hospital. CRM sends notifications on appointments and other offers of patients' interest. NexHealth fully charges all processes for getting patients to the hospital, including gathering information before the appointment and distance check-in leading to reduced no-shows. Setup, functionalities, and navigation are easy to use.
However, there are two slight downsides to the platform:
The first is no transparent pricing. Alternatively, you can use a free trial of 30 days before investing in this CRM. It helps you understand the features, platform performance, and relevancy for you.
The second is limited integration options. This way, if you need CRM with multiple integration partners, it's better to consider another CRM with functionality suitable for you.
PatientPop is a healthcare practice technology and support platform offering numerous features for a healthcare organization, ranging from appointment management and tracking, activity dashboard, engagement tracking, EMR/EHR, reminders, and marketing automation. Like NexHealth, it also provides 24/7 easy scheduling to the right specialist. You benefit from the new telehealth capabilities of this CRM. Sure, it's not new today, but not all platforms use it in practice. There is no need to travel to a doctor or waste time in queues. HIPAA-compliant CRM helps consult socialists through video connection and get a prescription based on patient records. The online waiting room is beneficial, allowing patients to see the entire queue and who's next. Such an opportunity simplifies the interaction between all parties.
Three disadvantages have a place to be:
The first one is similar to the one of Nexhealth. Integrating this CRM with your tools is challenging because PatientPop lacks reliable integration options. But if you like this CRM, you can also use it separately efficiently.
The second disadvantage is limited customization. You'll likely have to use most functions and layouts by default.
The CRM has neither transparent pricing nor a free trial. But if you like the usability and see CRM is a winning tool, address the sales team.
With PatientPop, you get the following:
a whole stack of functionalities for workflow speeding your tasks;
unique features like SEO checklist and website design tools;
a straightforward collection of data during patients registration;
notifications for patients;
automation of some processes, including payments and patient journey;
regular patient surveys enhance the reputation of the company.
Enquire is a niche CRM for healthcare organizations delivering their services to older people. It combines communication tools like live chat and a call center, enabling residents to address healthcare staff. Customers collect data to form their view of everyone and systematically shape their tasks. Such data allows customers to set better their marketing campaigns, measure campaign results, and record responses from landing pages. The feature differentiating Enquire from NexHealth and PatientPop is no built-in payments processing tool. Also, customer support has limitations, available only at particular hours. This CRM works best for hospice, home care, and senior living businesses. As for a drawback, as with the CRMs mentioned above, Enquire doesn't give transparent pricing unless you contact their sales to learn about pricing plans.
Salesforce Health Cloud is software for healthcare, medical services, and life sciences. It allows users to maintain improved and personalized engagement via the robust security of the cloud and the latest technologies. The CRM incorporates a list of care teams allowing caregivers to interact. Only an internet-capable device and all parties connect with care teams, including nurses, care coordinators, and patients. The benefit lies in permissions. They help always control data confidentiality and protect it from third parties. Workflow automation, business analytics, customization, and lead management make the CRM advanced in terms of its features.
With Salesforce, you benefit from streamlined workflow and necessary follow-ups from triggers. Although the solution isn't cheap, you get the essential features to streamline your assignments in one location. Compared with NexHealth, PatientPop, and Enquire, the functionality of Salesforce isn't straightforward to set up or use. It takes time to understand the functionality and learn the navigation. The platform is expensive, and even low-tier plans are costly. However, you can use a free trial of 30 days and decide if it matches your requirements. The cost is clear enough. The CRM provides unlimited third-party and native integration options. The pricing of Salesforce plans is transparent.
There are two:
The enterprise plan costs $300 monthly for a user.
The unlimited plan starts at $450 monthly per user
Freshworks follows strict compliance with all data security laws by default. Investing in this CRM gives you campaign analytics and insights, unified customer records and communication channels, and notifications and events. With Freshworks, you can combine your billing, schedule appointments, manage data, and other operations.
The CRM is beneficial – it's full-fledged, offering a broad suite of HIPAA CRM tools: Freshworks CRM, Freshdesk, Freshchat, Freshcaller, Freshservice, and Freshteam. Freshworks provides an individual price for plans of specific tiers:
Freshworks CRM helps engage new leads and retain existing customers and sales;
Freshdesk is a platform with a knowledge base designed for customer service teams;
Freshchat is a messaging tool for enhancing customer engagement;
Freshcaller is a tool streamlining the call process between the customer and other parties;
Freshservice is automation software for maintaining internal operations and managing complex tech stacks;
Freshteam is an HR team helping recruiters hire top talents.
The pricing is transparent. If you're interested, it's better to visit the site. The cost is written for different tiers of plans, and you'll get all the needed details.
HIPAA Compliance Software Checklist
You should note that HIPAA compliance software doesn't guarantee compliance as it is. Only covered entities and business associates are responsible for that software complying with HIPAA.

So this HIPAA compliance checklist for software development will definitely help you.
Risk assessment
Before developing a healthcare CRM, it's time to assess the level of compliance followed by your organization and measure risks, policies, and infrastructure to define gaps in HIPAA compliance. You can incorporate specific guidelines and functionalities in CRM. But first, consider data management policies, security practices, employee training, and what PHI is collected, stored, and sent.
Storage and minimization of data
A large amount of data is sometimes excessive. The data containing PHI should be hosted on-premise or remotely. If there is no need to collect PHI, you shouldn't. So try to gather only the necessary data because data security is built around minimizing information.
Activity audit
How to reduce the probability of the scenario of someone misusing the records? The right solution is to provide a different level of access for employees of different roles. Moreover, access to data should be monitored and recorded, defining corresponding timestamps and user identifiers.
Data access control
Access control is one of the first steps to data security. Instead of traditional login and password, you need to employ other security measures. Firstly, using different identifiers for covered entities and business associates is most reasonable. Implementing emergency access possibilities will allow you not to lose data. Multi-tier access policy, automatic session logoff, and ensuring encryption standard support are all critical to prevent a data breach notification. Another essential step is to encrypt data when it's stored (including backup in the cloud) and when the data is shared with decryption tools.
Anti-tampering mechanism
With an anti-tampering mechanism, you see who and when accesses the data to detect any tampering on time. Then, you can revert the data to an original uncorrupted state with minimal or no losses. To prevent similar scenarios in future practice, integrating digital signatures for all the data will make the process transparent and easily monitored.
In Conclusion
Sure, HIPAA compliance software also has some drawbacks. Still, without this tool, your business can't fully function and deliver quality services in the healthcare business within the confines of the law. HIPAA benefits, features, and a long list of requirements underline the importance of this tool for medical data security. A hasty decision doesn't lead to anything good. Contact us for expert assistance. As a custom healthcare software development company, we're always here to meet the discussed requirements.
With Keenethics, you can learn more about HIPAA software development.
Turn your idea into a successful project.