Digital Banking Platform: The Ultimate Guide on How to Start a Digital Bank from Scratch in 2023
Digital banking is gaining popularity. We discuss the key ways to start one in this article.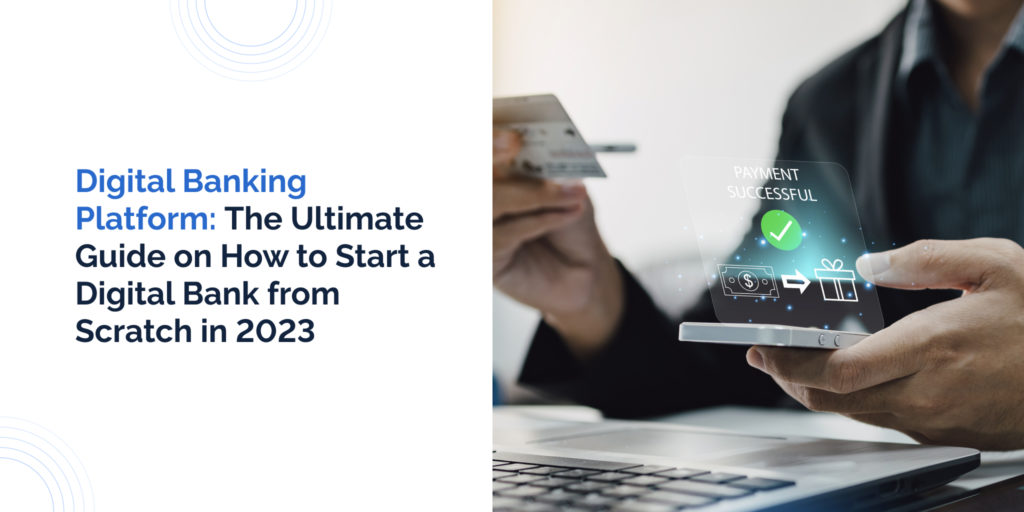 The age of traditional banking is coming to an end. More and more people prefer to do everything online, and if your bank doesn't offer such opportunities, it'll inevitably fail. This age of change is also a perfect chance to enter the banking business, which has been in the hands of monopolistic players for many years. Due to digital transformations, users may be willing to go for unknown platforms in search of comfort. In this guide, we'll discuss the methods of starting a digital bank in 2023. You'll find out what features are necessary for the framework and the key steps to starting it efficiently. How to start an online bank? Read further and find out!
Related services

BANKING AND FINANCIAL SOFTWARE DEVELOPMENT SERVICES
What is a Digital Banking Platform?
Whenever you're doing any financial activity, it's crucial to understand how certain terms function. In this case, we have to answer the following question: What is a digital bank? Digital bank is a banking facility using digital technologies to provide banking services to customers. This can include online banking, mobile banking, and other digital financial services. Digital banking is becoming increasingly popular all across the globe. The key reason for its rise is convenience: using a mobile app is simpler than going to some real bank and performing all the key actions there.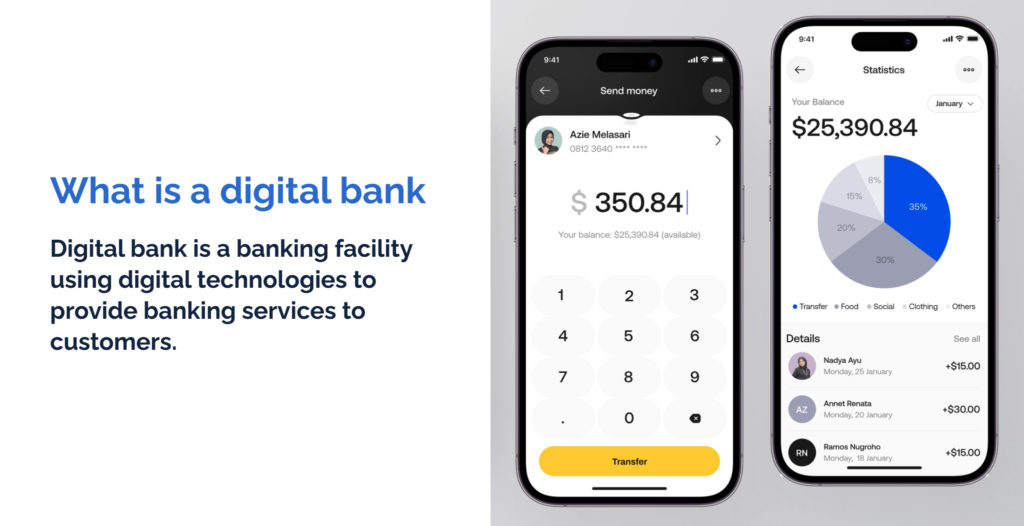 When Is It Necessary to Develop a Digital Banking Platform?
The conditions in which it may be rational to develop a digital banking platform are rather diverse. What's the key reason for doing this? Firstly, we recommend looking at the market: are there any other digital banks, and do they deliver high-quality services of the kind you want to provide? If there are no big players, developing a digital banking platform may be a good idea. You'll always find at least niche users in this case as some people may be unable to work with traditional banks. Secondly, review the customers' needs. What exactly do they want in the banking sector? Sometimes, better competition to existing solutions may be something the users crave. Digital banking is becoming increasingly popular in recent years as more and more people rely on digital technologies in their daily lives. It provides convenience and flexibility to customers, allowing them to access banking services anytime, anywhere. A digital banking platform can compete with other frameworks and succeed if it has high-quality market features. Are you capable of delivering something interesting to the customers? Think about your main feature.
Overview of the Digital Banking Market
Digital banking is actively developing all across the world. The transition to mobile platforms as the main computing units pushes users to consider smartphone-centric solutions for many aspects of their lives. Two trends have taken over the banking sector. The first one is the appearance of independent banks using the digital model as a central framework. Monobank in Ukraine or Juni in Sweden/Europe offer platforms that don't require traditional banks. Registering credit cards online and using apps for all banking activities is possible. Monobank, for instance, doesn't have any physical facilities, functioning via the capabilities of its partner instead. Another major trend is the digitalization of traditional banks. Every bank strives to create its own high-quality digital banking platform for controlling finances. Ultimately, one can expect major growth in the presented market. Experts expect annual growth of approximately 15% within the next seven years. By 2028, the market value of the digital banking sector will grow to 19.2 billion from the 8.4 billion it had in 2021. Investing in the sector is a great idea due to the prospects of the sector.
Main Features Every Banking Platform Must Have
Let's discuss some of the main features every digital banking platform should have to succeed. One must include the following elements: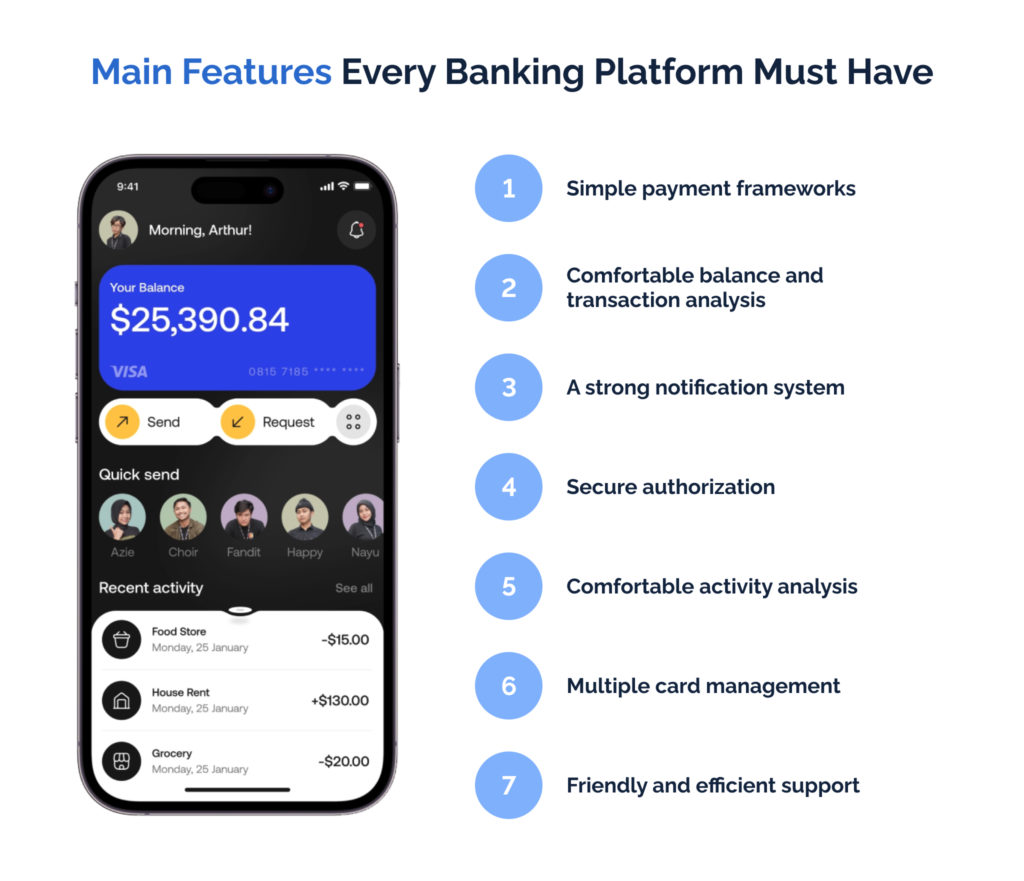 Simple payment frameworks
Many people use digital banks to pay for some everyday activities. How to build a banking app that can succeed? Give people maximal comfort in payments: they should be seamless and involve minimal barriers such as bank fees. It's a good idea to concentrate on some specific themes too. Mana, for instance, provides high-quality services for gamers, offering them features such as cashback and thematic rewards.
Comfortable balance and transaction analysis
Comfort is one of the main reasons to use a digital banking platform. A problematic factor in traditional banking was the tracking of spending and transactions. Many banks present mobile SMS notifications, but they can fail to show information about bank fees, or this capability may be disabled for some services, such as grocery stores. In this light, controlling the finances is difficult. Using a traditional banking service, the author of this article personally miscalculated some payments several times because the relevant bank failed to deliver all payment information. If you want key banking app development advice, it's quite simple: add a user-friendly home screen allowing users to see how much money they have on the card and what transactions they perform. Multiple approaches to building this framework exist, but the idea is to ensure that a person can find the relevant information in one or two touches.
A strong notification system
Banks should be as comfortable as possible: their goal is to reduce the number of actions the users have to perform. Notification systems are perfect for this goal. They allow the users to effectively use the apps without checking them constantly. Push notifications are crucial for informing customers about any transactions they have, security threats, and various deals (for instance, cashback) that a bank can deliver. We also recommend making notifications configurable. Some people may only want security and transaction messages. Others may like notifications about their overdraft or some interesting loan/deposit opportunities.
Secure authorization
All banks (both digital and traditional) deal with a vulnerable aspect of the average client's life. People may keep their life savings or, at least, significant sums of money in them. This means any problems with security are an immediate threat to a bank's reputation. A bank that can't secure its users' funds will eventually become bankrupt due to having to offer compensation. How to make a banking app that's secure? Above all, you should use a high-quality authentication system. It's crucial to provide the layers of security required by the Payment Card Industry Data Security Standard (PCI DSS). In addition to the traditional banking systems (passwords and CVV codes), we recommend adding features such as two-factor authentication and fingerprint identification.
Comfortable activity analysis
Some people perform a myriad of actions in their banking accounts. In this light, making a mistake or missing some illegal activity in the account is easy. You should be able to review all the relevant transactions and banking-related activities in your app. The users must have a full history of their actions to prevent the abovementioned problems. How to start a digital bank? You should show more information to users than a traditional bank.
Multiple card management
Among the most uncomfortable activities related to banking is the need to manage multiple cards. Many people lose track of their cards because traditional banks don't offer comfortable opportunities for managing them. We've all been in a situation when we have an unnecessary card from a past job or because a bank pushed one upon us during some transaction (like buying a car or a house). Multiple card management is a key step for mobile banking app development. It won't solve the problem of 'stray' cards entirely, but the ability to comfortably manage them in at least one bank can reduce the confusion.
Friendly and efficient support
It's impossible to use a digital banking platform without encountering some barriers and problems. Almost every customer eventually has some questions about the services they use. This means you should create a high-quality support service to ensure the clients receive all the information they need. What features are crucial for a good banking support system? Firstly, it has to be as user-friendly as possible. Don't hide the ability to contact real people behind automatic systems: many problems are impossible to solve without direct communication. The support specialists should also communicate politely to ensure the best experience. Secondly, a good support system must be efficient. You should evaluate specialists regarding their ability to solve the customers' problems. One should create as many protocols for different challenges as possible.
Benefits and Challenges When Building a Digital Banking App
A digital banking platform offers benefits and challenges to the average owner company. Let's look at three key aspects one should consider:
Creating a strong client base
Digital banking apps help upgrade the relevant user bases for traditional banks and create a loyal following for the online-centric ones. The key reason for this is user comfort. Many people like digital banking platforms because they offer the most convenient ways to manage funds. If one adds good activity tracking, comfortable transaction management, and multiple card management, many people would prefer your app over visits to real banking facilities. As the famous saying goes, time is money. If your bank saves time, it will also attract the second element of the saying.
Improving communication channels
This benefit is more important for traditional banks. What can banking app development give to them? Above all, the ability to improve their communication channels with the clients. A mobile banking app can attract people who want more control over their finances. With the rise of digitalization, more and more people who exhibit these traits arise. If you're not using a mobile app, there's always a risk you can lose clients to some other digital banking apps.
Expanding the analytical capacity
When it comes to major challenges coming from mobile banking app development, they include the rising flow of information. When you work with such apps, your company has no choice but to deliver more data. This means your processing capacities should exceed what you had in the past. Apps also enable better data collection. This means promoting Big Data analysis for mining interesting conclusions from the relevant information is possible. Once again, it requires better analytical capabilities. We recommend investing as much as possible into analysis when working with digital apps. What is a digital banking platform? It's a perfect opportunity to improve your data collection and analysis capabilities.
Digital Banking Platforms Examples
How to start a digital bank? Let's look at the real case studies to understand some of the key steps you need:
Chime
Chime is a US-based financial technology company that provides mobile banking services to its customers. It offers no-fee checking and savings accounts, a debit card, and various financial management tools. Chime's services are entirely app-based, and its business model relies on low overhead costs and interchange fees. The company has gained popularity for its convenience, simplicity, and accessibility, particularly among younger and tech-savvy consumers.
Monzo
Monzo is a mobile banking app launched in 2015 under the name Mondo. It was created by a team of founders who wanted to offer a new and innovative banking app development experience for a new generation of customers. The app started as a prepaid card and later received a banking license from the FCA, allowing customers to open current accounts. Monzo has continued to evolve and innovate, adding features such as joint accounts, savings pots, and Monzo Plus. The app has expanded to the US and other European countries and has over 5 million customers. Monzo has disrupted the traditional banking industry with its user-friendly app and innovative approach to banking.
Revolut
Revolut is a UK-based digital banking app launched in 2015 by Nikolay Storonsky and Vlad Yatsenko. The app's history is a perfect insight into the "how to start an online bank" question. It started as a prepaid debit card with an accompanying mobile app that allowed users to make international money transfers and exchange currencies at interbank rates. The app also presented budgeting tools, allowing users to spend money in over 150 currencies with no hidden fees. Over the years, Revolut has added new features, such as insurance, cryptocurrency exchange, and savings accounts. It has also expanded to over 35 countries and has acquired a banking license in Lithuania. Today, Revolut has over 15 million customers and continues to innovate in the digital banking space.
Monobank
Monobank is a digital bank operating solely through a mobile app in Ukraine. It was launched in 2017 by Ukrainian banking top managers led by Oleg Gorokhovsky. The app offers various financial services like credit cards, loans, deposits, and bill payments. Monobank operates on a fully digital platform, allowing users to easily access their accounts and manage their finances. The bank's success can be attributed to its user-friendly app, transparent fees, and efficient customer service. In 2020, Monobank launched in Poland, its first international expansion. As of 2021, Monobank has over 3 million customers and continues to grow in popularity in Ukraine and beyond.
How to Start a Digital Bank App: Step-By-Step Guide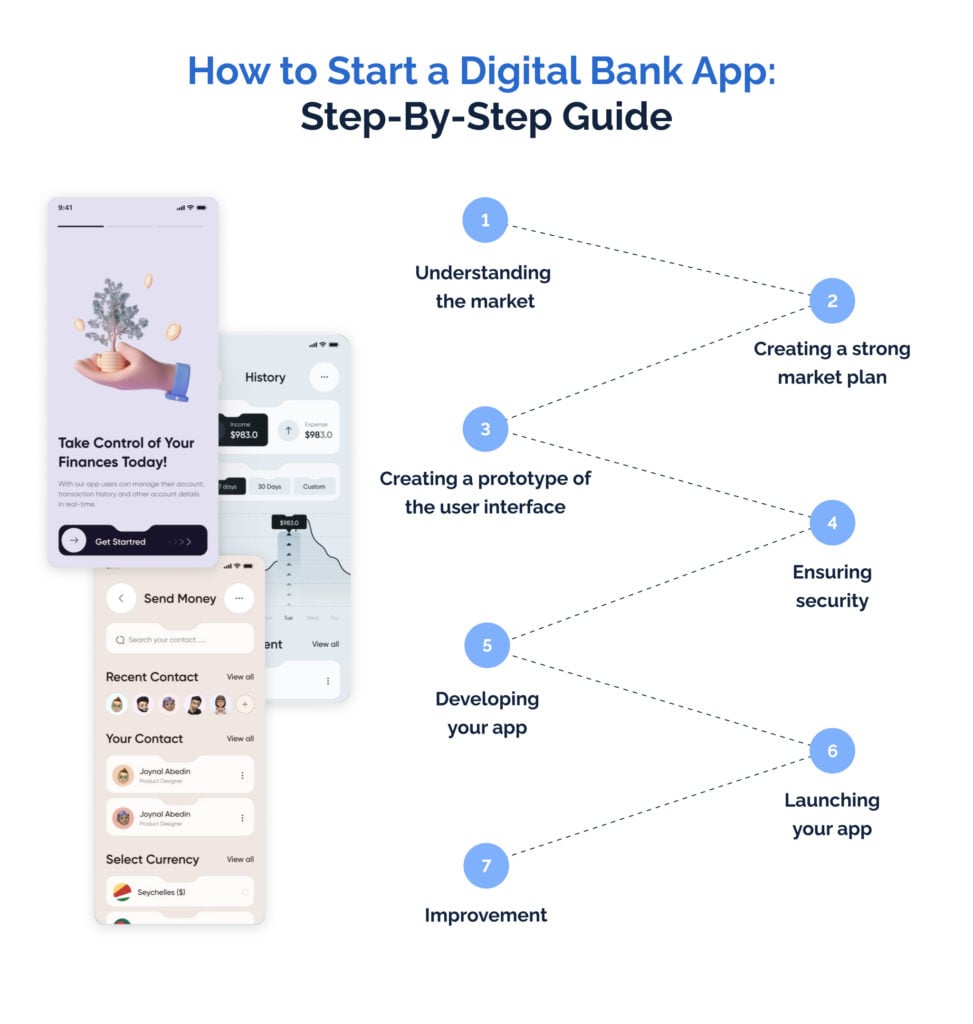 How to create a banking app? We've already looked into the features one needs to add and the real cases highlighting some of the key things making the relevant apps popular. Now, it's time to review the overall strategy of promotion:
Stage 1. Understanding the market
The first step to consider in every business activity is market analysis. Some ideas may seem great, but the relevant market niche may be already closed. In this stage, you aim to understand if a particular idea can work. How to start an online bank in a reliable way? You have to create a space for you where there is no competition. Remember the lessons of the so-called Blue Ocean strategy. The most successful companies are in the sectors with non-existent or minimal competition.
Stage 2. Creating a strong market plan
If you see it's possible to capture a niche without major competition or push out the competitors via superior products, it's time to plan. In this regard, it's crucial to answer the following question: "What is a digital bank for you?" Describe all the key features of your app and the way you'll promote it. The more details appear in the plan, the better. Plans never survive reality, but they give direction and help deliver a working prototype that can later be improved.
Stage 3. Creating a prototype of the user interface
How to start an online bank? You have to deliver users maximum comfort. How to present maximal comfort? Your app should be as user-friendly as possible. What is the key element of user-friendliness? It's a good 'intuitive' interface that doesn't create barriers to using an application. In this light, one of your key goals is to test an interface that will offer maximal comfort for the users. If possible, use various focus groups to know the real opinion of the clients instead of trying to guess them.
Stage 4. Ensuring security
Banking app development involves the sensitive data of the users. This means security should become the key factor for you. At the very least, it's crucial to implement PCI DSS standards in your business. If you can go beyond and deliver other standards, it's a good idea.
Stage 5. Developing your app
After understanding what you'll do with the user interface and security, it's time to develop the app. In this regard, the key thing we can recommend is finding a team of professionals. You should look for people with at least several years of development experience. Our company, for example, has significant experience, great experts, and a portfolio of financial products.
Stage 6. Launching your app
When you're sure you have developed your app's core features, it's time to release the software. The best idea here is to avoid full releases at first. Instead, you can aim for a minimum viable product: it must have the key features but should not go beyond them.
Stage 7. Improving the application
If your product becomes popular and the MVP proves the viability of your app, it's time for the improvement campaign. Look at the user feedback and concentrate on mobile banking app development that will make your app as comfortable for the users as possible. The key way to support the popularity of your app is to show that you care about its long-term future and present regular updates.
Trends of Mobile Banking
When trying to understand how to develop an online banking application, you should also consider the overall situation in the industry. Here are some trends in mobile banking:
Increased adoption of mobile banking due to the COVID-19 pandemic and the need for contactless transactions.
The rise of challenger banks and fintech companies that show innovative mobile banking services.
Integration of artificial intelligence (AI) and machine learning (ML) in mobile banking apps to improve customer service and personalization.
Using biometric authentication, such as facial recognition and fingerprint scanning.
The incorporation of chatbots and voice assistants in mobile banking apps to provide customers with 24/7 assistance.
Expansion of mobile banking services beyond traditional banking functions to include investment management, insurance, and personal finance management.
The growing use of mobile payments and digital wallets for in-store and online purchases.
Adoption of open banking APIs that allow third-party developers to build apps and services that integrate with mobile banking platforms.
How Much Does It Cost to Create a Banking App?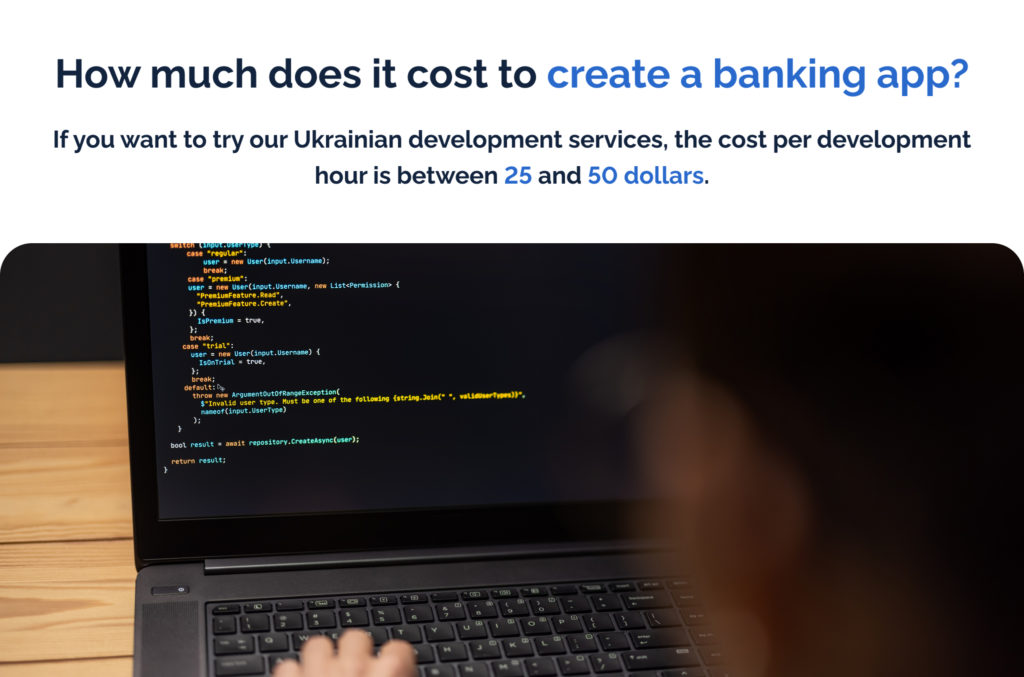 Now that we know how to start an online bank, it's time to look at the resources you'll need for it. In this case, everything depends on the scope of the project and the country where you want to develop an app. Our sources show that an average app can cost between 70000 dollars for something small and 300000 dollars for something big and feature-rich. If you want to try our Ukrainian development services, the cost per development hour is between 25 and 50 dollars. In this respect, everything depends on the development team's skill and the tasks' complexity.
How Can Keenethics Help With Creating a Digital Banking Platform
Our company can help you with developing a robust digital banking platform. Kennethics has multiple years of experience in the market. We've developed many projects: digital banking ones are among them. If you want to review our portfolio, follow this link.
Conclusion
All in all, digital bank development isn't as difficult as one may initially think. It has clear rules that deliver success in an environment with low or weak competition. In case you have questions about digital banking development, our company is always ready to help. Contact us, and we'll offer some interesting solutions.
FAQ
What is necessary to start good digital banking?
We believe the key thing you should know is that the relevant app must be as user-centric as possible. The idea is to offer comfort in banking.
What is necessary to build a digital banking app?
You need to have a clear plan regarding the look/UI of your app and the security aspects. It's also crucial to have a strong development team.
Do you need a mobile app development company?
In many cases, yes. Unless your team has people with experience in banking, it's better to give development to outside professionals.
How much time do I need to develop a banking app?
Everything depends on the difficulty of the projects. Development can take from three-four months to a year, depending on the situation.
What should I prioritize in banking app development?
Above all, it's crucial to concentrate on the users' comfort. The experience should be intuitive and offer a maximum number of tools.
Digital banks are the future of finance.
Our company can help you enter this sector. Address us today, and we'll do our best to deliver a great product!