10 Benefits of a CRM in Healthcare
Hospitals, in many cases, are very reminiscent of the way a business works. The lack of will to use the enterprise methods is quite surprising.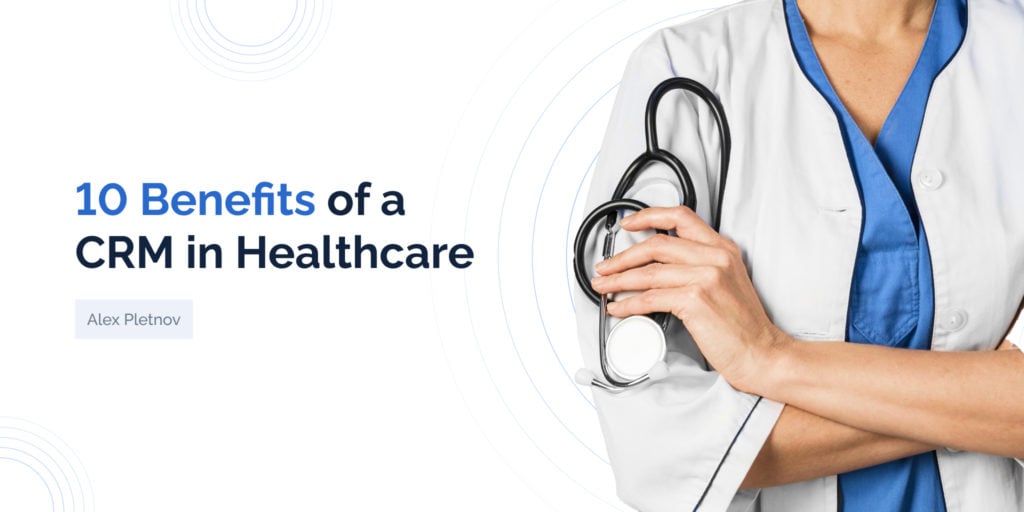 This article will talk about the topic of a CRM in healthcare. A CRM stands for customer relationship management. Firstly, we will look at the definition of the concept to understand its overall nature. Secondly, top 10 reasons to utilize the platform in question will appear. What's a learning standard in the sphere of CRM? It includes the ability to understand the main positives of using the platform. A CRM requires a lot of technical expertise (just like every system). Realizing its importance is often a much more lengthy process. The conservative approach still reigns supreme. What one needs to recognize is the overall use-value of the platforms.
What is a Healthcare CRM?
Let's take a look at the CRM healthcare services definition. Customer relationship management programs include software aimed at managing patients and their requests within certain medical organizations. These programs, as the name implies, provide a chance to improve patient communications. Primarily, one may store patient records in such software. In this way, a doctor can quickly get information on the patient health and offer good recommendations. Secondly, the platforms are also potent at, for example, storing the relevant schedule data. Generally, a healthcare CRM is about the usage of advanced platforms giving maximal information about all the relevant patients. In this way, a hospital can use healthcare CRM features to attract a large number of patients to any facility.
Importance of a CRM in the Healthcare Industry
Let's take a look at some of the key reasons to utilize a CRM for hospitals. As you shall see, the motivations are numerous and very potent. Here's our list:
What Are the Benefits of a CRM in Healthcare?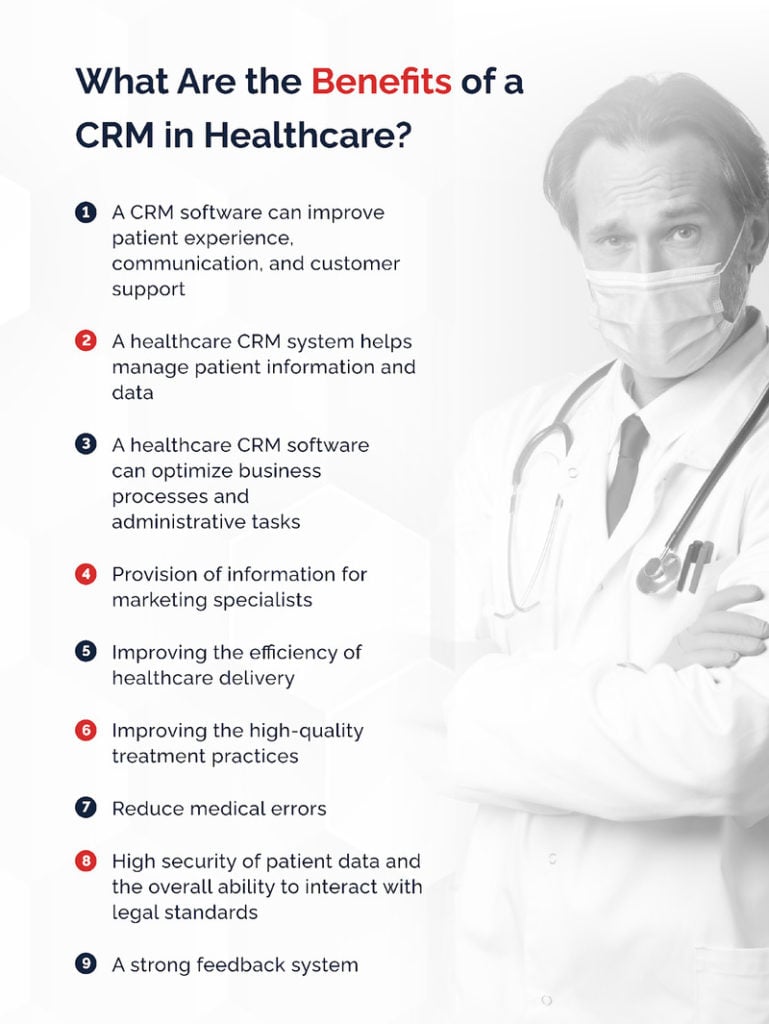 A CRM software can improve patient experience, communication, and customer support
A healthcare CRM has a strong use in this regard. It can make many care-related aspects in a hospital highly comfortable for an average patient. In some cases, you can expect a 30% and even 40% increase in the scope of product sales. The reasons for this outcome are numerous.
Firstly, a CRM reduces the overall wait time in hospitals. Instead of having to search for patient profiles and medical histories for a long time, professionals can easily access everything in one or two clicks. Thus, the provision of diagnosis speeds up for a large number of individuals.
Secondly, a CRM software can prevent many conflicts with the patients. A common situation for healthcare is that patients forget about their medication or appointments. A modern CRM for healthcare offers solutions to these problems that can remove many customer pains. The programs of this type allow monitoring patient health in a more potent way by setting up proper schedules. Thus, a doctor can contact a person to remind them of the need to arrive for a medical checkup at some time, for example.
A healthcare CRM system helps manage patient information and data
One can use the systems in question to also prevent chaos in the existing records. Even small hospitals sometimes have thousands of patients. Losing information about them is very simple. A healthcare CRM removes this problem in one way or another if managed correctly. Primarily, these frameworks offer a path to record the patient data in a convenient manner. Health professionals can quickly fill in the data into a relevant piece of software. No need for writing or filling in the often confusing printed forms is evident today. What is more, the database tools inserted into platforms of this kind involve an opportunity to analyze information fast. Thus, as mentioned previously, an average specialist can access the patient records via such software in a very fast manner. With a CRM in healthcare, one can finally remove the frustration of many hospital administrators about the need to hold large data archives and workers for them.
A healthcare CRM software can optimize business processes and administrative tasks
A strong benefit of a healthcare CRM lies in the ability to make many internal business processes highly optimal. One of the key problems for modern business lies in access to information. Many companies cannot monitor all the daily tasks and include them in their financial analysis. For instance, a big problem involves the issue of buying the necessary medical supplies. Without a strong database of patients, some deficiencies or oversupply are inevitable. With a CRM in the healthcare industry, everything changes. Using the information from such systems, it's much easier to track the relevant information about patient medicine intake. As a result, the administration of the key processes becomes easier. It's no longer necessary to wonder how many antibiotics or specialists may be necessary based on the current activities. While a CRM does not resolve all issues of this kind, the tool is a perfect instrument for supplementing other business management programs.
Provision of information for marketing specialists
A healthcare CRM is also a strong tool for marketing specialists of all kinds. It gives information on many patient habits, for example. In this way, relevant experts can implement many strong solutions. For instance, they can try to do the following:
Use patient information to create marketing campaigns showing the strongest benefits for healthcare organizations;
Provide personalized marketing: individuals who have diabetes can, for instance, receive data on the installation of automatic devices for managing blood sugar;
Analyze the popularity of certain doctors and their treatment methods: using a CRM in healthcare is also a strong idea for understanding which specialists are typically the most potent from the standpoint of business.
In short, CRM tools are of great use for ensuring that healthcare organizations promote themselves efficiently.
Improving the efficiency of healthcare delivery
A CRM in healthcare is also crucial for making the delivery of services fast. Using a system of this kind, a doctor can give the prospective patients all relevant information fast. For example, the ability to search in client databases can give a chance to search for similar cases among patients. As a result, the overall process of setting a diagnosis should become markedly faster in the case. Besides, the best healthcare CRM also offers a chance to review past reports of a patient. In this way, one can set diagnoses faster. What's more, patient records give a chance to store information about all patient needs efficiently. Thus, nurses and doctors would have no problems reviewing the necessary medication doses, for example. A CRM is undoubtedly among the best things that have happened regarding the evolution of healthcare.
Improving the high-quality treatment practices
A healthcare CRM offers many ways to track relevant information about the treatment methods. Here are two ways in which improvements receive a full-scale interface:
Tracking of the most efficient treatment methods: using the records systems, a specialist can review which practices helped most patients and enabled the greatest satisfaction;
The involved tools, as mentioned previously, enhance tracking-oriented aspects of healthcare: for instance, scheduling of various types can help with patient compliance.
Obviously, CRM solutions cannot be a one-for-all option. You would need to create a strong interaction with other information management systems in healthcare. Still, a lot of data from the system is relevant enough to provide key information on the used approaches. Even if you use the system to understand client feedback, it should already be capable of doing much for your practices. Therefore, we recommend a CRM for the healthcare industry due to its positive impact on many chosen approaches.
Reduce medical errors
Health information exchange can greatly reduce many of the problems that befall modern hospitals. One of the largest problems for modern healthcare includes medical errors. Sometimes, doctors simply don't offer the treatments that patients need. In other situations, it can even be detrimental to the long-term well-being of the individuals. In this light, a CRM in healthcare makes sense. Your doctors won't only drive better patient engagement through communication but also reduce errors. The analysis above shows that a CRM software is strong for holding relevant client information. Consequently, the software in question enables the analysis of past medical records. In this way, setting a diagnosis is easier. Many specialists make mistakes because they don't have full information. A healthcare CRM removes these business challenges, which are among the biggest in the industry.
High security of patient data and the overall ability to interact with legal standards
A modern CRM software for healthcare is about providing maximal security for all relevant stakeholders. Your compliance team dealing with the legal aspects of work would most definitely welcome such an innovation. Why is that so?
Firstly, a healthcare CRM greatly lowers the probability of customer data being stolen. An average CRM system typically has very strict configurations for issues such as security. Thus, accessing anything without proper authentication and outside of an organization would be a very difficult task.
Secondly, the approach prevents illegal modifications to medical records. Due to the strict control over modifications, cases of corruption should be easy to detect. Hence, people who want a fake medical certificate should fail to obtain one. In this manner, pathways made for sending content to healthcare no longer become victims of manipulations. Lastly, CRM systems typically have strong government support.
More importantly, the main developers in the field make massive investments in ensuring the security of the tools in question. Consequently, you will have an opportunity to configure everything according to the needs of your government via such platforms. A CRM gives you a chance to reach all the key standards that characterize the modern healthcare field.
A strong feedback system
The involved technology is also essential if you want to know what your patients think. We've already mentioned a marketing use of this feature. However, the best healthcare CRM software is also a strong tool for staffing. A CRM enables communication tools giving a chance to transition information from clients to management. Thus, you can, for example, discover who was rude to patients. Such information is typically easy to report in the system. This approach would then assist you with deciding who deserves a promotion and who needs to work on their attitude. Therefore, it's also a strong addition to the existing HR tools. Feedback from the system would be of great use to any staffing specialist. Still, aren't sure what a CRM represents from your standpoint? At the very least, it can be a strong method to drive patient retention of all types. Investing in programs of this type is always a good idea.
---
What Are the Healthcare CRM Features?
What's a CRM in healthcare? Let's review some of the key features of the existing systems.
Managing your information is simple via database tools
Above all, if you have large quantities of data about your hospital, a top healthcare CRM software can help store it. Modern systems are good at retaining large quantities of information and, more importantly, searching for it. Thus, your patient management in the case can be especially potent. After all, the relevant tools give a chance to hold all data about them in one convenient location. Did you ever feel overwhelmed by the sheer scope of information? A CRM removes this confusion once and for all, giving many strong opportunities to customers.
Strong tools for services aimed at customers
Current information indicates that the gap between customer expectations and the real impression of care they get is big. This figure can rise up to 20% and even 30%. A CRM provides a wide set of tools to overcome this gap. It offers ways to record the customers' needs and, more importantly, provide answers to the question they have. Generally, the following digital healthcare feature list is available today:
Finding relevant client records about certain diseases;
Searching for a doctor who specializes in a certain condition;
Recording data on the patient visits;
Recording and providing feedback on various aspects of healthcare.
Generally, a CRM for healthcare can transform the very way in which you communicate with your key audiences.
Tools for collaborating with colleagues
Problems with communication contribute up to 30% of the deaths related to medical errors. In this light, having a tool that enables collaboration with other professionals is essential. A healthcare CRM gives a wide variety of tools to resolve the outlined issue. It does so through tools allowing, for instance, a simple sharing of data. A doctor or a nurse can easily send the relevant patient data between departments. In this way, records would almost instantly reach the relevant specialists without any big omissions. The approach, thus, helps prevent a large number of situations when experts fail to get some important piece of the healthcare puzzle. Hospitals sharing similar or compatible HRM systems can also send data to each other. Hence, the tool gives a chance to maintain the balance of healthcare providers.
Portals for patients
Do you want a health access center for your customers? CRM tools can ensure that it appears. Using the existing instruments, modern companies can create databases for patients. For example, a CRM can be of use if you want to showcase the schedules of the relevant specialists. Other relevant points of data may also arise. A CRM is critical for creating platforms where users can address the majority of their questions. The presence of such a platform is often critical for retaining a large number of people.
What Are the Drawbacks of a Healthcare CRM?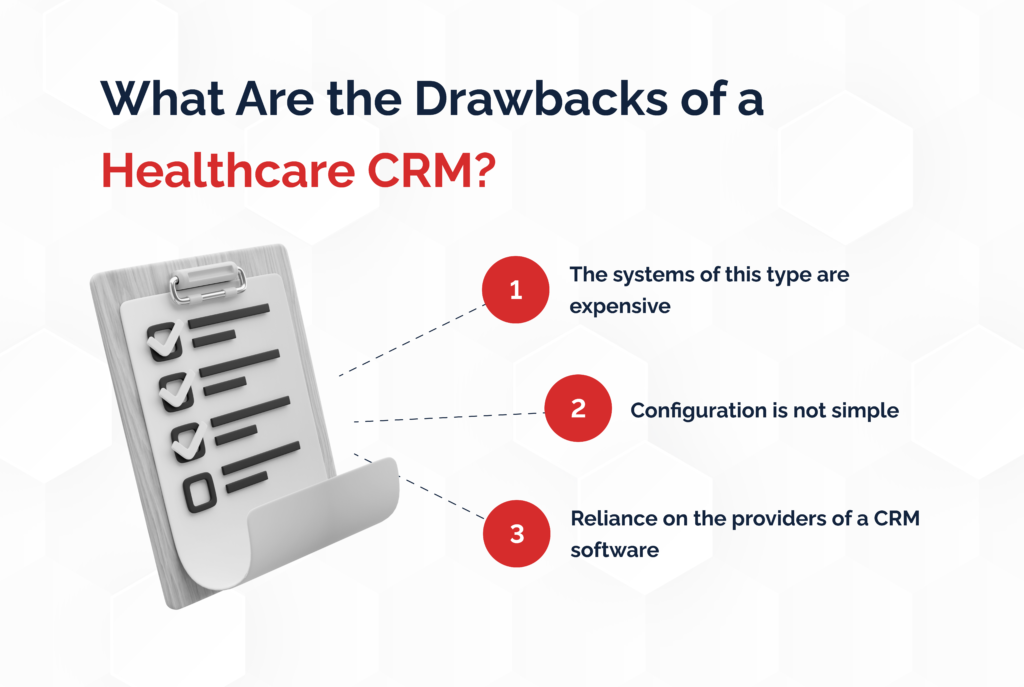 Generally, a healthcare CRM may have some issues that can be decisive for certain types of facilities. Here are some of the key issues:
The systems of this type are expensive: healthcare CRM features require rather significant funds for purchase and maintenance. The systems usually pay off the investment fast but they're far from the best option for novel organizations;
Configuration is not simple: a good CRM system also requires tremendous expertise. CRM and healthcare can interconnect only in the presence of relevant professionals;
Reliance on the providers of a CRM software: many companies also have to adapt to the changes introduced into the relevant programs by development companies. Sometimes, a significant level of reliance can lead to problems with subscription models or updates removing some relevant features. For instance, some companies take up to 25000 dollars annually solely for giving access to a product.
Conclusion
Still, in conclusion, we'd like to say that a CRM is nonetheless a potent tool. It resolves many common healthcare issues. Thus, price and reliance problems are unlikely to be as big as the sheer benefit that they bring about. CRM tools are without a doubt the future of healthcare in the modern world. It's important not to waste an opportunity and miss one of the best options for developing your facility. Competition is getting fiercer: adoption of new technology can help overcome it. We understand that the use of such services is a complex task. Therefore, the best idea, in this case, is to address various professionals. Our company, in this regard, provides the relevant expert help. We invite you to address Keenethics today if you need any consultation on the subject of CRM in the modern world.
Do you want to design and develop a healthcare CRM system?
Find out more about what is healthcare industry app development, what the essential challenges are, and how they can be solved.