Healthcare CRM Software: Benefits, Drawbacks, Examples
A customer support system, a patient data management system, a business management system, and a business analysis system — all in one!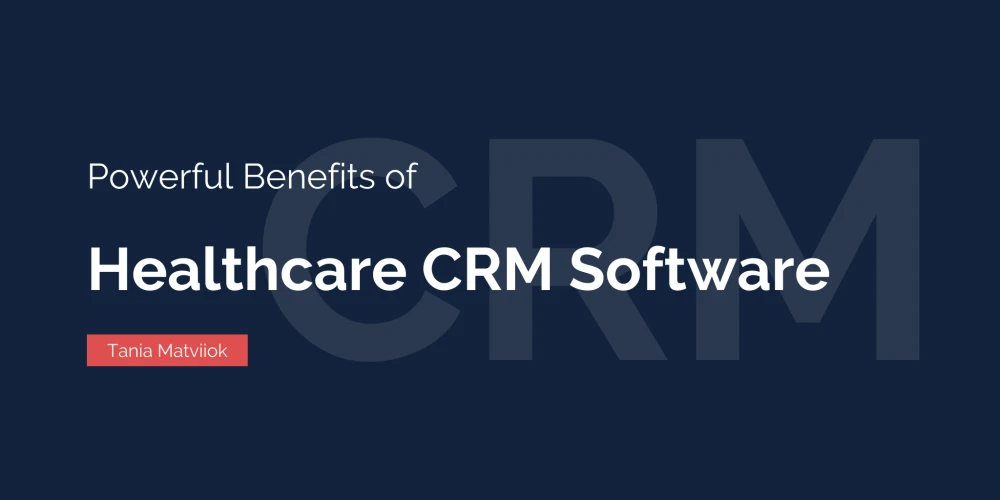 Medical specialists often believe that patient satisfaction is all about successful treatment. No, it is not. Patient satisfaction includes everything from a comfortable chair in the doctor's office to an amiable front-desk assistant.
Imagine, what if your important blood test results were lost? Or what if your personal information was leaked to the public? Would you be satisfied? No.
How can you as a healthcare manager prevent it? By implementing a customer relationship management CRM software.
What Is CRM in the Healthcare Industry?
The customer relationship management CRM in healthcare is a process of managing past, present, and future interactions with customers for the purpose of meeting customers' expectations.
The healthcare customer relationship management system is an internal medical platform for managing patients and their health information. At the same time, it is one of those custom healthcare solutions that aim to facilitate communication between patients and healthcare providers.
Usually, a CRM in healthcare industry consists of four major parts:
Communication and customer support system
Patient data management system
Time, personnel, and resources management system
Business analysis and reporting system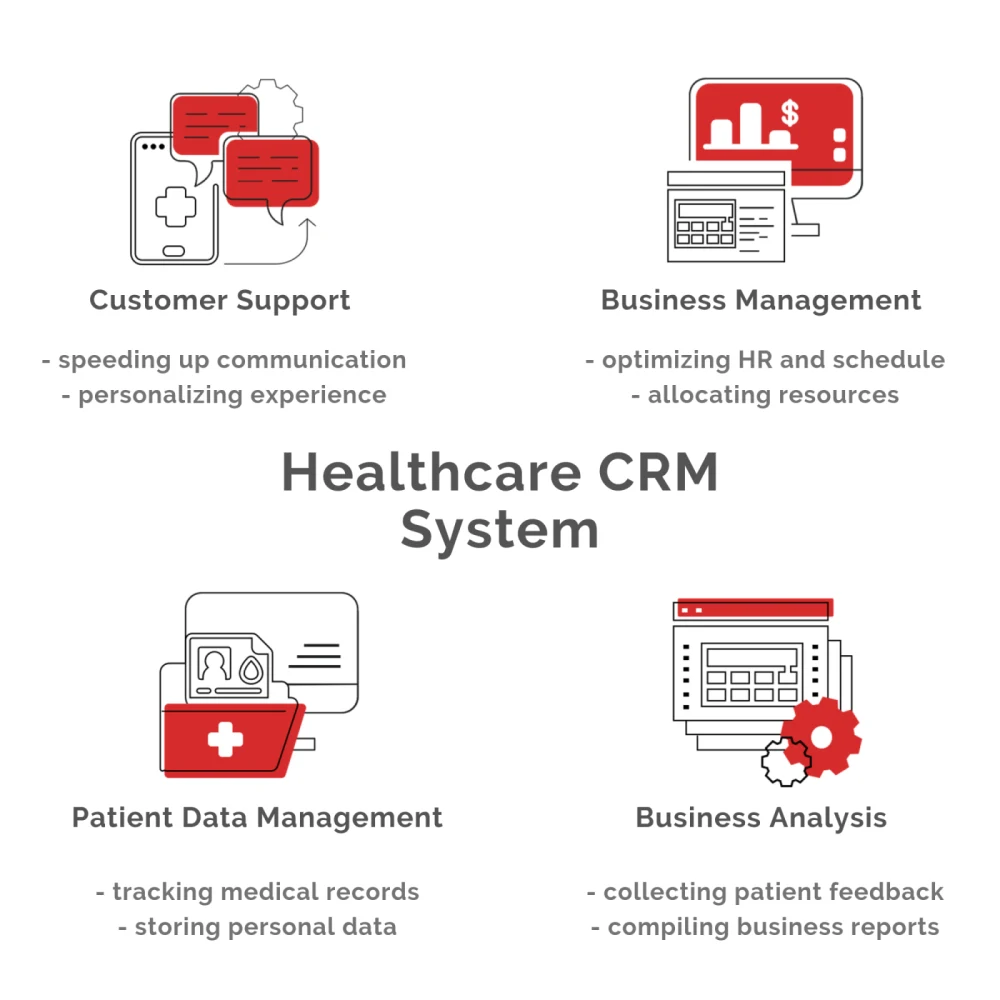 However, a more precise set of functions that a certain CRM combines depends on a particular healthcare organization. Normally, CRMs are built individually for each healthcare industry business.
---
When you request medical CRM development services, you are free to decide what features and functions you want it to have.
---
Whether your company is a dental clinic, a diagnostics center, an urgent care facility, or a general hospital, you will definitely benefit from a properly built and configured specifically to your needs CRM.
What Are the Benefits of CRM in Healthcare?
Advantage # 1: CRM software can improve patient experience, communication, and customer support
The world is operating at an increasingly fast pace, and people grow more and more impatient. For example, millennials expect an e-mail response not in a few days but in an hour or two. Millennials want to have answers fast. They get angry if a company's website, social media page, or representative does not provide them with the necessary information at once. And these are not just guesses or stereotypes. These are statistically proven data obtained by Boston Consulting Group.

These consumers are always in a hurry, and it's critical to determine how you can get them to spend time developing a relationship with your brand.
Non-millennials follow the example and also highly value their time. Meanwhile, Generation Z is growing even more impatient.
SPEEDING UP COMMUNICATION
In a competitive healthcare industry market, you cannot afford to lose customers because of being too slow. To speed up the processes, you should use a customer relationship management system. You cannot expect your front-desk assistant to answer all the e-mails and phone calls, to manage the entire schedule, and to be able to provide information 24/7. Yet, you can augment your CRM with a healthcare chatbot. It will collect and process information and answer patient questions.
If a chatbot seems to be a too complicated solution for you (although it is not), you can implement a simple response application for clients to fill out.
PERSONALIZING EXPERIENCE
An ideal CRM is used not only by the hospital but also by the patients. When patients log into the system, they should see all their personal information, medical records, and appointment schedule.
The CRM can also feature a patient reminder about upcoming doctor visits or the time to take pills. Meanwhile, hospitals can use CRM to greet patients on their birthdays or to offer personalized discounts.
By the way, the appointment reminders can reduce waiting time. If some people come too late, doctors start falling behind the schedule. People hate standing in a line, especially young people as explained above. If you remind people about the upcoming visit, it reduces the chance that they are late and, respectively, minimizes the waiting time.
Advantage # 2: A healthcare CRM system helps to manage patient information and data
A single administrative error can discourage patients from visiting this institution ever again. Lost blood test results, misunderstood patient request, wrong appointment time, missing prescriptions, the need to repeat the same information twice… These issues may occur on a daily basis. They badly annoy your patients. Luckily, you can prevent them with the help of CRM.
STORING PATIENT DATA
In CRM, each patient will have a unique profile where all the patient information will be stored. Your employees will not have to ask about emergency contacts every time before a certain procedure starts. They will know the billing address of the patient. In turn, patients will never see their name misspelled. An important thing here is to keep the information up-to-date.
My making sure that you CRM is secure, you also reduce the possibility of patient data being lost, leaked, or stolen. If one's health information is written in a paper file, it can be lost and never found. If it is encrypted and stored on secure servers, the possibility of losing this data is much smaller.
KEEPING TRACK OF MEDICAL RECORDS
CRM allows doctors to find out the answers to important questions quickly and effortlessly. For example, this is how they can instantly learn which substances a patient is allergic to. It is particularly important when this question has to be answered immediately, the customer is unconscious, and there are no relatives around. Moreover, CRM can be used to effectively analyze changes in health test results over time. The doctor can also see what kind of treatment has been already applied not to repeat it.
---
An important point to mention here is that patient personal information and health records have to be a hundred percent secure. You cannot afford to spill such sensitive data. To prevent this, you have to take healthcare data security measures.
---
Advantage # 3: Healthcare CRM software can optimize business processes and administrative tasks
All the healthcare organizations are complex businesses involving a lot of personnel and resources. Punctuality is also particularly important for the success of this business. Thus, CRM can and should be used to manage administrative tasks, personnel, time, and resources.
ALLOCATING RESOURCES
Keeping track of all the medicines and equipment is a huge headache for the managers of healthcare organizations. They discard a large share of prescription drugs as they expire. Moreover, the proper disposal of expired medicines is costly. It is also hard to manage the equipment and make sure that everything is perfectly operating and checked regularly.
You can use CRM to store information on available resources. Here, you can put drug expiry dates, equipment inspection schedules, and people responsible. After all, you cannot afford to run out of essential drugs or equipment at the last moment.
MANAGING SCHEDULE
Filling out all vacant spots in doctors' timetable, swiftly reacting to changes in schedule, and processing numerous simultaneous requests from patients is hard for one person. For artificial intelligence, it is no big deal.
You can implement CRM to manage your schedule. It will help you make sure that no errors occur, there no endless waiting lines, customers are happy, and doctors are always busy. AI can also make predictions as for which days or weeks will be the most or the least busy. You can use this information to optimize the vacation schedule.
OPTIMIZING HR
Calculating working hours, sick leaves, and vacation days is difficult, especially if you are a large organization with a lot of employees. Managing payslips timely and properly is even more complicated. However, it can be easily automated with the help of CRM.
We know what we are talking about. KeenEthics is not a healthcare industry business, but we do have a CRM for managing attendance and calculating salaries. Believe it or not, but we do not know how we used to live without this system.
CRM can also be used for better doctor-patient match. You can create a unique profile for each doctor, which will feature all the essential and extra information. For instance, if you get a patient who speaks only French, you can open the CRM system to find a doctor proficient in French. Surely, you can do without such functionality, but it will be a nice addition to the user experience.
Advantage # 4: A CRM system can facilitate the process of analyzing business performance and compiling reports
Like any other business, a healthcare industry institution should constantly advance its effectiveness and efficiency. It is barely possible to do without a profound insight into business performance. CRM can become a tool for business analysis and reporting.
OBTAINING BUSINESS INSIGHT
Take a minute to look at everything you spend on different business processes. Are there areas funded excessively or insufficiently? A CRM system can help you answer that. For instance, it can assess the effectiveness of a customer attraction and retention campaign. Also, it can calculate expenditures and analyze business KPIs. Basically, AI can perform almost any business analysis job.
COLLECTING PATIENT FEEDBACK
Your patients will appreciate the opportunity to speak out if you let them leave feedback. You can design this function as a chatbot or as a response form. In any case, patients will be more willing to be honest about their experience when talking to a software rather than to an actual person. Understanding customer satisfaction, you can fairly assess your competitive power.
What Are the Drawbacks of Medical CRM?
If your CRM system is built and configured by a professional team, there is only one drawback — complicatedness.
A customer relationship management platform is a very complex system. Such a platform takes a lot of time and resources to design and develop. It takes even more time to set it up and to train your employees to work with it. In some cases, you might need to conduct educational workshops to show your personnel how to deal with the system.
Yet, the efforts you spend are worth it in the end. CRM will automate a lot of time-consuming processes.
---
The time spent on designing, developing, configuring, and learning to work with healthcare CRM software will soon pay off. The result is worth the effort.
---
To Wrap Up
CRM software needs you to invest a lot of time and money. However, this investment will pay off quite soon. You will be able to optimize business expenditures and attract more clients.
By developing a CRM system, you get a Customer Support System, a Patient Data Management System, a Business Management System, and a Business Analysis System — all in one. There are a lot of ready-made solutions on the CRM market, so check them out.
What you have to make sure, however, is that the healthcare CRM software is tailored not for all the healthcare organizations but specifically for you — to your needs and interests. To achieve this, communicate with your custom healthcare software development company continuously and openly.