Requirements for LСMS to Be Really Effective
LCMS is a learning technology which helps organizations manage their content without much efforts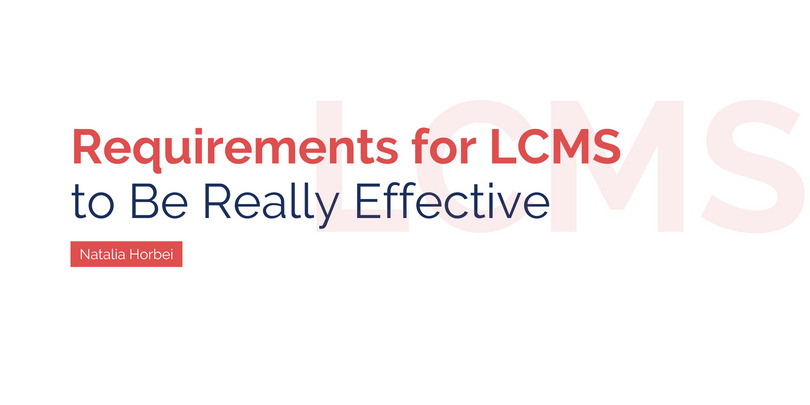 LCMS is just increasing its role in the market. This is why it is considered one of the least understood learning technologies. We are here to explain to you what exactly LCMS is and what role the given system plays in the digital world. In addition, the given article will acquaint you with the difference between LCMS and some other learning technologies.
We have to realize that the technology market is growing very fast. These days we might observe an increase in innovative products. Having so many options might prevent the consumer from making the right choice to enhance their business. That is why it is crucial to understand what will work out exactly for you and your business. We hope this article helps you get a hang of LCMS or at least understand the main essence and benefits of the given learning technology.
What is LCMS?
LCMS stands for learning content management system. Learning content management systems refers to a platform that occupies various processes related to content in a multi-user environment. Those processes might range from authoring to the analysis of content. In other words, a learning content management system helps content specialists manage their content effectively by collaborating in a centralized collection.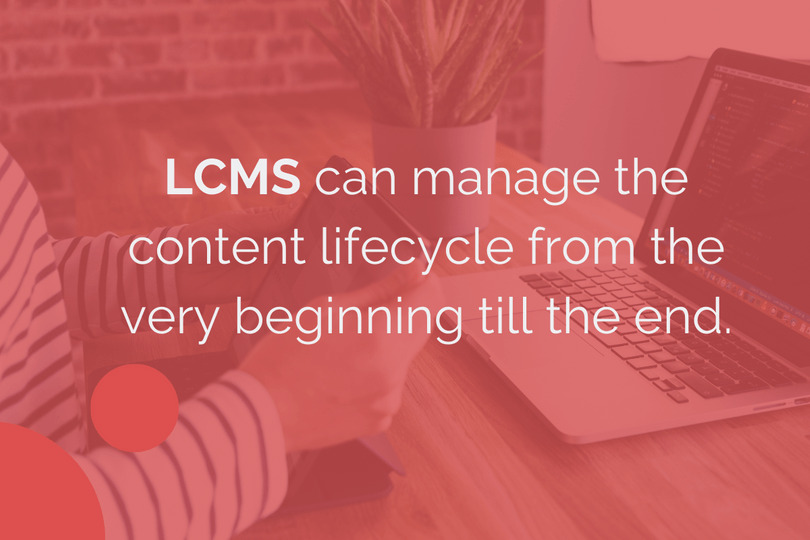 Learning content management systems performs many functions. In particular, it administers, assigns, and access learning connections. Yet, despite numerous functions the given system offers to the customer, it is still not responsible for either creating or managing content assets.
The main significance of modern LCMS is that it can manage the content lifecycle from the very beginning till the end. More precisely, this system involves four main stages. They are creating, publishing, delivery, and analysis. Thus, those four stages of the content lifecycle contribute to a comprehensive tool for various learning organizations. Besides, below, you can see the learning content lifecycle: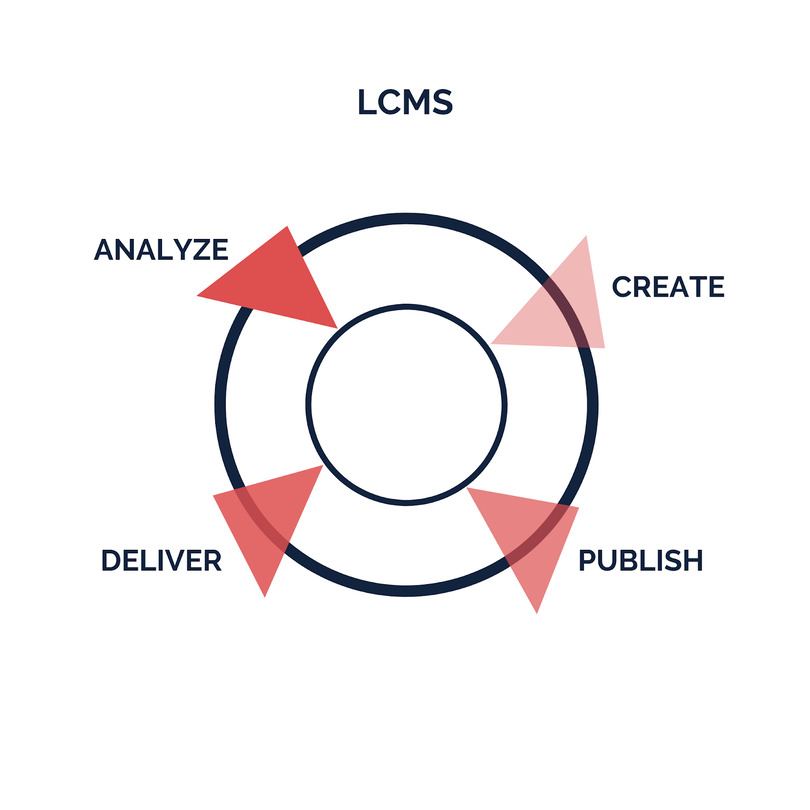 LCMS assists organizations in delivering learning connected to various types of audiences. That is why many organizations decide to rely on those technology tools. They help tackle the challenges arising in the industry they operate in.
LCMS Vs. LMS
A learning content management system (LCMS) is a platform that deals with digital learning content. This particular learning technology has some differences from LMS in what it specializes in.
Learning
The main difference between LCMS and LMS refers to the fact that the first learning technology focuses more on digital learning content. The latter learning technology, in turn, deals more with a range of learning experiences (though, it does not allow you to create those learning experiences!). For example, LMS can manage both e-learning as well as some traditional forms of learning (sharing rescues, workshops, and others).
Content Creation
Unlike LMS, LCMS can facilitate the creation and the delivery of custom e-learning. In other words, LCMS is here to allow you to author content. In addition, learning content management systems can provide a more detailed description of a learning experience of a user. Learning management systems, instead, can usually indicate whether the learner passed or failed a particular lesson/course.
On the whole, while relying on LCMS, you can expect to see more detailed analytics. In particular, such analytics might show the time the learner spent while working on a particular task. Or you can see the device that the learner used or which pages they visited most. Without a doubt, such data is helpful for organizations. It indicates what information is the most interesting for learners and which is not.
Besides, if you want to learn more about LMS, you can check out some of our articles about this learning technology here or here.
Requirements of Learning Content Management System
There are certain features of an LCMS that are important for the effective working of the very system. This means every organization that wants to implement LCMS into their working process has to ensure this learning technology sticks to certain requirements. The main requirements of LCMS are as follows: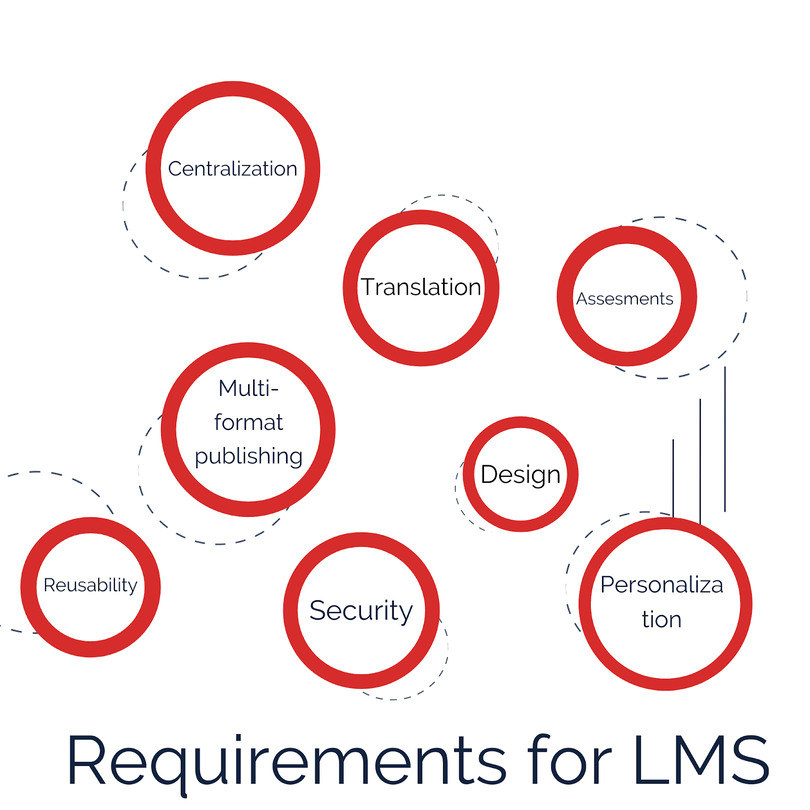 Centralization
The given requirement presupposes storing connect in one centralized content repository. This way, content specialists will be able to maintain content effectively. In other words, unlike other tools, professionals using learning content management systems can work in only one location. For example, there would no longer need to jump to different pages outside the repository.
Generally, the main importance of the given system is that it helps content specialists find particular information quickly. Apart from that, centralization allows organizations to track their content lifecycle. Obviously, such opportunities make the work of content managers and the whole organization much easier.
Multi-format publishing
The content made with the help of a learning content management system is dynamic. Content professionals get an opportunity to work with different publishing themes. In addition, multi-format publishing does not presuppose content specialists spend time on recreating certain content for different outputs.
Reusability
Learning content management system promotes the creation and distribution of content into certain groups (for example courses or separate lessons). This means that if there is a need for a certain content to be used again, content specialists will no longer have to recreate the same content on aging. Instead, they call the necessary material from a single repository and use a particular content for a particular purpose. In addition, such an approach to content, allows organizations to ensure that it is up to date.
Personalization
Learning content management is becoming more popular due to its opportunity to help organizations adapt their content to different types of audiences. For example, by using LCMS, your organization can filter the content based on the language, region, role, product, or any other parameters. Moreover, it is possible to make the content either shorter or longer for a specific audience. Once again, such an approach to content management, helps the organization, particularly those professionals dealing with content, spend significantly less time on scaling their content.
Assessments
To ensure LCMS is effective, it is necessary to implement various interaction types in it. Some of them might be the following: multiple choice, interactive tabs, image maps, fill in the black, and many others. Such interaction types can help content creators focus on students as content assets. Plus, it is always convenient to access and enhance them on a regular basis once it is needed.
Design
Modern, UI UX design services will always help you to attract a broader audience. You have to ensure that the lcms software that you implemented offers content for all devices. This means that your LCMS can optimize the count you created for all screen sizes.
Translation
Undoubtedly, translation is a key factor that has to be considered if your organization attempts to work with a global audience. In many cases, such a process might be very difficult to implement. Yet, it should not be the case in LCMS. This learning technology is known for its workflow that makes the process of translation simple as well as puts all languages in one place.
Security
Security is one of the most important requirements of the effective learning content management system. You have to ensure that all your data is secured. To do so, it is necessary to rely on ISO and SOC certified hosting providers. In addition, to boost security levels, you would have to stick to GDPR and data encryption plans.
To Wrap Up
If you still wonder whether LCMS is right for your business, you have to pay attention to the specific needs of your organization. You should opt for a learning content management system in case the majority of learning content that you offer is digital or you create your digital e-learning in-house. Plus, e-learning cms is suitable for those businesses that don't want to pay for several tools to deliver e-learning.
Moreover, if you are looking for a learning technology that can decrease the amount of time spent authoring e-learning, you should consider learning content management systems as well.
On the whole, LCMS is getting more popular because of its advantages. By using the given system content creators can create and modify learning objects. Moreover, they can work in a secure repository in which all the learning objects will be stored. This way, all the cornet can be reused for future needs.
Do you need advice on a perfect learning content management solution for your business?
If yes, then get in contact with our team and we will together enhance your business.