5 Reasons to Build Your Own Cloud-Based LMS. Best Cloud LMS in 2023
Learning management systems can transform education-centric organizations. This article reviews one of the critical innovations in the sector: cloud-based systems.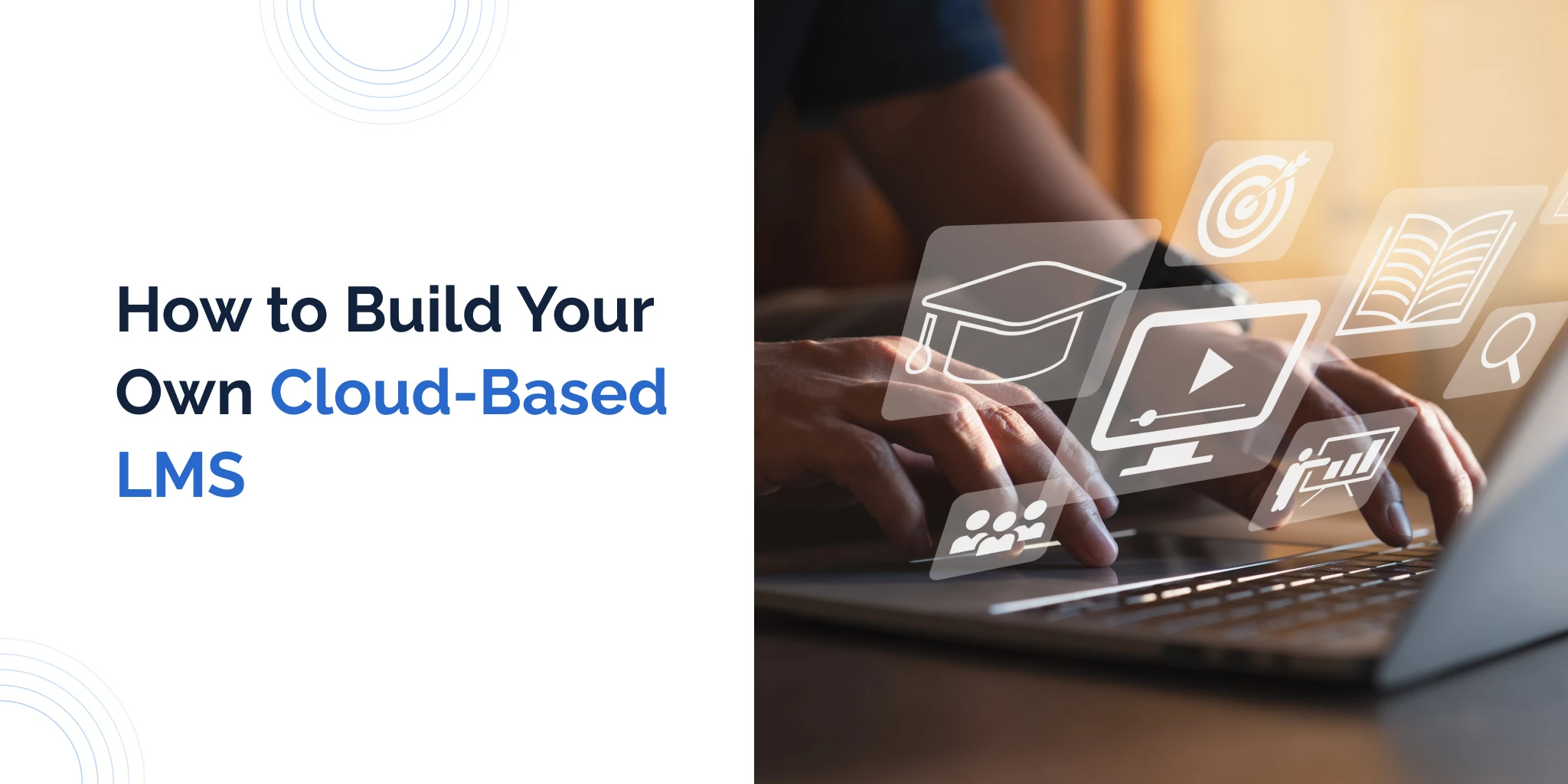 A cloud-based learning management system can be a strong boost for an educational company. In this article, we look at five reasons to build your own cloud-based LMS and review the best LMS in 2023. You'll also learn about the LMS definition and its key features. Using this information, the readers should be able to make informed decisions on installing cloud-based systems in their business.
LMS: Meaning and Use
LMS stands for Learning Management System. This software helps manage and deliver educational courses or training programs. What does LMS deliver to the users? Firstly, it allows the administrators to track and report student progress and manage course content within online or on-site (offline) courses. Secondly, LMS provides tools for communication between instructors and students. Many LMS tools, such as edX, feature forums and even chats. LMSs have apps in many settings. Schools, universities, corporations, and e-learning platforms use LMSs.
And what about cloud LMS? What's the difference between traditional systems and cloud-based ones? A cloud LMS is web-centric, accessible from anywhere, and typically subscription-based, while a traditional LMS is installed locally. With a cloud-centric LMS, students can access course materials and assignments from anywhere and at any time, making it a convenient and flexible way to learn. Traditional LMSs are more limited in this regard as they're tied to some location or offer a restricted online capacity for a few users.
Cloud-Based LMS Implementation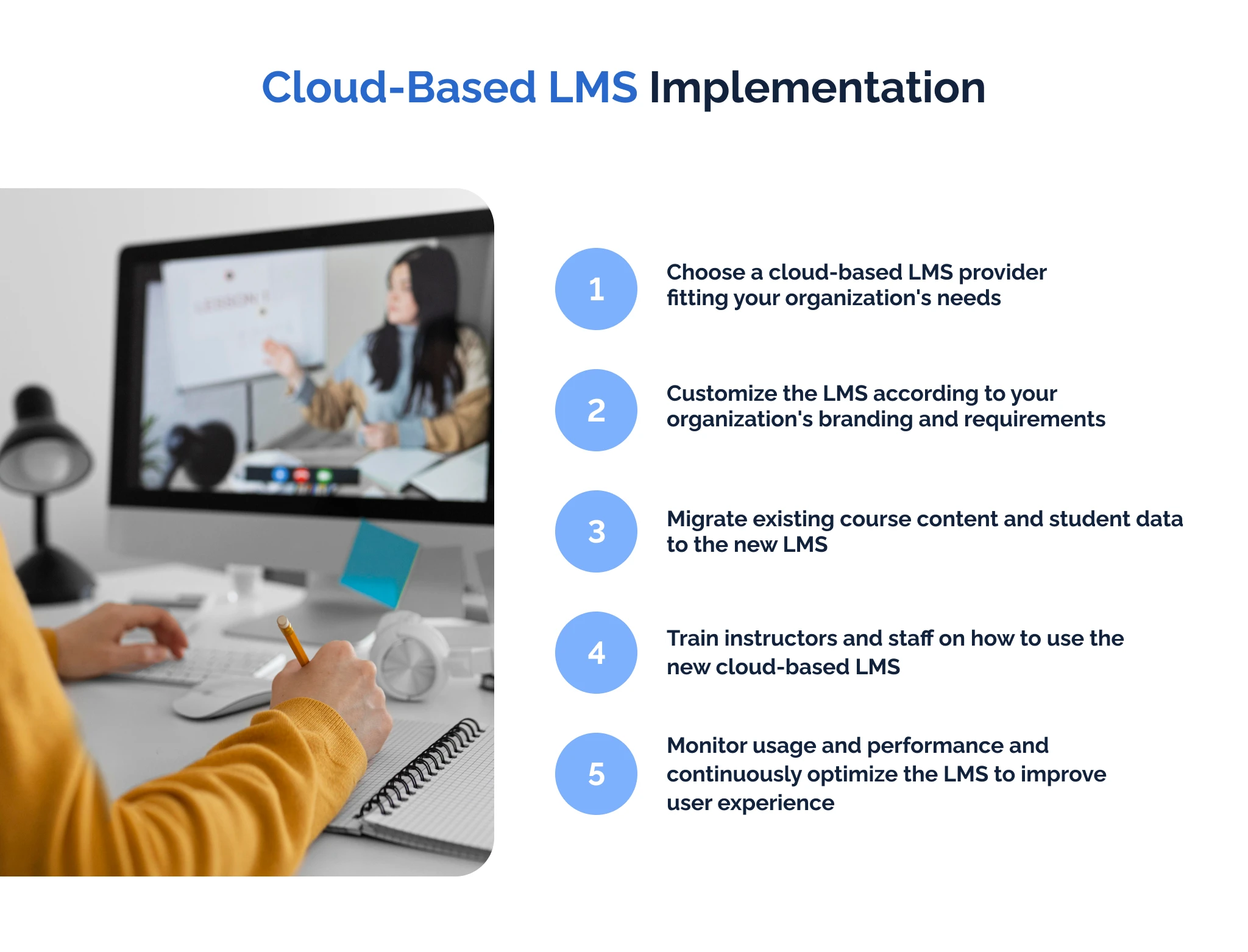 Do you want to create a cloud LMS for your firm? In this case, you should follow these steps to achieve success:
Choose a cloud-based LMS provider fitting your organization's needs. Many apps exist on the market: choose the ones with features necessary for your business. And what if no apps are fitting your unique needs? Such situations sometimes happen too. In that case, one can hire a company to create a custom Learning Management System. We at Keenethics offer such services. If you're interested in an estimate of the potential costs, don't hesitate to contact us.
Customize the LMS according to your organization's branding and requirements. Many off-the-shelf LMSs enable customization. You can promote a brand via them and change the appearance of the relevant app on the web. The option of using the aforementioned custom systems also exists. Investing in a custom solution makes sense if you need in-depth customization and features not available in any LMS on the market.
Migrate existing course content and student data to the new LMS. This point is essential if you already have course content. Many companies starting cloud LMS frameworks possess interesting courses. Their goal at this stage of implementing cloud-based learning management systems is to transition everything to the online framework and start profiting from the knowledge. The process will be manual; one must create a large team to make the transition as fast as possible. It's also crucial to consider the format differences. Online courses may need unique additions fitting this format best.
Train instructors and staff on how to use the new cloud-based LMS. Cloud-based LMS tends to be a complex technology with many settings. Your goal is to ensure maximum understanding by the instructors and staff. Teach the individuals how to manage courses and communicate with the learners. A good idea is to have a short separate course for this goal: it can teach the users about the cloud LMS through a real example.
Monitor usage and performance and continuously optimize the LMS to improve user experience. Once your LMS is in action, there are still many things to do. What exactly do you need to focus on? In this regard, monitoring the usage and performance of the LMS is crucial. Collecting data on the system's performance is essential because this information can highlight its weak points. Knowing the problems of their LMS, one can transition to optimizing and improving the user experience. This aspect is much more important than most business specialists think. Why? Learning is a long-term investment. People using a cloud LMS are likely to expect a similar commitment from the company providing a relevant service. If you want to attract learners, show them you care about the LMS product and are ready to upgrade it to fit their needs.
Common Features of a Сloud-Based Learning Management System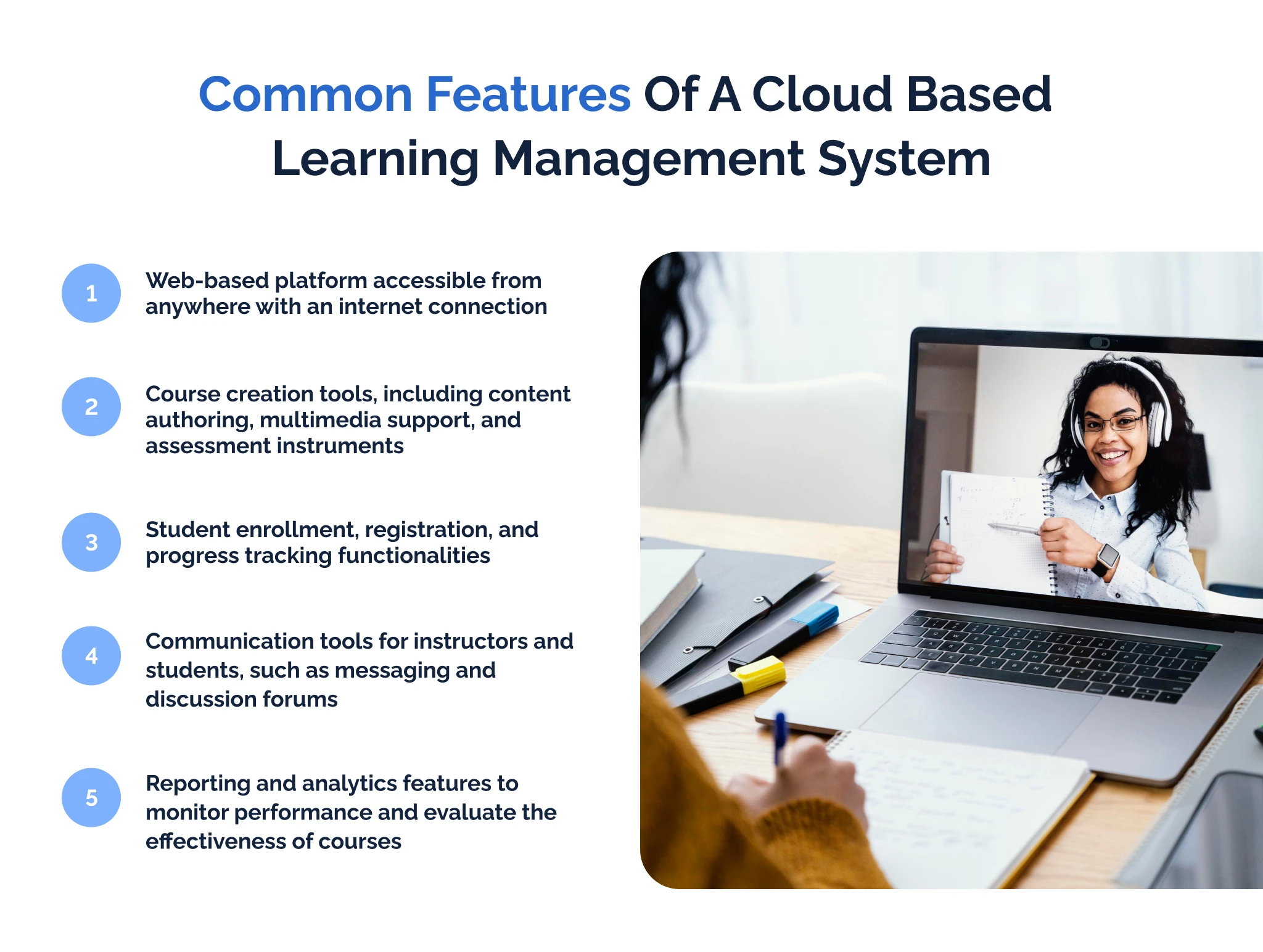 Now that we know how to create cloud-based learning management systems, it's time to review the key features of the relevant system. A good review appears in the paper of Hassan Faisal Aldheleai from the Department of Computer Science at Aligarh Muslim University and their colleagues. What are those? Let's look at the following:
Web-based platform accessible from anywhere with an internet connection. The key feature of a cloud LMS is accessibility: one can reach them from any place. Your goal is to ensure anyone within the region you want to cover can access the system from any location. Cloud-based LMS without at least national coverage makes no sense.
Course creation tools, including content authoring, multimedia support, and assessment instruments. This feature is essential for all LMSs, including cloud-based ones. The key goal of creating such a system is to have convenient tools for course deployment. They should have access to multiple types of data presentation: one must offer text, audio, video, and images. Another vital aspect here includes the automatic assessment tools. Many teachers know that checking the tests, for example, is tedious. LMSs open up a path for creativity by enabling one to automate the test review processes and focus on course creation instead.
Student enrollment, registration, and progress tracking functionalities. All LMSs work with a large number of students. Your main goal here is to ensure that their experience in the service is convenient. What's crucial for this aim? One should have a comfortable enrollment and registration process. Moreover, a strong feature to add is a custom profile for every user with progress-tracking functionalities. After registration, the learners should have access to a dashboard offering full insight into their activities.
Communication tools for instructors and students, such as messaging and discussion forums. Learning is a subtype of communication: during it, a teacher communicates the relevant knowledge to the student via a lecture or even a book. An LMS that doesn't enable communication is incomplete. What features are good for a cloud-based LMS? You should use traditional personal computer communication frameworks. They involve messaging systems and discussion forums. Messaging systems enable communication between two individuals or a small group of people. Forums allow many people to participate in in-depth communication. Why is communication essential? It allows clarifying various issues and serves as an additional source of knowledge.
Reporting and analytics features to monitor performance and evaluate the effectiveness of courses. The final element all cloud-based LMS apps should have is the analytics framework. LMSs in the cloud involve a large number of users. In this light, they provide a perfect opportunity to collect statistically significant service data. Reporting and analytics help monitor performance and understand if certain courses are effective. Using this data, one can upgrade inefficient courses or even create new programs based on the visible demand of the average student.
Five Reasons to Build a Cloud-Based LMS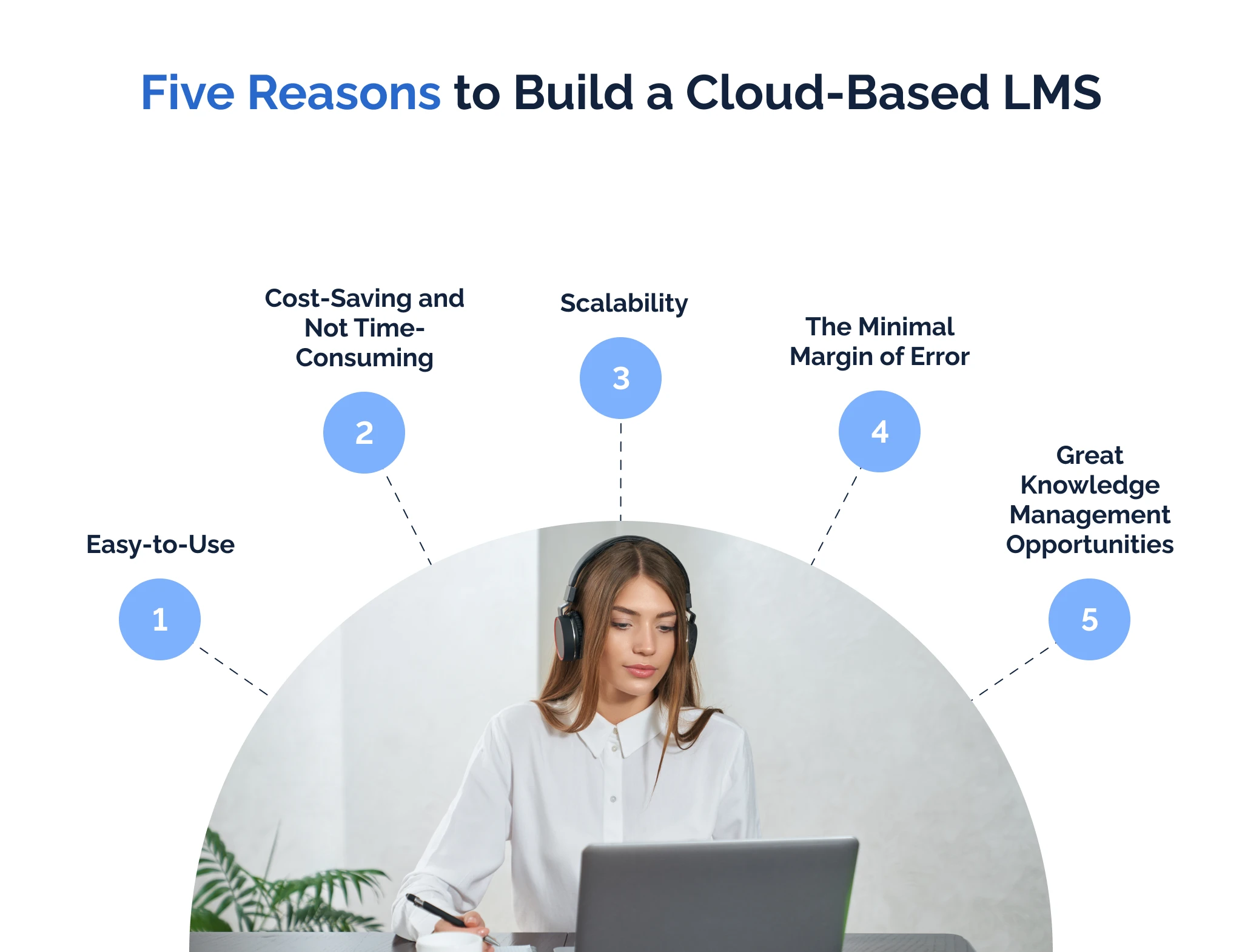 What are the reasons for building a cloud-based LMS? Let's look at them. As you'll see, they're quite diverse:
Easy-to-Use
Cloud-based systems are easy to use for the course creators and the learners. Course managers get rid of boring and complicated installation processes: cloud-based LMSs are pre-configured. As for the learners, they get an opportunity to use a service from any location. This factor alone saves time and makes learning enticing. In this regard, your goal is to ensure the interface is comfortable to attract many users.
Cost-Saving and Not Time-Consuming
Cloud-based LMSs are cost-saving and not time-consuming for several reasons. Firstly, with a cloud-based LMS, there's no need to invest in expensive hardware or software: the vendor hosts and maintains the relevant LMS. Secondly, cloud-based LMSs are subscription-based. Since many subscription services have tiers, it's possible to choose an option fitting the business size. Thirdly, cloud-based LMSs are accessible from anywhere with an internet connection, making it easy for learners to access course materials and complete assignments on their own schedule. Finally, cloud-based LMSs offer easy-to-use tools for content creation, course management, and reporting, reducing the time needed for course development and management.
Scalability
LMSs are a strong long-term contribution regardless of company size. Why? Because they're scalable and can grow with a business. A small company may go for a low-scale LMS. A larger one can order a bigger subscription plan and expand their user experience further. An additional factor in scalability is the mobility of the LMS frameworks. What does a cloud LMS offer? It works on both mobile and desktop platforms. In this light, it's easy to spread courses across many users. Even with a custom LMS, you can start with a desktop framework to transition toward mobile-based devices. Cloud LMSs deliver opportunities to expand. If you're interested in a custom solution, don't hesitate to contact our company: we provide high-quality products of this type.
The Minimal Margin of Error
The learning process involves a large amount of data. For example, teachers have to analyze tests from a myriad of students. The opportunities for errors are diverse in such conditions. A major advantage of a custom LMS is that it minimizes mistakes. What exactly do these systems offer? They automate the testing process and let you analyze many everyday learning activities of the students. In this light, you can make more accurate decisions on the training programs.
Great Knowledge Management Opportunities
Managing a large amount of information is difficult for many people. Cloud-based LMS systems resolve this problem. How? Firstly, LMSs make content management dynamic by combining the texts with images, videos, and animations. Secondly, LMSs match the individual learning styles of the students. Some people can learn in short sessions. Others go for longer ones. This approach helps learners remember more data, teaching them to implement the knowledge in practice.
Important Note
Before you start developing cloud-based LMS systems, a logical step is to consider the difficulties that may befall you along the path. What are those? Here's the list:
Both off-the-shelf and custom solutions require an initial investment;
Developing a system on your own is a risk: the most secure path is a partnership with a company offering a full-cycle development;
One needs to make improvements or upgrades to the existing system: investments are necessary long after the end of the main development cycle;
Employee training regarding the system is a major expense: even the most potent frameworks can fail without it.
In short, you should be prepared for significant expenditures when developing a cloud LMS. Nonetheless, we believe those difficulties don't outweigh the benefits of cloud LMSs. They offer more funds than one spends in the long term.
Best Cloud LMS in 2023
1. Northpass
Northpass LMS is a Learning Management System allowing organizations to create, manage and deliver online courses and training programs. It offers features such as course authoring, assessment, and tracking. With Northpass LMS, users can easily create custom eLearning content and deliver it to their employees or students. This platform is among the best cloud-based LMS frameworks due to its analytics module. Using it, the course makers can understand the overall progress of their courses.
2. Docebo
Docebo is a cloud-based Learning Management System (LMS) enabling organizations to deliver and manage learning programs. It offers a range of features, including course creation, user management, reporting, and social learning. A unique aspect of Docebo is its AI-powered learning platform providing personalized learning experiences based on user behavior and preferences. This feature is crucial for many organizations because it enables one to adapt an app to the diverse learning styles of the users.
3. LearnUpon LMS
LearnUpon is a cloud-based learning management system enabling organizations to create and deliver online courses and training programs. It offers customizable branding, course creation tools, gamification, e-commerce, and integrations with third-party apps. Unique features include automated certification, blended learning, and multilingual support.
4. Skilljar
Skilljar is a cloud-based learning management system (LMS) helping businesses deliver engaging training to their employees, customers, and partners. With Skilljar, you can create and manage courses, track learner progress, and provide certifications. One unique feature of Skilljar is its integration with Salesforce, allowing you to track training data alongside your sales and marketing information in one place.
5. Lessonly by Seismic
Lessonly by Seismic is a powerful training software designed to help teams learn, practice and perform better. The software provides a wide range of tools and features which enable users to create custom training lessons. This factor means clients can deliver relevant and engaging training content. The platform also offers real-time analytics and reporting, which allows users to track their progress and measure the success of their training efforts.
6. SAP Litmos
SAP Litmos is a cloud-based learning management system allowing organizations to create and deliver training programs for employees, customers, and partners. Its unique feature is easily integrating with other SAP products for a seamless user experience. Additionally, SAP Litmos provides a mobile app for learners to access training material anytime and anywhere. The platform also offers gamification, social learning, and analytics to improve engagement and track progress. With SAP Litmos, organizations can customize the look and feel of their learning portal and scale their training programs as needed. This app features all the key benefits of a cloud-based LMS, making it one of the most versatile solutions on the list.
7. 360Learning
360Learning is a collaborative learning platform allowing organizations to create and deliver engaging online courses. One unique feature of 360Learning is its social learning aspect, which allows learners to interact with one another and share knowledge and feedback. This feature is designed to encourage collaboration and foster a sense of community. 360Learning helps create a more dynamic and engaging learning experience by enabling learners to connect. Additionally, the platform's user-friendly interface and powerful analytics tools make it easy for instructors to create and manage courses, track learner progress, and improve the effectiveness of their training programs.
8. TalentLMS
TalentLMS is a cloud-based learning management system designed to help businesses and organizations of all sizes create and deliver online training courses. With easy course creation tools, multimedia support, and built-in gamification features, TalentLMS allows businesses to create engaging training programs for employees, customers, and partners. A highlight feature of TalentLMS is its mobile app, which enables learners to access training materials and complete courses on the go, even without an internet connection. This makes it easy for businesses to offer training to remote workers or those who frequently travel.
9. Absorb LMS
Absorb LMS is a cloud-based learning management system that provides a customizable and intuitive learning experience. With Absorb LMS, organizations can create and deliver personalized learning content to their employees, partners, and customers. The platform supports learning across various devices and offers a range of features, including gamification, social learning, and reporting and analytics. Another crucial aspect of Absorb LMS is its ability to integrate with various third-party tools and systems, such as Salesforce, allowing organizations to create a seamless learning experience for their users.
10. WorkRamp
WorkRamp is an innovative employee training and development platform helping organizations train their employees more effectively. The platform provides a range of tools for creating, delivering, and tracking training programs, as well as for assessing employee performance and identifying areas for improvement. WorkRamp's unique feature focuses on personalized learning paths tailored to each employee's needs and goals. This approach ensures that employees receive the training they require to succeed in their roles while also helping organizations identify and develop high-potential workers for future leadership positions.
In Conclusion
We hope this article helped you understand what a cloud-based LMS is. Generally, this technology is a strong investment for a company wanting to achieve maximum visibility on the market. You have two options for an LMS: one can choose from the existing solutions mentioned above or go for a custom LMS. Our company develops many high-quality custom apps for learners. We have multiple custom products in our portfolio. Don't hesitate to contact us: we can deliver a great service.
FAQs About Cloud-Based LMS
What does the term "cloud-based LMS" mean?
A cloud-based LMS is a learning management system hosted on the cloud.
How does an on-premise LMS differ from a cloud-based LMS?
An on-premise LMS is installed locally on a server, while a cloud-based LMS is hosted on the cloud.
Which type of cloud service model is LMS?
LMS is typically a SaaS (Software as a Service) model of cloud computing.
What cloud models exist?
The three cloud models are Infrastructure as a Service (IaaS), Platform as a Service (PaaS), and Software as a Service (SaaS).
Is an LMS a SaaS?
Yes, an LMS is typically a SaaS.
A learning management system can boost your business.
If you're interested in such an opportunity, contact us. How about starting with a free estimate of your project costs?