Personalization in Banking: Types and Examples
Personalized banking is a strong solution. Learn how to use it.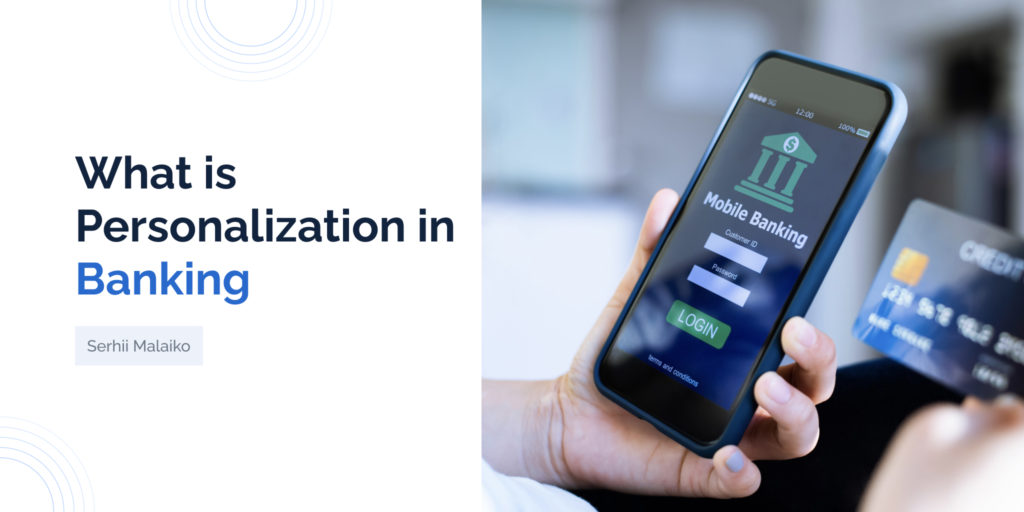 Banking services are necessary for everyone in the modern world. It's impossible to make any large purchase without them. Comfort is one of the key aspects for this process. We all expect that such everyday activities are as high-quality as possible. In this review, our goal is to look at the so-called personalized banking. Computerized services make it possible to turn everyone's bank experience online into a personalized opportunity.
Related services

Banking And Financial Software Development Services
What is Personalization in Banking?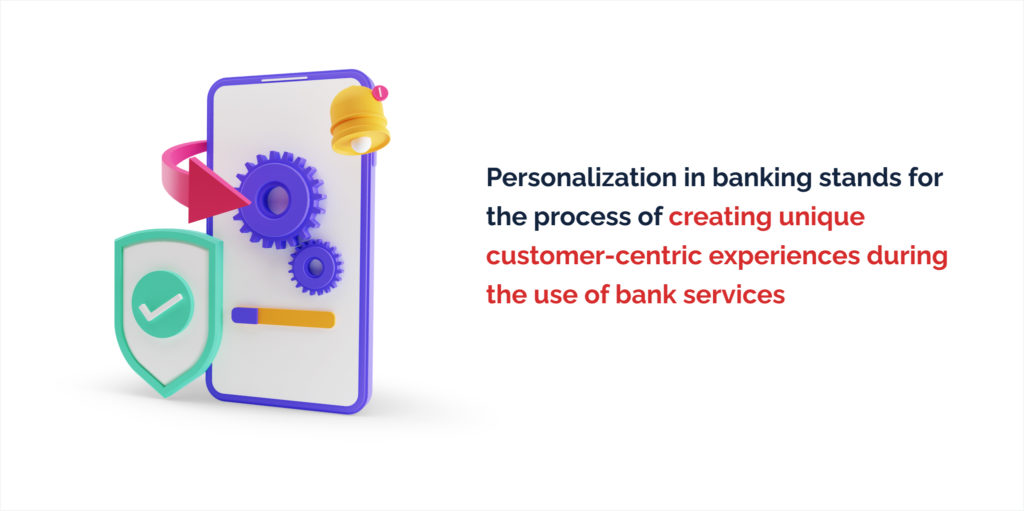 Personalization in banking stands for the process of creating unique customer-centric experiences during the use of bank services. The most common framework for such personalized banking exists online. Many use cases appear for this innovation. Firstly, it involves the ability to get unique deals. Juni, for instance, uses algorithms to deliver personal overdraft opportunities and even calculate potential loans. Secondly, personalization means the ability to configure the key aspects of banking. A user should be able to change the withdrawal limits, for example, or configure how much money goes to a saving account. The overall idea is to make the experience of using a bank as user-friendly as possible.
Personalized Banking and Customer Experience in Finance
Personalized banking is vital in creating an interesting customer experience in finance. For many people, banks are boring and rather tedious institutions. Their goal is to manage one's future, which is a frightening task. Moreover, those institutions are always limited in what one can do. Loan offers, for instance, are standard across the banks. Personalization in banking gives a pathway to make the whole process less tedious and more enjoyable for everyone. It provides better financial opportunities and allows the automation of certain experiences. The idea of person-centric banks is to deliver opportunities working for a maximum number of people.
Benefits of Personalization in Financial Services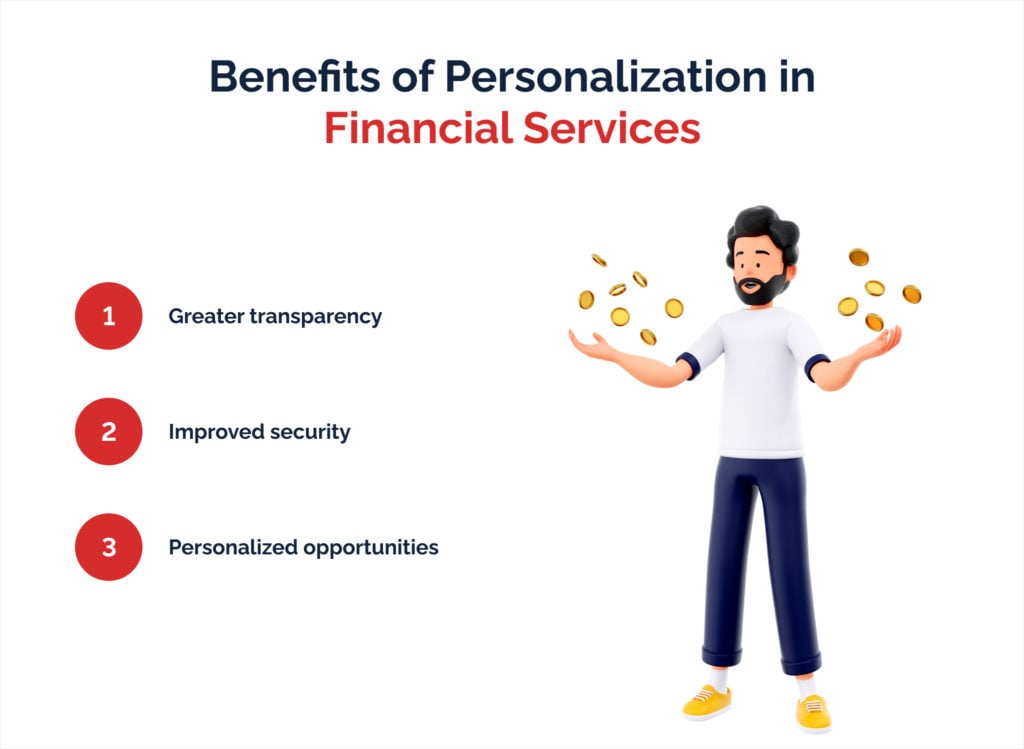 We've already mentioned some of the benefits stemming from personalized banking. Above all, it's notable for the improvement of the customer experience. Let's look at additional advantages in-depth:
1) Greater transparency: many people who use 'traditional' banks face the problem of obscure rules. Sometimes, an individual with a perfect savings pattern and no previous loans can have a low credit history, for instance. Personalized finance resolves this issue by making every influence visible. Instead of having to use several apps (for instance, Experian), it's now possible to monitor every aspect of financial history in one place;
2) Improved security: regrettably, the probability of someone taking an illegal loan using fake credentials remains high. Criminals often use this approach when possessing stolen document-related data. In the past, notifications about those events were difficult to spread due to the lack of communication devices. Personalized banking allows for the active monitoring of fraud cases via credit history and push notifications;
3) Personalized opportunities: many users want options tailored to their specific use cases. The usage of online services allows for observing and predicting the needs of customers. Banks can then deliver unique promotions to users aimed at their financial patterns. For example, a person who likes saving funds may get a unique savings opportunity. A user who spends money on video games should receive good cashback.
Types of Banking Personalization in the Financial Industry
Many types of banking personalization exist in the financial industry. Here are some of the key frameworks:
1) Personalization based on past history: banks can try to personalize data using information from the past. For instance, if the user has no history of taking out loans, they would get an average credit score and medium-quality opportunities. Prediction-based models make sense because past behavior is often the basis of future one. People change sometimes, but many have definite and unchangeable financial habits;
2) Personalization based on recent history: some banking facilities also analyze recent purchases. This is crucial for short-term promotions. A person who likes buying board games can get cash back in chosen shops. The idea is to see what interests a user has to maximize their engagement in personalized banking. This method isn't good for some advanced financial decisions (such as home loans), but it works regarding the initial engagement.
3) Personalization based on human input and basic algorithms: a common method for promotions is to use some basic algorithm looking at interests and human input for correcting it. This method is behind traditional credit histories, for example.
4) Personalization via machine learning: a newer framework is to minimize human input. Instead, all the work falls upon complex algorithms. The idea is similar to the preceding one, but all the decisions stem from AI.
Examples of Personalization in Banking
We believe multiple examples of personalization exist for banking:
1. Personalized decisions based on the overall history
Companies such as Juni offer many opportunities via the clients' choices. For instance, they promote various cashback, deposit, and credit opportunities by analyzing the customers' behavior. This allows them to attract clients via unique opportunities not available in any other market. Sometimes a unique loan with one changed variable can be crucial for attracting a user to personalized financial services.
2. Blog Content for Specific Customers
Many people have information-related needs. Gen Z and Millennials, for example, are bad at saving funds. This means they benefit from the materials providing financial advice to build a good safety net. Business owners have their interests: they may search for investment and loan advice. The idea is to prepare articles targeting different people with diverging interests. Personalization banking here will touch upon the ability to spread vital information about the opportunities you offer. For instance, the Better Money Habits blog provided by the Bank of America helps users to save more and spend less.
3. Segment-centric promotions
History is crucial not only for the loans but also regarding the more short-term products. Many companies provide cashback opportunities for certain wares. This is a perfect choice for personalization in banking. It's low-cost and doesn't demand a significant level of analysis. For instance, Vivid has a unique service for gamers that delivers them personalized cashback for their hobbies.
How to begin with personalized banking?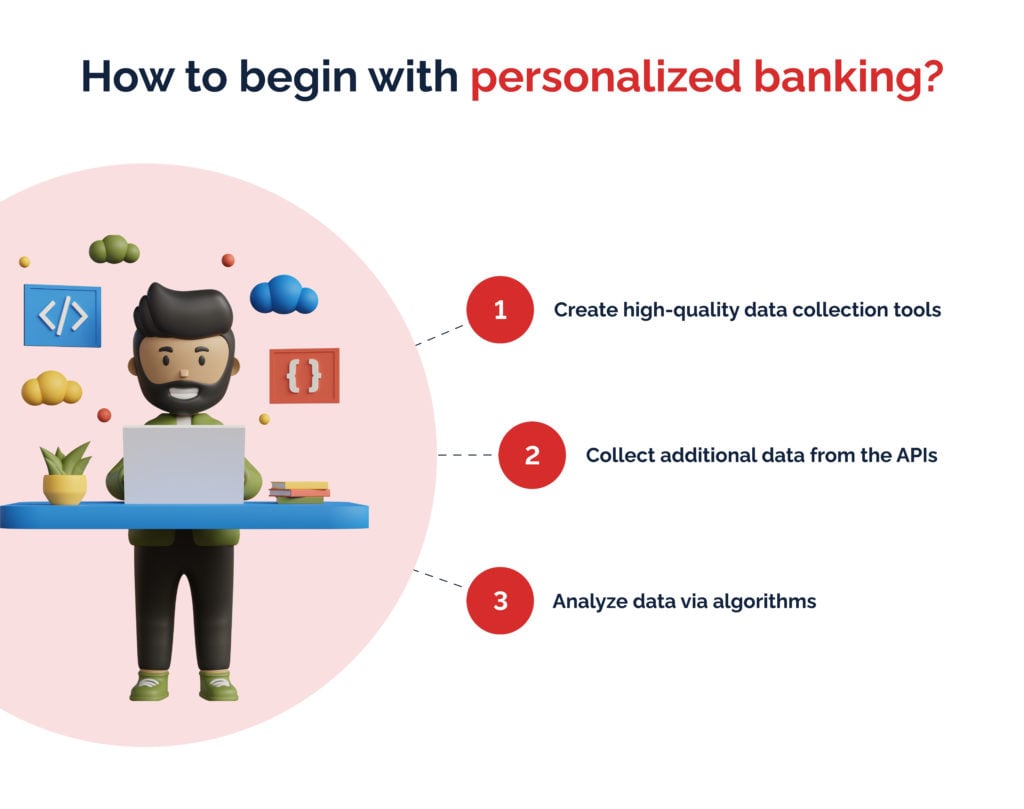 To begin with personalized banking, one should consider several choices:
1. Create high-quality data collection tools
The best way to maximize personalization in banking is to focus on user data. You should know what interests they have and how they spend funds. This information is the key to enabling personalization: it's impossible to customize if all your customer data looks similar. Creating a data collection tool is the key to success in the outlined situation.
2. Collect additional data from the APIs
Some companies already collect key data from customers. You can obtain their credit history and find out information about some interests via online searches. To start personalized banking, it's crucial to use certain APIs for delivering additional customer data.
3. Analyze data via algorithms
The final step, in this case, is to study the customer data via certain personalized banking algorithms. Many Big Data online tools enable the collection of such information. This step will allow you to create custom recommendations and deliver unique promotions.
The Challenges of Personalized Banking Implementation
Personalized banking isn't without its problems and challenges. Here are some of them:
Challenges that stem from the outside
Personalization in banking challenges primarily touch upon security. When a company collects a lot of personal information, it may leak, regrettably. In this light, the key factor to consider is the focus on the maximal security of the service. Without investments in this sector, one can repeat the fate of Equifax. Due to problems with security, the company faced a leak of information about more than 100 million customers.
Challenges that come from the inside
The inside challenges of banking personalization include the problems with the algorithms themselves. It's crucial to guarantee that the algorithms predict customer needs efficiently. They need to consider multiple factors to ensure the customers get recommendations. This means a combination of large investments and a talented workforce is crucial. If you're interested, our company has experience in this regard, having developed some high-quality financial services. Don't hesitate to order from us: we offer high-quality services!
The Future of Using Personalization in Banking
The current banking personalization trend relies on algorithms and even basic AIs. Chat GPT shows this dependence is likely to grow. Current AI tools can deliver advanced recommendations about many aspects of human life. Upcoming tools will include AI-centric predictions of personal financial future and advice based on them. The companies integrating AI first are likely to be the most successful in the financial business sector.
Conclusion
To summarize, personalized financial services are becoming an essential component of success for banks. They improve security and provide unique advice/offers to customers. The faster you implement such technology, the better. If you're interested in personalized banking development, our company is out there to help. One can get relevant assistance by following the links on our site. Here's our project portfolio, for example. Are you interested? Contact us, and we'll look into interesting options!
Frequently Asked Questions about Personalized Financial Services
What is personalized banking?
Personalized banking is an approach to offering financial services that take the unique customer's characteristics into consideration.
What's necessary to create a good personalized banking experience?
One needs to collect a significant amount of data and, more importantly, have high-quality algorithms for processing it. To personalize, it's crucial to know the spending and purchase habits.
Who is capable of assisting with personalized banking?
Many companies on the market deliver development help. Our company is among them. You can find out more information about the development services on this site.
Our company has major development experience in the finance-related field.
Don't hesitate to try out our services!