Mobile Learning as the 2022 'Must Have' for Edtech
Your life will never be the same if you try mobile learning. But will the advantages outweigh the disadvantages? Let's figure this out.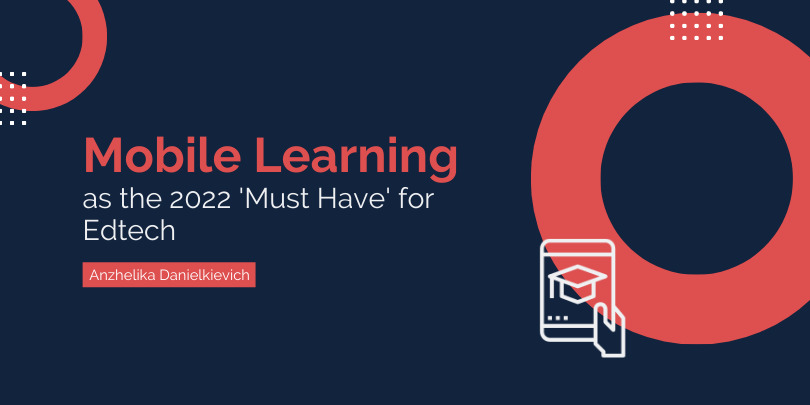 2022 was a year that brought big changes to e-learning software development. Technology has become the main means of gaining knowledge. Mobile devices, tablets, laptops, and PCs now allow us to study from anywhere. Learners can use different edtech tools — communication channels, resource databases, content-generation apps. They save preparation and management time. And the saved time can be devoted to the learning process itself. For sure, 2022 has enriched edtech with new means for distance learning. For sure, 2022 turned m-learning into a real must-have!
---
2022 turned m-learning into a real must-have!
---
M-Learning: What Is It?
Mobile learning is also known as m-learning. M-learning means learning with the help of personal electronic devices. The m-learning sector is growing day by day since it increases education accessibility. Using mobile phones, learners engage with distance lessons and interact with their peers. They don't have to look for some extra equipment to turn learning into a creative and memorable process. With m-learning, everything students need is stored in their smartphones.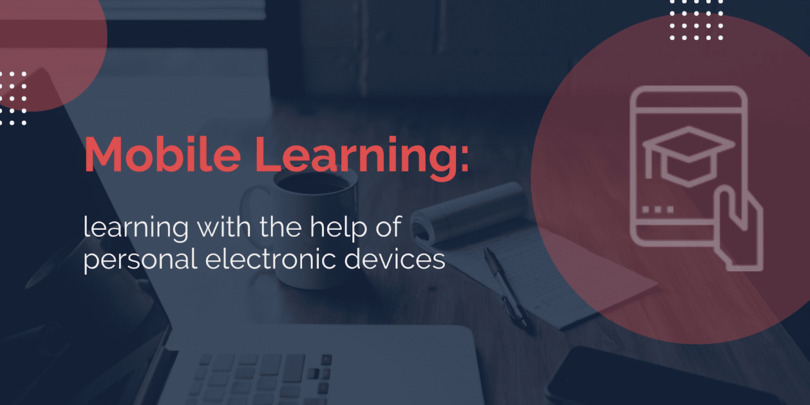 When M-Learning Is Used, and When Is Not
Mobile learning is frequently used in classrooms by teachers. M-learning is common in both online and brick-and-mortar classrooms. Educators apply mobile software to facilitate educational processes. Mobile learning makes teacher-student cooperation more personalized and interactive. Students use their mobile devices to take an active part in the lesson. But to use mobile learning at your school, you should make sure that your students' technology is ready for such a change. And even if just a few students lack access to devices, you cannot assign mobile learning tasks. You have to either ensure access to technology for everyone or suggest alternative ways of cooperation. Noone should feel disconnected from the learning community because of their technological unpreparedness.
---
Mobile learning makes teacher-student cooperation more personalized and interactive.
---
Mobile Learning Pros and Cons
Like all other spheres, mobile learning has its pros and cons. If you want to better understand whether m-learning suits your case, consider both. Don't look for a universal formula for e-learning growth. Only when analyzing both sides, you will be able to find the best edtech solution. When it comes to m-learning benefits, they evidently prevail over drawbacks. If people didn't use m-learning tools during quarantine, they wouldn't feel that comfortable while studying at home. Moreover, the results of one study highlight that more than 50% of businesses integrating mobile learning reported positive changes in their organizations. Such figures speak for themselves.
Mobile Learning Opportunities
Wider access
Mobile learning gives educators the chance to reach learners who are not present in the physical classroom. Suppose that some of your students are absent because of health issues. Without a mobile learning platform, they have no chance to catch up on the material. They miss some vital information and get lower points as a result. Lower academic performance, less motivation, lower engagement — these are some of the adverse effects of missed classes. With mobile learning, however, the situation is different. Your students can access lesson recordings at home. They can keep pace with your educational program regardless of circumstances.
---
With m-learning, students keep pace with your educational program regardless of circumstances.
---
More flexibility
Adult learners value flexibility most of all. Apart from learning, they are involved in a number of other activities. Some of them devote time to work, others do sports or are dedicated parents. Giving adult learners flexibility, you expand their chances for higher academic results. Your students will appreciate the opportunity to turn on the recorded lecture late in the evening when they have a spare hour. Instead of facing deadline pressure, they will get the chance to manage their time more effectively. For example, your students will be able to subdivide the process of listening to your lecture into two parts and finish it during the day.
---
Mobile learning expands students' chances for higher academic results.
---
Educators will also be grateful for extra flexibility. Suppose that a teacher accompanies their lecture with an interactive presentation. At the end of the presentation, there's a small test for students to check their understanding of the learned material. How to give every learner the chance to participate and answer all test questions? One way is to check the answers of each student separately. But can you imagine how much time it will take for a group of 20? Another way is to ask students to take their mobile phones, click on the shared link, and pass the test. After they finish this task, you will see the results in the form of an automatically generated graph. You will access this graph in your mobile learning management system. You will get a clearer picture of students' performance, while they will get higher interest and engagement.
Are you interested in mobile learning?
KeenEthics team is ready to review your case and decide whether investing in m-learning is the best idea for you. Let's discuss your goals and expectations! Together, we will check if they can be met with a powerful mobile learning solution.
No language barrier
As recent statistics indicates, people spend nearly 4 hours per day using apps on their mobile devices. Of course, it may impress you at first. But if you observe other people's leisure activities, you will see that these figures are true. The best way to turn these figures into your personal advantage is to adjust the new tendency to the relevant circumstances. Mobile devices give plenty of tools for those learners who face the language barrier problem. M-learning allows them to use auto-translation at hand to interact with teachers and peers.
---
M-learning allows for instant interaction with teachers and peers.
---
One more useful opportunity of m-learning is the use of accessibility function. This feature comes in handy when students lack English proficiency but want to take an active part in the learning process. Using the accessibility function, they can turn the textual information into audio. With this feature, the process of adaptation to the English-language environment flows smoothly and quickly. Moreover, it allows students for multi-tasking. For example, they can listen to the material and take notes at the same time.
Cross-cultural experience
Tell your friend about this m-learning benefit if they think that their dream of studying in the US will never come true. Mobile learning makes cross-cultural education possible. Living on one side of the planet, learners can attend the online courses conducted on the other side. They get rid of the feeling of being an alien in the foreign-country environment. Your students can listen to the lecture on their mobile phones even when walking with their pets. With m-learning, there's no cultural pressure. Auto-translation tools will also contribute to making the whole experience doubly pleasant and effective.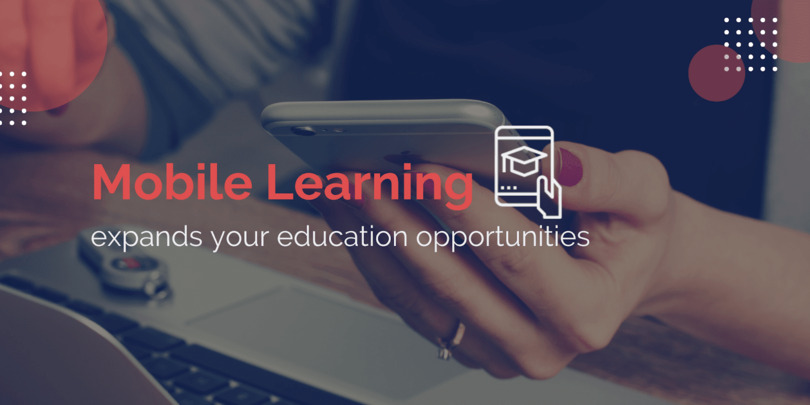 Tricking the brain
With mobile learning, students remember new information much easier. The thing is, m-learning gives them the chance to trick their own brain. Usually, the studying process is associated with books, laptops, essays but not with our mobile phones. Mobile devices are more about our leisure time, watching movies or Youtube videos, scrolling the newsfeed. This is why using a mobile phone for study can bring more results as compared to traditional educational tools. When your learners study on their smartphones, their brain thinks that they are having a rest. It allows them for more effective memorization.
---
When your learners study on their smartphones, their brain thinks that they are having a rest.
---
Mobile Learning Pitfalls
No universal solution
Are you going to introduce a mobile learning management system into your organization? Be ready to face technology incompatibility. Almost everyone owns a smartphone today. However, we all have different devices. It means that mobile learning tools will work differently on each phone. Some learners may face system bugs while using smart m-learning solutions. Others might be fully satisfied with the benefits such solutions give. So, before developing mobile learning software, be ready to carefully analyze your audience's demands. You should create a solution that will be compatible with most of the popular mobile manufacturers.
Technical issues
Mobile learning depends on the technical characteristics of your students' devices. Poor Internet connection, for example, may lead to data loss, damaged files, or misunderstood instructions. Meeting deadlines is a too risky task for your students if they cannot control the quality of data transferring. Moreover, the situation gets complicated when it comes to the unprivileged category of people. They might have no access to fast-processing technology and the Internet. This is why you should study your target audience and suggest alternatives for those facing technical difficulties.
So What?
Don't be afraid of m-learning. It is not aimed to substitute traditional education. M-learning is used to expand students' opportunities for both real-life and distance learning. Mobile learning gives people the tools to express their creativity and make education more interesting. With its help, things that seemed so hard to understand turn into interactive and memorable experiences on their mobile screen.
Before introducing custom e-learning in your organization, your only task is to make sure that it will serve your organization's needs. This article gives you some background information that will guide your decision. But if you still need help with choosing the best solution — KeenEthics is on guard of your success!