Mobile Banking App Development: Features, Challenges, Costs
Security. Government regulations. Standards and compliances. All this relates to mobile application development for banking. Is this development challenging, profitable, or both?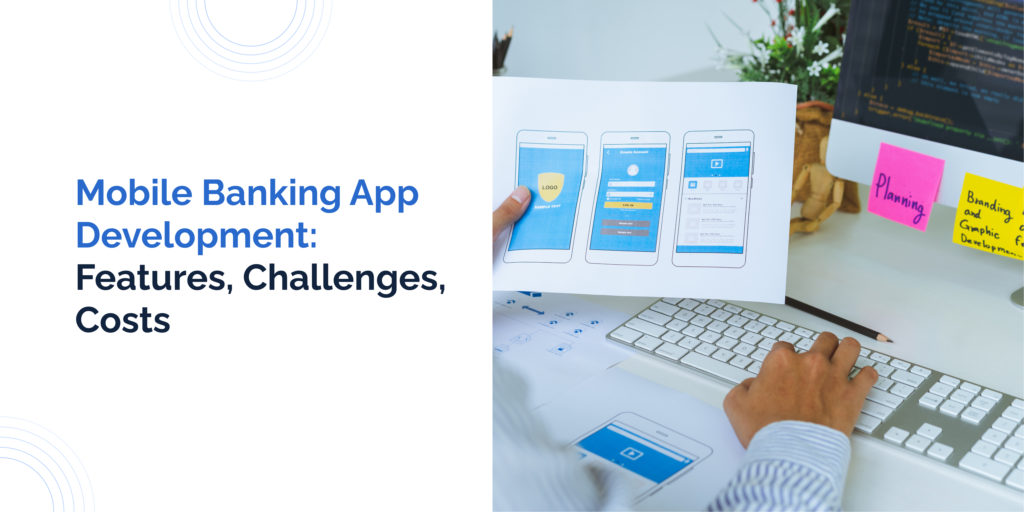 Mobile banking app development is just beginning to gain momentum in terms of improvements, so hiring specialists to help you with the development of mobile banking is the right opportunity. If you think the market is full of various banking apps and winning your audience is challenging – this isn't the case. Stats show that around 89% of bank customers use mobile banking apps to manage their accounts.
In this article, we'll explore the market growth of mobile banking development, its benefits, must-have features for user-friendly software, challenges, how-to-develop guide, and other matters you may be interested in.
Mobile Banking App Development: Market Situation
Mobile banking consumers are individual customers, businesses, government bodies, investors, non-profit organizations, and educational institutions. Their requirements vary following their business or personal needs, from using services like savings accounts, taking loans, and facilitating payments to collecting taxes and foreign exchange transactions.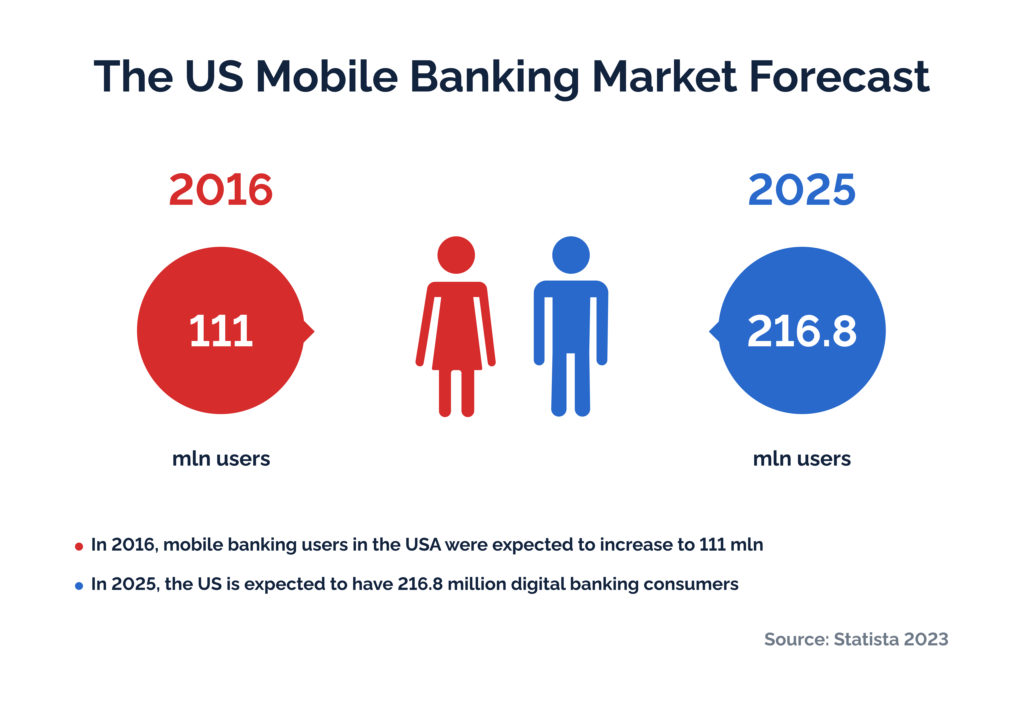 As the owner, you can't go wrong with the app development, as the stats say the number of users is growing by leaps and bounds. While in 2016, mobile banking users in the USA were expected to increase to 111 mln, in 2025, the US is expected to have 216.8 million digital banking consumers. If you like figures more, let's review the global banking market size overview and forecast. In 2022, the Global Mobile Banking Market was assessed at $ 0.941 bln and was expected to grow from $ 1.3 bln in 2023 to $ 3.47 bln by 2030. Over the forecast period (2023-2030), it exhibits an annual growth rate (CAGR) of 15.06%. What makes the market grow so fast? More and more customers use their smartphones for banking services, from bank statements, bill payments, and funds transfers to the general need for online tracking of their financial needs in terms of security. Isn't it the right time to reach your audience by offering a winning product on the fintech market? Today is an excellent chance for banks and business owners to outbid rivals and enhance their position in the market.
Challenges need solutions
There is no challenge Keenethics can't solve. Have any doubts about your project idea and need expert help? We're here to listen to your fears and find the best solution to impress the fintech customers with your product.
Benefits of Mobile Application Development for Banking
If you're sticking with the idea of the banking mobile app development, let's explore how customers, banks, and owners benefit.
Convenience
This advantage is an obvious one. Although the usual work hours of banks are limited, the users can access their bank whenever required. We have new technology that has long ago simplified our lives. And now, the users shouldn't wait for the bank service till the morning. Everything they need is in their smartphones. According to Statista, 45% of respondents like mobile apps primarily for convenience.
24/7 accessibility
The only thing the customers should have is a reliable wifi connection. Through wifi, users can use banking services wherever they are.
Management of transactions
The app provides customers with transparent operations. Having personal login and password, the user can easily access and track all banking transactions.
Environmentally friendly solution
This feature refers to all types of mobile apps. Mobile app development is an ecologically friendly solution, minimizing paper consumption and requiring less facility to store important documents and files.
Versatility
One solution allows customers to track their financial issues like money transfers, bill payments, bank account management, finance tracking, and many other operations without leaving home.
Profitability
Compared to mobile banking apps, banks have higher transaction fees, which usually vary. Customers who make transactions through the app save costs on the extra commission, which is more favorable.
Fewer operation costs
Today, technologies simplify bank operations. Chatbots and 24/7 support of virtual consultants automate many processes, and accordingly, banks save customers' waiting time and enhance customer experience. In addition, mobile banking development means financial savings for owners. The owners can hire fewer staff without sacrificing the quality of customer service.
Customers retention
Push notifications are a meaningful way to notify clients about updates in banking services like offers, payment updates, and guidance.
Customization for customers
Smart data management and enhanced data analytics allow banks to customize their offers to customers' preferences and demands. Moreover, such data can be better used for banks and customers in the long run.
Simplified banking
By entering a secure password and customer ID, the customer quickly gets the response to the required issue. Balance checks, interbank transactions, and bill payments are only some cases the customer benefits from. But not only the customer. In turn, bank staff saves much time and effort in communication and consultation with the client. Additionally, bank branches are free of queues – what can be better for banks and customers?
9 Must-Have Features for Mobile Banking Apps
Mobile application development for banking is advantageous. Mobile banking apps offer vast features for customers, from security to customization. But what features should you consider to make your app a practical solution for a client? How to be sure some features are more beneficial than others?
The good idea is to examine the market and view the top competitors. Comparing their apps and finding out what features the customers like will help you save time on tests and updates. As an example, the top five competitors are Citibank, Wells Fargo, USAA, NFCU, and Bank of America. Google them, put yourself in user's position, and form your viewpoint from the side of the convenience and interface of these apps. Ask yourself what you would improve or change, and outline the practical and unpractical sides of the app.
Since customers have a big choice of mobile banking apps, the app features are the core things they focus on. So, moving to our question, let's focus on must-have features simplifying customer finance management.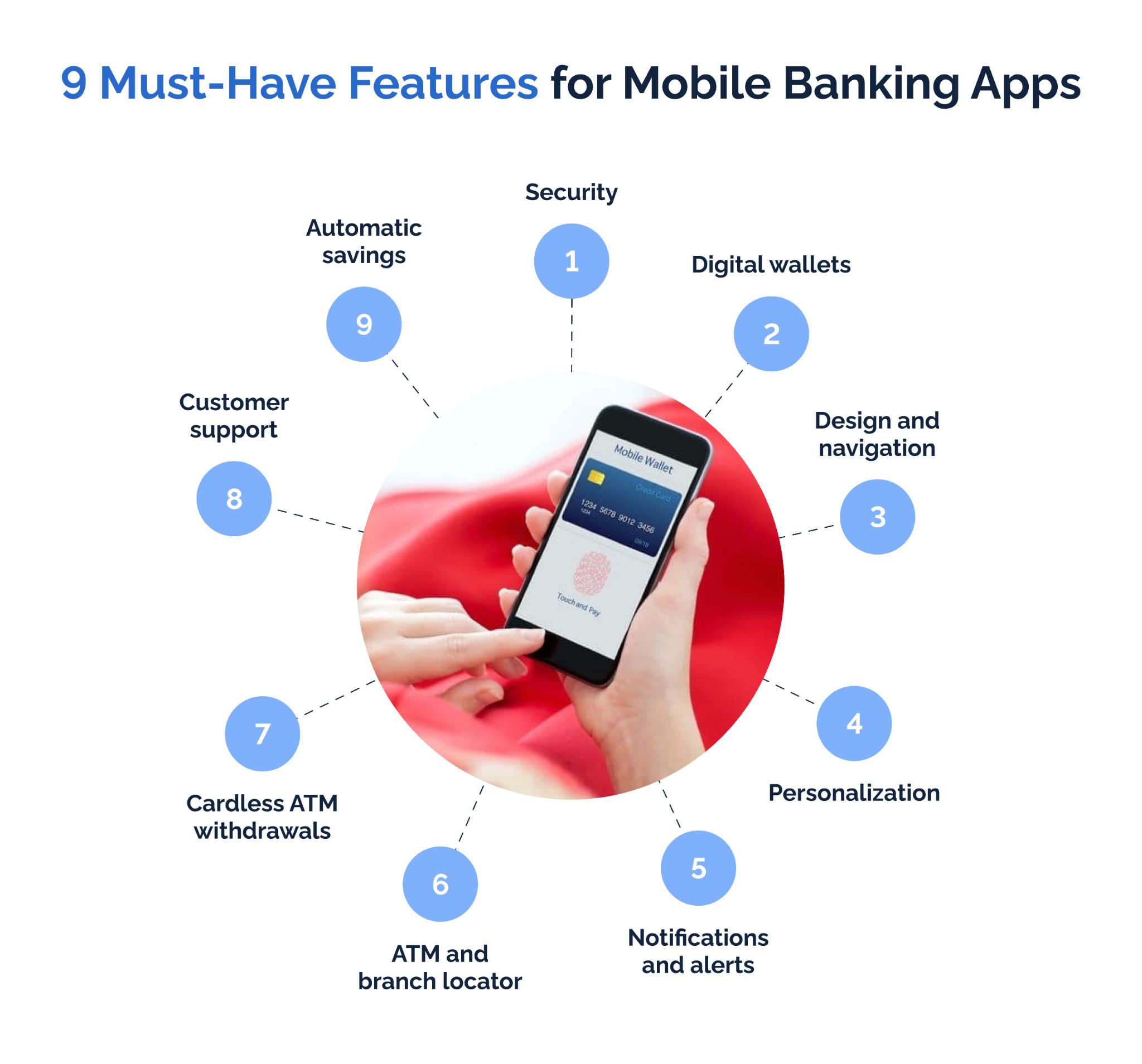 Security
According to the survey, customers rank security as a highly demanded feature – 47% of users define the "block the payment card" feature as "extremely valuable." This is the reason why security is the first feature in our list. Security is about the trust of the customers. When using a mobile banking app, the customer should be sure their money and data are safe against fraudulent operations like fake transactions they don't complete.
The apps with secured login via face ID or touch ID are valuable, letting the users securely log into their accounts without entering any data. Also another security-related feature is safeguarding the users' transactions with a one-time password on their smartphones. The ability to block the card is also critical, protecting the users' finances from fraudulent operations.
Digital wallets
A digital wallet is a practical feature used by people daily. Mobile banking apps with the support of payment apps like Apple Pay, Google Pay, or Samsung Pay ease customers' lives. By adding one's card to a digital wallet on a smartphone, customers can leave their physical cards at home and prevent the risk of data leaks when losing their cards.
Design and navigation
We take this feature as a matter of course since every app should incorporate it to be efficient for the users. But it happens that sometimes the owners neglect the navigation of the app. In turn, users can experience a complex design and unpractical navigation of specific requests.
Personalization
Personalization is a good solution to the point mentioned above. As an app owner, you can provide the customers with high personalization with at least 10 templates and elements, allowing the users to select what is preferable and necessary for them. Other additional options are in-app search and a voice search helping the customers save time without being lost among numerous banking services. Finally, the interaction between your app and users will be increased if you let users choose the font size, screen background, and amount of services they need.
For example, Chase Bank developed an app with high customer customization. The bank provides the users with a choice of 18 variations of home screens, diverse arrangements of interface elements, and the ability to hide the least useful features in the menu and add the most relevant ones to the main screen.
Notifications and alerts
Getting your customers to be in constant communication when needed is critical. What feature can achieve it? Right – notifications and alerts. But the crucial point is making not intrusive alerts. The best way is to provide the customers with an option to set them up and choose what sort of notifications they want to get and how often.
ATM and branch locator
We suggest trying to be creative when developing your app. Remember that even the feature that may seem odd can differentiate your app from others. Instead of googling ATM or branch location, the locator feature allows the customers to find an ATM nearest their site directly through your app. Imagine the customer is in an unknown area and needs an ATM or branch. They'll find this feature practical and beneficial.
Cardless ATM withdrawals
Practice shows people don't usually carry a physical card with them. The cardless ATM feature is a great solution, but not all banks implement it. Cardless ATM withdrawal is secure thanks to its two-factor verification through the banking app or digital wallet.
What is the benefit of this feature over traditional card-based ATM withdrawal? Logically, the customer doesn't need to carry their physical card, which eliminates theft, damage, or loss of the card. Also, the thief should have user's smartphone with smartphone PIN, account credentials, and PIN for card authorization. This feature makes data leaks more challenging for the thief and more secure for customers.
Customer support
Online banking should provide reliable and fast customer support so that customers can get a response to any query. Round-the-clock contact centers are great, but what if all lines are busy or the customer is in a different time zone? One of the solutions is to implement intelligent chatbots that can save managers time by responding to customers' simple queries.
Automatic savings
Automatic savings round up every transaction to the nearest dollar letting customers save specific sums in a separate saving account.
End note
We can define but won't describe all features in detail since the list is vast. But here are other features to boost the usability and attractiveness of your app:
peer-to-peer payments;
QR code payments;
bill payments;
mobile check deposit;
integration with wearables.
Mobile Banking App Development Challenges
Whatever we say about the coolness and profitability of mobile banking application development, we can't avoid challenges. Though, we ensure they shouldn't concern you. By hiring professional software developers, you can rest easy knowing that all the development nuances are in safe hands.
Accessibility
Either way, not all consumers are millennials, gen z, and technically savvy. You should care about making the interface and navigation of your app straightforward to be understood and used. When you, as an owner, include functionality with a customized menu that is preferable to your customers, they value it.
Regulatory compliance
Adhering to required government regulations and having licenses is the prime necessity of mobile banking apps. Depending on your location, the number of regulations may vary. But for better understanding, let's provide some critical ones:
PSD2 (Payment Service Directive) allows banks and third-party players to access consumers' info while implementing the security of payment transactions and consumer data protection. When following PSD2, banks get tech standards on strong customer authentication and communication and reporting on security procedures for operational risks.
BSA (Bank Secrecy Act) / AML (Anti-Money Laundering) focuses on combating money laundering by thoroughly reporting transactions and customer data. These regulations help financial institutions report and predict detailed and suspicious activity defining illicit financial crimes.
EFTA (Electronic Fund Transfer Act) aims to protect card transactions via cash machines, point-of-sale terminals, bill payment, and other remote banking programs.
Compliance with the rules is critical for two core reasons:
an app adhering to the standards wins the trust of users;
an app with no regulation compliances crashes and loses success in the short term.
The security of your app is directly related to this point. Therefore, we emphasize that regulatory compliance shouldn't be underestimated. According to LexisNexis Risk Solutions 2022 Global Summary, the expected cost of financial crime compliance across financial organizations around the globe is $213.9 billion.
Reliability and availability
When it comes to financial transactions, customers should be sure the app works properly and is available whenever needed. The app should have minimal downtime and handle many users simultaneously without crashing.
Speed and performance
In addition to reliability, customers also expect mobile banking apps to be fast and responsive. Transactions should be processed quickly, and the app should be optimized to run smoothly on various devices and networks.
Personalization
Customers want a personalized experience that meets their unique needs and preferences. Personalization can include personalized alerts, customized dashboards, and the ability to set up recurring transactions.
Integration with other services
Customers may expect the mobile banking app to integrate with other financial services and products, such as investment accounts, credit cards, and loans. Integration with other services can help them manage their finances more effectively and conveniently.
Inclusivity
Finally, it's important to consider inclusivity when developing a mobile banking application. Inclusivity means ensuring that the app is usable by people with disabilities, including those who are visually impaired or have mobility issues. It also means considering the needs of people who may not have access to traditional banking services, such as those who are unbanked or underbanked.
How to Develop a Mobile Banking App: The Essential Guide
Great, if with the help of just one idea, in a month or two, we could launch a cool full-fledged product with a wide customer base and with no future updates and improvements. But practice shows the opposite. We won't surprise anyone, but each goal requires effort and a precise plan for the development cycle and its implementation.
Although, for an owner, the development may seem partly like that. You have an idea, and experts carry it out. But there is a catch. Communication is important here — high-quality communication with the hired team. If your team has clear questions about the project and you have a clear vision, we guarantee a successful product release.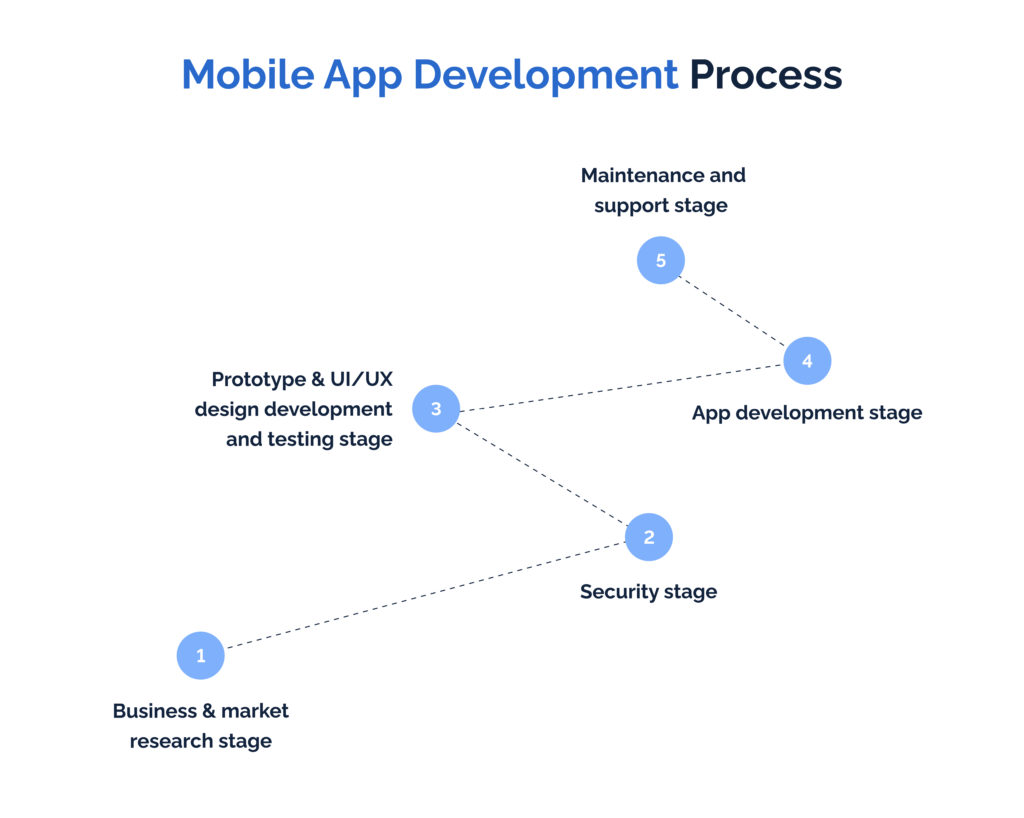 Several stages define the efficiency and practical side of your app, so let's see what lies behind quality mobile banking app development:
#1 Business & market research stage
At Keenethics, we start from the discovery phase of your business idea and market to define your core requests and offer the complete vision of your project idea. Based on the market research, we find out if your project idea is competitive enough and how we can implement it technically and financially.
There is no product without challenge – you shouldn't forget that. But our tech experts are dedicated to specifying the architecture and structure of the product to form strategies up to your demands. With Keenethics, you save effort and time since we collaborate efficiently by scheduling sprint meetings with queries and follow-up goals.
At this stage, we cover the following:
we find and offer the appropriate solutions based on your business research and market trends;
we analyze competitors and test your idea of the potential project based on the competitors and your target audience;
we set and assess the best relevant offerings.
#2 Security stage
In mobile banking development, we pay attention to the security base of your app. This isn't surprising since the banking app has vast sensitive customer data, and you should gain the consumers' trust. Our specialists care about implementing all the security-related features like customer authentication, login reliability, data confidentiality, secure database, and navigation.
#3 Prototype & UI/UX design development and testing stage
Idea. Your vision. Experts' analysis and perspective. All these aspects form a prototype. A prototype is the visual representation of app design. The critical point at this stage is to make the design transparent and navigation easy to understand. We agree on the structure of the design elements and their location, home screen, dashboards, visual representation of design concerning device compatibility, and uniqueness of your app among other competitors. The style and brand tone of the app should correspond to your business and distinguish your app on the market. Note that the prototype is still far from the final product design regarding aesthetics and functionality. But it's a great solution to test your potential design for user-friendliness and convenience.
#4 App development stage
The development stage isn't less fundamental. After analyzing your project idea, focusing on market trends, requirements, and target audience needs, and forming the prototype, the development stage is here. At this stage, our developers choose tech stack from Node.js and React to GraphQL and collaborate with QA specialists who test the project code and turn the project into a complete result.
#5 Maintenance and support stage
With Keenethics, your product is in safe hands. We guarantee complete control, support, and availability to your customers. Why is this stage not less critical? Because any little bug and inconvenience while customers use your app is fixed on time. The maintenance and support stage gives you more time to think over new business opportunities rather than fixing product bugs on your own.
What you get with our maintenance and support services:
the product free of vulnerabilities;
procedures for enhancing app security;
analyzed and improved algorithms, including coding or design errors;
product support and preventive maintenance from every angle against potential mistakes.
Finally, hiring our services for banking mobile app development saves you effort, and you can consider new project initiatives. So, if you doubt or have any queries, you can always address our keen specialists, and we guarantee to provide you with the best solutions.
Banking Mobile App Development Cost
We can't provide a fixed price for mobile banking app development since it depends on some critical aspects we'll describe. But the starting cost for the MVP product is $90.000-110.000. Again, the price is subjective and spherical enough. You should understand that developing a mobile banking application isn't cheap, but it's worth all efforts implemented.
Aspects influencing the mobile banking development cost are:
the knowledge and experience of the team
For sure, domain experience is critical in any development. Still, fintech is much more complicated because of government regulations, compliances, and increased requirements for securing and storing confidential consumer data.
location of the project team
Location is a challenge in terms of time zone.
Practice shows it's difficult to interact when there is more than a 2-hour time gap between the project team and the client.

Sergii Balenko. Expert in FinTech with a strong focus on ERP systems and financial apps.
the scope of the project and team size
The project scope and team size aren't so much about team expertise but about the effective management of a large team. The ability to work according to Scaled Agile is valued, creating a successful environment from strategy to delivery.
Conclusion
Mobile banking app development is expected to be the future of fintech, and in this article, we showed how to build a banking app with high security and reliability. Today, banks recognize the benefits of developing a mobile banking application and implementing competitive strategies. With mobile banking app development, business owners can approach customers in a more personalized way and distinguish their services from the competitors.

Try this development and enhance your banking services by getting closer to the customers.

FAQs
How much time does mobile banking app development take?
Building a mobile banking app can take anywhere from a few months to a year or more, depending on the complexity of the app and the resources available. Some factors that can affect the timeline include the features you want to include, the size of your development team, the availability of third-party integrations, and the testing and approval process for app stores.
What is the priority when developing a mobile banking application?
When building a mobile banking app, your top priority should be ensuring the security of your users' financial information. This includes implementing strong encryption and authentication methods, as well as following best practices for data storage and protection. In addition, you should prioritize creating a user-friendly interface and designing features that meet the needs and expectations of your target audience.
What platform is better for banking mobile app development: IOS, Android, or both?
Building an app for iOS, Android, or both depends on your target audience and resources. Building for both platforms is ideal if your goal is to reach a wide audience. However, if you have limited resources or if your target audience primarily uses one platform, it may make more sense to focus on building an app for that platform first. Ultimately, the decision should be based on carefully analyzing your business goals, market research, and available resources.
What is better – a mobile or web version of mobile banking app?
Web and mobile versions of the app have their benefits and drawbacks. Compared to a mobile app, a web app is accessible to a wider range of users, including those who prefer entering web apps on their laptops or don't have compatible smartphones. For you, as an owner, building a web app is more costly and time-consuming than developing a standalone mobile banking app. On the contrary, mobile banking apps can offer a more seamless and interactive user experience, especially for those who prefer smartphones. A mobile app is always at hand. It provides the users with a rich interface and features, including push notifications, face ID or touch ID authentication, and easy navigation because of a small screen. The critical side of mobile banking app is that it requires more time, resources, and maintenance costs.
Overall, both decisions are good, depending on your goals and preferences. We recommend researching the competitors, determining customers' preferences, and orienting your decision to your target audience. In our blog, we discuss the differences between web and mobile apps and show the prospects you can benefit from.
What is the cost of banking mobile app development?
We can't provide a fixed price for mobile banking app development since it depends on some critical aspects we'll describe. But the starting cost for the MVP product is $90.000-110.000. Again, the price is subjective and spherical enough. You should understand that developing a mobile banking application isn't cheap, but it's worth all the efforts implemented.
Aspects influencing the mobile banking development cost are:
the knowledge and experience of the team

(fintech is much more complicated because of government regulations, compliances, and increased requirements for securing and storing confidential consumer data);

location of the project team

(practice shows it's difficult to interact when there is more than a 2-hour time gap between the project team and the client);

the scope of the project and team size

(the ability to work according to Scaled Agile is valued, creating a successful environment from strategy to delivery).
How to develop an online banking application syncing data with user bank accounts?
Developing an online banking app that syncs data with user bank accounts involves several key steps:
choosing a reliable API or data aggregator service provider for data syncing that complies with all required regulations;

monitoring API's performance, fixing errors, and updating the system accordingly;

developing a convenient interface accessible to any user, which allows them to connect to their bank accounts easily;

implementing security measures regarding customer data, transactions, and authentication;

considering real-time syncing of all important financial operations, including balance checking and transactions;

elaborating contingency plan for server bugs, failures, breaches, and other possible scenarios;

adhering to regulations and regularly updating the app with the latest security standards and policies;

conducting regular tests of the app to ensure it meets the users' needs.
Trust us with your project initiative and start your banking app with Keenethics.
Present your idea, trust our development cycle, and get the release of your product.
If you need help with the development of mobile banking, Keenethics is here to release your vision into the market.