4 Steps to Integrate a Training Program into Your Manufacturing Process
Let's find out why investing in your employees is a good business idea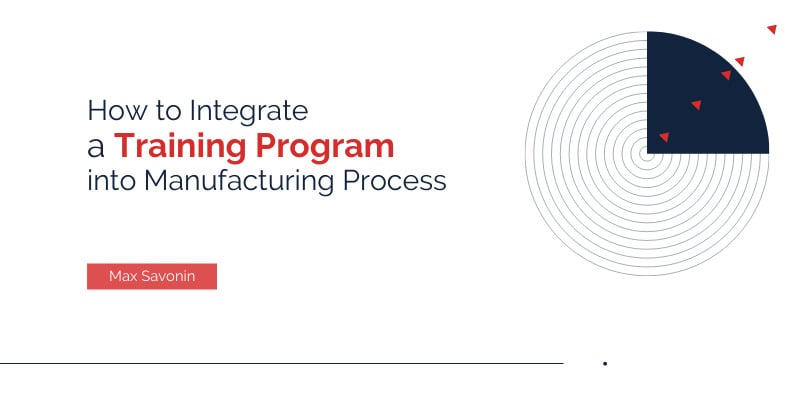 Despite the rapid growth of modern manufacturing, the industry faces a shortage of skilled manpower. It is estimated that 2.4 million jobs are going to be unfilled between 2018 and 2028. Now, companies should actively care about the employees' development and performance. So, the training system is a must-have solution helping boost efficiency and employee productivity.
Training Challenges in Manufacturing
The manufacturing industry has a significant impact on the economy. Workers must find a balance between work and skill development. At first glance, it may seem to be not an easy task. So, let's consider the biggest training challenges in the manufacturing process and find solutions for how to tackle them.
The manufacturing sector presents many jobs, but not all are filled with employees. Emerging technologies introduce changes and create totally new requirements for workers. So, a gap between skilled and unskilled manpower arises. This gap can be solved only by manufacturing training.
Today, the manufacturing industry needs multi-skilled workers. Therefore, employers should help employees adjust to new technological changes.
Training costs are affected by several factors: venue, trainers, and accommodation.
In addition, the manufacturing industry requires competencies employees can't get through online courses only. This process involves skilled instructors who share practical experience and theoretical background with learners.
Retention of Staff and Staff Turnover
Staff Retention helps save time on the onboarding process and avoid poor staff performance. At the early stage of the hiring process, you can easily decrease the turnover rate by covering all the bases.
Are you ready to ensure an effective onboarding process for new workers? Try to clearly explain the job responsibilities and expectations of employees. In such a way, you can adjust the manufacturing training for the most suitable candidates.
Digitization of the Manufacturing Sector
Though technology continues to transform the workplace, qualified manpower is still needed. To stay one step ahead with digital manufacturing, the employees should be supervised properly.
On the one hand, it seems there are many challenges in employee training. On the other hand, the benefits of well-qualified manpower outweigh any problems.
Best Tools to Track Employee Training
#1 Learning Management System
LMS can store the data safely, manage and allocate content, present reports and statistics.
How LMS can help you monitor training:
automation of repeated assignments (statistics on employees' performance)
thorough data analysis (the work with content, report on overall progress, the performance of every content item in the system)
storing of training records (monitoring the real-time activity of workers)
#2 Training Management System
TMS and LMS are not the same things. TMS is an excellent solution for training providers to control training with little effort. The program is not limited to one functionality and handles all aspects of the training process. With TMS, you can run and control multiple courses without switching between tools or systems.
How TMS can help you monitor training:
Using the course management system (CMS) you can publish, edit, and update all courses online, sell courses through the website, and get online pay for them
Using the customer relationship management system (CRM) you can collect and manage all the details about clients, past or potential clients, and suppliers
The reporting system (RS) is directly connected to the training manufacturing system. All the data entered by you is instantly available for every employee, and RS always shows the freshly updated version of the data in real-time
#3 Excel and Google Sheets
It is a cost-effective solution to track manufacturing training.
Why? Not every company can afford the implementation of an all-inclusive learning platform. Some companies only want to test it to learn more about their own preferences for a manufacturing tracking system.
How Excel and Google Sheets can help you monitor training:
Primarily, you can create your own employee training tracker template. Using the sheets, you need to include rows and columns with a list of training courses, evaluation scores, and information about workers. Every time, employee passes the training, you fill in their name, name of the course, and their evaluation score.
Signs You Need a Manufacturing Training Program in Your Business
The idea of implementing a good training platform pays off. If you invest in employees' development, you automatically invest in the future of your company. As a result, you will get such benefits as better quality, absolute loyalty and dedication, positive feedback from the clients, and a higher rate of production.
Do you have some doubts concerning the productivity of your company and employees? Answer the 4 questions below and check whether powerful software can help you in your case.
Do you have a high staff turnover?
A high rate of staff turnover can indicate a problem in the training process. It doesn't mean this is the only problem. A gap in training is only one of many factors. According to LinkedIn's 2019 Workforce Learning Report:
94% of workers didn't see the company's investment in staff development, and thus, left the company.
If you integrate a program, you will attract new hires, simplify the onboarding process, and everyone will quickly adapt to their new role. Also, the training will improve the individual and team results, primarily when all workers work for the same goal. Investment in employees' development is a strong catalyst to engage the workers and make them feel effective in the company.
Do you regularly update your in-house training process?
You shouldn't expect your employees to study outside the company. Try to make sure your company provides and facilitates the training process for your employees. Today, you have a chance to choose any type of education software solution. It will help you optimize your organizational processes and deliver employee training materials effectively.
Do you promote internal leadership effectively?
Try to recognize the importance of this investment. To forecast results, take care of both managerial executive control and staff involvement. Besides, do you have transparency in your cooperation with a team? It helps you analyze all strengths and weaknesses, and what should be improved to align with the company's requirements.
Do your employees show uneven quality?
If you get some complaints and unsatisfactory feedback from clients, it means you need to enhance training and education. The previous work experience of the workers is not enough when it comes to the maintenance of quality assurance. The training program will help you ensure quality across your organization.
4 Steps to Integrate a Training Program into the Manufacturing Process
Before any strategic solution in business, you need to develop a plan. These 4 steps will give you a better vision of how to launch a training program in practice.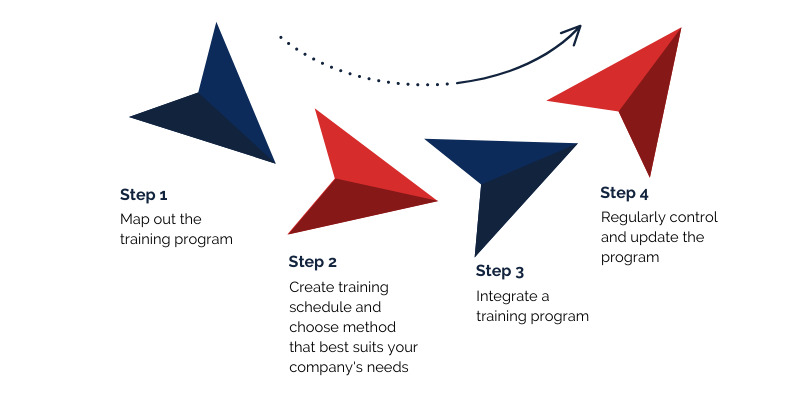 To map out the training program
Since there is no general-purpose training program, you should consider all the factors to fulfill your business needs.
To develop a training course, organizations should:
set the business/training objectives
define key performance indicators to know the level of the company's progress
identify the audience that needs to be taught, their responsibilities, and talents
Create a training schedule and choose the method which suits your company's needs best
The main task is to establish a clear duration of training courses to organize educational material. There are many factors that contribute to effective learning: an arrangement of materials, face-to-face training, mobility of the program, technology implementation, and more.
Besides, you can use one or more methods of training:
group training activities
written or audio/video-based written training courses
events and conferences
face-to-face training
online training
management training
practical training
Integrate a training program
At the very start, you can run a pilot program helping find mistakes and make improvements. Here, you control employee involvement, analyze whether a program corresponds to KPI goals, and choose a method of training. Only when you are sure that employees' progress is sufficient and minimum errors appear, can you launch a training program.
Regularly control and update the program
This stage is very critical in the manufacturing process. Now, you are not the only one who controls the effectiveness of the program. Your employees also do. You must regularly get feedback to understand the gaps or challenges your employees are facing. As soon as you receive feedback from all the participants of the program, you can draw conclusions about its effectiveness. One of the key tasks of the program is to fulfill all business needs and expectations. If you do not see this, you should review the entire program or action plan.
Final Advice
As you see, a training program in manufacturing is a well-promising solution that helps invest in employees and the company's growth. When both managers and staff are dedicated to these programs, they get many benefits. In Keenethics, we believe training programs greatly depend on the enhanced safety and quality in an organization.
Are you ready to invest in the future of your company?
If you have some doubts about your business idea, contact us. Keenethics is always glad to help you.