What's the Future of Proptech Development?
Let's make it clear whether property technology is worth your time and money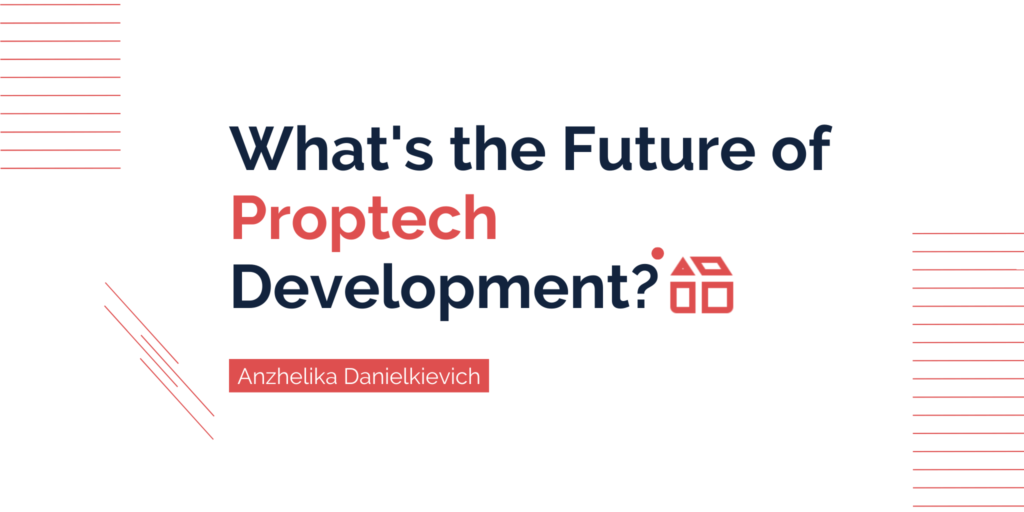 What Is Proptech?
People who are going to buy a piece of real estate usually think that the only task is to get money and purchase the desired property. However, the process of purchasing is frequently not that simple. Apart from compliance inspections and dozens of contacts, they need to deal with property zoning and affidavits. To make people's lives a bit easier, web and mobile app developers once decided that it's the right time to enter the property market. That's how the proptech field has developed. As you might guess, proptech refers to the integration of technology into the real estate market.
Today, proptech websites and mobile applications help better visualize property construction processes and modernize purchasing of real estate. We can characterize the proptech field as one of the aspects of digitalization strategy aimed to increase productivity and performance via technological integration. But before talking about proptech in action, let me clarify what advantages users get with proptech and how it changes the "Covid-19" market.
What Benefits Property Technology Gives
Proptech encompasses several subfields. I will show you how proptech software development works in each of the main ones.
Construction process is always based on a project that's developed in advance. Project work requires team members to apply a systematic approach and efficiently organize their collaboration. The actions of designers, for example, have a direct influence on the actions of constructors. Therefore, project executors should make sure that all decisions are agreed upon and negotiated by the whole team. With proptech, team members get the chance to collaborate using one, unified platform.
There's no need for the team to update information manually — data is available in real-time thanks to the functionality and capacities of a platform. As a result, the project aims are executed faster and more effectively, which boosts performance and, subsequently, profitability. Also, during the construction, everyone strives to use resources effectively to reduce risks and prevent losses. How can this goal be achieved? Via planning, estimating, and forecasting. And it's far more convenient when all team members have the chance to run these processes in one single system. Doing so, they see a general picture and save time, money, and effort.
Property software development makes it more convenient for people to buy or rent real estate. You can choose, review, compare different pieces of real estate without leaving your home. Do you want to choose the best solution in terms of price, location, or reliability? Then you only need to set the necessary parameters in an app or on a website, and proptech will do everything for you. Everyone has ever heard about Airbnb, a world-known property-for-rent enterprise. Since the beginning, the company has also been the example of proptech in action. The developers of this software solution did a really great job: users get flexibility and value, choosing between thousands of options in one place.
If you consider the real estate market as a space for investing money, then proptech can ease the process as well. There are many websites and applications that allow you to compare pieces of real estate from a commercial viewpoint. Which location will ensure you a winning strategy? What type of commercial property works best in this particular area? The answers to these questions can be found on such websites.
Let's take LoopNet as an example. On LoopNet, you can not only look for commercial property but also analyze options based on the chosen criteria. The website offers an extensive inventory for those who are planning to invest in property. Imagine how much money users save: instead of requesting consulting services, they just turn on their laptops, and proptech websites do everything for them.
Managing coworking spaces is not the most evident example of proptech — yet, one of the most effective ones. Today, property software development gives you the chance to manage a coworking system in one platform. You can track your membership, make payments, get notifications about upcoming or recent events, and receive newsletters. For the owners of coworking spaces, proptech is also an effective solution. Tracking customers and integrating marketing strategies backed by MRM (Membership Relationship Management) save you money spent on administrative tasks and make management processes smooth.
How Property Technology Works During the Pandemic
Here, we will talk about proptech trends that make this field relevant under coronavirus conditions.
Remote Building Management
Remote data management can be difficult if there is no unified system. I advise developing a single and centralized platform that will synchronize usage-based information about both technologies involved in building and services installed.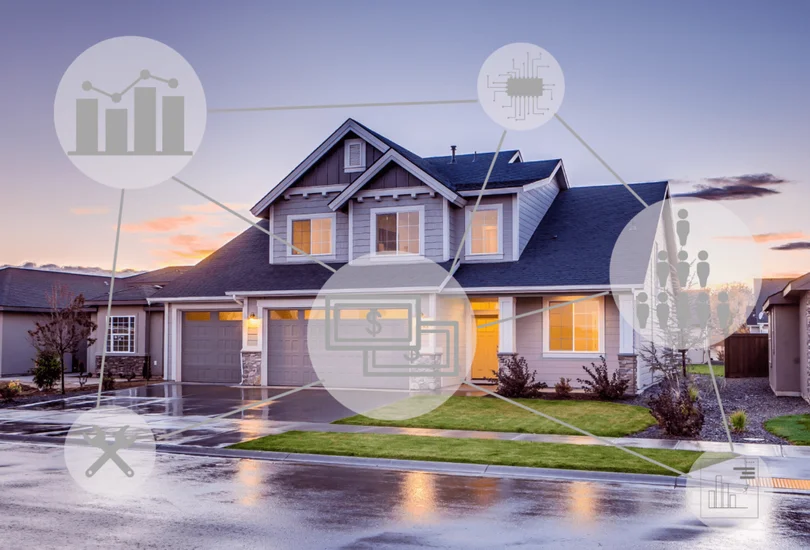 Such systems are so convenient that managers don't stop using them even while real-time collaboration. Estimate analysis, on the background of strategic planning and programming review, definitely makes a change.
Smart Space Management
As physical distancing has become an ultimate condition of people's interaction, effective space management with the help of proptech also comes in handy. On the one hand, smart space management solutions ensure safety and distancing. On the other hand, they allow for a secure collaborative process. Smart space management is realized with Machine Learning algorithms and sensors that not only visualize people density within the given space but also prepare reports and provide forecasts about hazardous areas in the office.
PropTech as a Future of Real Estate
Now, we see how proptech software development is revolutionizing the real estate market — tech solutions improve the quality of human interaction. Apart from the web and mobile solutions, deep tech helps this field grow, enhancing the potential of predictive analytics and the capacities of big data management. Below, I describe particular areas that, as I think, form the ground for the proptech evolution.
Blockchain and Purchasing
Who benefits? CRE executives.
Blockchain technology is today frequently used in the commercial real estate business. Commercial Real Estate (CRE) executives tend to choose contacts developed under blockchain technology because it eases the process of buying and selling.

What if I tell you that under a blockchain-based contract, you are able to perform financial transactions and management operations in one place? In fact, it all boils down to smart decision-making and more effective financial administration.
VR and Interactive Tours
Who benefits? The owners of real estate agencies.
If you are the owner of a real estate agency, the opportunity of VR tours can really make your business stand out from the competition. By 2025, it's expected that VR technology will be used by more than 1.4 million real estate agents. Clients will have no need to have numerous trips to the house since they will see everything in the interactive VR tours.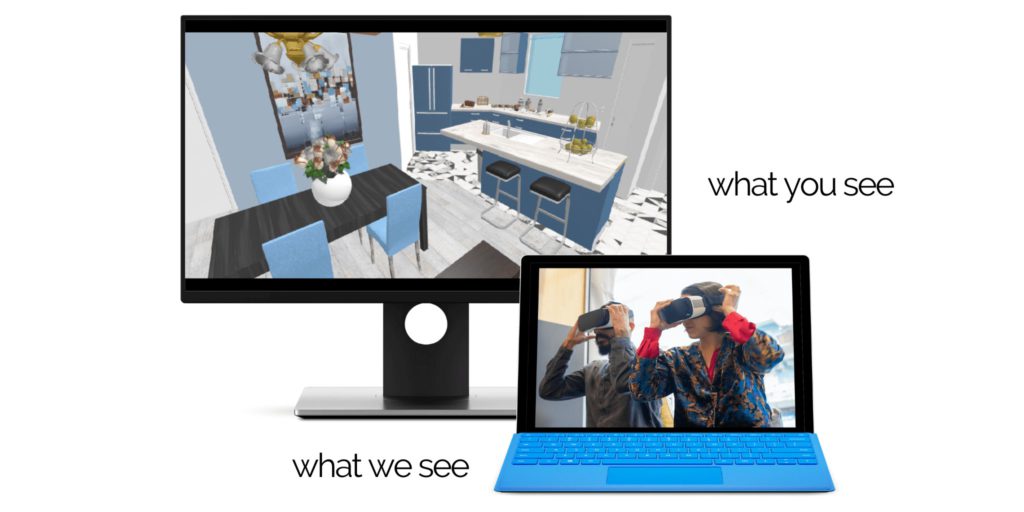 Moreover, VR technology helps to emotionally connect customers to their future home. They easily immerse themselves in a cozy atmosphere of a house and get inspired by the interactive elements of design. As a result, your customers will fall in love with a place even before they buy it or at least see it in reality.
3D Technology and Renovated Models
Who benefits? Designers and construction executives.
Robotics technology becomes more sophisticated and performs complex tasks. Design planning and construction are under the focus of robotics development. Have you heard about the company called Boston Dynamics, for example? In 2005, they created a robot known as BigDog. Such robots are applied in the property field as they can be mounted with 3D cameras and map the surroundings.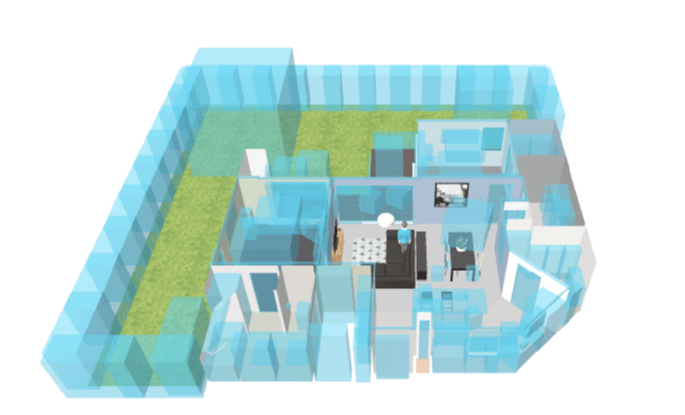 In the picture above, you see the example of an automatic visualization made on the basis of 3D technology. Why do designers and construction executives use automated valuation models? Because it helps them visualize work progress and provide information about hazards and risks.
Wrap Up
I have no doubt that investing in proptech is a good idea if you aim for long-term results. There are two main reasons for me to think so. First, the real estate business will never cease because of the physical need of humans to have a home, do commercial activities, and manage their space effectively. The property market will exist till the time people need it. For how long will they need it? Imagine the future without homes, shops, hospitals, colleges, cinemas, without the whole infrastructure — can you? Me neither, and that's the answer.
Second, with the benefits of modern technologies, proptech will grow doubly faster than 5 or 10 years ago. For the real estate business, time is the main asset. The goal of a project team responsible for the construction is to give quick results, maximizing quality and minimizing expenses. Integrating such technologies as 3D, robotics, blockchain, or VR into your business, you double your chances to keep it competitive and relevant for years — the choice is yours.
Do you have an idea for a proptech solution?
Let us prove our expertise in property software development. Read more about the services we offer and the challenges we solve.