AI in CRM: How to Enhance Customer Relationships
Today, I'll explain why it's a good idea for your business to integrate AI technology into CRM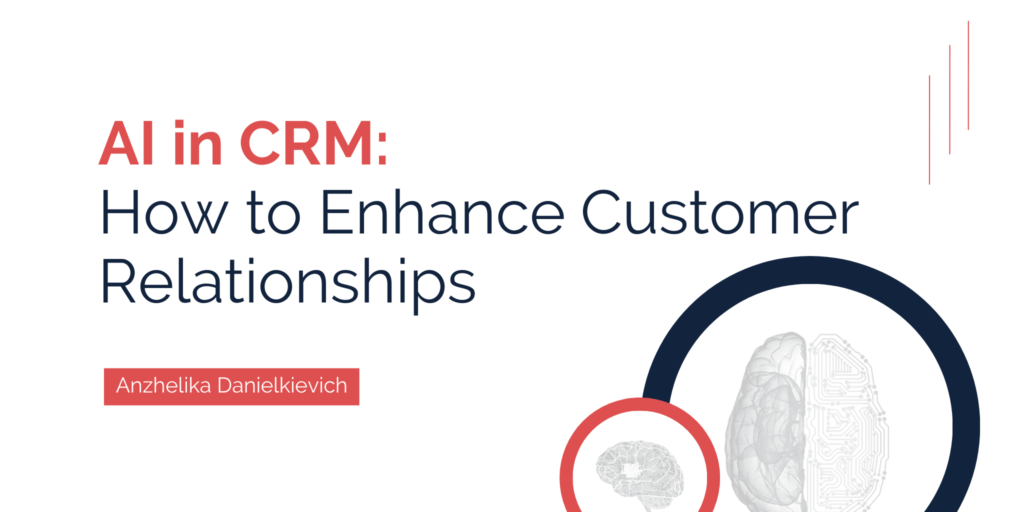 Nowadays, you witness the shift in consumer demand. With the technological progress of recent years and the evolution of the software market, customers have been spoilt for choice. As a result, businesses should put more effort to differentiate themselves from competitors. Clients expect you to use a personalized approach. They want you to give high-quality service and always stay responsive. Today, to be really successful, you should establish a connection with your customers.
— But how can I build a strong rapport with each of my clients?
— Seems impossible? Not exactly.
The answer is to use a customer relationship management system or CRM. A vast amount of information is generated every hour by interactions with consumers. You should use this data to gain insights into predicting buyer's behavior and plan your business strategies accordingly.
— And that's it?
— Again, not exactly.
If everything was that easy, all companies would follow the same path and reach success.
— What's the problem then?
— The problem is that earlier, companies didn't know how to use CRM effectively, how to manage client-oriented data.
As a rule, CRM systems were used as a database for gathering, storing, and structuring info about clients. But simply storing data leads nowhere. You should know how to analyze the given information and interpret results. You should get meaningful insights. And this is where AI technologies come in handy.
AI-based CRM gives a start to the whole new era of digital transformation. With the support of Artificial Intelligence, CRM software has revolutionized the way we improve our customer relationships. And this is what we'll talk about in this article.
Artificial Intelligence: How It Influences Customer Experience
Artificial Intelligence, or simply AI, refers to the ability of machines to demonstrate intelligence, think, and understand. Similarly to humans, machines are taught to analyze information and learn something new. The main difference between AI and human intelligence lies in its nature. AI is deprived of consciousness and emotionality. Yet, AI is not simply about storing and collecting data. AI is about analyzing, managing, and interpreting facts. With the help of AI, your business administration software can process a huge chunk of data and analyze it. It can detect patterns to predict behavior and use the same insight to calculate risks.
AI has changed the software world a lot. It has also changed the way businesses interact with their clients. Earlier, the main purpose of CRM was to pull data from emails, orders, address books, and form submissions. This data was used to make informed decisions and actively address customer issues. With the evolution of AI, however, the situation has changed. Now you get a complete 360-degree picture of the customer interactions gathered in real-time.
The Scope of Artificial Intelligence
Efficient Data Management
Small companies would say that managing data is not a problem. But when it comes to big firms, handling significant volumes of data takes time and effort. AI helps centralize data collected from various channels and digital interfaces. It collects information and unites it under a single management platform — CRM. Artificial Intelligence analyzes and interprets the collected info. It provides value to your company's objective.
— What do I get as a result?
— Your marketing professionals respond to customer needs and requests more quickly and efficiently.
Advanced Customer Service Capabilities with NLP
NLP helps the CRM platform to meaningfully analyze the textual context of customer emails and send them a precise response. But what is NLP? Natural language processing (NLP) in AI is an essential speech recognition capability. It reads, deciphers, and makes sense of human languages. With NLP in CRM, your sales department and marketing teams get real-time insights for sales pitches and course corrections.
— What do I get as a result?
— You reveal your brand sentiments accurately, which ultimately affects your marketing communications and efforts.
Intelligent Workflow Enhancement and Automation
Based on past interactions with your clients, AI makes predictions on the upcoming interactions. It evaluates the sales funnels and forecasts market dynamics with maximum accuracy. AI interpretations and insights may even help you restructure the workflow or automatize some of its aspects. For example, analyzing your clients' demographics and sales records with AI, you perform lead scoring and lead segmentation more effectively.
— What do I get as a result?
— You take relevant promotion measures with a positive impact on your business.
The Benefits of AI in CRM
Before we'll look at the benefits of Artificial Intelligence in CRM in more detail, let me briefly outline why AI is applied there at all. Generally, AI boosts the output of your CRM software. It delivers predictive behavior results and helps you build targeted offers for your audience. Moreover, AI provides a holistic view of the customer's entire journey, from prospect until retention. All this results in a better and more effective business strategy.
Here are some particular ways of how AI helps you accomplish customer relationships goals: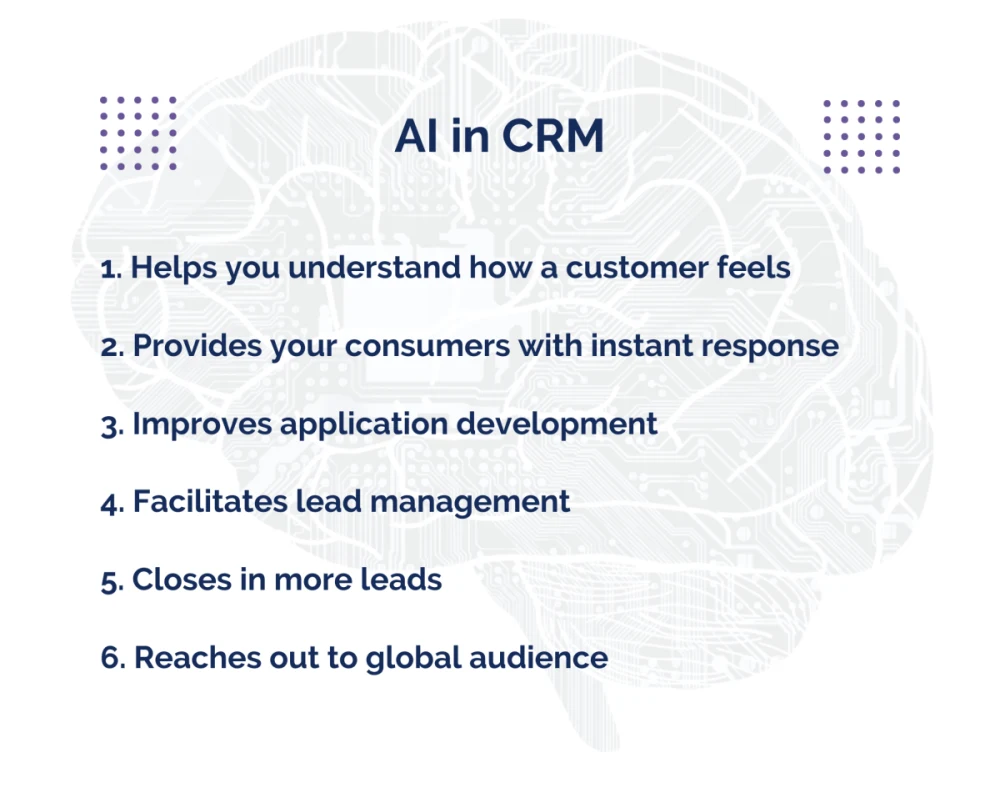 1. Understanding How Your Customer Feels
The success of your business depends on the effectiveness of sales and customer service. This is why companies look for the most powerful CRM that will boost their sales strategy. When combined with AI potential, CRM is doubly powerful. It interprets data for you and helps identify clients that are most likely to make another purchase.
You're probably interested in why we discuss customer behavior so frequently in this article. It's because predicting customer behavior is halfway to encouraging them to make a purchase. Forecasting their behavior, you learn how your customer feels and what pains they encounter. And knowing clients' pains means knowing how to satisfy their needs. It helps you turn your first customers into loyal and regular buyers and real appreciators of your brand. More sales, less retention — these are the effects of Artificial Intelligence in CRM.
2. Providing Your Consumers With Instant Response
Responding to client requests instantly is the basis of quality client service. If you immediately reply to a person having a sales or marketing query, you increase the chances to turn this person into a customer. Without modern CRM and AI technology, it would be hard to deliver quick responses.
With AI, you can automate communication with your clients. They will get instant answers to the most common questions. Companies today are actively implementing chatbots into their CRM systems. Needless to say, it helps them make a customer feel satisfied and engage them in the next steps of the client journey. It saves time for your employees and allows them to focus on more urgent issues.
3. Improving Application Development
If you combine Artificial Intelligence and CRM software, you also get the opportunity to create or integrate applications that increase conversion. For example, customer feedback software is used to automate feedback acquisition from clients. Adding this software to your AI-based CRM, you can analyze data automatically. Using the results and interpretations, you boost the quality of client service and provide them with a better purchasing experience.
4. Facilitating Lead Management
The human factor is always a problem, regardless of the sphere you are in. The thing is, people may forget to follow up on a lead. They may forget to reply to your client or may have a lot of other tasks on their plate. The risks are that you'll lose qualified leads as a result and reduce the number of potential clients. But no worries. This problem can also be solved with CRM and Artificial Intelligence.
AI can act as the sales reps, without actually involving any salesperson, and send out relevant messages to a lead via emails or text messenger. And when the MQL is identified, sales professionals take over to nurture it further. So, Artificial intelligence is revolutionizing the way we engage and nurture our leads and makes follow-up too easy.
5. Closing in More Leads
Lead scoring, cross-selling, price optimization, and sales forecasting can also be done with AI in CRM. Artificial intelligence provides you with comprehensive details on these parameters. It analyzes past sales processes and buyer behavior and gives you useful insights. AI traces tendencies on accepted and rejected deals and saves you time and effort. Based on its evaluations, AI-based CRM makes recommendations on how to improve your business strategy. It gives guidelines for sales reps at each stage of the sales pipeline.
To be short, AI-based CRM is like a complete package for your marketing and sales team, leading to an increased number of closes and doubled revenue.
6. Reaching Out to Global Audience
AI technology is a universal tool for reaching a global audience. The main barrier to earning foreign clients is a lack of knowledge of their language. AI translates listing titles and searches for users to easily find and communicate with your business. Such famous corporations as Google and Microsoft also encourage the use of AI-aided translation tools. It allows them to communicate with their clients all across the globe.
Wrap Up
A CRM is the backbone of your business administration software. Investing in AI for CRM will help you optimize various processes. Improving customer relationships will give you compelling sales pitches, increased retention rates, boosted customer engagement, and more. Artificial intelligence will create a better experience for both customers and sales representatives.
So, the combination of AI and customer relationship management is a gateway to a more profitable business.
Do you need help with business administration software development?
Keenethics professionals will gladly assist you with developing a platform for HR Management, Marketing & SEO, Task Management, File Management, or Accounting. We have experience in developing ERP, Business Analysis & Report, and CRM systems. You can also contact us to learn about AI, IoT, and cloud solutions for business.
Let us know if you need any help!