Doctor On-Demand App Development: Benefits, Cost, and Key Features
Want to create a dr. on-demand app? Read our guide about a doctor on-demand app development.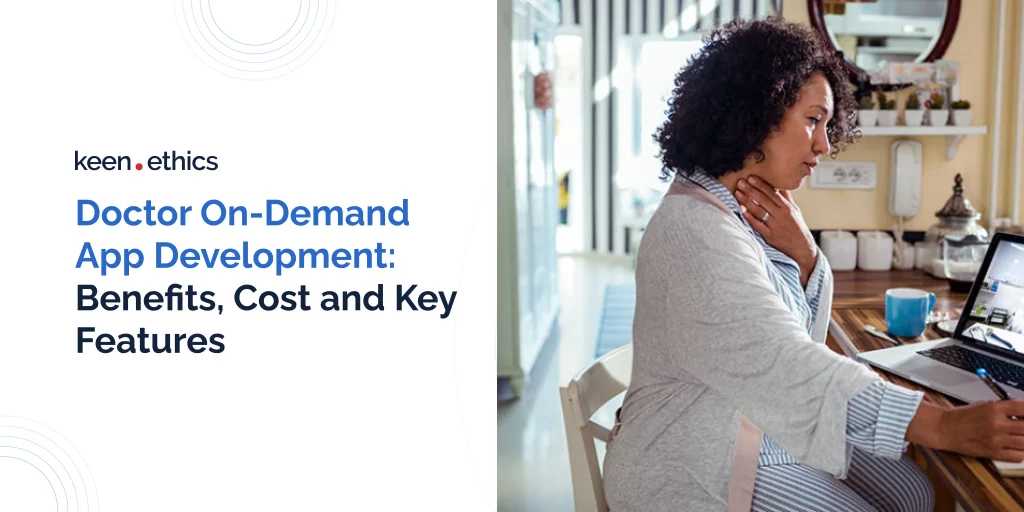 Wondering what kind of app a doctor on-demand app is? What this app provides is an instant resolution to many health issues. With this app, you no longer need to check doctor's availability, make medical appointments, or wait in a long queue.
This revolutionary app has become the product of technological advancement which changed the healthcare sector forever. Using this app, users all over the world became able to make use of healthcare services more efficiently. Healthcare professionals can now remotely offer medical services.
Such apps have become a true sensation on the market since more and more users aspire to use apps that would promise quick and effective results, especially in such turbulent times (let's recall the onset of Covid).
Opportunities In The Doctor On-Demand App Market
Doctor on-demand apps occupy a prominent position in the telemedicine market because they provide easy scheduling of appointments, transparent costs, and reduced paperwork hassles. In the last couple of years, their popularity has risen drastically not only in the US but in other countries as well. The situation on the market below explains why doctor on-demand apps were designed:
Most patients started to call for the development of technologies making the process of receiving remote healthcare more efficient and easier.
Patients preferred contacting their physicians through text messages.
A significant number of patients insisted on having virtual appointments rather than having offline visits.
Taking all the opportunities that this telemedicine app offers, its industry is flourishing at a rapid rate. What's more, it's predicted that mobile healthcare apps will become the largest contributor to the revenue of the digital healthcare market in the near future. So if you're having any possible doubts on whether or not it's the best time to invest in the doctor on-demand app, then please check out the following statistics below, which prove the validity of this app: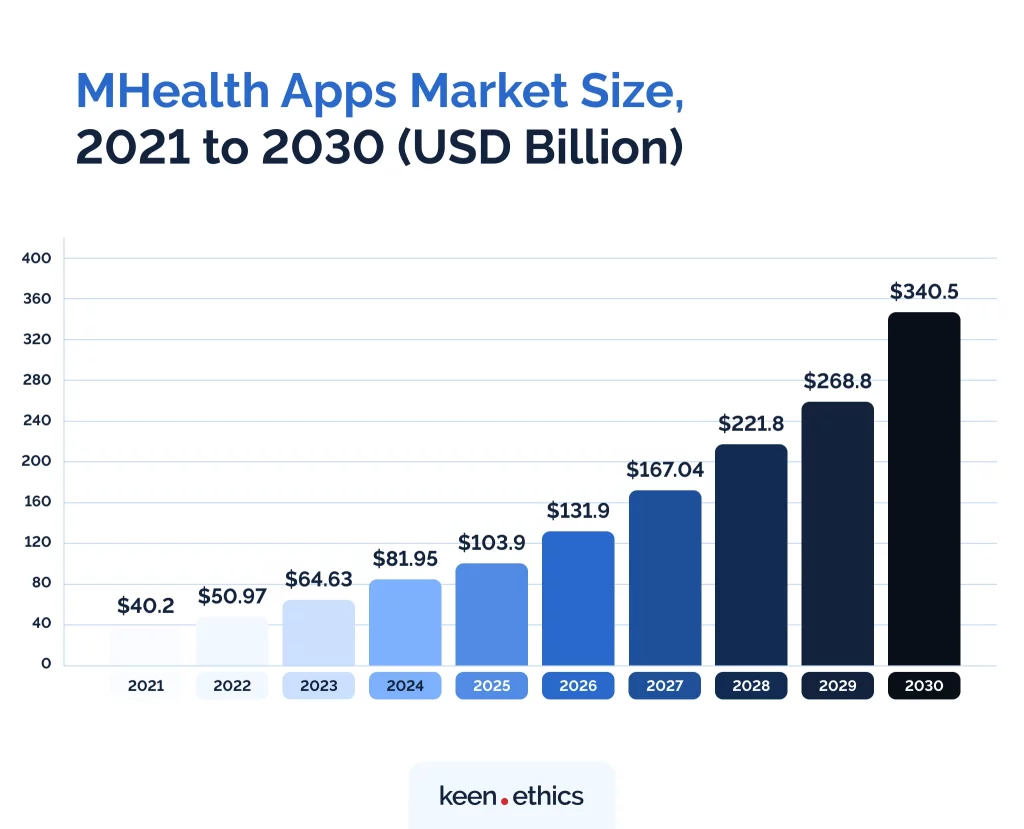 How Doctor On-Demand Apps Work
Step 1: Registration
In order to receive treatment from a physician, a patient has to create an account and provide a detailed description of his/her symptoms.
Step 2: Choosing the doctor
After patients create their accounts, they're able to opt for the doctor they want. The app showcases physicians' experiences and ratings.
Step 3: Preparation for the 'visit'
To make the 'visit' effective, the patient might be asked a few questions. Moreover, they can upload images of one's condition to make the doctor aware of what they have to deal with in advance.
Step 4: Confirmation of the video call
Then, patients should confirm the upcoming video call via email or text. They also would have to enable push notifications to get reminders when the medical expert is available.
Step 5: Live video or voice call
In the video consultation or voice call that follows, the doctor communicates with the patient regarding his symptoms. The patient receives the necessary treatment and all the other related information. After the call, the patient pays the doctor for the healthcare services attained through a built-in payment gateway.
Doctor On-Demand Apps' Types:
Recognizing doctor on-demand app types can help with idea development:
Live video/Voice call: The applications have live video and/or voice call options, allowing a patient and a medical expert to interact. Examples: Doctor On Demand and Teladoc.
Remote patient monitoring: The apps enable a medical expert to track the patient's health condition remotely. This way, the patient can lower costs and reduce time spent at hospitals. Example: Diabetes:M.
Booking and health scheduling: Doctor on-demand applications can offer patients the ability to book time slots depending on availability. So, patients no longer need to stay in lines or go to the hospital to have a doctor's appointment. Example: SimplyBook.me.
Features of a Doctor on-Demand App
1. Social Sign Up & Log in
Using social media accounts for signing up and signing in to the apps saves users from remembering too many logins and passwords.
2. In-App Camera
The in-app camera can be used to scan documents, make video calls, etc.
3. In-App Call & Chat
In-app call/chat helps a patient to get in touch with a doctor and reveal/obtain all the information related to one's (health status).
4. In-App Navigation & Real-Time Tracking
This feature is relevant when patients schedule private visits with medical experts. It helps the patient track the current location of the doctor.
5. Cost Calculator
With this feature, a patient can find out the costs of services he/she used (personal visits, online appointments, etc.).
6. Push Notifications
Pop-up notifications of a doctor on-demand app keep the patients up to date with their app activities.
7. Medication Reminder
This extra convenience reminds a patient to take their medicines on time.
8. Real-time Analytics
Admin can track real-time activities and some statistics on the doctor on-demand app.
9. Multiple Payment Options
Multiple payment options help users pay using any payment mode (a debit card, PayPal etc.).
10. Document Sharing
Document sharing helps understand the medical history of patients.
11. Document Scanning
Document scanning helps improve the image of the document to make it more comprehensive.
12. CMS Integration
Content Management System enables admins to manage all content available on the app.
13. CRM Integration
Customer relation management helps admins determine how the app interacts with the users.
14. Loyalty Program
Loyalty program allows users to enjoy various discounts and offers available on the app.
15. EHR (Electronic Health Record)
EHR keeps patients' medical records within the app and can send them to their email addresses.
16. Automated Health Insurance Claims
With the help of this advanced feature, a patient can learn if their prescribed medications and treatments are covered by the insurance.
17. Marketing & Promotional Tools
Marking and promotion tools can be used by medical experts who would like to offer some benefits to their patients (discounts etc.).
18. Multi Currency Payment
Features like this make the users of the doctor on-demand app pay in multiple currencies.
19. Multilingual User-Interface
This feature is essential since it makes apps accessible to all people.
Benefits of Doctor On-Demand App Development
Nowadays, people prefer services making their life much easier. Doctor on-demand app is one of those telemedicine apps that offer people exactly what they look for: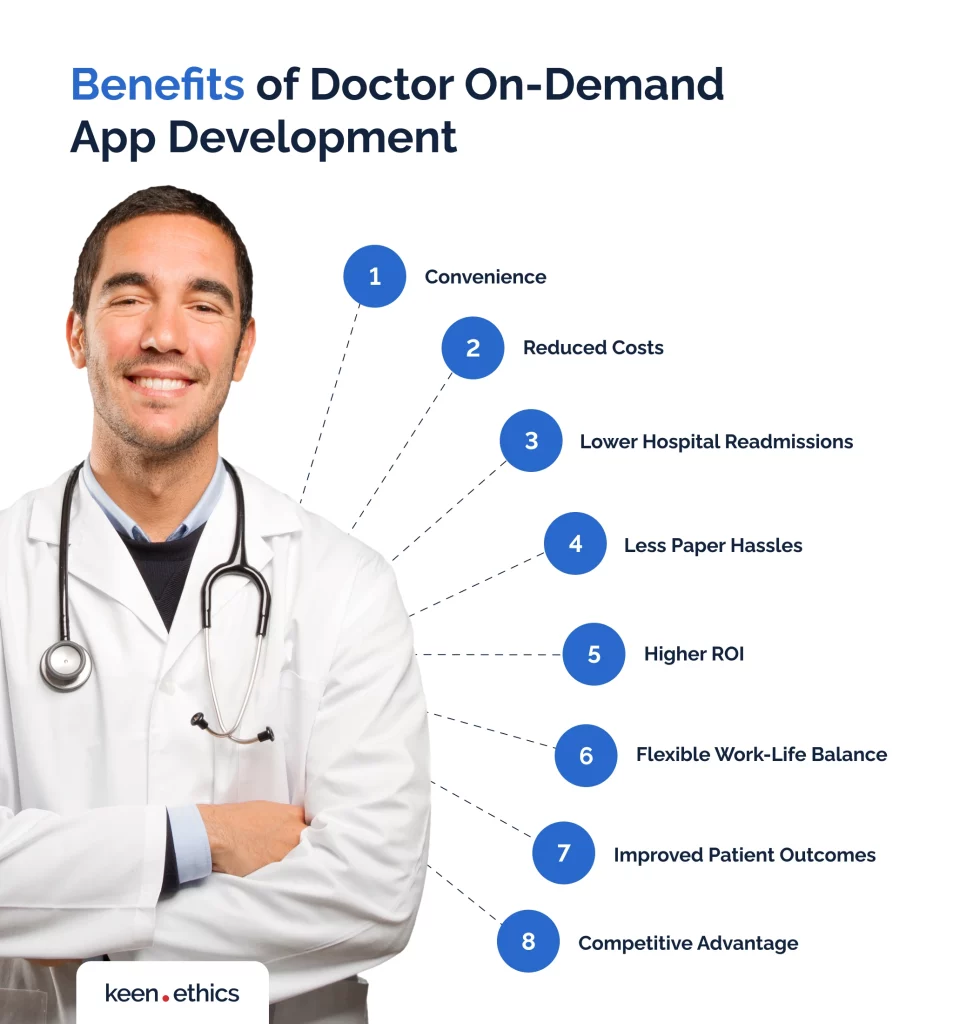 Convenience
For example, doctor on-demand apps create a high level of convenience. People living in distant areas might find it challenging to visit a doctor. Instead of spending hours commuting to a hospital, patients can use a doctor on-demand app and get assistance from the doctor they need.
Reduced Costs
Reduced costs by eliminating unnecessary ER or doctor office visits is another reason why doctor on-demand apps are popular. That's why many people consider telemedicine apps a reasonable way of getting medical care.
Lower Hospital Readmissions
With the help of doctor on-demand apps, patients aren't obliged to visit hospitals. This approach, in turn, decreases the number of hospital readmissions. Yet, it doesn't mean the quality of service patients receive through apps is worse.
Less Paper Hassles
Since telemedicine apps allow healthcare experts to keep a record of the patient's healthcare state in the mobile app, they simultaneously relieve both parties from doing in-office administrative work.
Higher ROI
Doctor on-demand app assists doctors in cutting down on expenditures on equipment, hospital staff, and infrastructure. This, in turn, helps healthcare practitioners create a higher ROI.
Flexible Work-Life Balance
Many doctors find it hard to maintain a good work-life balance. Doctor on-demand app is designed in a way that helps doctors (and patients as well) reduce stress in life.
Improved Patient Outcomes
Another benefit is improved patient outcomes. With this app, patients no longer need to visit clinics and hospitals for follow-ups or missed appointments. Instead, this healthcare app allows users to get proper attention from healthcare experts while preventing them from visiting busy clinics. Generally, such an approach to healthcare significantly improves patients' overall experience.
Competitive Advantage
If you strive to offer supreme healthcare services to patients and gain a solid place in the market competition, then you should invest in doctor on-demand app development. You may be assured that your investment will be reasonable because it's estimated that in a couple of years, the healthcare industry will grow up to 10 times from what it's today.
Examples of Popular On-Demand Doctor Apps
ZocDoc
To get inspiration for your doctor on-demand app, it's necessary to be aware of existing apps in this category. The first on the list is ZocDoc. This telemedicine app serves more than 6 million people a month. Its main features include notifications regarding upcoming appointments and a search for a physician using an integrated map.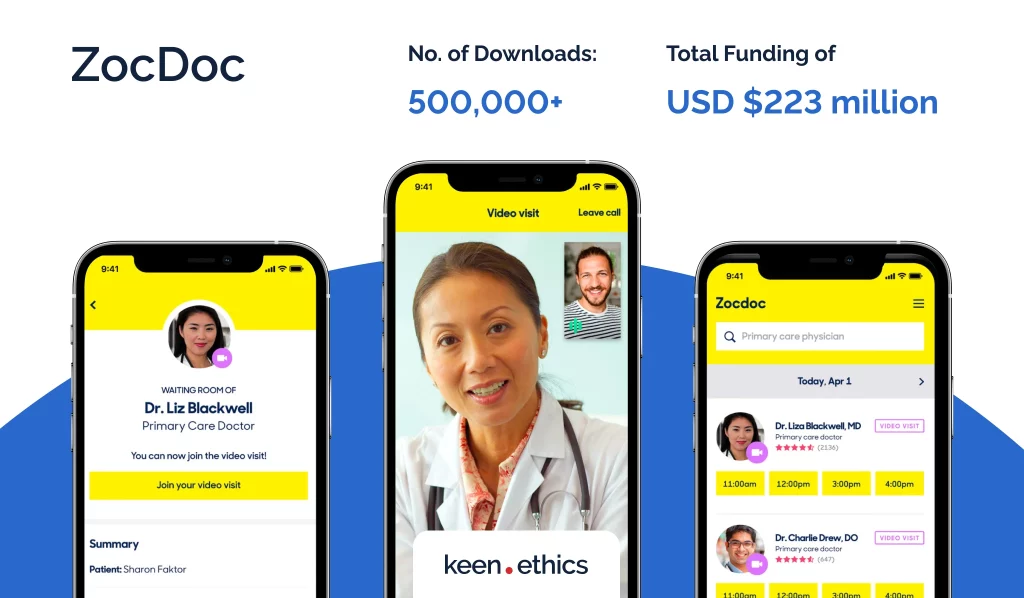 Doctor on Demand
Doctor On-Demand is a well-known telemedicine app providing users with video appointments. Its main advantage is that it includes over 1400 state-licensed physicians.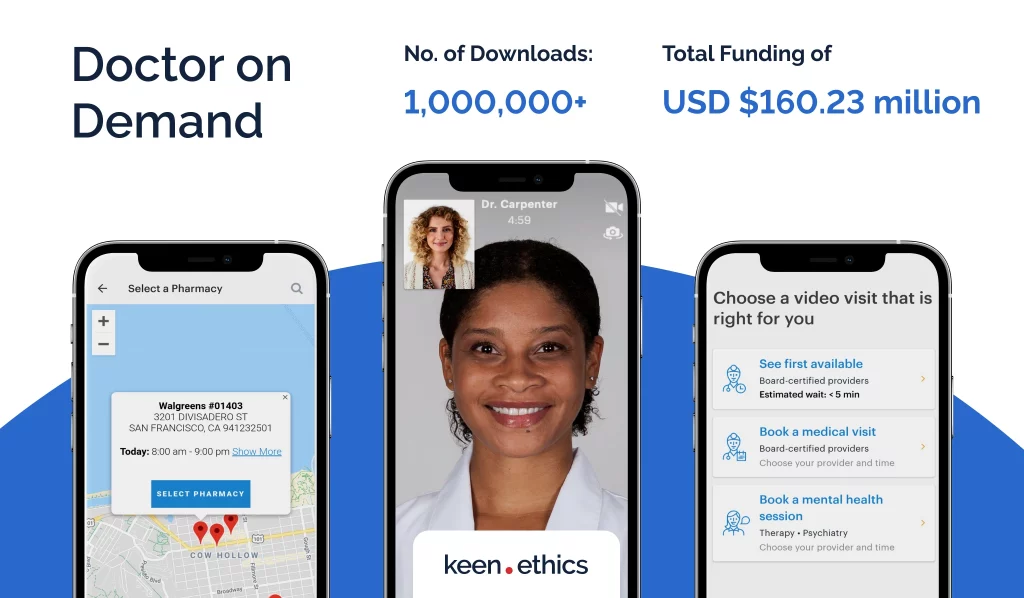 Health Tap
Health Tap also offers virtual appointments with physicians. This app is designed for both iOS and Android users.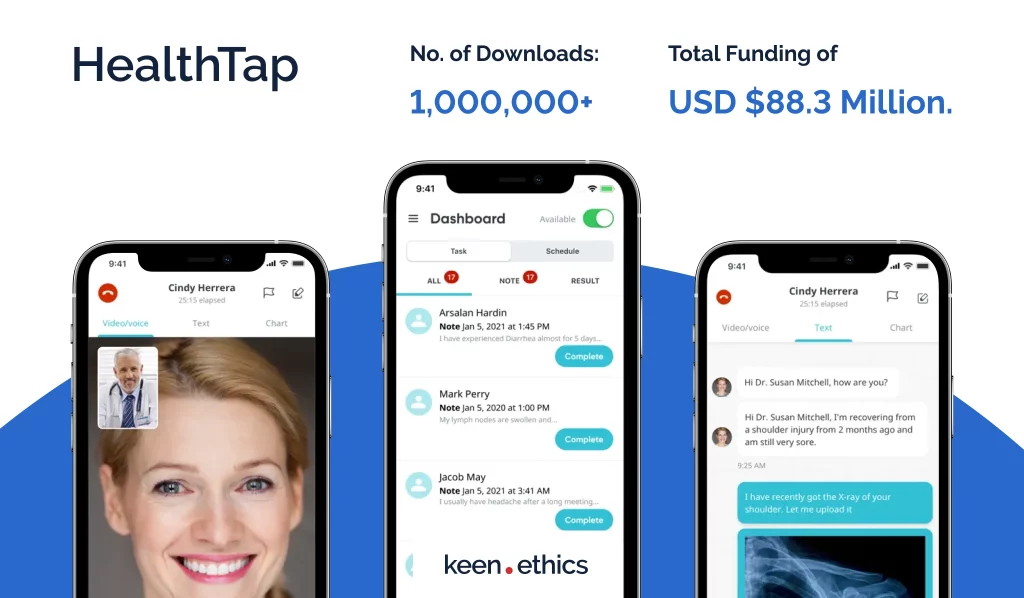 In Conclusion
Covid-19 has significantly impacted the way people think about healthcare. These days, more and more people prefer using telehealth apps for doctor visits.
So, the increasing dependency on doctor on-demand apps and a major improvement in the healthcare sector encourage modern apps to comply with the requirements of today.
The advanced doctor on-demand apps must possess all the features mentioned above. Remember that your doctor on-demand app must have the right value propositions to attract the target audience and fulfill their needs.
If you need a custom implementation, don't hesitate to contact our team and share your idea with us.
A doctor on-demand app can be a great way to improve the patient experience.
Contact Keenethics to get a free estimate of your doctor on-demand app now!