Benefits of Integrating Your CRM and Document Management System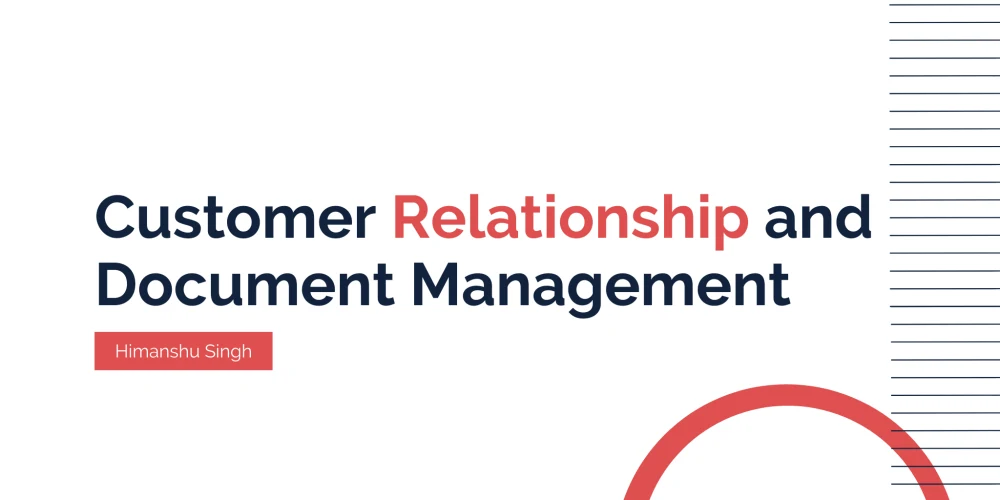 Customers are the driving factor of any business, serving them the right way is the key to making or breaking your business. This said, when a customer interacts with your business through sales or inquiry, you need a good document management system in place to record their interactions. Once they make the purchase, your CRM system is already there to ensure that you communicate well to respond to their queries after sales.
But how many times has it occurred that you have faced problems with getting the right information at the right time to respond quickly?
To collect customers' purchase details and to understand their buying patterns through social media interactions, you need to register a lot of data. Thus To collect customers' purchase details and to understand their buying patterns through social media, it is tedious to collect data from multiple sources and analyze it to improve customer experience. Although a lot has been simplified with the help of CRM software, there are still glitches when it comes to getting certain information on the go when needed.
The scenario where your sales team might have called a customer several times to get information thus pestering them is not so unknown. Also, you should not forget the time that goes to the interaction among sales, marketing, and support team due to the insufficient data or data that is not available centrally.
In every industry, two systems work with customer data. These are the CRM Software and Document Management System. Let us give you a brief of each.
What is Customer Relationship Management software?
Customer Relationship Management software is the most powerful tool that businesses have to serve customers in a better way by knowing their preferences and keeping up with that. It is a storehouse of all the data related to the customers including contact details, sales, customer interactions, and the likes. The sales and support members of organizations can leverage this tool to get information about the customers thereby serving them quickly to resolve their issues.
What is Document Management software?
On the other hand, businesses use Document Management System to store information regarding the work process across the business. This system keeps track of all the data, reduces paperwork, and makes the process of sharing this data easy as it is available centrally to all the resources within the organization. It also keeps track of various versions of data and thus helps in managing a log to retrieve relevant information through filtering and sorting options.
Now imagine what would happen if you integrate these two systems?
You can directly get the work done for customers from just one interface rather than having to open two windows and check the relevant data.
Let's drive you through the benefits of integrating your CRM and Document Management System.
What are the benefits of integrating your CRM and Document Management software?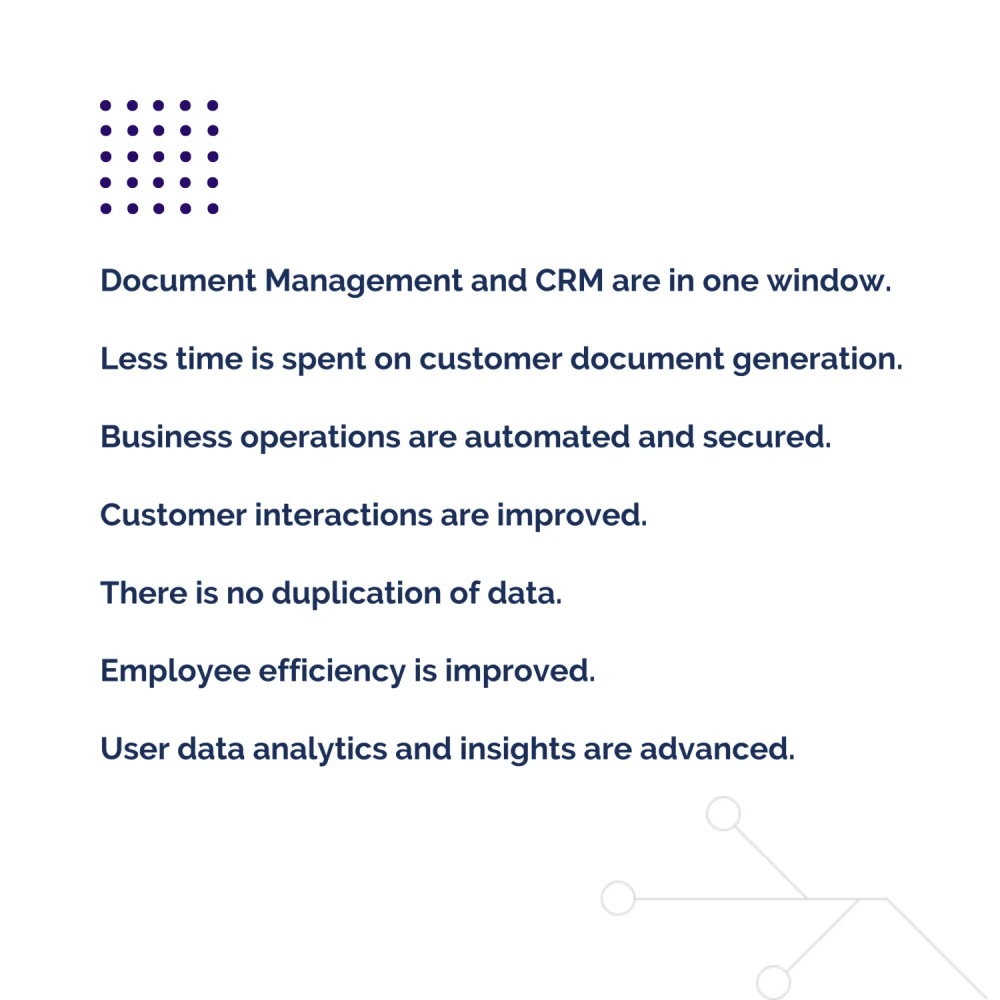 Document Management and CRM in the same window:
By integrating your document management system and CRM, you get all the information from the centralized database into your CRM. This saves a lot of time, energy, and resources as employees now do not have to look for records at multiple places or ask their colleagues to scavenge the same. With all the customer data available in one window, your staff can now serve customers faster.
You can generate files, edit them, and retrieve them when required from CRM itself. Such integration also enables your staff to share files easily through the system without much hustle. A logged data of the work done on files is available which helps to track the status of customer queries thereby aiding to get tasks done based on priorities.
Less time consumption for customer document generation:
Having an integrated data and CRM system means you have an upper hand when it comes to generating customer documents. There is no need to add customer details to a predefined template for usage. Instead, the data related to customer contact details, their purchases, and interactions are already available in the data fields on CRM from the central database.
These templates can be further customized for use in providing customer proposals or contracts within the tool.
Automation of business operations:
There is no longer the need to scan documents to share with various teams. The document management systems these days have inbuilt support for keeping a digitized version of printed documents. This can directly be shared with team members from the tool itself. Also, you can keep a track of who is working and on which module. This makes the process of following up easier because the information is available for everyone to know what is going on with the customer queries and to work on it.
Despite having a huge amount of data, the chances of losing important customer documents are now reduced as all details related to customers are readily available on CRM itself.
Secured operations:
When you integrate the CRM system with your Document Management System, the data of customers is available centrally for use to all the employees. This seems to be a threat to the security of data. But there are features using which you can customize who can work on it and how. With the help of access rights allocation, you can make sure that the information available to your staff is as per their levels of operations. The data accessed this way, in levels, is now secured as certain sensitive information that needs to be protected is only available to a set of specific staff that has to work on it. Thus, integrating also ensures that customer data is safe.
Improved customer interactions:
Business operations are highly streamlined with the help of an integrated CRM software and Document Management system. Customer data is now retrieved faster as everything is available at just a few clicks. Your employees do not have to look into multiple files while telling the customers to hold for a while.
This improves the way customer queries are served thus enhancing the overall customer experience. A happy customer is bound to return to use your services. This, in turn, increases your customer retention ratio. Such customers also serve as your brand ambassadors as their good talks about your services lead to word-of-mouth promotions.
No duplication of data:
When you have CRM and Document Management System operating as separate entities, you are in for a lot of repetition of customer data. This is quite normal because your customer support team might ask the same set of details as your sales team. Employees serving in various departments and having access only to that module will also log the same details as the other set of employees. Benefits of CRM system integration with Document system is that you say no to Data Duplication. All the information of the customer is logged just once at one entry point and is then available on the central server for use. This also ensures that the data of customers is consistent at all the locations that it is stored and made available.
Improved employee efficiency:
When employees have to answer to the queries of customers and they do not have the right information at the right time, it can lead to poor customer services. This is usually the case when the organization's CRM and Document system function individually. But what if all the details about the customer are available with a single ID that can be used to find and track down the customer and serve them instantly? This is possible with the help of integrating CRM and Document Management System. With a reduced amount of trips to and from, finding details of customers and asking other teams to provide permission to access certain details, you increase the efficiency of your employees.
The time you save can be used to plan workflow, to acquire new customers, and to increase the user base. This way, you can reap the benefits of CRM software by integrating it with your central Document Management System.
Advanced insights and user data analytics:
Your Data Management System is a huge source of information to know the behavior of your customers and their buying patterns. It also helps the company in making decisions through predictions from past purchases and customer interactions. Now, CRM systems already have an in-built feature to give reports on customer details to make better strategies and design effective marketing campaigns. But when these reports have a rich dataset, the analysis provides helpful insights compared to a spreadsheet extracted from CRM. Integrating your CRM and Data Management System thus helps in getting advanced insights using data analytics features to serve and get better returns.
What should you do next?
Now that you have read about the benefits of CRM and Document Management System integration, you are just a step away from implementing it to make the most of both these tools. Such a cost-effective solution for serving your customers is bound to make a profit for your business and increase your goodwill through positive customer feedback due to improved services.
Do you need help with business administration software development?
Keenethics professionals will gladly assist you with developing a platform for HR Management, Marketing & SEO, Task Management, File Management, or Accounting. We have experience in developing ERP, Business Analysis & Report, and CRM systems. You can also contact us to learn about AI, IoT, and cloud solutions for business.
---
Thank you to Himanshu Singh for contributing this article. Himanshu Singh is a Marketing Specialist at SoftwareSuggest, He is well versed in software platforms like eCommerce platforms, project management, invoicing software. He is also interested in domains like Machine Learning and Semiconductors. In his spare time he enjoys Guitar, Badminton, and Photography.