AI in education: Benefits, Examples and Future opportunities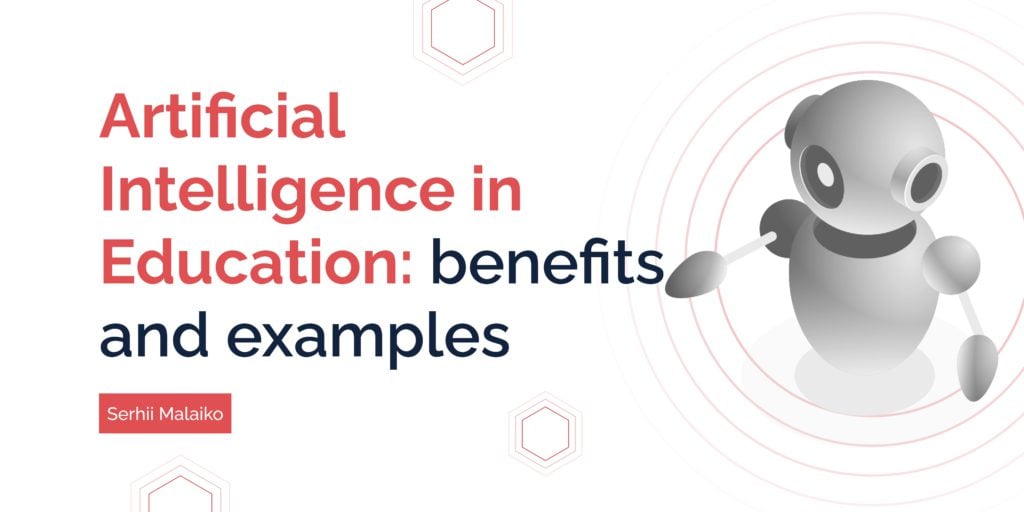 This article examines the uniqueness of artificial intelligence in education, which could dramatically change the access to education process soon. AI will help teachers achieve maximum student outcomes for their successful future. The article also offers a personalized learning experience – AI in education examples.

Impact of artificial intelligence on learning and education
Smart content is quite popular among students and teachers due to the significant impact of artificial intelligence on learning. It has become very important, as it greatly facilitates the learning process and provides more possibilities for students. For all levels of the education sector, virtual learning assistants help create high-quality digital content with easy-to-understand materials.
In addition to automated administrative tasks, AI in education guarantees various technologies for submitting papers or, for example, periodic progress reports. Educational software has revolutionized various sectors of education through technology, ensuring learning standards and high-quality content. It's also important that modern technologies in education create individualized learning. These learning programs led to an improvement in the knowledge base of students regardless of their level of education.
Benefits of AI In Education
AI teachers offer many benefits of artificial intelligence in education due to the process of knowledge sharing around the world. In general, there may be benefits for students, as well as for teachers and educational institutions. It could be the ability to identify weaknesses or automatically create curricula.
Personalization.
This trend is considered the most common in the world, as students are guaranteed personalized curricula based on their previous experience or their own beliefs.
In the process of individual education AI, a system can select the most acceptable comprehensive courses and reliable sources for each individual. This approach can eliminate weaknesses, and it tries to adapt to the peculiarities of students as quickly as possible.
Adaptive learning.
This advantage primarily involves the avoiding of stressful situations due to the correctly chosen speed and pace of adaptive learning programs. Also, by automatically analyzing their progress, students gain more motivation for further activities in education.
Due to the adaptive pace, you can easily control the improvement of your learning skills and the level of complexity of programs. This style of learning with an individual schedule and plan brings great success to the category of students who constantly don't have time.
Tutoring.
Many students need extra classes to complete their homework or especially to take tests. Since teachers are limited in time, it's AI in education in the form of bots or artificial tutors or assistants. These assistants help students improve their skills and eliminate their weaknesses outside the educational institution.
Quick responses.
When a student receives an instant answer from personal assistants, then the learning process will be more accessible.
Regarding the universal access to education 24/7, artificial intelligence in education provides the opportunity to teach students at any time. Virtual access to education doesn't oblige students to physically move or spend personal funds.

Grading.
Specially designed programs can make it easier for teachers to grade homework or tests. Based on the given patterns and individual factors, machine learning automates the assessment process. Then it will provide more time for wider learning activities.
Role of a teacher.
The dilemma of undermining teacher status remains significant in the AI era in education. However, artificial intelligence in the classroom also has shortcomings, such as technical problems or weak protection of personal data. The teacher role is based on flexibility of thinking; rational approach; and ability to properly cooperate with AI and education.
Benefits for nontraditional students.
Unique life experience, motivation, and ways to solve problems with personal skills are the main characteristics of nontraditional students. AI in the education market can guarantee them a comprehensive implementation of their ambiguous ideas through individual pace, and specifics of learning.
Benefits for community college.
AI in the classroom has a positive effect not only on students but also on teachers. It simplifies their direct professional responsibilities and instead promotes closer cooperation with students. Virtual assistants, tutoring programs, automated administration, and assessment systems also play an important role in the high quality of education.
Human bias.
AI in schools doesn't focus on the student's social status or place of residence. AI helps avoid teacher attachment about subjective assessment, especially in stressful student situations, and personal empathy can be important.
Real-time feedback.
A situation is possible when a large proportion of students don't complete tasks correctly. Then AI education can gather specific information and concepts for these students. Artificial intelligence in schools can also provide the necessary materials and change approaches to teaching to improve the performance of these students.
Examples of AI In Education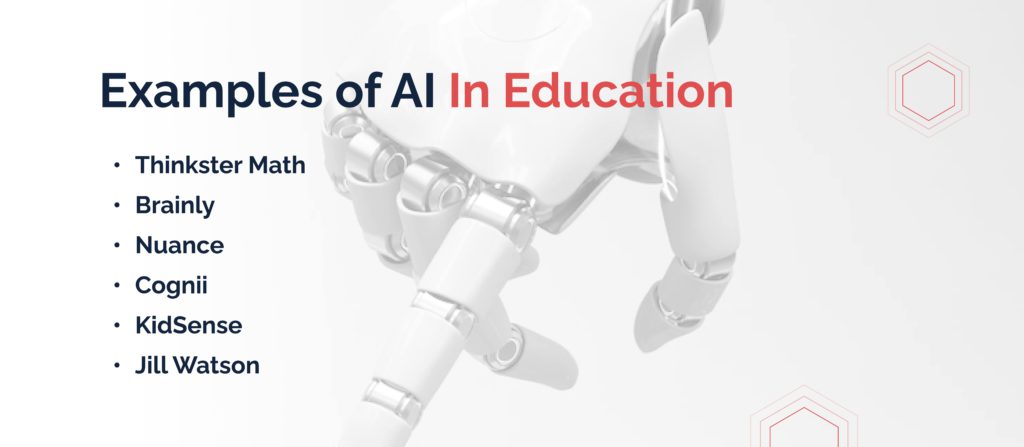 Among the many tools and technologies, AI-powered tools, and information and communication technologies stand out. Thanks to these technologies there's education informatization. This social phenomenon is becoming an important factor and a modern tool for innovative development of education.
The key AI-infused specific technologies in education involve several examples of artificial intelligence in education:
An educational platform for the effective, desirable, and achievable study of mathematics using artificial intelligence and technology. Teachers can give feedback to students about their mistakes based on digital analytics.
A platform for discussing tasks in different subjects and mutual help between peers, parents, and professional experts.
Artificial intelligence for education helps recognize students' speech, especially those who have difficulty writing. The program's dominance for 20 years lies in the high quality of conversational tools for the community around the world.
Educational artificial intelligence that provides users with cost-effectiveness and excellent results. Cognii Virtual Learning Assistant allows students to join the chatbots. In these chats they receive quick answers, a personalized approach, and instant evaluation of their work.
Provider of the highest quality services in the field of occupational therapy and speech therapy. Especially for children who need to overcome the problems of physical development, especially speech disorders at an early age.
AI in the form of an assistant in interactive computing, and computer science simplifies the work of students and teachers. Each assistant program contains its knowledge base, which AI uses to answer students 24/7.
Challenges of AI in the Education industry
The issue of full implementation of AI for the education system raises some major challenges. The first challenge highlights the problem of integrated public policy for sustainable AI development in education. This discourse should also mention the selection of professionals who could interact with innovative technologies. The development of inclusive programs for a personalized approach to different categories of students can be an urgent problem. Personal data should be protected as much as possible to avoid breaches of ethics.
Several countries and educational institutions actively use the benefits of educational data for the individualized learning experience of their students. Only an agreed state implementation policy can overcome all subsequent challenges, including the processing of the personal data of students.
The Future of AI in Education
AI in the education sector can be an important centuries-old mechanism given the innovations in the creation of personalized programs.
Another important opportunity is the constant reform of the educational system to guarantee the quality skills of students. They are necessary for the future use of artificial intelligence in education. Reforms should be extended to all education sub-sectors, and there will be a process of rethinking less effective educational programs.
The next opportunity of AI in the education sector can be considered to strengthen cooperation between industry and the education sector. A mutually beneficial proposal is envisaged: educational institutions will train qualified specialists for the needs of industry. Then the industrial sector will promote the development of custom-tailored education.
In Conclusion
The emergence of artificial intelligence implies personalization, which is an advantage for the education sector. AI in education is a virtual assistant to teachers to improve the quality of student education. It also provides students with all the necessary filtered information. Under AI-powered solutions, teachers can create inclusive content for individuals and provide them with separate approaches to learning. AI also automates administrative tasks, and teachers have more time to focus on students.
It's important to analyze all the challenges and prospects for the development of AI in the education sector. If you need to research all the available factors, you can contact our team of experts.
Do you want your business to get involved in the world of edtech?
Technology and education have already become an integral part of one another. Keenethics helps you to cope with technological challenges as easy as possible to choose the most appropriate example of AI in education.