Practical Startup Guide: From Idea, Through MVP, and to Production
Develop an MVP for startup – minimize investments and maximize results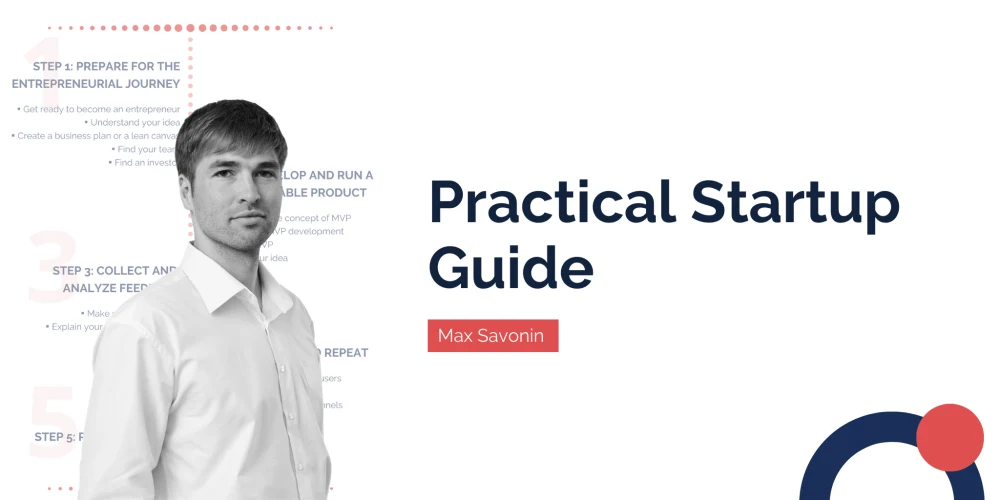 A story of success for the 21st century: start a small company and sell it a few years later for millions of dollars. In 1999, when four young entrepreneurs founded Shazam, they probably could not have imagined that, 19 years later, their company would be bought by Apple for $400 million. After all, Apple also was founded as a startup, and today, its net worth has exceeded $1 trillion.
So, a technology startup can bring you to the list of lucky ones. But how do you build a successful startup in 2020? Before entering the world of aspiring entrepreneurs, you need to have a well-thought-out plan.
In essence, this is how the practical startup guide we offer looks like: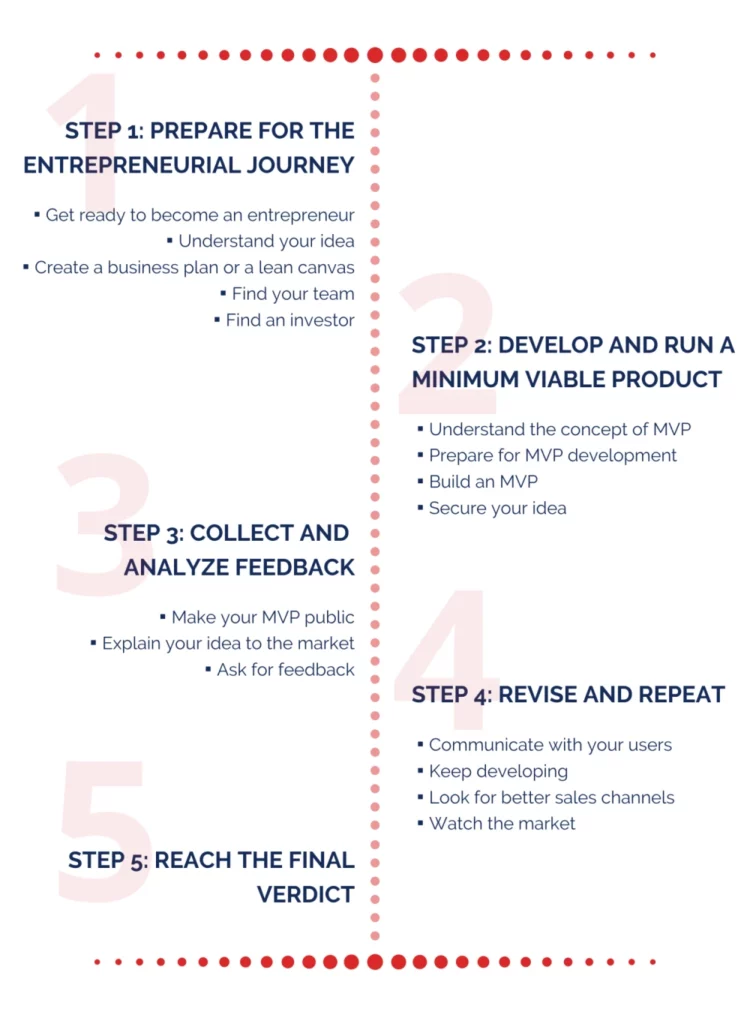 Step 1: Prepare for the Entrepreneurial Journey
Get Ready to Become an Entrepreneur
Entrepreneurship is not a job — it is a lifestyle. Look at the examples of successful entrepreneurs. Those people who are on top of big corporations, software development companies, or small enterprises have a few similarities: the way they approached their idea, built a team, spread the brand name, and so on. However, the way to success is built on mistakes. At some point when entering the business world, you will have no idea how to act, and your plans will not always work out.
---
Each person has their own way through the thorns. By pushing yourself through them, you will obtain an invaluable experience and get ready to face all future challenges.
Understand Your Idea
Since you are reading this article, it is obvious that you already have a business idea. Are you sure that the idea is competitive? It is sustainable? Make sure your startup idea is in demand — most startups failed not because they had a bad product but because this product was useless.
To avoid such a frequent mistake, we suggest you start with the idea validation services. Product Idea Validation Services that we offer take 14 days, but they help you understand if your idea is worth investing time, effort, and money in product design and development.
If you believe that such services are unnecessary, try to validate the idea yourself. In basic terms, you have to communicate with the target audience, estimate the powers of your potential clients, and evaluate potential sales channels. Take a look at your idea and answer a short list of questions:
Does your idea solve an actual problem?
Will people be ready to pay for what you are going to offer?
Can your startup become a business able to exist for more than a year?
Do you know your competitors?
If the answer to any of the four questions is "not sure", your idea needs a lot more thinking. If you feel confident while answering "yes" to all those questions, you must have spent enough time learning about your business industry, market, and competitors. Only now you can start thinking about how to turn your great idea into a successful startup.
Create a Business Plan or a Lean Canvas
Business planning is the right thing to do. Business advisors, bankers, investors, and experienced entrepreneurs would agree that you should develop a business plan before you start a business. It will help you discover weaknesses in your business idea, identify opportunities you may not have considered, and consider well every step of starting a company. It will help you deal with challenges that are likely to arise and prepare your startup for success.
However, not all business plans are the same as not every business needs the same level of detail. A relatively simple plan to start a small company might be enough for you at first, and you can elaborate on it when seeking further funding and growth.
Usually, business plan includes:
Executive Summary
Company Description
Products and Services
Marketing Plan
Operational Plan
Management & Organization
Startup Expenses & Capitalization
Financial Plan
Appendices
Meanwhile, a lean canvas includes:
Problem
Solution
Existing Alternatives
Key Metrics
Unique Value Proposition
High-Level Concept
Unfair Advantage
Channels
Customer Segments
Early Adopters
Cost Structure
Revenue Streams
Lean canvas is more beneficial than a business plan because it is faster to create, easier to share and update, more concise, and eventually, more effective.
In any case, a well-written business plan or lean canvas will be another point in your favor while convincing investors or lenders to finance your business.
Find Your Team
You cannot do everything yourself. You will need experts from different areas (product developers, testers, designers), who would work as a team even at difficult times.
You will never find «perfect employees» – your aim is to nurture them by showing the value and importance of their contribution to the success of your company. Only a team that believes in the future of the startup will demonstrate the highest productivity and performance.
Find an Investor
Make sure you can cover your startup's capital. In most cases, you will need financial help to turn your idea into a product. Seek for venture capital funds and mentorship to cover the first few years of your startup's life.
Let's be honest, to get the funding, you will have to persuade and amaze investors. On the first meeting with investors, you have to make a good impression, so preparing an aspiring elevator pitch and a creative business plan is a must. Your pitch, as well as your business idea, should be good enough to be developed over time. The better your pitch is prepared, the more confident an investor will be in funding your startup.
---
Most likely, investors will be ready to fund an idea that (1) shows a large potential for market demand and profitability and (2) has a strong team.
Step 2: Develop and Run a Minimum Viable Product (MVP).
How to find out, whether consumers need your startup product or not? Analyze the demand for your startup product with a minimal viable product.
Understand the Concept of MVP for Startups
Minimum viable product is a concept invented by Frank Robinson and popularized by Eric Ries. According to Eric Ries,

The minimum viable product is that version of a new product which allows a team to collect the maximum amount of validated learning about customers with the least effort.
Learn more about what MVP is and how to create it
Check our recent article where we explain this concept using the example of a bicycle. This could not be any simpler!
---
Prepare for MVP Development
To launch an MVP, make sure you already have:
Selected a platform or a few for your future solution. Web, mobile, desktop, IoT, or even VR — which one is yours?
Sketched an idea for the corporate design and style. Before jumping to MVP development, start with wireframing or mockuping.
Prepared a development plan and technology stack.
Prepared a marketing plan to attract customers.
Build an MVP
Develop an MVP for your startup and quickly release it to the market to receive feedback from clients. The sooner you check your theory on mistakes, the sooner you will make a pivot to the right idea. You might need to engage an external service provider if your internal team lacks technical capacity. In fact, the development itself is not the only stage you can outsource. Business analysis, idea discovery, design, and marketing – all these can be trusted to a reliable software development company.
Secure Your Idea
Please note, if your idea is innovative, it should be secured. Minimize the risk of your idea being stolen by patenting your invention, sign confidentiality contracts with every involved person, and ensure the technical security of your solution. Make everything possible for your intellectual property protection.
Step 3: Collect Data on the Launch of MVP
After you have developed the MVP for startup, you should drive traffic to it to test the viability, functionality, and acceptance of your idea. Your purpose should be to successfully and quickly transition from your Minimum Viable Product (MVP) to a Minimum Marketable Product (MMP).
Make Your MVP Public
For this purpose, you can talk about your MVP on popular websites or blogs, such as Medium, FreeCodeCamp, Hacker Noon, or Product Hunt. You can buy traffic from Google, launch a PPC campaign, or recruit a sample of test participants to be the first users of your product. Google Ads or Facebook Ads would also serve the purpose of attracting target audience.
Explain Your Idea to the Market
Be prepared to explain your idea to the market — launch a landing page, start a blog, or prepare an explanatory video on YouTube. Instead of waiting for people to start using your product, motivate them to do so, make them interested, explain why they need it.
Ask for Feedback
Ask your audience for a feedback and give them tools to provide it simply and quickly. For instance, conduct face-to-face interviews (which is a VERY time-consuming option), launch a SurveyMonkey or Google Forms survey, leave a comments window open, or gather a focus group. Also, do not forget to use advanced analytics tools to measure and evaluate user activity, such as Google Analytics.
After that, collect, organize, and filter data to get more insights into your product performance. For this purpose, you might need to create charts to monitor trends and detect touchpoints. Take into account that, after a thorough analysis, the definition of the next steps of product development requires time. Include extra time for database operations, for setting objectives, and for generating all the necessary tactical solutions.
Once you have collected the feedback of your users about the MVP, you have to understand this data. Focus on the cause-effect indicators when evaluating the results, be flexible and ready to change the plan at any time.
Step 4: Revise and Repeat
The work on idea discovery and MVP development should be continuous — for the startup idea to be constantly improved.
Communicate With Your Users
You have to measure user engagement and feedback at all times. Also, try to respond to customer feedback as much as you can – communicate with your users.
Keep Developing
Having analyzed the results of your investigation, you should go back to the development phase:
Correct errors and fix bugs.
Provide functional revisions or updates.
Set up a further estimated roadmap, based on testing.
The capabilities of your project should be gradually extended. Updates should be integrated and launched quickly for you not to lose your target audience. Once any updates are out, you should notify your users.
Look for Better Sales Channels
You need to check the sales channels through advertising. Calculate the cost of a user brought through each sales channel and choose the optimal ones.
Watch the Market
Keep an eye on market trends and follow them. The market changes rapidly, the needs of users are never the same. For your product to be topical, relevant, and demanded, you should be on the same wavelength as your customers.
Step 5: Reach the Final Verdict
Once you feel that you are done developing, revising, and analyzing, you can render a final verdict to your startup. Does it deserve more of your time, effort, and investment? Or should it rest in peace in your archives?
At this stage, it is important to understand that profit is not an indicator of success yet. At the initial stages, it does not have to bring profits — monetization is not a goal of a startup MVP. But it must have the potential to be profitable in the near future. So, if the startup's working model is healthy, it is necessary to plan its further development and creation of a scalable and stable sales flow.
To Wrap Up
A startup is a great opportunity to make money. However, there are so many potential risks you may face. If you want to minimize these risks, we recommend you to start with idea validation. If you feel ready to face the risks, you jump straight to MVP web development.
We offer you a simple startup guide. It either lets you create, improve, and scale the working model of your project or shows you that you should look for a different idea.
Step 1: Get ready for the entrepreneurial journey
Understand your idea
Get ready to become an entrepreneur
Create a business plan
Find an investor
Find your team
Step 2: Develop and run a minimum viable product (MVP)
Understand the concept of MVP
Prepare for MVP development
Build an MVP
Secure your idea
Step 3: Collect and analyze the data on the launch of MVP
Make your MVP public
Explain your idea to the market
Ask for feedback
Step 4: Revise and repeat
Communicate with your users
Keep developing
Look for better sales channels
Watch the market
Step 5: Reach the final verdict
Following this startup guide for turning your idea into a product will help you reach the proper correlation between time and money. I wish you to achieve success in your entrepreneurial journey!
Do you have an idea for startup?
Would you like us to build an MVP for you? We will gladly assist you with this vital product development stage. Take a look at our MVP development company page to learn more about how we do it.