How AI helps you to educate?
Artificial intelligence has already become a game-changer for education.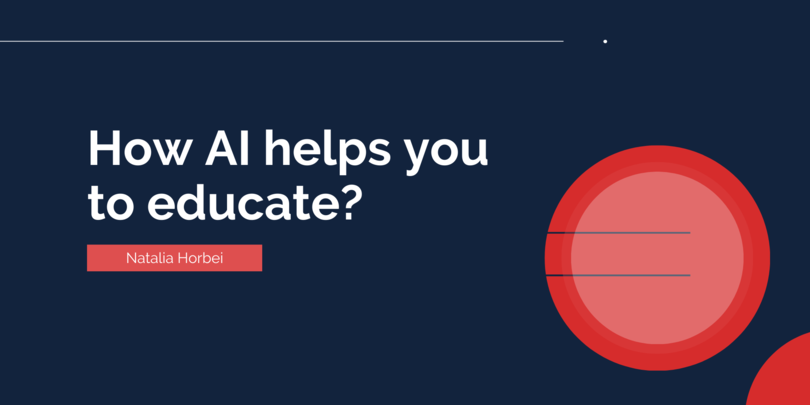 An increasing number of educational leaders recognize the effectiveness of AI at schools. They rely on AI to make learning more enjoyable. Yet, not everyone is aware of the pitfalls AI might pose to the learning process. For instance, in cases when something is done incorrectly.

The use of content that includes false information makes students perceive it and, thus, fall behind with their studies. That is why being aware of the role of artificial intelligence in education is of great importance. Knowing how to implement adaptive learning via AI determines the success of learner performance.
Adaptive Learning
Artificial intelligence is strongly connected to adaptive learning. Together, these two notions can shape the classrooms of the future. People who are now prepared for the challenges of education of the future have a far bigger advantage over those people who are not.
Learning is not only about studying in schools, kindergartens, or universities. Instead, learning refers to a lifelong process. This means every stage of our life teaches us a lesson about something.
These days, we might notice that learning has become smarter and more global. With the current pandemic, it shifted online. Thus, modern learners have to be acquainted with technologies as well as adaptive learning. Let's have a look at how artificial intelligence alters education and how it promotes adaptive learning.
The Benefits of Adaptive Learning
Each of us is different. Thus, each of us needs a certain unique approach to the learning process. This means that there is no single learning style that would be suitable for all of us.
Learners have to feel that they have access to all the tools and materials that are important for effective adaptive learning. That is where artificial intelligence might assist learners. Particularly, AI can help them render various content to meet their learning needs.
The main significance of artificial intelligence is in its application. For example, it can be used either in educational institutions or corporate setups. Such an approach makes adaptive education an enjoyable and interesting process.
In addition, learners can benefit from relying on artificial intelligence. In particular, they can choose from a variety of skills they want to develop. Adaptive learners might decide whether they want to focus on enhancing their skills or engage in resolving social issues.
Several examples are showing the effectiveness of using artificial intelligence in adaptive learning. In education, using a chatbot can help educators assess the level of knowledge of students in particular areas. By dealing with various content, such as pictures or texts, adaptive learners quickly absorb new information.
Or, in an educational environment, it is common to create apps that offer different lessons. For example, language learning apps. These adaptive learning tools help students learn Spanish, English, or any other language in an alternating way.
As a result, such an approach to learning creates an environment in which learners can gain knowledge and skills based on their knowledge and skills.
Let's consider several factors that make AI in the educational environment effective. Here are three main factors that are important to keep in mind when implementing artificial intelligence in adaptive learning process:
The type of content used;
The function of artificial intelligence used to measure the success of learners at a particular stage of learning;
The function of the artificial intelligence used to adapt to the learner's level of knowledge.
Personalized Education
Apart from adaptive learning, artificial intelligence can build personalized education. AI personalization education becomes widely recognized in the educational field. It supports individual students in their attempts to be successful in classes. As EdtechMagazine points out, a growing number of college educators are embracing the trend, taking advantage of data analytics and artificial intelligence to deliver just-right, just-in-time learning to their students.
Institutional leaders can use data analytics to determine students' knowledge. Moreover, they can adapt their lessons to students' ideal learning style. This smart application not only eases the lives of students but also of teachers. The main goal of artificial intelligence in education is to help students succeed before they fall behind with their studies. The strategy of personalization presupposes each learner having a chance to study in a comfortable way. This means they would be able to learn according to their current level of knowledge.
According to EdtechMagazine,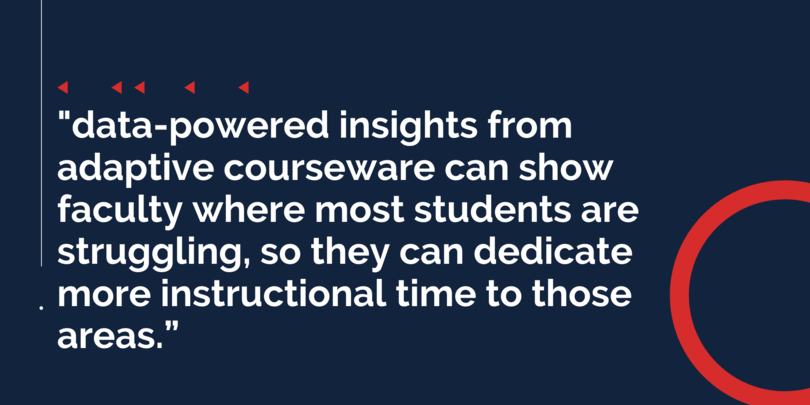 The Covid 19 pandemic boosted the demands for effective studying and effective tools for each student. Thus, embracing personalized education has become one of the most important challenges.
The Benefits of Using Personalization in Educational Environment

Such an approach to education might not only improve students' performance but also boost their attendance. Personalization enables adaptive learners to engage in the learning process despite the difference in their performance.

Benefits for Nontraditional Students
The use of AI for personalized education is also helpful for nontraditional students. Nontraditional students are those students that try to balance their studying with family life or/and full-time jobs. Such students quickly become an integral part of many educational institutions.

To be able to multitask, nontraditional students require an individual approach to learning. The use of asynchronous learning via online programs might be the best solution for them. In particular, for their attempts to balance between various aspects of their life.

In addition, the ability of such students to study online at their own pace also shows positive outcomes. That is why the use of AI is so demanding on the market these days.

Taking into account the fact that online learning will remain popular for years, AI will be in great demand in the long run as well.
Benefits for Community Colleges

Such a strategy would be helpful for community colleges since they include diverse groups of students. Thus, the use of AI can help community colleges give students a broader range of educational experiences.

There is another benefit of artificial intelligence for students. Artificial intelligence assists learners to get immediate feedback on their progress. Thus, AI ensures access to such data faster than educational leaders.
Conclusion
AI in an educational environment is no other than a great investment in a learner's knowledge and skills. Even though many people criticize the use of AI in the educational field, it still has many advantages for adaptive learners. AI helps enhance students' performance and boost their attendance and retention.

Before implementing such a strategy in your business, carefully consider the quality of your content. Plus, focus on the ability of AI to measure the success of learners and to adapt to the learner's level of knowledge. If you need help in making this strategy a part of your business — do not hesitate to contact our team for help.