Dedicated Development Team: A Mere Name or a Real Characteristic?
Today, we want to show you how to make the experience of outstaffing pleasant and effective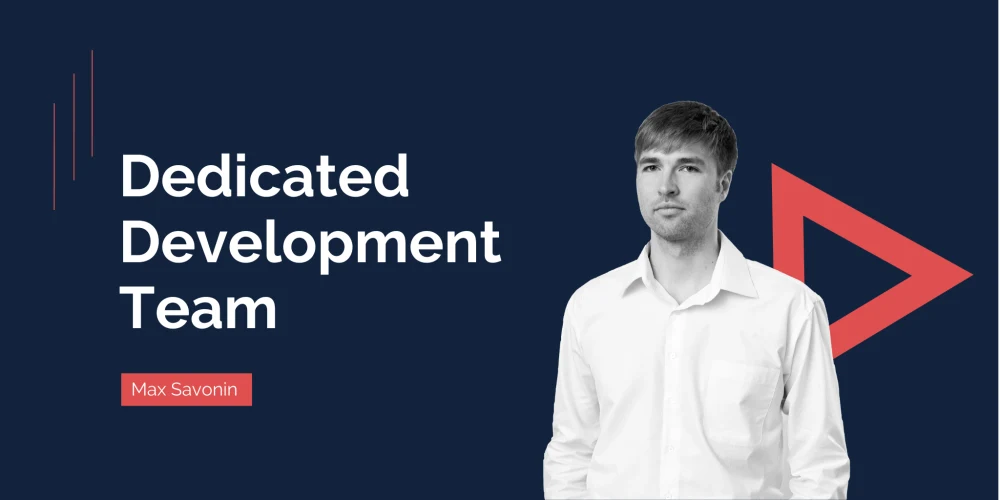 Hiring an offshore team is not an easy task. Particularly if you've already had an unsuccessful experience. People dealing with outstaffing ask, "But how can I trust those whom I meet for the first time? How can our cooperation be prolific if we haven't interacted before?" They are afraid that they'll lose money and not get the desired results. And such worries are natural.
However, if the practice of outstaffing was so hopeless, companies wouldn't opt for this strategy so often. Maybe there's a way to make the cooperation with offshore team successful and effective? Yes, there is. The key is to develop a step-by-step plan of your interaction while outstaffing. And today, we will discuss how to make sure that the dedicated development team you choose for your project is truly dedicated.
Apart from flexibility and technical expertise that your dedicated development team should possess, devotion and commitment are the other two factors you should consider. Yet, we are not here to speak in riddles. Let's start with the hiring process.
Understand your project
Clearly define your project requirements. What goal do you pursue? What kind of people do you need? Having a clear vision will help you choose the right path. If you know the answers to these questions, move further.
And if you want to learn more about how to develop a strategic project plan and what kind of people or dedicated team model you need, check our recent article on designing a project development strategy.
---
Look for development companies
So, you set your project's goal and defined the category of people you are looking for. The next task is to find a dedicated development team that matches your expectations. Where to look for? I guess you've heard about such platforms as GoodFirms, The Manifest, and Clutch.

As our partners indicate, these websites provide the most relevant, topical, and transparent information on software development companies from all around the world. Here, you can sort the agencies by service type, average hourly rate, location, number of reviews, rating, minimum project size, and industry focus. The databases of these web platforms are sufficient for you to choose the best outstaffing agency.
Check the websites and LinkedIn pages of companies you find there, look for reviews online, select your favorites, and email them. Describe your project and its goals and ask these companies to provide you with detail. I recommend contacting several companies at once, even if there is one particular company you liked the most. Asking several companies to give you some details, you will get a broader choice.
A lot of companies that offer outstaffing services leave the hiring and managing processes to you without offering any extra support. Such an approach may suit someone who knows exactly what and whom they need. If you need regular guidance and support and don't have anyone to consult you, you should look for a company that offers added support. You should be determined to talk to a technical specialist in case you have doubts about the project.
To choose only the right companies, create the Google Sheet file where you will list all the agencies you found. Then, assess these companies according to several categories. For example, "Price for services," "Response time," "General impression," "Case studies," "Added support." Based on the obtained data, you will easily choose the most advantageous offer.
The best way to start cooperation is to hire a dedicated development team consisting of several developers and gradually increase the number after the first developers are onboarded. Also, strive for a long-term relationship. It takes months for team members to become fully efficient. Hiring separate teams for one- or two-month-long projects is less efficient than hiring one and the same team for all of them.
---
Assess the development team
Outstaffing experience can fail if you ignore this aspect. And if you've ever dealt with offshore companies, you know what I mean. This part is doubly important. Why? First, because it defines whether a dedicated development team that you found is the right choice. Second, because at this point, you make sure that a "dedicated team" is not just the cliché but also a characteristic. You're welcome to use our assessment guide to assess a team you are going to work with.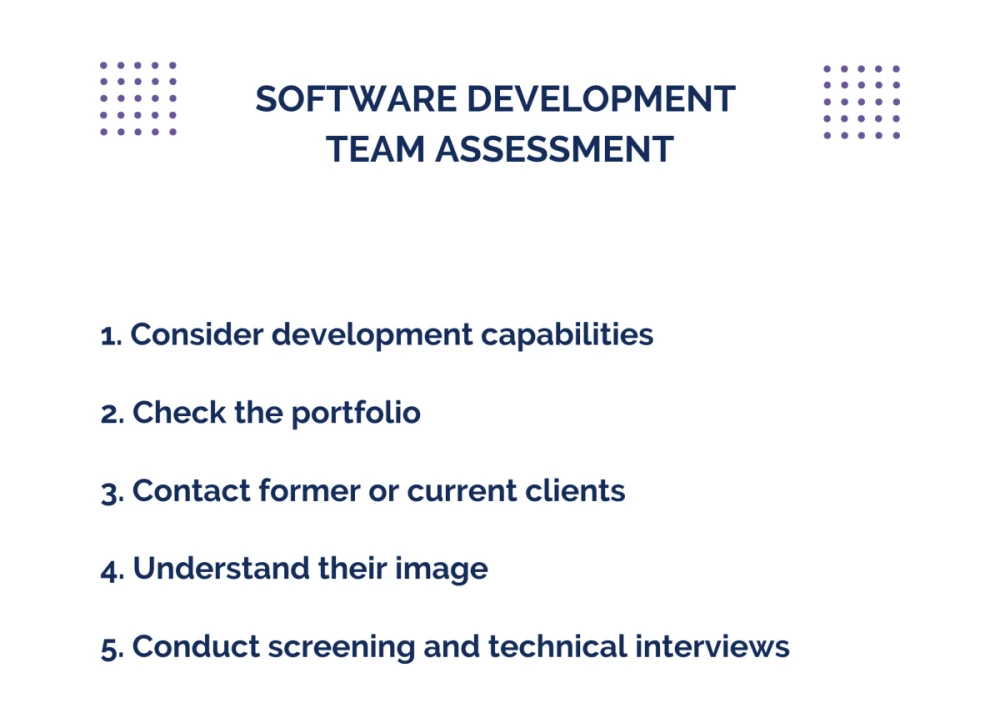 Step 1: Consider development capabilities
Surely, development capabilities were the number-one criteria of your choice at the previous stages. Now, you should dive deeper into the services and solutions that the chosen company offers. Is there a technology you prefer in their tech stack? Are they willing to suggest some time- and cost-efficient solutions? Will they be able to provide you with, for example, UI/IX design or DevOps services if you suddenly need some?
At this point, you should make sure that the dedicated software development team has versatile skills and expertise but does not disperse their focus over numerous technologies.
Step 2: Check the portfolio
A portfolio of the chosen agency can tell a lot. Usually, the main information about the projects developed by a company is mentioned on their corporate website, but you can ask for information about more case studies via email. Are there a lot of them? Are there any major companies you are familiar with? Do the solutions seem successful? Is there a project similar to yours?
To understand if the development team can handle your project, you should make sure that they had experience in creating solutions of the same scope in the same industry field.
Step 3: Contact former or current clients
If you see a client's name in a projects portfolio or in Clutch reviews, find them on LinkedIn and ask about their experience with the company. You can also ask the team to provide you with a list of clients. Talk to these people and ask them what was good about cooperating with the company, what could be improved, and how satisfactory the outcome was.
Peer reviews are the most honest and fair assessment of one's service. If you talk to former clients of a software development company, you get a clear picture of what your cooperation may look like.
Step 4: Understand their image
Look at how long the company exists and how much it managed to achieve in these years. Does this company have a good name? Does it have devoted partners? What about its online presence? Does it participate in anything else besides development, such as social responsibility initiatives or community events?
It is good if the company has a clear mission, a story, and a corporate culture. While it does not affect their development performance, you will find communication with such team to be much more pleasant.
Step 5: Conduct initial screening and technical interviews
By talking to the team via a video communication platform, such as Skype or Hangouts, you can see if you connect with these people. Are they communicative or extra shy? Do they understand what you say, what problems you have, and what solutions you expect? Is there a language barrier? Let your in-house team lead or HR manager talk to the offshore team, they will help you estimate their soft skills. After they pass the initial screening, invite them for an interview with technical specialists from your company. They will test the technical knowledge and skills of the team and conclude whether they are suitable for the role.
After you and your in-house team meet the potential partners, you can conclude if the cooperation promises to be smooth. Eventually, the most important thing is for the team to connect on a personal level.
---
Specify cooperation requirements
1. Scope of work
Scope of work is the set of fundamental cooperation requirements, which describes all the milestones, deliverables, and end products that the software development company is obliged to provide. Out of scope is another essential document, which describes the work that will certainly not be done in this project. It is important that both the client and service provider equally understand the scope of work and out of scope requirements. According to these two documents, the team can estimate deadlines and budget.
2. Payment system
In the case of outstaffing, the Time-and-Material approach is the most common. Yet, you can negotiate with the development company and opt for the Fixed Price approach. What is the estimated budget? What are the rates? How often will the payments be made and through which channels? Who is responsible for invoices and bills? All these questions need to be answered before the work on the project starts.
3. Legal liabilities
All the cooperation aspects you have negotiated should be declared in a legal agreement between you and a service provider. Aside from the contract, another important document is a Non-Disclosure Agreement (NDA). You should sign it before you elaborate on project details with the outstaffing company to prevent the breach of your intellectual property rights.
Talking about formalities beforehand will save you a lot of energy and nerves in the future.
---
Manage the dedicated development team
After hiring a dedicated development team, you need to consider how to onboard and manage them.
Project management methodology
It is great if you have an in-house software engineer who will cooperate with the offshore team and monitor code quality. If you do not have a Project Manager, you can assign this very engineer to manage work on the project. In any case, the project should follow a certain methodology — Waterfall, Agile (Scrum, Kanban, Lean, XP), or a combination of any of those. If you are not sure, check our article on how to choose your optimal development methodology.
Project management tools
Task management and communication tools should also be well familiar to both in-house and dedicated development teams. You can hardly do without Trello and Jira, which will help you monitor and control the development process and timeline. To communicate effectively, we recommend using Slack, which is far more convenient than Skype or email.

Communication
Communication is the key, but only if it is effective. Miscommunication, in turn, may threaten the entire project. The most common communication threats are personal conflicts, language barrier, and different time zones.
To manage personal conflicts, you need an effective project manager who will predict, address, and mitigate conflicts. Language barrier is not a problem you can solve. You have no other option but to identify it during the initial screening interview. Different time zones may also turn into an actual communication problem. This risk is obvious and yet high unless you acknowledge and address it properly.
To make your cooperation work across a few time zones, the only thing you need is to talk to your team. Discuss what time works best for you and them and hold daily meetings at the specified hour. If daily's are organized properly, they will be just enough for your communication not to suffer.
For example, you are from New York, which is located in GMT-5 timezone. You find a dedicated development team in Lviv, which is at GMT+2. When they come to work at 9 or 10 am, you must be still sleeping. Yet, when you come to work at 9 or 10 am, they must be still working as in Ukraine it will be 4 or 5 pm. So why don't you agree to have a daily meeting at 10 am (GMT-5)? This way, they can report on what they did during the day, and you can tell them what you expect them to be doing tomorrow.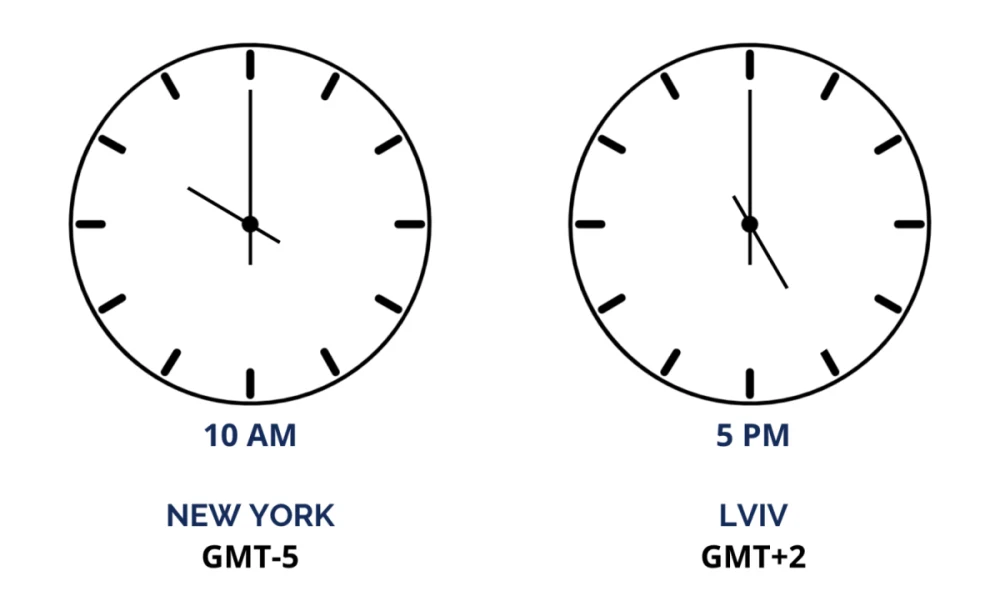 ---
To Wrap Up
If you had a sad experience with outstaffing once, it does not mean that all other cases will be unsuccessful, too. There are a lot of interesting and inspiring success stories in which dedicated development teams really brought a change to a company or business.
Consider some well-known companies as an example. IBM, Microsoft, Facebook, Intel, Google — each of these technology giants hires a dedicated development team for some minor or major development tasks. For instance, Facebook out staffed about 500 employees to deal with hate speech in Germany. When Skype was launched, back end development was delegated to a dedicated development team from Estonia.
In this article, I have listed major steps to take to make sure that your dedicated development team is indeed dedicated. If these do not work for you, maybe outstaffing is just not the dedicated team model that you need. Most likely, there is a problem with communication or management, which you can solve by engaging in outsourcing.
Do you need a dedicated software development team?
Our professionals will gladly help you with your project! Learn more about why and how to hire a dedicated development team.