10 Best Countries for Hiring Dedicated Development Team
Let's compare rates, time zones, talent pools, innovation levels, and most popular programming languages in Mexico, Brazil, Vietnam, China, India, the Philippines, Canada, Ukraine, Poland, and Russia.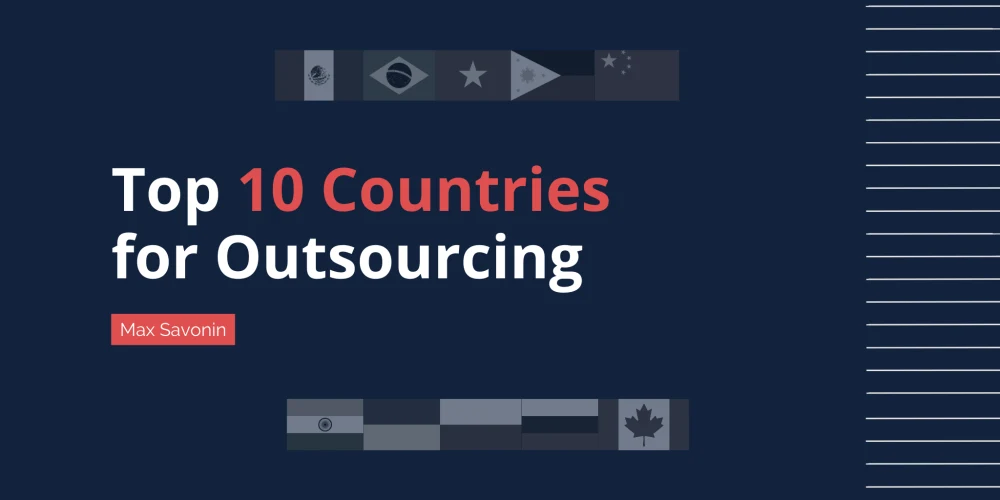 If you are a business owner from a rich developed country, such as the USA or the Netherlands, and you need to develop a software product, who do you go to? To your fellow citizens? I do not think so. While working with people who speak the same language and live in the same culture may be easier for you, it is definitely not the most cost-efficient solution. Even if you already have an in-house team, it is not almighty, so I may be seeking help from outside. So how do you choose the optimal dedicated development team?
You should start by considering which country to hire dedicated development team from. In this article, I will compare the eleven most popular destinations for outstaffing and outsourcing. To make this comparison as objective as possible, here are the metrics I will consider:
The most popular regions for outsourcing and outstaffing are Latin America, Eastern Europe, and Asia.
---
Latin America
Latin America is a top outsourcing and outstaffing region for clients from the United States. Such developers are really close in terms of geographical distance, and their time zones often overlap. The average cost of these professionals is also quite low – $30 per hour, while the cost of a software engineer from an American development company may go beyond $100-150. The two most popular Latin American countries for hiring a dedicated development team are Brazil and Mexico.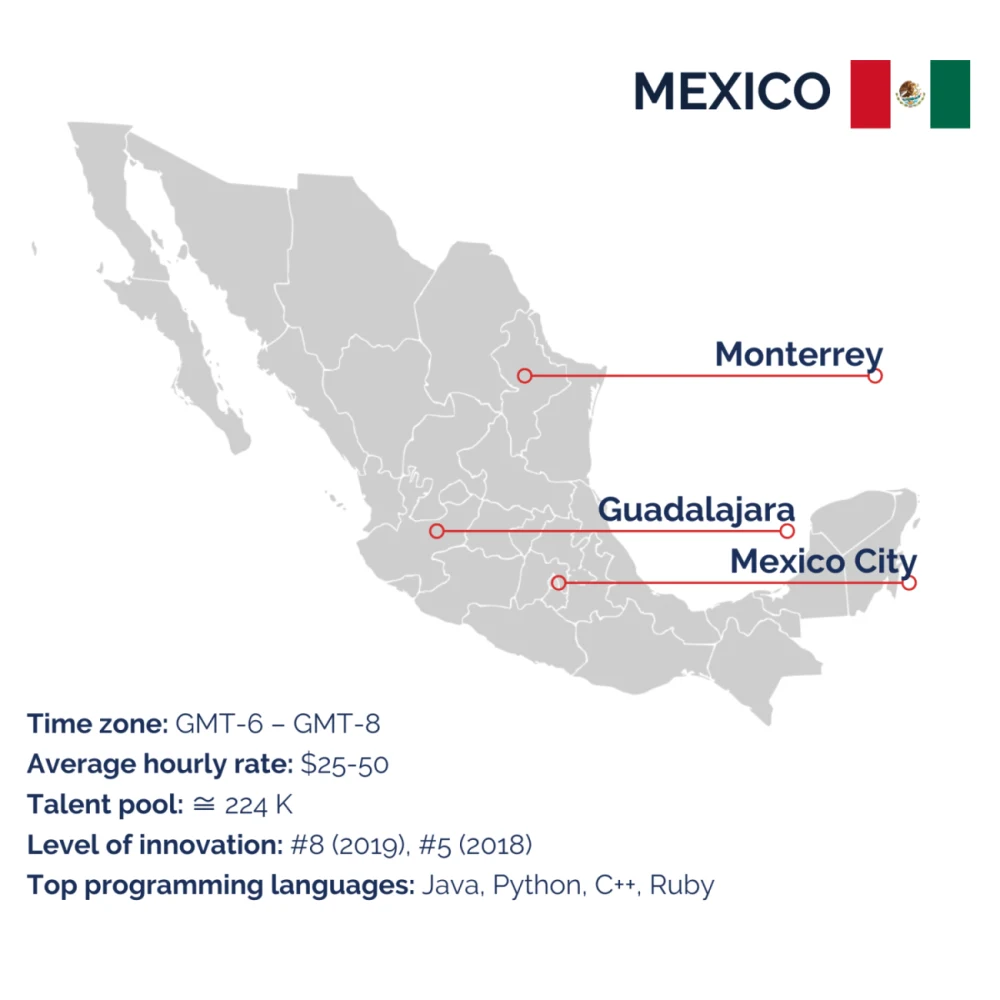 Mexico
Most business owners in the United States will tell you that Mexicans make great employees. They are smart, diligent, and not demanding in terms of payment. No wonder that Mexico made it to the list of top outsourcing destinations in the IT industry. In fact, it offers quite a large talent pool of about 224 thousand software engineers with an average hourly rate varying from 25 to 50 US dollars. Mexican developers prefer working with Java, Python, C#, and Ruby.
Furthermore, Mexico is located quite close to the United States geographically as this country is only a few-hours-long flight away. As for the time difference, it is insignificant as these countries are located in the same time zones – Mexico in GMT-6, GMT-7, GMT-8, and the USA in GMT-5, GMT-6, GMT-7, GMT-8, GMT-9, and GMT-10. Finally, Mexico is currently at 8th place in the world as for the level of innovation, according to the 2019 Tholons Services Globalization Index, which is yet three positions lower than in 2018.
There are three reasons not to choose Mexico as an outsourcing destination. One – the political situation between the US and Mexico is unstable as Donald Trump has been long threatening Mexico with economic sanctions. Two – there are more cost-efficient options. Three – language barrier may become an obstacle as Mexico is ranked 57th out of 88 in terms of EF English Proficiency.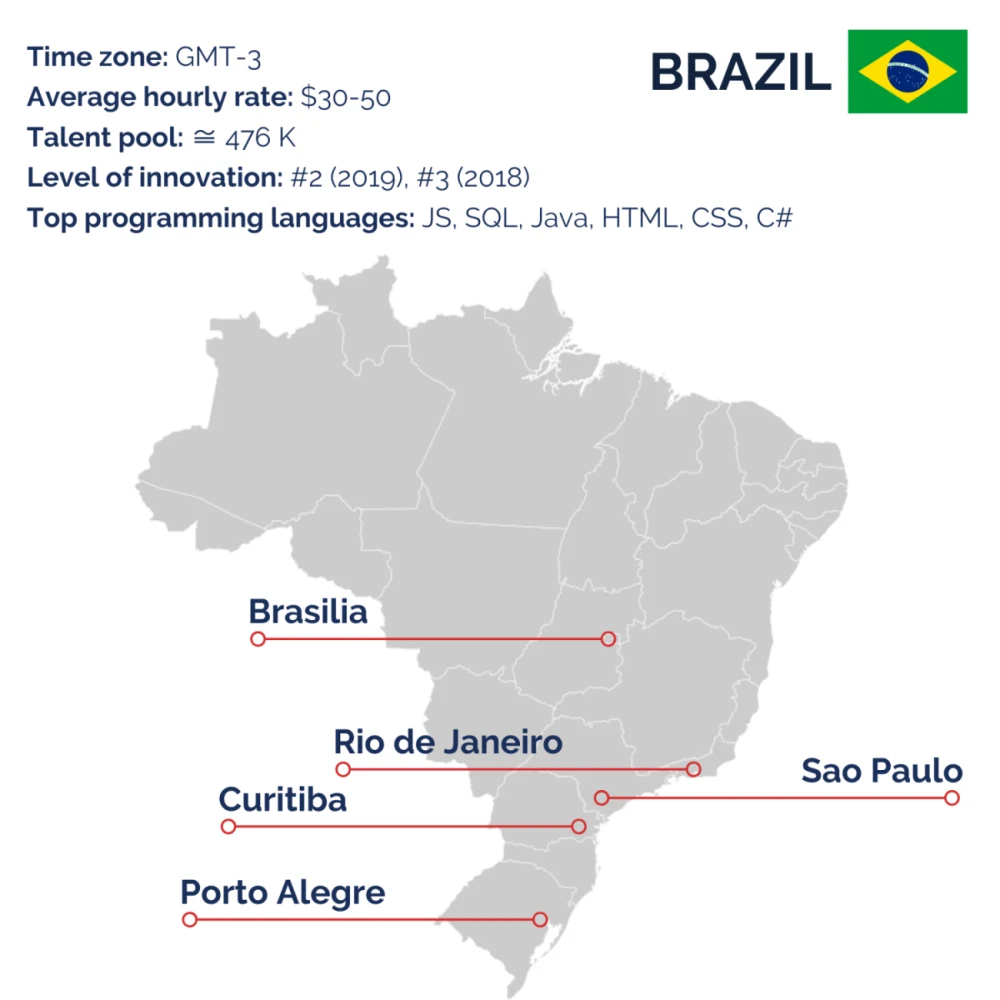 Brazil
The population of Brazil is 212.6 million people, and about 40 percent of them are under the age of 24. Such a young nation is eager to learn and develop, so most of them enroll in higher education programs. At the same time, the IT industry in Brazil is quite profitable as an average developer is paid 30 to 50 US dollars. Therefore, the talent pool of developers in Brazil is quite large and comprises about 476 thousand people, who specialize mainly in JavaScript, SQL, Java, HTML, CSS, C#, and Python. According to Tholons Services Globalization Index, Brazil is the second most innovative state in the world as of 2019, which is one position higher than in 2018.
Brazil is located in GMT-3 time zone, which is 2 hours ahead of New York and 5 hours ahead of California. This way, American clients can easily find time to hold a meeting with a Brazilian development team. Nonetheless, communication with Brazilians is not guaranteed to be simple because the English proficiency level here is quite low. According to a 2009 study, only one in four IT professionals in Brazil were fluent in English. The situation had slightly improved since then, but poor English skills remain the number one reason why people abstain from outsourcing to Brazil.
---
North America
North America is rarely associated with outsourcing and outstaffing. Still, it is worth attention because of the impressive skill sets that this region has to offer. However, get ready that service quality and easy communication come at a cost – an average middle-level software developer in North America costs around $132 per hour.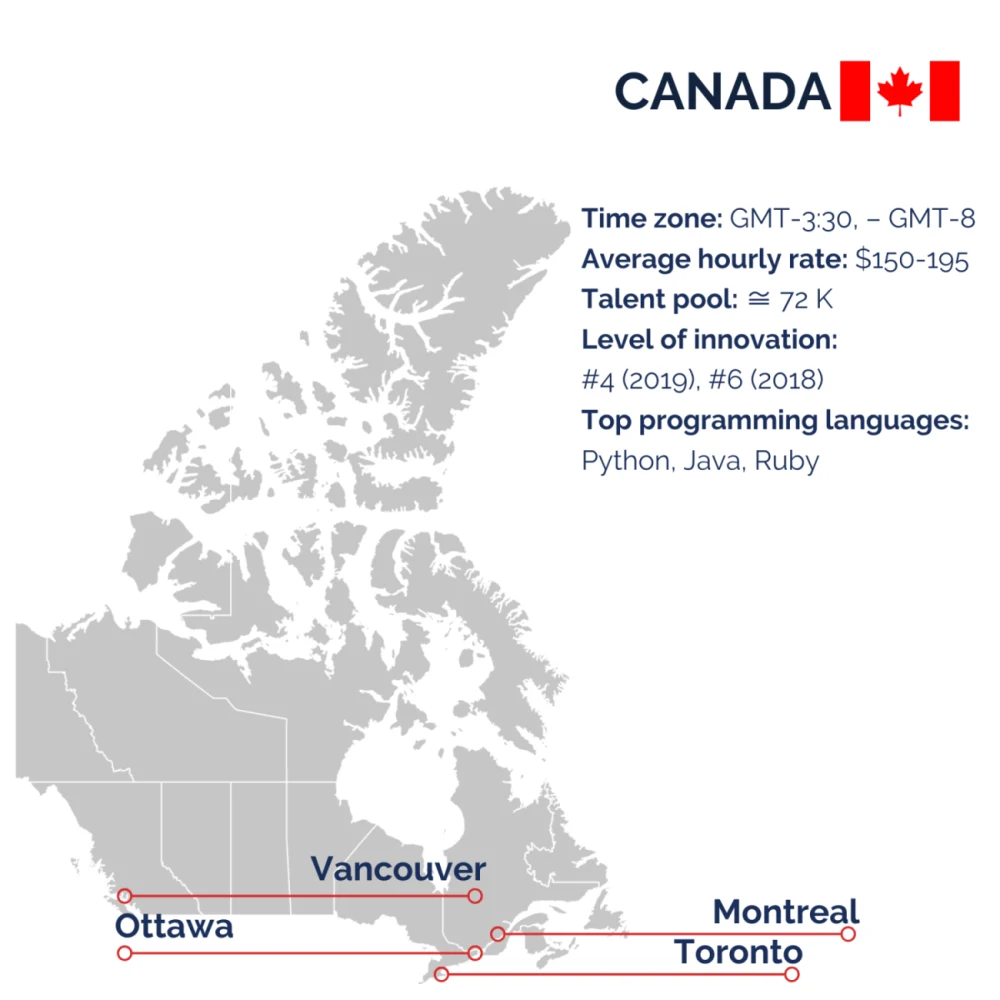 Canada
The number one reason why American clients choose to outsource to Canada is cultural and geographical proximity. Canadians and Americans understand each other well, and their business hours overlap as Canada is located in GMT-3:30, GMT-4, GMT-5, GMT-6, GMT-7, and GMT-8 time zones, while the USA is located in GMT-5, GMT-6, GMT-7, GMT-8, GMT-9, and GMT-10. Most importantly, Canadian development services are slightly cheaper than those in the USA as the average developer here earns about $150-195 hourly. Overall, there are about 72 thousand software developers, and the most popular programming languages here are Python, Java, and Ruby.
---
Asia
Asia is best-known for its large pool of talents and low hourly rates. A mid-level developer in Asia on average costs $24 per hour. In fact, if you google "software development company", high chances are that the first website you open is of an Indian software development company. The most common Asian countries for outsourcing and outstaffing are China, India, Vietnam, and the Philippines.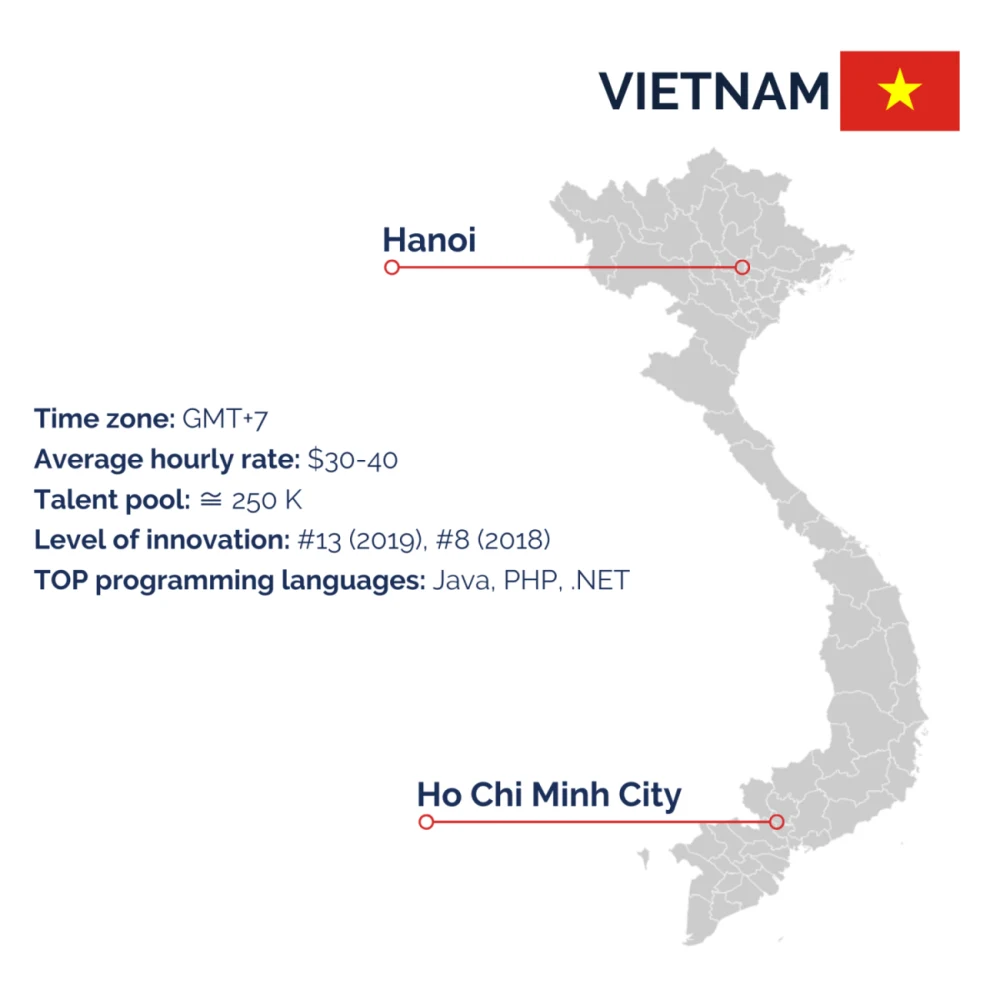 Vietnam
Vietnam is a developing country of almost a hundred million people, but it offers quite a large pool of developer talents – about 250 thousand specialists focusing on Java, PHP, and .NET. Even though Vietnam is defined as a lower middle-income country, the average hourly rates of software developers here are not quite low – from 30 to 40 US dollars. Vietnam is located in GMT+7 time zone – 12 hours ahead of New York and 15 hours ahead of California. Business hours in these two countries simply do not overlap, which poses a serious communication challenge.
What brings businesses to outsource to Vietnam is the level of business culture. Vietnamese employees are very loyal with one of the lowest attrition rates globally. The IT infrastructure here shows a promising tendency of growth, and the innovation level is quite high even though it dropped 5 positions since 2018.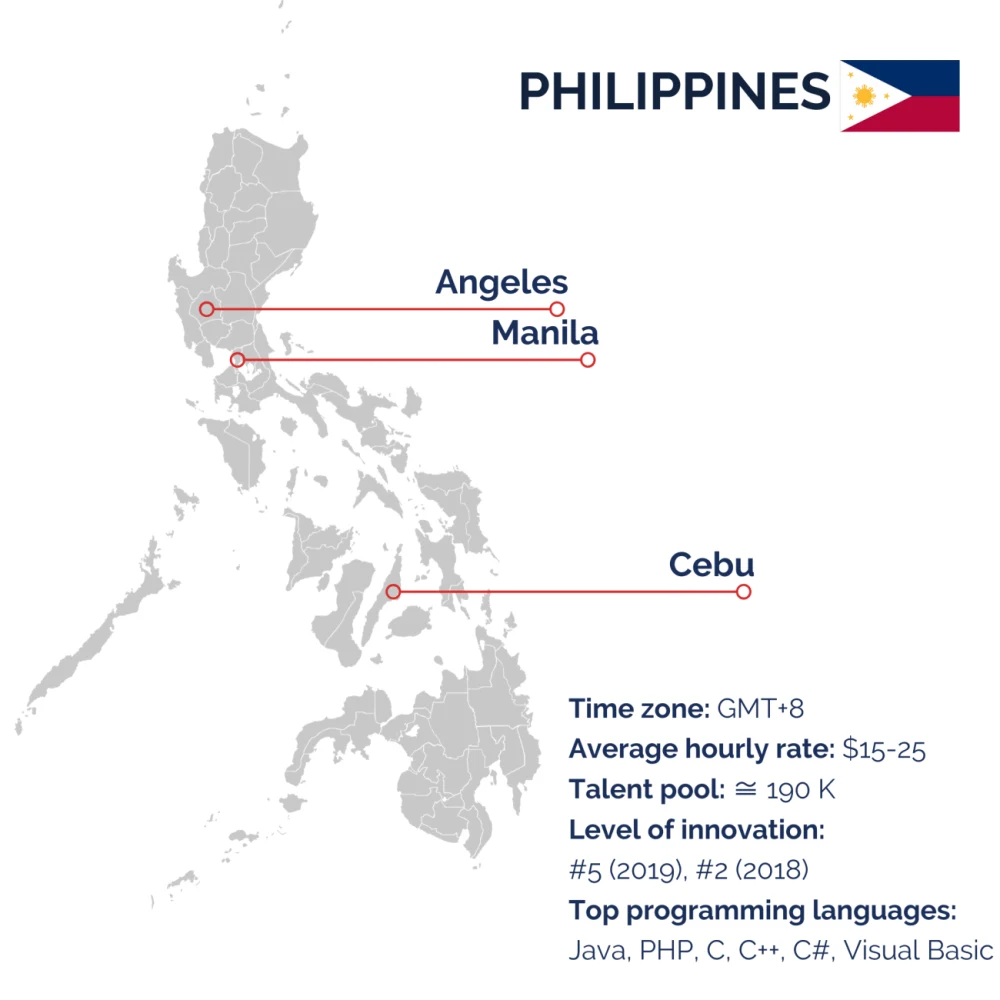 Philippines
The top advantages of the Philippines for outsourcing are low cost and high English proficiency. In fact, the 2000 Census showed that almost 64% of Filipinos could speak English – it is the second-best result in Asia. This country offers a pool of talents of about 190 thousand people with an average hourly rate of $15-25. The most popular programming languages here are Java, PHP, C, C++, C#, and Visual Basic. Moreover, Tholons Services Globalization Index ranks the Philippines as the fifth country in the world by the level of innovation, which is a decline by 3 positions if compared to 2018.
The Philippines is located in GMT+8 time zone – 16 hours ahead of the West of the USA and 13 hours ahead of the East of the USA. Such a time difference translates into a significant communication inconvenience, especially for the eastern states. Yet, the time difference is not the only drawback associated with outsourcing to the Philippines. Filipinos slightly fall behind in terms of technical expertise and service quality. If you have a complex project in mind, you should consider other places to look for a dedicated development team for hire.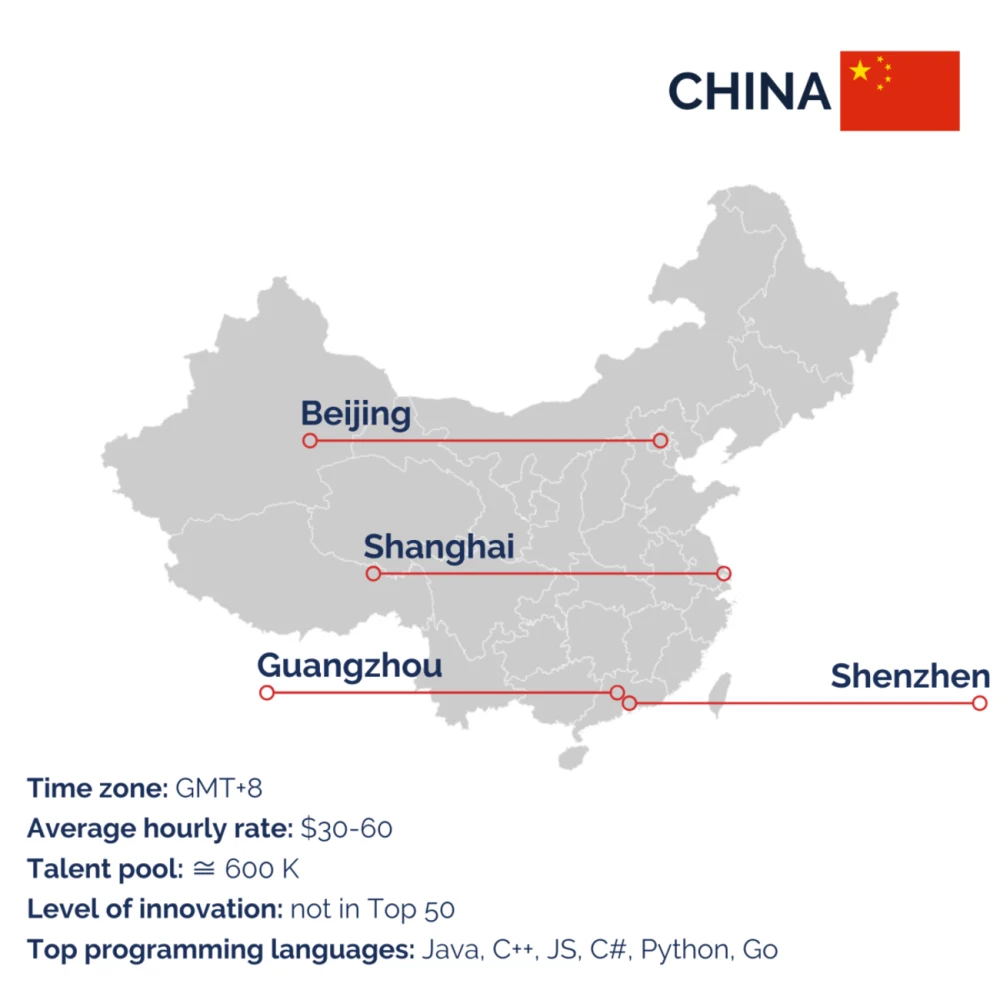 China
China is the state with the largest population in the world and with the largest talent pool of software engineers. Developers here master both usual and unusual programming languages, namely Java, C++, JavaScript, C#, Python, and Go. At the same time, Chinese developers are more expensive than those from other Asian countries, and the average hourly rate of a middle-level developer here is from 30 to 60 US dollars.
For some reason, China has not listed in the Top 50 Innovative States according to Tholons Services Globalization Index. Moreover, English proficiency in China is quite poor – less than 1% of the population speaks English. This might create a serious communication barrier. Outsourcing to China is further complicated by the ongoing political tension between the USA and China.
China is located in GMT+8 timezone, which is 13 hours ahead of New York and 16 hours ahead of California. If you are from Los Angeles or San Francisco, your business hours and business hours of your development team will overlap by one or two hours. If you are from central or eastern states, you will not be able to schedule a meeting at a convenient time for both of you.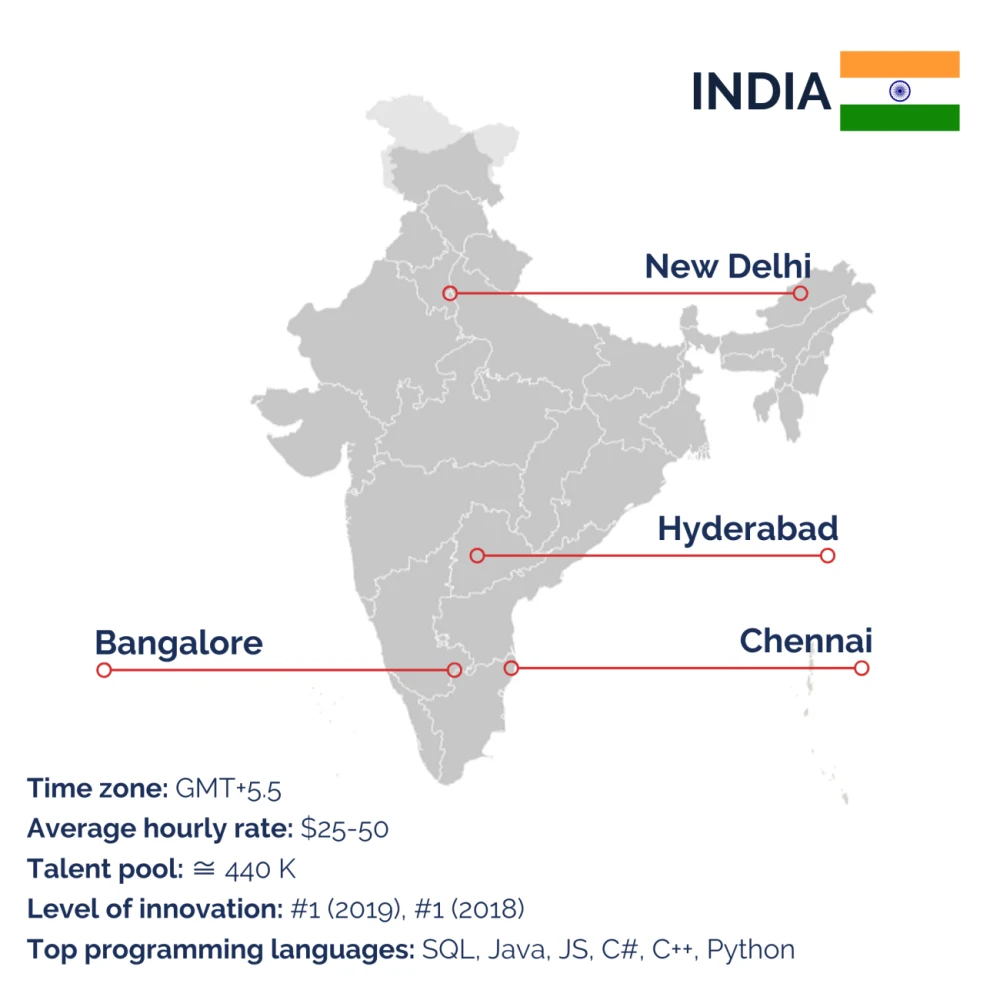 India
What is the first state that comes to mind when you hear "outsourcing"? India. As the state with the second-largest population, India definitely has a lot to offer. It is estimated that the talent pool of developers here is about to reach 440 thousand people. They specialize mainly in SQL, Java, JavaScript, C#, C++, and Python. Yet, the number is not its only advantage. The 2011 Census in India showed that 10.6% of the population speaks English. This percentage is much higher among IT professionals. Good command of English lets Indian developers easily communicate with clients from all over the world. Going even further, the most appealing advantage that outsourcing in India offers is cost-efficiency. An average hourly rate of a developer in India is $25-50.
Still, such a low cost comes at a price. Indian developers are often blamed for producing low-quality code. Sure, it is not a universal rule, and there are technical geniuses in India. There is a reason why India has earned first place for innovation in Tholons Services Globalization Research for two years in a row. However, when looking for a dedicated software development team here, be careful and assess their skills thoroughly.
Also, India may not be the best choice for you if you are a business owner from the United States. It is located in GMT +5.5 – a unique timezone followed only by India and Sri Lanka. So, if you are from New York, there are 10 and a half hours of difference between India and you. If you are from California, the difference is 13 hours and 30 minutes. In any case, your business hours are not overlapping, so either you have to wake up very early or the developers have to work much longer hours.
Finally, the political environment here is quite unstable, and the second-largest population in the world often unrests against the authorities.
---
Eastern Europe
Eastern Europe is the most popular outsourcing and outstaffing destination among business people from Western Europe. Such professionals are close both geographically and culturally, but they cost significantly less than their fellow citizens. An average middle software engineer from Eastern Europe costs $35 per hour. For that matter, the most popular Eastern European countries are Poland, Ukraine, and Russia (the European part of it).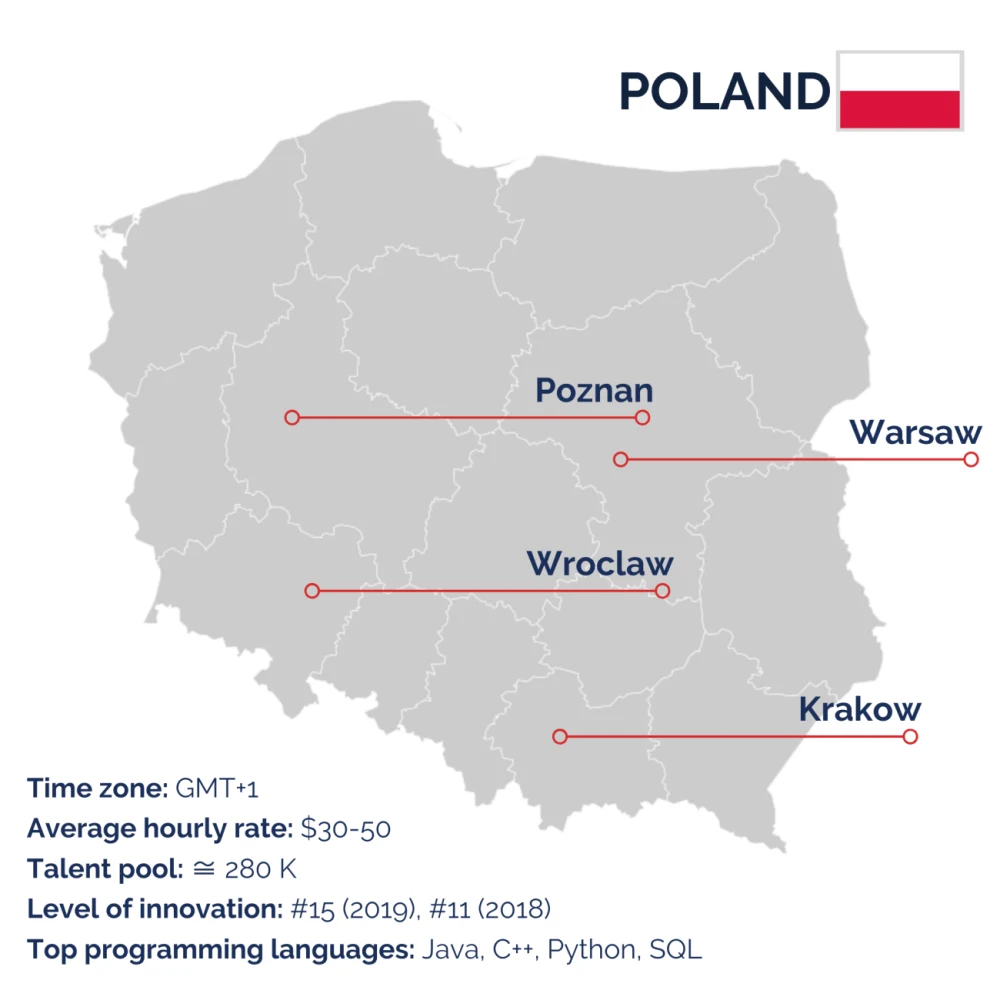 Poland
Poland offers a vast pool of talented developers, which reaches 280 thousand specialists. The average hourly rate of a mid-level Polish software engineer is 30–50 dollars. The most popular programming languages here are Java, C++, Python, and SQL.
According to Tholons Services Globalization Index, Poland is the fifteenth country in the world by the level of innovation, which is 4 positions lower than in 2018. Polish people demonstrate very strong English skills – their English proficiency is ranked as "very high". This should greatly facilitate communication with the development team and reduce the probability of misunderstandings.
The state is located in GMT+1 timezone, which is 6 hours ahead of New York and 9 hours ahead of California. Such a difference lets Polish and American businesspeople find a time slot for a meeting, which would be convenient for both parties.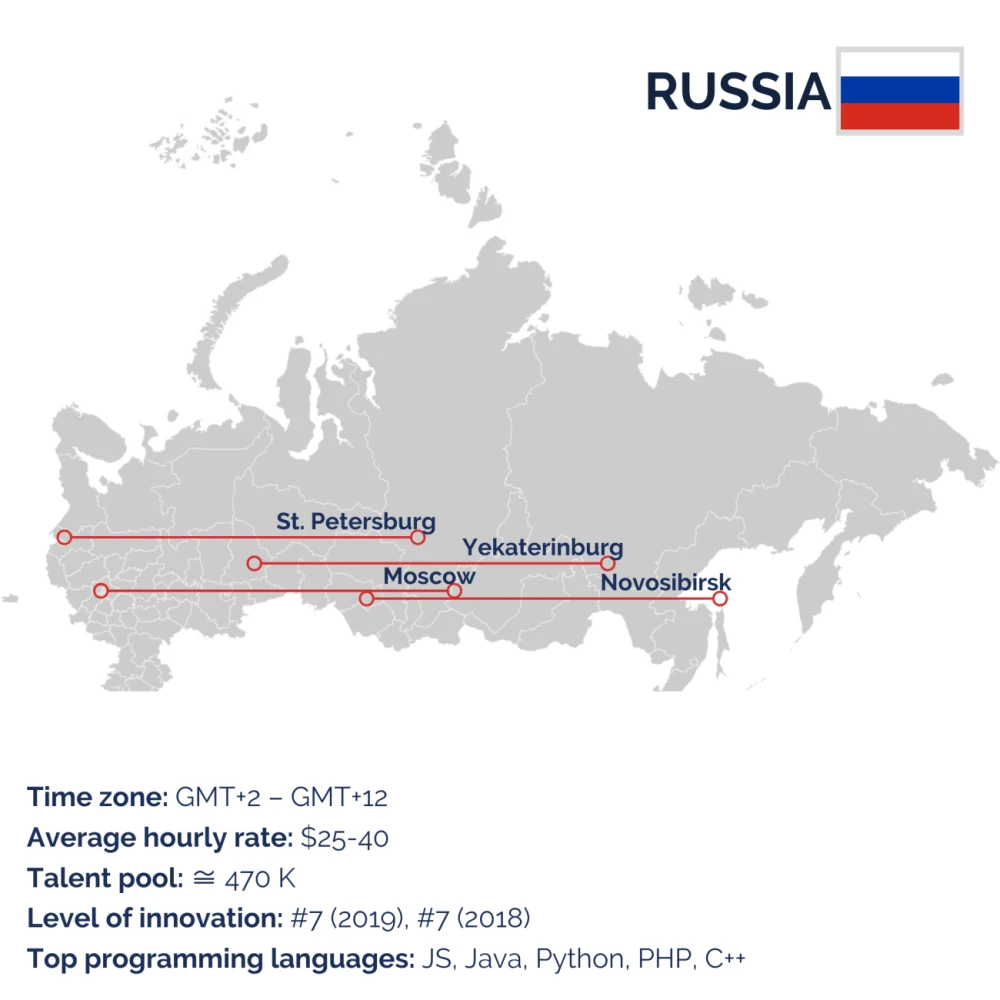 Russia
Russia is not an obvious choice when it comes to outsourcing. It is more commonly associated with fossil fuels, machinery, or agriculture, but not with the IT industry. And yet, this state has something to offer. Being the largest country in the world by area, Russia has quite an average population of 144.5 million people. Yet, the talent pool of developers is immense – about 470 thousand software engineers. The average development rates here are higher than in Ukraine but lower than in Poland. The languages that Russian developers specialize in are JavaScript, Java, Python, PHP, and C++.
As for the time difference, there is no point to compare as Russia stretches across eleven different time zones, from GMT+2 to GMT+12. To understand if the business hours overlap, you should check with the time zone of a particular city you consider for outsourcing.
There are two problems with outsourcing to Russia. Firstly, English proficiency is questionable as English is not a compulsory subject in Russian schools. Secondly, there is some political heat between Russia on the one hand and the United States or the EU on the other hand. Russia leads an aggressive military politics towards a few other countries, so it is bound by quite a few economic sanctions, with new ones being regularly imposed.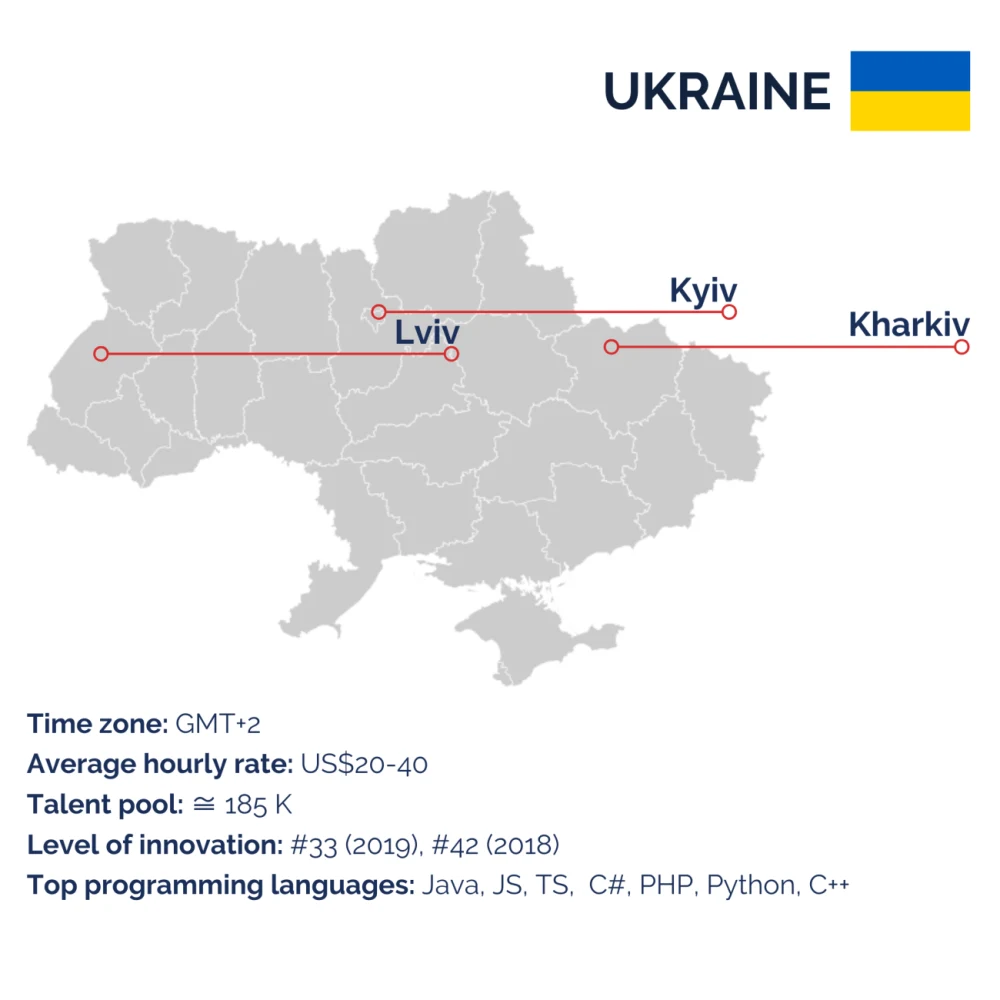 Ukraine
Ukraine is the most popular outsourcing destination in Eastern Europe due to low development costs, which however do not affect the quality of service, and a large available pool of talents in Java, JavaScript, C#, PHP, Python, C++, and TypeScript. It is estimated that there are around 185 thousand software development specialists with an average hourly rate of 20 to 40 US dollars.
Ukraine ranks quite low in terms of English proficiency – 28th place out of 32 countries in Europe. Indeed, middle-aged and elderly people have poor English skills. However, most young people understand and speak English. In the IT market, every developer, designer, or tester will demonstrate from intermediate to advanced English level. People without knowledge of English have little to no chances to enter the IT industry. Also, Ukraine ranks low in terms of Tholons Services Globalization Index, but it demonstrates unprecedented growth. In only one year from 2018 to 2019, Ukraine climbed up by 9 positions, and as of now, it ranks 33rd in the world.
Another common concern often associated with Ukraine is safety because the political situation in Ukraine is unstable. Indeed, for the last six years, Eastern Ukraine has been devastated by the war with Russia. Yet, in these six years, the state managed to adapt to such conditions, and the economic system functions as it should. In Ukraine, a lot of software development companies emerged during war years, and by many times more projects have been successfully launched.
This state is located in GMT+2 time zone. It is 7 hours ahead of New York and 10 hours ahead of California. While business hours in Ukraine and the US do not entirely overlap, you as a business owner will be able to find time for a daily call with your dedicated development team from Ukraine. For instance, schedule a meeting with developers at 10 am New York time, and they will eagerly answer you as it will be only 5 pm in Kyiv or Lviv.
Ukraine is gradually getting rid of the post-soviet heritage. Young people grow up in European culture with a mindset typical for Western countries. When you communicate with Ukrainian developers, you will see that you laugh at the same jokes and cherish the same values.
---
Ukraine is the country that offers Western culture and quality for the Asian price.
To Wrap Up
If all these names and numbers do not help you make a final decision, there is one more way you can go. In any unclear situation – ask your friends or partners who have ever engaged in outsourcing or outstaffing. They will share their actual feelings about working with dedicated developers from different states. This way, you will operate not average statistical figures but actual real-life facts.
Do you want to hire a dedicated development team in Ukraine?
Let us prove to you that Ukraine is the right destination to outsource to. Our professionals will gladly provide you with efficient and effective development services. Go ahead and learn more about our Dedicated Development Team!